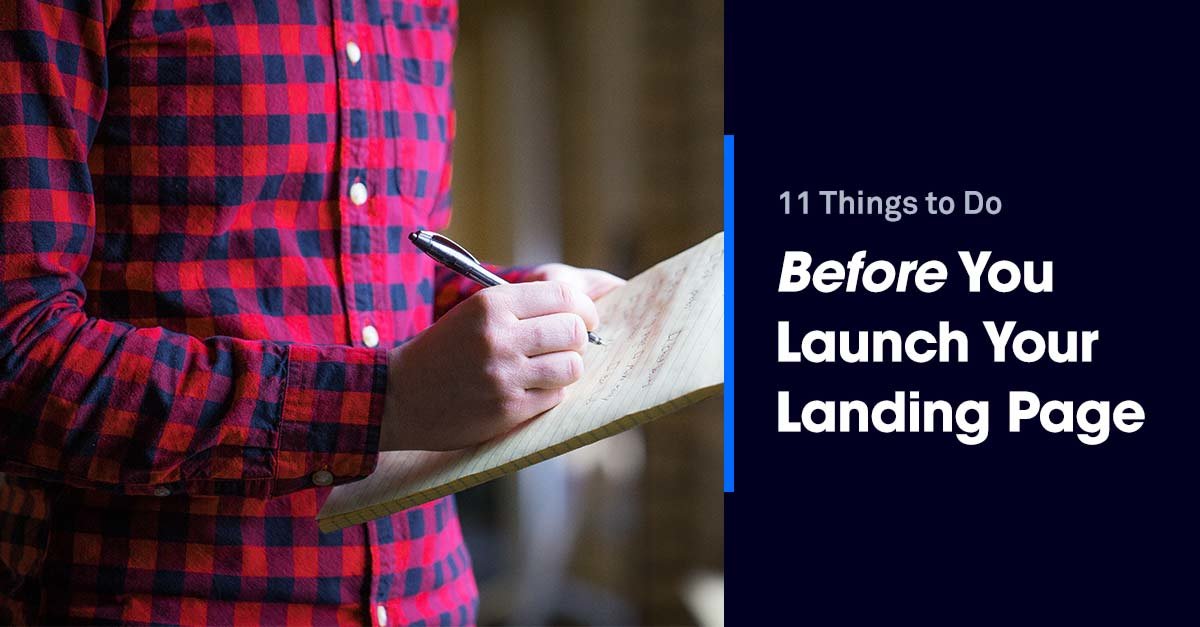 If you listen to enough conversations among online entrepreneurs, you'll eventually hear someone say something like:
"Wow, 200 people opted into my landing page this week! Now I guess I actually have to follow through and do … something … with those leads."
Perhaps answered by:
"There's a problem I'd love to have. I must've spent hours on my most recent landing page, but so far I haven't gotten a cent out of it."
At Leadpages, we're all about making it as easy as possible to build landing pages. (In fact, personally, I think it can be downright fun.)
But can it ever be too easy?You can and should be able to create a new page on the spur of the moment—whenever that light bulb clicks on and shows you a great idea for a promotion or a potential product launch.
But before you start fine-tuning the details or watching your analytics with bated breath, there are a few things you should consider—to avoid that "uh oh" moment when you realize the reality of your landing page launch is taking a significant detour from your expectations (in either direction).
Assess these 11 things before you show your next landing page to the world, and you'll be much likelier to see a positive return on your investment of time and money. Beyond that, you'll feel much more in control of the outcome.
If you want to dive deeper into any of the areas I mention below, I've also collected some bonus resources that'll set you and your landing page up for predictable success. Click below to download the Pre-Launch Resource Pack, including:
Our "14 Questions to Discover and Reach Your Target Market" worksheet
Our "10 Places to Find Your Audience" guide
Our 64-Point Landing Page Optimization Checklist
Click Here to Download Your Free Pre-Launch Resource Pack
If you have
LeadPages™
, you don't need to download this template – it's already available to you inside your LeadPages account. Just
log in
and you'll see how super easy it is to customize this page in seconds with no technical knowledge or skills, make it mobile responsive, integrate it with your email service provider or CRM, run A/B split tests, and publish it to Facebook, WordPress, or your own server.
Before you publish another page, give this list a look.
1. Test-drive your landing page offer
If no one wants what your landing page offers, no amount of optimization can save the day. There's some amount of finger-crossing in most launches, but consider taking the suspense down a notch by pre-testing your offer with a small group of people you know you can reach easily at no cost.
That can include people like …
Your email list subscribers (or a subset of those subscribers)
Your social media following (pro tip: limit your audience by adjusting your privacy settings if you're thinking about promoting your landing page on social media in its final form)
Interest groups you're involved with on forums like LinkedIn and Facebook
Offer a preview (or a heavy discount, in the case of a paid product) for some honest feedback on your new endeavor.
In fact, you may find that people don't even need to consume the offer to give you valuable feedback.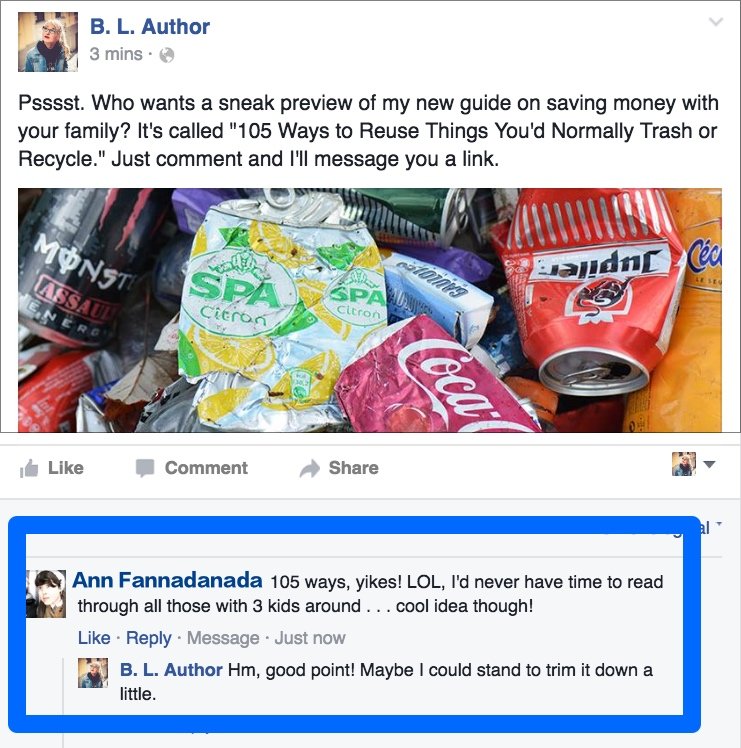 2. Borrow another pair of eyes
Once you've gotten some fresh perspective on your landing page offer, it's time to get an outside view of your page itself. Tap a trusted colleague or friend (or several—I can't count the number of times a third reviewer has spotted a big landing page error that the first two people missed) and ask for a close look at your landing page copy and design.
Be really clear with your reviewers that no issue is too big or too small to flag. You don't have to take all their advice, but be aware that if one person thought something seemed off, they're probably not alone. (And maybe buy them a drink or a cupcake once all their comments are in. These are the kind of friends you want to keep around.)
3. Look into the future
When you're fixated on your landing page's conversion rate, it's easy to forget that there's a whole world of marketing outside its borders.
But in fact, the buck doesn't stop there. Not even on a sales page.
Once you close that deal, it's time to start thinking about upsells, cross-sells, repeat purchases, referrals …
In other words, everything that comes next.
Before you launch your next landing page, you should be able to identify where visitors stand in relation to your business, and where your landing page will take them.
For example, it might convert them from a cold prospect into a lead. Or from a lead who's in the market for your category of product into a lead who's seriously considering your brand in particular. Or from a member with a free trial to one with an annual subscription.
Some entrepreneurs find it helpful to pin their landing pages to a certain phase of funnel or buying process map. That can be simple: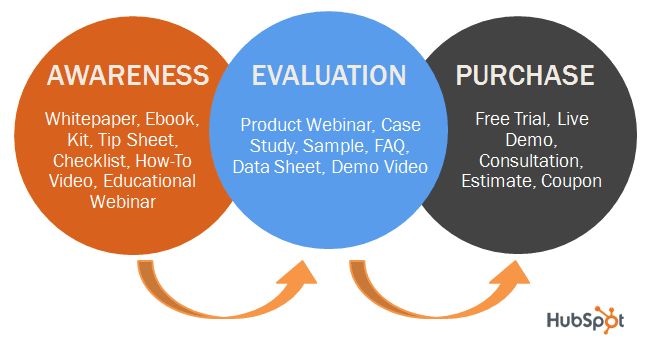 Or more complex: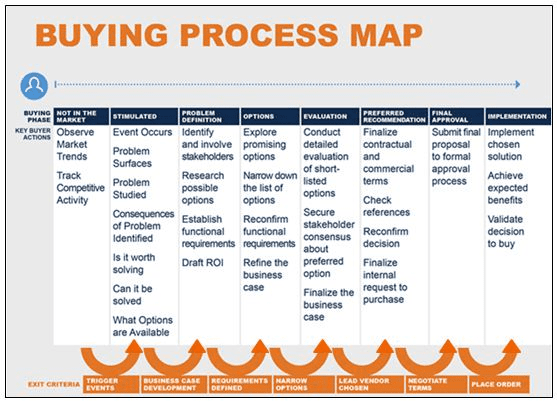 But as long as it accurately reflects your customer's journey, the schema you use doesn't matter a great deal. Simply knowing where your visitors start and where you need them to go will do a world of good for your landing page's messaging and your campaign as a whole.
4. Decide who you're talking to
Targeting shouldn't start when you open up your ad platform of choice and start defining your audience. It should start with your offer and your landing page.
Your view of your landing page's audience can include things like pain points, interests, and demographic information, depending on how large and finely segmented your audience is. It should also be informed by the previous step's conclusions: who are these people on their own and in relation to you? Your landing page should reflect the answer.
5. Build your traffic strategy
Every landing page or other piece of content intended to generate leads or sales needs a traffic strategy. In other words, how will people find it?
Your traffic strategy might focus on one channel or several, including:
Paid social media ads
Paid search ads
Organic social media
Organic search traffic
Guest posts
Joint venture campaigns with a partner
Your own email list
Non-digital contexts such as printed materials and presentations at live events
Knowing where the bulk of your landing page traffic is coming from improves both sides of the conversion rate equation. You get more visitors because you've deliberately sought out visitors, and you get more conversions because you've designed your page with those specific visitors in mind.
6. Make sure your integrations are set up
This one's simple: check and double check that any new leads you capture are routed to the right place, whether that's a list inside your email service provider or a webinar inside your webinar host account. If you're offering an automatic download upon opt-in, check that it will really be delivered.
Even if you're using Leadpages' built-in Lead Notifications feature, which sends leads' information directly to your inbox, make sure you have a plan for keeping them organized, whether it's setting up an email filter or periodically transferring info to a spreadsheet.
But whatever you do, don't just let them sit there. Instead …
7. Create your follow-up sequence
It's so easy to think "I'll do it later."
After all, you haven't even launched your page or gotten a single opt-in yet. What's the harm in putting off setting up a follow-up email sequence, as long as you're collecting email addresses and sending out what you've promised on your landing page?
The danger is that "later" may come too late. Wait long enough to reach back out to your new leads, and they may have forgotten that they ever knew you. Hello, spam folder.
So before you hit "publish," block out an hour and create an automated welcome email series to connect with your subscribers while you're still fresh on their minds. Not sure how to do that? Try this guest post from the email experts at AWeber for starters.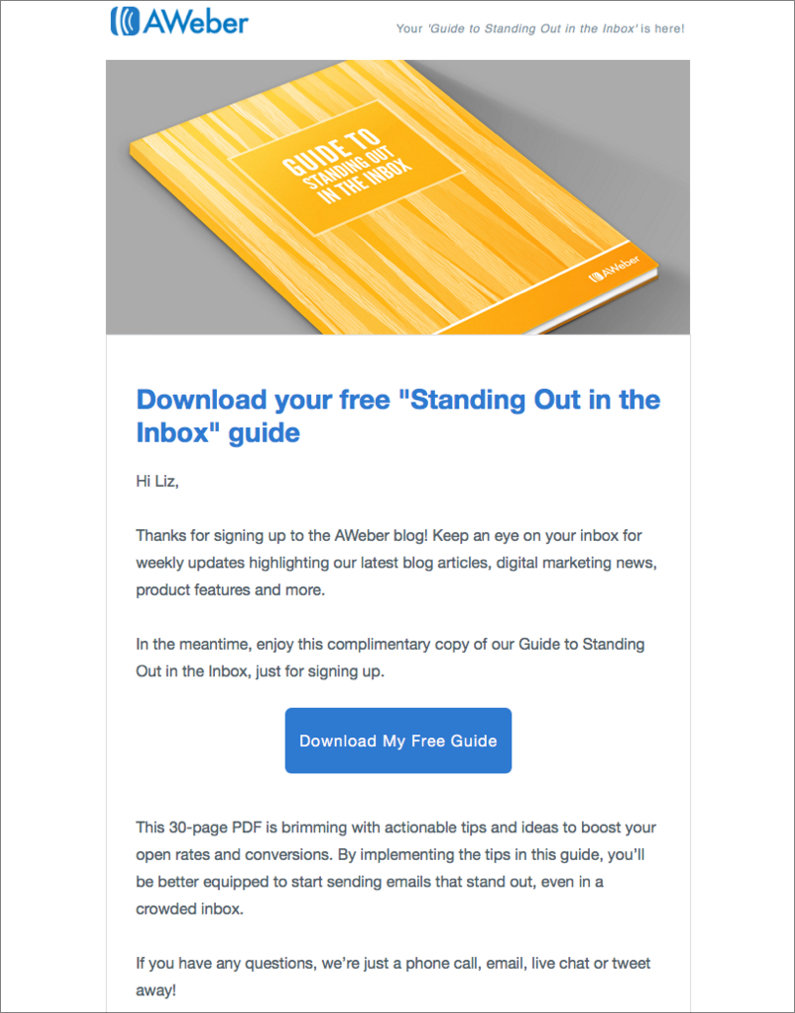 8. Plan your messaging about the page
Remember how every landing page needs a traffic strategy? Well, the traffic source itself is just part of the picture. You also need messaging that will get visitors from your traffic source
to
your landing page.
The assets you need will depend on the traffic sources you use. A good Facebook post will have a compelling image, title, and description, and maybe an engaging question to introduce the link you're sharing. If you're using Twitter, you'll need a series of tweets; an email campaign will need a compelling subject line; paid ads will need their own copy.
Rather than approach these things after the fact, it can be easier to keep a document or folder open as you build your landing page and drop these elements in as you think of them. For example, title ideas that didn't make it into the headline could be good for an email subject, or particularly intriguing bullet points could be pulled out and shared on social media.
When you're done, you'll be able to take your doc and copy, paste, and upload consistent and compelling marketing collateral everywhere you promote your page.
9. Decide how you'll measure success
What would it mean for your landing page to be successful?
It has nothing to do with some industry-standard threshold for a "good conversion rate."
A successful landing page (for a typical for-profit business) is one that ultimately produces a profit. If it's a sales page it can do this directly; if it's an opt-in page, it will do this through a follow-up sequence that connects new leads to a paid offer.
To determine what kind of conversion rate will lead to business success for you, start at the end. Figure out how much revenue you need to bring in, the number of customers you'd need to produce that revenue, the number of leads you'd need to amass that number of customers … all the way back until you discover how many pageviews you need and the conversion rate that will turn enough of those views into leads.
If you're using paid advertising, you can use the same logic to set caps on the amount you're willing to spend per click or per lead.
Now you have a minimum level of measurable success to aim for, and if you see you're not approaching it, you can correct course sooner rather than later.
10. Have a backup plan
If you've done everything above, your landing page has my vote for Most Likely to Succeed.
But, for the sake of argument, say it doesn't succeed. Say your conversion rate is dangerously low or the leads you're getting aren't sticking around long enough to become customers.
Then what will you do?
It's worth thinking about in advance. Every landing page is the result of a long series of decisions—some of which were probably difficult to make.
Which of these two headlines will really connect? Is this offer really the right one for this audience? As questions like these emerge, make note of them—and if you aren't liking your metrics after your page launches, try going back and taking the other fork in the road.
If you're having some success with your page (but not as much as you'd like) and getting good traffic, try split testing two variations against each other. If the page is totally failing to convert, on the other hand, you have room to try something drastically different.
When you can plan for times like these and know immediately what action you'll take, failure isn't really failure. It's just a momentary glitch that can spark new knowledge about what really works for your audience.
11. Flip to the end of the story
Create a good offer and put it on a decent landing page, and it may very well keep converting month after month—even year after year.
But few landing pages are truly built to be immortal, and many have a natural end date: webinar pages, event pages, limited-time promotion pages, pages that advertise a course with limited space or a product with limited supplies.
In any event, you'll want to decide what to do when this particular version of your landing page has run its course. Depending on the offer, you could:
Set up a redirect
Update the page to promote a new offer
Update the page with an "offer ended" message and a "consolation prize" download
Create a calendar reminder to reevaluate your evergreen offer page in 6 months or a year
In fact, it's wise to set an "end date" calendar reminder for yourself every time you're putting together a landing page. Not only will it prompt you to redirect or update old pages—it may also remind you to take a little time to reflect on your campaign's success, plan for next time, and pat yourself on the back for a well-planned launch.
For more hands-on landing page advice, we've collected three popular resources into a Landing Page Pre-Launch Resource Pack for you to download and save. Opt in below to grab yours now:
Click Here to Download Your Free Pre-Launch Resource Pack
If you have
LeadPages™
, you don't need to download this template – it's already available to you inside your LeadPages account. Just
log in
and you'll see how super easy it is to customize this page in seconds with no technical knowledge or skills, make it mobile responsive, integrate it with your email service provider or CRM, run A/B split tests, and publish it to Facebook, WordPress, or your own server.
Do you have a pre-launch routine? Share it in the comments.