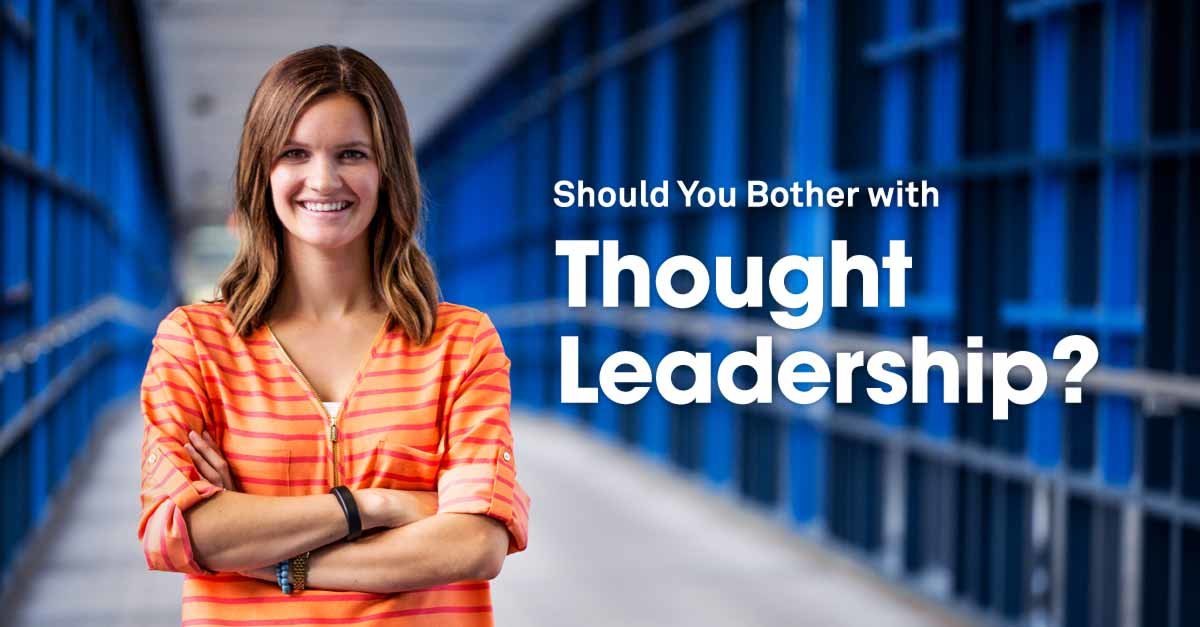 "Thought leadership" is one of those terms that gets tossed around a lot in the business world, but personally, I've never felt totally comfortable using it.
Maybe it's because it has the ring of industry jargon, maybe it seems a little presumptuous, but it's mostly because I don't think anybody totally agrees on what it means.
A CEO of a Fortune 500 corporation writing a book on the business philosophies that made them successful—that's clearly thought leadership, right?
Or a tech founder giving a TED talk. That has to be thought leadership.
But what if you're just an average business owner or marketer? Can you really call yourself a thought leader (without worrying about getting laughed out of the room)?
Moreover, should you even try to "do thought leadership," when you have a million other things to worry about—most them tied directly to your bottom line?
After looking at the most successful entrepreneurs I know who could be seen as thought leaders, I've concluded that there are really two ways to think about thought leadership.
One is the kind of vanity project or loosely defined "brand awareness play" that can give thought leadership a bad name.
The other kind of thought leadership is different, and it's something every marketer should consider. It starts with the things you've learned in the course of building a business, and ends with a real impact on your marketing metrics. It can produce some of the most powerful marketing content your business will ever have.
That's what I'll be exploring in this post. Because here's what I do know about thought leadership: you know some things. You've tried different techniques to grow your business, and you've likely failed at some of them—and you're all the wiser for it now. Meanwhile, your understanding of your field is getting broader and deeper by the year.
And while you may be too humble to think that anyone is clamoring to learn from you, the fact is that your thoughts on all of the above might just make you the exact leader your audience is looking for.
So, how can you leverage all that you know to grow your business (without falling into the vanity trap)? I sat down with our very own Manager of Marketing Education, Bob Jenkins (AKA Bob the Teacher), to figure out how exactly you can position your business savvy as an asset to your business.
Bob's a master at positioning himself and the businesses he's worked for as the kind of leaders that prospective customers can't wait to work with or learn from.
And it all starts with content.
How did you know you can be a thought leader?
First, I asked Bob what kind of businesses and professionals tend to do best as thought leaders. While he emphasized that pretty much every kind of business can leverage education and thought leadership to its benefit, there are a few factors that strongly predict success, including if …
Your most sophisticated customers are your best customers. In many businesses, the more educated your customers are about your product or service, the more loyal they'll be to your company—because they'll never have cause to wonder whether they're really getting the most out of their purchase. Thought leadership can empower them to do more with what you offer, and make more purchases down the road.
You're essentially a one-person operation. If you're the public face of your business, raising your own profile is a viable way to raise your business's profile. Think of thought leadership as a free sample of your expertise that helps you sell the larger package.
Your product fits into a complex process. You might be in an industry where some of your best prospects aren't comparing your product against the competition—they don't even know that what you offer exists as a solution to their problem. Thought leadership can be an ideal way to enlighten prospects about the value your business can bring them.
When someone has questions, you're the one with answers. You don't necessarily have to be a leader in your field to be good at thought leadership. "If you've ever answered a question in your life and had someone come back to you and say, 'Wow, that was really helpful,' then yes, you can be a teacher about something," says Bob.
He's noticed that one of the biggest hurdles people need to get over is thinking that they need to know everything about a topic in order to create thought leadership content about it. In reality, your audience probably doesn't even want an everything-and-the-kitchen-sink overview of your subject. Give them just one actionable insight, or one way of looking at the world that makes a previously murky concept light up, and they'll be grateful.
So, now that you're ready to put your teacher hat on, what's the best form for your thought leadership to take? Read on for our tips on creating and monetizing five types of content that establish you as a thought leader.
1. Blog posts as book chapters
One of the easiest ways to get started putting thought leadership online is to write blog posts. But not just any blog posts.
Your writing as a thought leader should focus on solving problems for the reader. What issues are your ideal customers dealing with? Yoga-teacher-turned-software-creator Jennifer Barcelos builds authority by offering blog content that her ideal customers, yoga studio owners, would find helpful but that isn't exclusively tied to her software product.
If you're confident in your writing skills, a blog can be a good test of whether you may want to someday write a book. In fact, Bob Jenkins says you should always start with a blog if you have an idea for a book, since you'll have time to build an audience and get feedback on your ideas. (In this case, you always want to read the comments. They'll be valuable to you in shaping your thoughts and understanding the kinds of content your audience is looking for.)
Once you've established a following and connected with them to understand the content that they find most helpful, then you can consider writing an ebook—which can be as simple as reformatting your blog posts, having a cover designed, and saving your document as a PDF. If it does well, you can even self-publish to Kindle Direct and gain a larger audience.
On the flip side, envisioning blog posts as chapters of a book can help you decide whether a certain topic should be covered on your business's blog or not.
Update on your most recent staff party? Rambling thoughts on the news article that popped into your inbox this morning (and will be forgotten in a month)?
Not book material, and therefore probably not blog material—assuming you have limited time and resources to put into your business blog and need it to get results.
How to make it work as marketing: Ideally, your blog posts and ebooks won't provide a total solution to readers' problems on their own. Think of this kind of content as an onramp to your for-sale products and services. It should add value to readers' lives while still suggesting an opportunity for further value if those readers work with you. Don't be afraid to do this in your copy itself by adding an aside or an endnote along these lines:
"I hope this information helps you make this challenge more manageable. That said, you shouldn't have to tackle this all alone. Click here to set up a quick (and free) consulting session with me so we can begin building an action plan especially for your situation."
There's one intermediate step you should also consider if you're writing educational blog posts or creating ebooks. Let's take a look at that next.
2. Lead magnets & content upgrades
A
lead magnet
is anything you give away in exchange for a prospect's contact information, and it's one of the most powerful concepts you can use in turning your thought leadership into a marketing asset.
Say you create that ebook (which doesn't have to be as long as a typical print book—think of a book as anything you probably wouldn't finish in one sitting). You could try to sell it … but it might have even more value to your business if you use it as a lead magnet.
Here's an example of how Diane Halfman uses her ebook as a lead magnet to generate potential customers for her professional organizing business: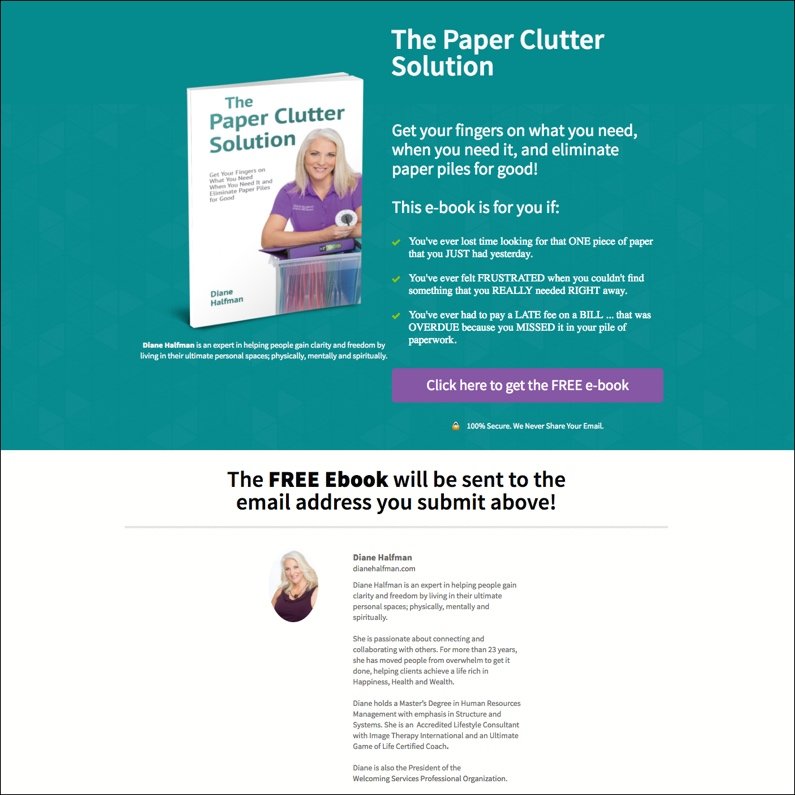 It establishes her professional credentials while sparking interest in her services and filling her email list with leads. In fact, if she wanted to, she could probably line up media placements based on tidbits from the book, and direct the audience to this landing page to download their own copy.
Regardless of how you're promoting your lead magnet, you'll want to build a focused landing page to get people to opt in. I won't get too deep into what that landing page should look like here, but I do have a great place to start.
Content upgrades are lead magnets you offer from a blog post, giving a little extra education that will help your audience solve a problem they are facing in their business. You can use pop-ups to deliver your content upgrade, which might consist of bonus material you couldn't fit into the post or an actionable resource such
How to make it work as marketing: Make sure your lead magnet or content upgrade is closely tied to the work you do, and be sure it includes your branding so that if people pass it around—as they should with a great piece of thought leadership!—everyone will know where it came from.
Then, be sure you have a solid email followup sequence in place for people who download. It's even better if you can tailor that email sequence specifically to the topic of the lead magnet and make use of the valuable information you have about your new leads' goals and interests.
3. Visual content
Thought leadership content doesn't have to involve paragraphs upon paragraphs of text, however. If your team includes someone with even basic design skills, you can turn your knowledge into:
Infographics
Graphs and data charts
Mind maps and flowcharts
Slides (either as part of a presentation or designed to stand alone)
Images help your readers to absorb the information by showcasing it in a new way, and they can also make great content upgrades or lead magnets. In fact, since images increase shares on posts on social media, they can be a great addition to your website or blog post.
How to make it work as marketing: These resources are pretty easy to produce as educational content. Bob suggests thinking of these graphics in terms of the problem you're solving and the "minimum effective dose" that will help your reader to not only solve that problem, but feel ready to take on the next obstacle (which your business can help them do).
Then, share your graphics widely—think Pinterest, LinkedIn, SlideShare, and other platforms that prize visual content. It's not too difficult to get people sharing an image that distills an important point to its essence. In fact, if your image strikes a chord, you'll likely see other bloggers use it to back up their own points. It's hard to find stronger proof that you're a thought leader than that.
Before you start sharing, though, make sure your image is easily tied back to your brand. Include your logo and, ideally, a link to a landing page where curious viewers can learn more about the topic and your company.
4. Speaking and teaching
If you're comfortable in front of a crowd, you might be a good candidate for speaking at conferences and workshops. Instead of immediately planning your own event, though, Bob suggests getting started on other people's stages.
Connect with your local community by going to meetups, networking events, and local conferences. You can start putting out the idea that you're looking for speaking opportunities among your network.
Bob also noted that conference organizers often attend other conferences, so you should seek out conferences to get on the radar of organizers from other events as well. Plus, attending conferences will give you an idea of what works as a speaker and what doesn't. (If you're looking for one marketing conference recommendation, I have to say that Converted 2016 is going to be a great opportunity to meet marketers from across the country and to see some awesome speakers.)
Once you've got a couple of speaking gigs under your belt, make sure the world knows about it. The blogger and podcaster behind Smart Passive Income (and Converted 2016 speaker) Pat Flynn built a stellar landing page all about him as a speaker. Here's a snippet:
It doesn't go into the weeds discussing anything else he's done, it simply presents all the information you would need before hiring him to speak at your conference. He includes notable places he's spoken before and even leverages his experience as a conference attendee in order to gain credibility with conference organizers who might be interested in hiring him.
A landing page all about your expertise and speaking experience (if any) is a great opportunity to put yourself out there and get noticed as a speaker.
How to make it work as marketing: Speaking onstage is one of the most powerful ways to establish yourself as a leader in your field, and it can also be a remarkable list-building opportunity. One tried and true tactic: at the end of your presentation, add a slide to your deck offering a copy of your slides (or another lead magnet you've already created) to audience members who opt in.
The easiest way to do that is to use a Leaddigit text-to-opt-in number, so attendees don't even have to open a browser window. For instance, here's one our own Tim Paige used to get hundreds of leads from a conference audience.
But you can also display a link to a landing page or your website—just make sure it's short enough for people to easily type in or jot down, using a link-shortening service if necessary.
5. Webinars
If you aren't quite ready to jump on stage, but you're motivated to share what you know with a live audience,
a webinar might be a natural choice
. "Webinars are a great happy medium because you get to be on stage with nobody in front of your face making you feel awkward," Bob says. Plus, it's a lot easier to attend a webinar than to fly across the country to a conference.
You can get started pretty easily by just listening to your customers and what they're looking for. Q&A webinars are a great place to start. You can just think of the top things that you get asked about so often that you're sick of being asked about it, and build a webinar around the answers to those questions and any others that you source from your audience.
You can also build a webinar around a clear pathway for your ideal customer to solve a problem in a few easy steps. Course creator and social media strategist Amy Porterfield's webinar landing page is built to solve a specific problem that she knows her audience is facing: creating an income-generating webinar.
The key to a solid webinar (and really any of these thought leadership ideas) lies in solving a specific problem for your audience. Make it clear in the way you package your webinar which problem you're going to solve for them.
How to make it work as marketing: The last point of your webinar should lead to an obvious next step that you want the audience should take with you, in order to keep the relationship going. You should be able to teach your audience without giving away all of your secrets.
Any given webinar will probably have a smaller reach as thought leadership than other kinds of content, but you can repurpose material from your webinar in other ways. Consider editing parts of your presentation to serve as a video series or mini video course (more on that below). A webinar recording also serves as a great reference if you're trying to land speaking presentations: it's a testament to how you present in a real-time context and the strength of your ideas. (Just add stage presence.)
For any of this to work, of course, you first need to fill your webinar, and a good webinar landing page will help tremendously.
6. Online Courses
I don't mean you have to halt what you're doing and start working with students one on one. With an ideal online course, you simply package steps of the problem solving process into modules that your audience can go through at their own pace. This can take the form of video, audio, text, exercises, worksheets, or whatever tool you think would be most helpful. You can offer it on a landing page or even use an email sequence to deliver the course lessons.
Courses should be dedicated towards solving a challenge but also realistic. Think of your student when creating your course—will they realistically be able to finish the course? Will it take a reasonable amount of time? Students who feel they've accomplished something are more likely to recommend your course to others in their field.
How to make it work as marketing: An online course can be an excellent lead magnet to offer on your site or to serve as a bonus for new email subscribers. And, of course, it enhances your authority as a thought leader: if you're good enough at what you do to educate others, you're probably very much worth working with.
How will you lead with content?
If you're wondering which of these methods you should be using to create your own thought leadership, try thinking about how
you
learn best. "I would have a hunch that the type of format you enjoy learning from the most is a good fit for you, because you have some good role models to follow," Bob says.
Plus, you can (and should!) recycle content across platforms. You shouldn't write exactly the same thing on your blog that you teach on your webinar, but you can tailor topics to different platforms by changing the depth at which you examine a given topic. A day-long workshop will be able to really dig into the content you created for your infographic, which will probably only be the highlights of a blog post on the same content, for instance.
Don't be afraid to give yourself credit for all you've learned in your business so far—it'll help you grow faster while helping others. And that combination of and success makes you a true leader, regardless of your industry or your title.
What's your take on thought leadership? Do you admire anyone you'd classify as a thought leader? Tell us in the comments.