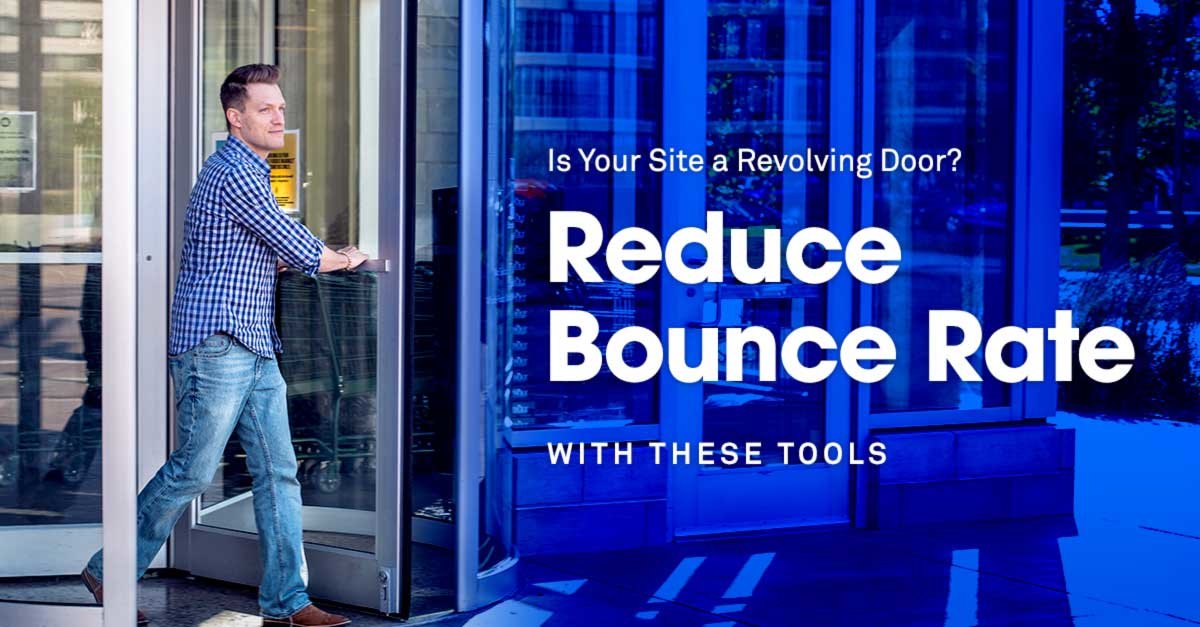 Some websites are sticky.
Not sticky like a bad situation, but like … a good cinnamon roll, say.
Your favorite blogs might be like this. You click into one article, maybe from Facebook or an email newsletter, and two hours later you're still happily wandering from one interesting-looking piece to the next.
Their bounce rate? Blissfully low, if most visitors behave as you do.
But most marketers don't have the luxury of running a site like this. What's more, unless your business model relies heavily on ad revenue from third-party networks, it isn't a model you necessarily want to try to replicate.
Because you don't just want eyeballs. You want action.
Past a certain point, it doesn't really matter if visitors are spending a ton of time on your site.
But it does matter if your bounce rate is high enough to suggest they're not proceeding to at least one next step.
It's a proxy for engagement. A high bounce rate suggests that visitors are clicking through, immediately thinking, "Whoops, that's not what I wanted at all," and then exiting. And no matter how many people pass through that revolving door, if none of them are making it to the cash register, it's not doing you any good.
A high bounce rate may also affect your search ranking and PPC advertising costs, as Google's machine-learning capabilities become increasingly reliant on real user signals instead of factors pertaining solely to the page and site.
Whether you're optimizing for conversion or cost per click, it's wise to take steps to reduce your bounce rate—starting with a close look at what kind of audience you're targeting and how fast your page loads.
Those are gimmes. But say you're pretty sure your content is already well suited to your page's audience, and your page speed is fast enough that you know slow load times aren't doing any damage. Can you still make further gains?
Possibly. I asked the Leadpages team and marketers at an array of different companies about the best ways they've found to reduce bounce rates on their landing pages and websites. Here are six (sometimes unexpected) tools businesses of every size are using to convince visitors to stop in and stay awhile.
1. Live chat
Imagine someone finds their way to your website while they're on their laptop at a coffee shop. They'd like to clarify a couple of things they see on your site … but they don't necessarily want to pull out their phone, disrupt people around them, and potentially get your hold music stuck in their head for the next week.
Live chat can fill the gap between phone calls and emails, and engage visitors who might otherwise bounce when they don't see exactly what they're looking for.
Sebalis Davis of live-chat company Pure Chat notes, "When on the phone, you can only convert that one person (or group) you're talking to. Depending on how many you have time to talk to within a workday, you might not be able to get through that many prospects. But while using live chat, which can be equally as effective, you're able to capture those who may have otherwise stumbled across a competitor."

He shared a story from his own experience on the customer side of the chatbox:
"I recently got married, and I decided that I wanted to have a table of cupcakes at the wedding. I looked at a few websites from bakeries in the area, but I saw that it would take hours—sometimes an entire day to get the answers I needed regarding flavors, cost, etc.

"Finally, I stumbled upon a company that used live chat! It took a whole 5 minutes to get what I needed, and the responsiveness sold me in itself. I was trying to help my fiancé (now wife) plan our wedding, while working full time and purchasing a house. The bakeries that didn't help me reach an immediate resolution fell out of mind as soon as I got back to work. However, for that one that got everything solved immediately, I was ready to pull the trigger."
So where should you consider using live chat?
"Your pricing page would be a great start," says Sebalis. "Clearing up confusion right away will increase the number of those who purchase." Then, "Think about a few other pages on your website. Support! Make sure that you are wherever that customer may go to specifically for questions. Throw the FAQ page there as well. The goal is to be everywhere that the customer will visit with a question."
That includes landing pages, in his view. "No matter how simple an offer may be, there are still usually questions," he notes. "When does this expire? Can I use this coupon for multiple purchases? What all is included? These all look like questions to me." (Most live chat services, including Pure Chat, give you a snippet of code that you can simply add to the body-section tracking code field on your landing pages.)
A few other best practices: style your chat box to match the page it's on, be available as much as possible, and set up an "email us" option for the times you're offline. And, says Sebalis, "Don't come off as scripted. It's very easy to tell if someone at a business is being genuine and willing to help, versus someone who is regurgitating typical answers that a customer can find somewhere on the site. You want them to know they're talking to a human, not a robot."
2. Search functionality
I have to admit, I was a little bit surprised when I got this response. Search bars seem a bit old-school, after all. Could they really make a difference?
SEO expert Sam Williamson of the marketing team at CBDiablo says yes.
"We implemented a search bar on the homepage of a client's site and managed to reduce the bounce rate from around 80% to around 50%," he reported.
Why did this work so well? Sam finds the explanation in a broader look at search behavior:
"The reason that metrics like bounce rate are so hard to decrease is that search engines like Google are extremely convenient, and users assume that if they can't find an answer on your page, there will be another page presented in the Google search results that will help them. By offering search functionality on your site, you are providing users with the option to easily search your site for the answer before bouncing back to Google."
Search functionality is a must if you have a large site with lots of content. In fact, Sam says, if you do have a complex site, "There should be a search bar for every page that you would consider to be a landing page."
That might or might not be true for your business and your landing pages, but search functionality is easy to implement if you suspect a number of bouncing page visitors are good prospects who have momentarily lost their way. A basic Google custom search bar is free, and you can even drop the search bar code for your main website into an HTML widget on any one-off Leadpages you create.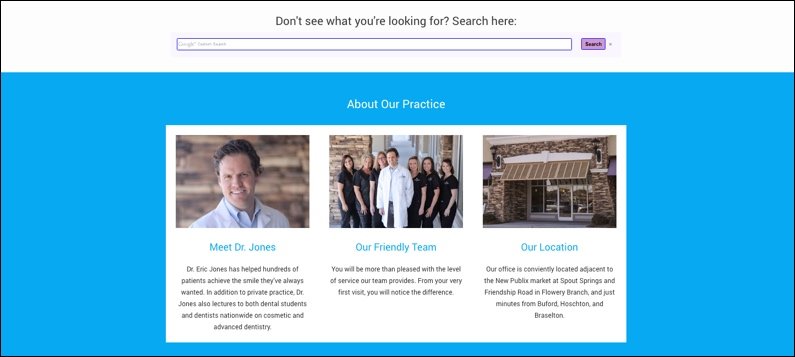 3. Interactive widgets
With its drag-and-drop page builder, Leadpages now enables you to add all sorts of HTML-based widgets to your landing pages to make them irresistibly interactive. They're an easy way to deliver a truly custom experience with everything from price quotes to quizzes.
Jim Keough of digital agency WebiMax says he's found success with a tool called Calculoid. He says:
"Interactive website calculators can provide valuable information for your site visitors that can lead them to see your brand as more authoritative, credible and even helpful within your industry. All that can go a long way to creating new customers. Whether you're helping visitors how much they could save on insurance or interest, or helping them calculate something more scientific, Calculoid is an easy way to add value to your site."
Here's an example from a solar-panel company: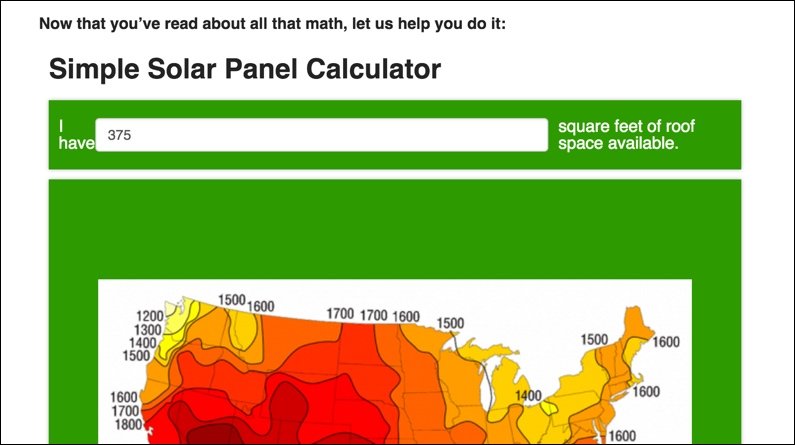 Once the visitor has filled in their information, the calculator displays an answer—but the journey doesn't end there. To help visitors act on the info they've just received, the page presents a call to action.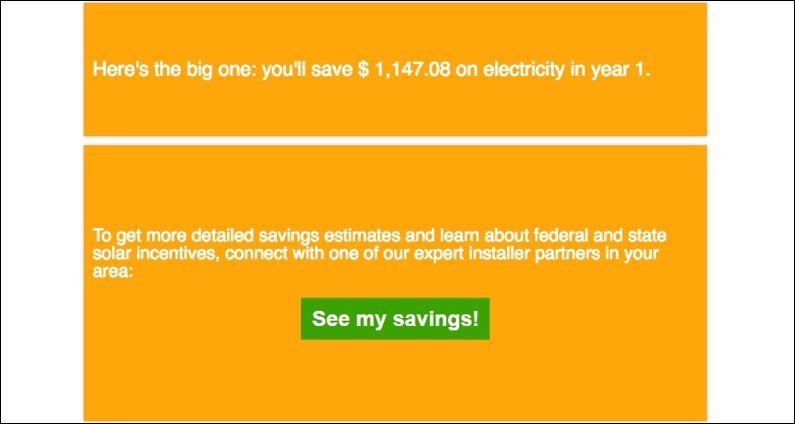 I'd suggest using a Leadbox opt-in form here to connect with the highly engaged visitors who have used your calculator, letting them join your list or contact your sales team.
4. Exit pop-ups
Actually, pop-ups themselves are a great way to retain visitors who were about to bounce. When you choose the Exit pop-ups setting, your page will notice when someone makes moves to click away. At that point, it'll trigger a form, like this:

Adding an exit pop-up to your site gives you one last chance to get your best content in front of someone who might otherwise never come back again. (And, of course, it gets that person on your email list to keep the connection going.)
That means you need to make it count. Use this space to showcase your most immediately appealing giveaway, and be more descriptive with your copy and imagery than you might be with a regular opt-in form—visitors didn't ask to see the pop-up, so they likely need a little more context to convert.
Finally, in our experience, exit pop-ups are most effective when you go ahead and acknowledge that visitors were about to leave. "Wait! Before you go…" is a reliable framing device, but feel free to get more creative and even playful if it supports your brand.
5. Copy helpers
You know your landing page has a pretty darn good offer that's suited to a carefully targeted audience.
But are you 100% sure you're presenting that offer as vividly as you can?
Bryan Clayton is the CEO of GreenPal, a company he describes as "Uber for lawn care." When I asked how he keeps the bounce rate low on his site, he recommended paying attention to the copy. He calls his method the "bucket brigade" tactic:
"With the bucket brigade tactic you can keep your visitors on page longer bye breaking up the copy every two or three sentences and using subhead phrases such as these:

Here's the deal
Why does this matter
What's the catch
How can this help you
The best part

"That will captivate your readers' attention and psychologically drive them down the page reading more of your copy, keeping them on your site longer."
Bryan has a little technological helper he recommends in this process: the Hemingway Editor app. If you're trying to make your writing as simple and scannable as possible, paste it into the app to get suggestions for tightening things up.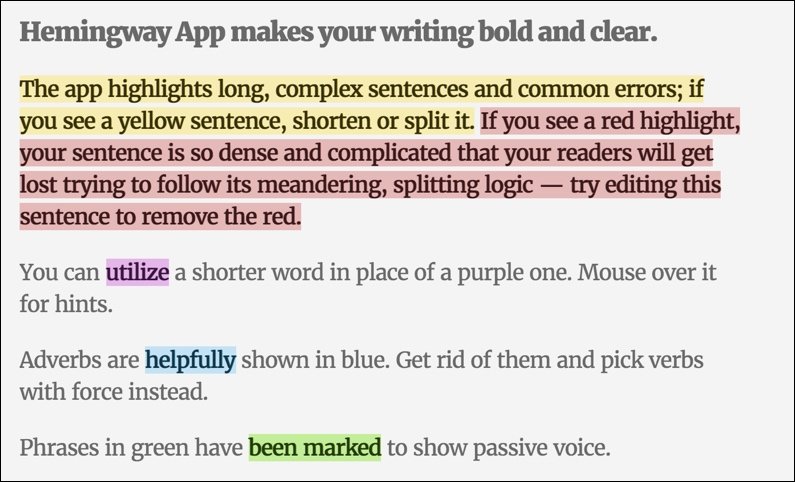 6. User behavior tools
So far we've focused on things you can add to your landing page or website. But there's one more category of tool I heard suggested time and time again to help reduce your bounce rate—and it's something your users will never see.
When you've racked your brain trying to figure out why so many visitors are bouncing from a particular page, sometimes the best thing is to dive in and see exactly what those visitors are doing.
"For my website I like using a tool called Mouseflow," said iTestCash CEO Alex Reichmann.
"You can literally watch how your site visitors act when they land on your website. The recordings show users where users click and what pages they click through … You can see how your visitors react when they go to a landing page and you can adjust the page accordingly. If visitors appear to leave right away then that isn't a good sign, but if visitors stay for a while and click through your website, that is a good sign. Sometimes simple edits like adding video, pictures or making some pages easier to read can make all the difference in your bounce rates."
Similarly, Readers.com growth manager Jon Corwin recommended Hotjar, which includes heatmaps and user recordings among a suite of other tools. He reported:
"We've successfully used Hotjar to identify the biggest opportunities for improvement based on observing visitor behavior and survey responses to improve KPIs like average session duration, average pages viewed/session, average order value, add-to-carts, and of course sales. For example, we used Hotjar's on-site survey feature to ask customers 'What's stopping you from purchasing this product?' on our product pages and used this insight to address specific hesitations in our product descriptions, which improved sales volume for those SKUs."
Jon recommends taking a methodical approach to user behavior studies: "As for extracting maximum value out of the tool, I recommend starting by gathering a series of visitor recordings or heatmaps to identify quick opportunities for improvement in usability. Once we were comfortable with the platform, we created a prioritized list of hypotheses that we then tested against using Hotjar's suite of tools."
When you can pinpoint where visitors are focusing and where their attention drifts, you can rearrange your page to draw them deeper into your site—making for a better browsing experience for them and a lower bounce rate and better conversion rate for you.
What other tools do you recommend to capture visitors' attention? Share your favorites in the comments.