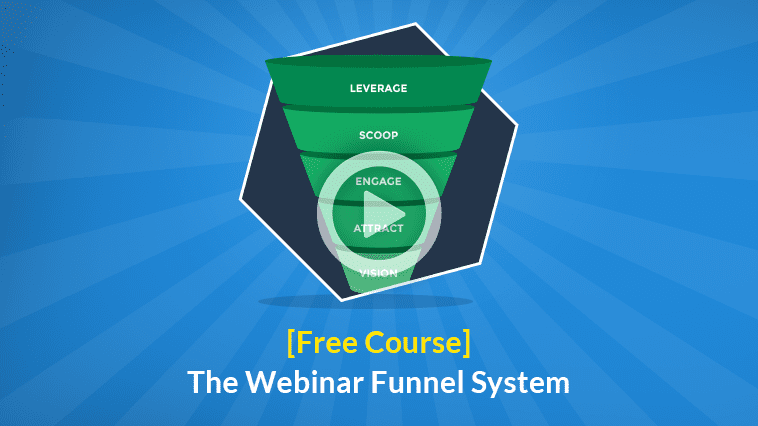 We're excited to bring you this complete course, The Webinar Funnel System – no charge (click here to dive into the course).
I'm Bob The Teacher, the Marketing Educator here at LeadPages™, and I've created this course to level the playing field a bit.
In this free 10-video course, I'll show you how to benefit from the same webinar funnel we've used here at LeadPages™ to go from 0 to over 25,000 customers in under 2 years.
Here's What's Inside The Webinar Funnel System…
Video #2: Your Vision
In this video, I'll lay out the game plan for YOUR Webinar Funnel System and make sure you have a few essential pieces in place from the beginning.
Video #3: Attract (Part I)
Attracting your ideal audience to flock to your webinars is such a key topic, I've split this section into 3 pieces. What few marketers will tell you is the key to profiting from webinars starts LONG before you ever put your upcoming webinar on the calendar. Find out how to pre-load your invitation list with ease.
Video #4: Attract (Part II)
Your success with webinars partly depends on how well your invitations convert to registrations. I'll show you the 4 key elements of a high converting webinar registration page you can easily use to elevate your own sign-ups.
Video #5: Attract (Part III)
Attracting more webinar registrations is good, but making sure more people actually SHOW UP to your webinar is essential. In this video, I'll show you how we increase our attendance rates and get our attendees' help with growing our audience.

Video #6: Engage (Part I)
Your webinar just went live – now what? In this video, I'll lay out my blueprint for what to say and do to keep your attendees hanging on your every word – to the very end of the session.
Video #7: Engage (Part II)
If you plan on offering your product, service, or a consultation during your webinar, you'll love the conversion strategies I lay out for you in this video. Sending people to the wrong type of sales page, or making a mistake in how you present your offer will sabotage your results. Don't make those mistakes; watch this video to see what to do instead.
Video #8: Scoop
Congratulations – your webinar's over. Now what? Don't settle for live webinar sales only. Utilize the strategies in this video to scoop up more customers and help more people with the specific post-webinar actions I'll teach you below (hint: showing a replay is just a small piece of getting this right).
Video #9: Leverage (Part I)
Want to maximize your profits and impact with webinars? Then you must optimize your webinar funnel. I'll teach you all about split-testing (in plain English) and other strategies for increasing your short-term and evergreen conversions.
Video #10: Leverage (Part II)
Webinar marketing is not a "one-and-done" exercise. To create an evergreen marketing system, you'll want to follow the steps I lay out for you in this video. This is where your competition is getting lazy, and where you can rise to the top for your audience.
I'm also going to give you download access to:
all the text and bonus materials for this course,
the PDF versions of ALL the slides, and
Yes – ALL the videos and audios, too!
After you've enjoyed the course, I'd love to see your comments and questions below! Share how you're using webinars in your own marketing, and what actions you're taking as a result of this course.
Here's to your success with webinar marketing!