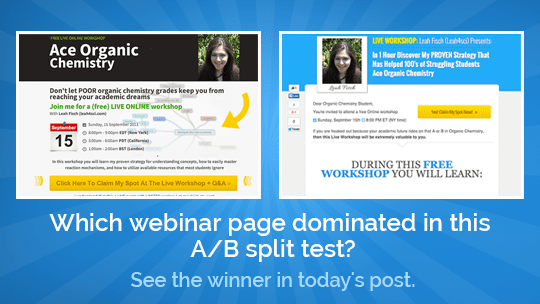 By Kat Von Rohr, Writer for LeadPages
I have a prediction for you.
By the time you're done reading this post, you will want to try this same A/B split test for your business. I'll tell you why in just a moment.
First, I need to give credit to LeadPages customer — Leah Fisch from Leah4Sci.com — for running the split test you see below.
Actually, Leah has ran a series of split tests like this one, to see which webinar page attracts more organic chemistry students to her webinars.
As you can see, Leah is testing two dramatically different pages against each other. So far, one webinar page has dominated (with an over 100% boost in response).
But which webinar page do you think is winning here?
Check out the two pages below and then scroll down for the winner…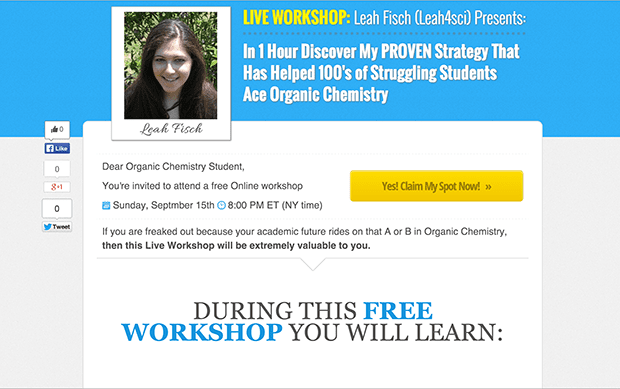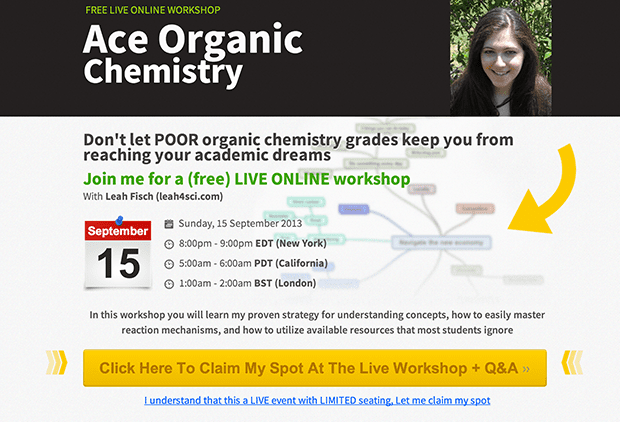 And the Winner Is…
Choice A. The cleaner, bluer "Webinar 2.0 page" boosted response by 102% in this split test.
According to the data inside LeadPages, choice A won with a 95.28% probability. That means there's a 95.28% probability that this mathematical result is not due to chance.
(As I mentioned last week, you should always check to make sure that your own split tests have at least a 95% probability rate or higher before you declare a winner.)
According to our customer, Leah, she ran this design split test because she heard our CEO, Clay Collins mention on several webinars how well the James Schramko Webinar page (choice B) has been performing.
While it's true that the James Schramko webinar template has been winning for us, that was NOT the case in this particular split test for Leah's audience.
This is a classic example of why it's always critical to run split tests to your own audience. Because until you test, you never know what's going to resonate with your crowd of fans.
Interestingly, Leah felt the same way. Before the results were in, she hypothesized that the Webinar 2.0 page would perform better for her audience. In the end, her gut instincts won out.
Going forward, Leah is continuing to test to ensure that this page continues to win.
A big thanks to Leah for giving us permission to share her results. For more on what Leah is doing to help frustrated students ace organic chemistry, check out Leah4Sci.com.
The Kind of Test That's ONLY Easy Inside LeadPages
I mentioned at the beginning of this post that you will want to try this A/B split test for your own business. Here's why I say that…
Both of the pages that you see if this A/B split test are ready-made templates inside LeadPages.
These two pages both feature the same colors, fonts and exact layouts that come prepackaged with both proven templates. (I say "proven" because a template doesn't make it inside the LeadPages gallery until it's been thoroughly tested.)
Since both of these pages are proven, it's a lot like pitting two all-stars against each other to see which one wins for your business. (Always a good idea.)
Also, this is the kind of test you could only do easily inside LeadPages. If you tried to do a similar test on your own, you would have to design, develop and test two very unique pages to ensure they were both proven all-stars — before you started testing them against each other.
As it is, if you're a LeadPages customer, you can easily pull up any of the over 60 templates inside LeadPages and start running A/B split tests like this one. Simply pull up two different templates inside the member's area. Drop in your copy and graphics, and you can create two pages to start testing in less than 20 minutes.
If you're a pro customer, it gets even easier, because you can use our split testing tool inside LeadPages to run the data for you.
So my question for you: Will you try a similar test like this in your own business? (Or have you already?) Why or why not? Let me know if you have in the comments below.