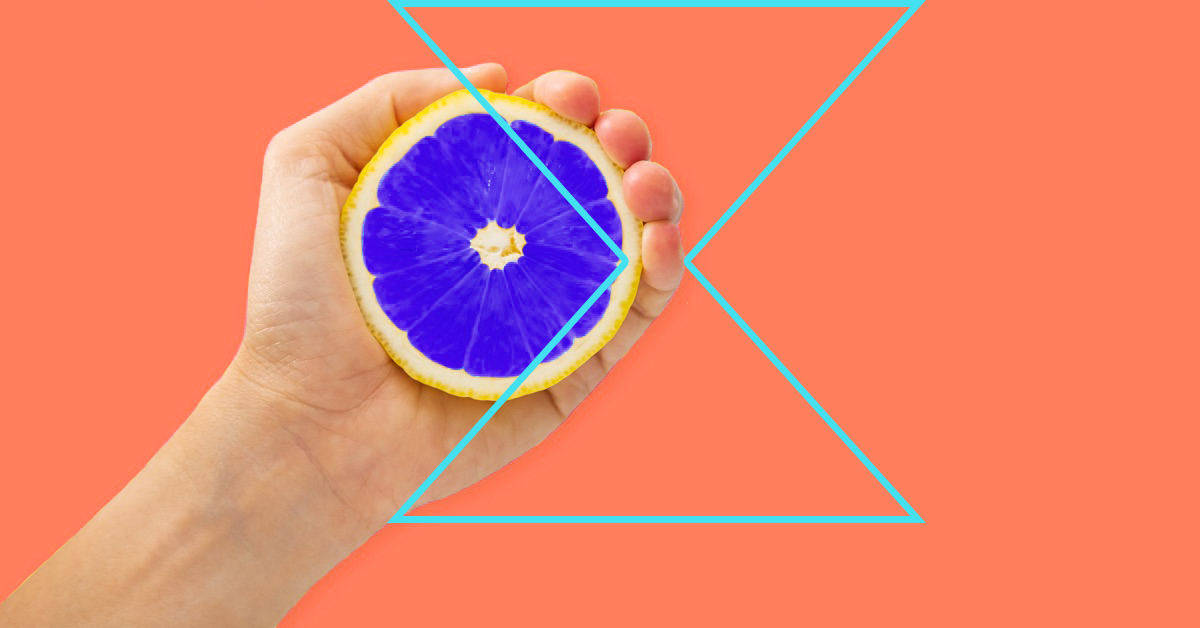 Learn How You Can Build Your Email List with Squeeze Pages
Squeeze pages, landing pages, capture pages, splash pages, opt-in pages—oh my! If you're feeling lost in a jungle of endless marketing terms for sales pages, it's because you are. But we're here to set the record straight. We'll clarify what a squeeze page is, how they work, where and when to use one, and how to make your own.
First—what is a squeeze page?
A squeeze page—also sometimes called a capture page—is a particular kind of landing page that has one purpose: squeeeeezing an email address (and perhaps a first name) out of a visitor. Not literally of course—but in exchange for a piece of content.
Sound like what you're looking for? Alrighty then, let's talk squeeze pages!
Do squeeze pages work?
Absolutely. And they may be one of the most powerful tools in helping you build a healthy email list filled with strong leads. But not all of them are built equal. You'll need to spend a bit of time crafting a strong headline and CTA that visitors can't say no to. More on that below.
What's the difference between a squeeze page and a landing page?
We hear this question a lot. As it turns out there's a lot of confusion around the terms used for various marketing pages. Squeeze pages are landing pages—but a very specific type of one. They're short and designed to do one thing: get an email address.
More broadly, landing pages can have different goals. It could be educating a visitor, it could be sales, or in the case of a squeeze page, just getting an email address.
So all squeeze pages are landing pages, but not all landing pages are squeeze pages.
Squeeze pages don't beat around the bush. They get straight to the point in asking for your email address. As such, they should be as clear and concise as possible. This works because much of the education and "pre-sale" conversations are taking place elsewhere.
When should I use a squeeze page vs a landing page
Knowing when to use a squeeze page is simply a matter of knowing when the tool is right for the job. Squeeze pages are most effective when the visitor has an idea of who you are and what you're about. They want to know more about what you're offering, and so they've clicked something to find it. That's when you'd use a squeeze page. It's a quick way of saying "Can we have your email address in exchange for this content?". It's a low-commitment deal that's easy for users to opt-in to.
On the other hand, a traditional longer-form landing page is more suited to scenarios when there's a different objective or more work to do; explaining the benefits of your services, persuading the visitor to start a trial, or offering something that just requires a higher level of information.
Examples of good squeeze pages
Let's take a look at what that means. Here's a squeeze page example from Neil Patel:
Neil offers a downloadable piece of content (SEO cheatsheet) in exchange for an email address and first name. It's short, sweet, and has a single objective: get that email address.
It also does something that all great squeeze pages do because it presents an implicit ultimatum: either take the offer, or leave the page. There's no content or extra hyperlinks that distract from this 'in or out' choice.
Here's what makes this squeeze page so effective:
It's short
The sales copy is crisp and clear
There is a single call-to-action (CTA) button
Here's another squeeze page example from Marie Forleo:
Marie's squeeze page works so well because it's clearly tailored toward a warm audience that's already somewhat familiar with her offer and she includes all the detailed information after the opt-in form. How do we know this? Because she comes right out and says it: "Enter your name and email to learn how we can help make you, your messaging and your business more powerful." Who wouldn't want to opt in to that?
She checks all the boxes of squeeze page best practices:
A single CTA
Crisp copy
Followed by a thank you/ welcome message
Marie also does a great job by excluding distractions. No navigation menu, sidebar, footer widget area, or links on the page. She keeps all of her web traffic focused exclusively on the single offer at hand.
Here's a helpful summary of what a squeeze page is all about:
Visit our landing pages guide for more information!
What makes a squeeze/opt-in page enticing?
The thing about squeeze pages is that no one's just going to give away their email address for nothing. If they're going to opt-in to your mailing list, you're going to need to give them something in return. And most of the time, that something is free content—otherwise known as a lead magnet. What kind of lead magnet? Only you know the answer to that.
Some common lead magnets for squeeze pages include:
eBooks
eCourses/ video trainings
PDF guides/ checklists/ resource lists
Templates/ worksheets
But really, the sky's the limit. If they want it, and you can give it away for free, it can be a lead magnet.
Should I use a squeeze page as a homepage?
Once upon a time, it used to be popular to use a squeeze page in place of, or in front of a homepage in an effort to try to persuade visitors to opt-in and join your email list before browsing your website. That's not a tactic we recommend.
Why? Because if you use a squeeze page as your homepage, you risk damaging your search engine optimization (SEO) and decreasing your ranking position in search engine results pages. This is because – in the eyes of Google – your homepage would have little to no content on it and no internal links to other pages. That signals to search engines that your site has low-quality content, and it can be an SEO kiss of death.
Your home page should be a rich home base, that includes enough content and credibility to bring in organic traffic.
However, you can give your homepage the benefits of a squeeze page by keeping your website homepage focused on a single challenge and solution that you offer, and provide a clear call-to-action for getting a lead magnet from you in exchange for an email address.
How to create a squeeze page
As a pioneer in the world of landing pages, we know a few things about crafting a page that will squeeze that email address from just about anyone who sees it.
1. Create a lead magnet your audience will love
Lead magnets are the freebie offer that you give away in exchange for an email address. Think: "To download my free ebook guide, simply enter your email here!"
Lead magnets are sometimes known as opt-in bribes – but in order to be effective in today's digital marketplace, you have to give away high-value content that your audience will truly love.
There are many ways to create high-value lead magnets without investing too much time. Here are just a few examples of lead magnets you can create in 30 minutes or less:
A how-to guide, do-it-yourself project, or list of resources to accomplish a specific goal, packaged as a simple PDF.
A product teaser, such as a chapter of your book, a module of your course, or a resource guide.
An FAQ one-sheet related to your industry.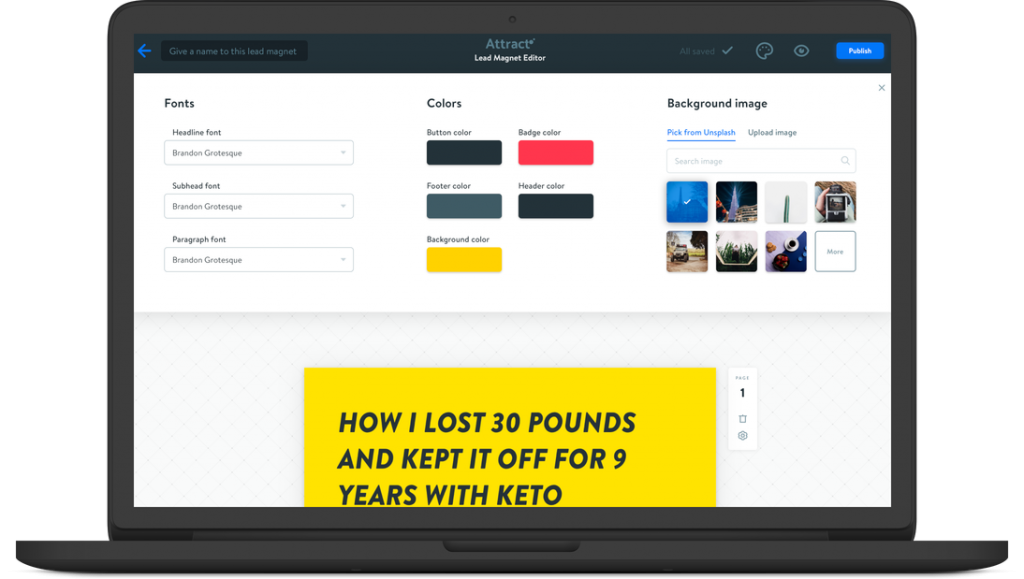 Create Unlimited Downloadable Lead Magnets (for Free) With Attract.io
Sick of fumbling with freelancers or formatting PDFs and PowerPoints? Attract.io is a free lead magnet builder.
Regardless of the format you choose, a good lead magnet needs to:
Make sense for your audience.
Find out what your customers are interested in or struggle with. Use your knowledge and expertise to craft a lead magnet that informs or helps them solve it that issue.

Make sense for your business.
It has to tie back to what you do. You might have in-depth knowledge on health and fitness. But if you're trying to generate leads for your career coaching business, an ebook about exercise won't do much for you.
Once you have an idea for content that your audience will devour and that serves your business goals, creating the lead magnet can be as simple as typing it up or turning content you already own into a PDF file.
2. Choose a landing page builder that will make things easy for you
Now you have your lead magnet, and you need somewhere to advertise it, plus a way to deliver it to people who sign up.
Make things easy on yourself by choosing a squeeze page builder that integrates well with your email service provide and allows you to create an effective landing page without having to master new tech skills.
Inside our landing page template library, you'll find lots of customizable squeeze page templates that are perfect for any business type. You'll also have access to our built-in lead magnet delivery system (no email service provider required).
Whatever tools you choose, start simple. You can always upgrade or branch out as you gain new skills.
This is probably a good time to point out that we offer a free 14-day trial. So it's a great time to get in there and see what Leadpages can do for your business.
3. Craft a strong but short message
The key to a killer squeeze page? Don't overwhelm the reader.
All you need to do is tell them what to do and what's in it for them. That's it. You don't need to explain your business. You don't have to provide social proof. Just a clear solution to a problem and how to get it.
Remember: a squeeze page assumes that the bulk of the "pre-sales" education and conversations are taking place elsewhere, so you don't have to worry about keeping your copy lean and mean. (Learn more about sales funnels and begin the process of creating a sales page.)
Try these formats:
Headline: Asks about the problem they're experiencing.
Subhead: How this lead magnet solves the issue.
Headline: How you solve a specific problem.
Subhead: Elaborate on what they can expect in the lead magnet.
Starting a business is certainly something to be proud of. But if there's one thing you need to remember about crafting your squeeze page message, it's this:
Keep it short. Keep it crisp. And remember: it's about them and their challenges.
4. Choose the right background image for your landing page
In A/B tests, we've consistently found that a full-width photo background outperforms a plain page background—if that image is a good one.
Many people suffer from decision fatigue when it comes to choosing an image to place on a squeeze page. Don't overthink it. Choose the main image that supports your message and is easy on the eyes—and be wary of making people work too hard to understand a photo.
We've also seen completely gorgeous background photos flop in split tests. In almost every case, that happens because the photo doesn't relate to what the audience wants to achieve. You might think a luxurious beach scene would appeal to almost everyone, but if your messaging targets an audience that believes excellent work is its own reward, an image that suggests people should kick back and relax won't connect.
5. Add a powerful call-to-action (CTA) to your page
Finally, you need to write a call to action (or CTA) that converts.
Remember, your squeeze page is short and simple, so visitors will only spend a moment—perhaps only a few seconds—deciding whether to opt-in or leave.
The first rule of a good call-to-action button is to tell people what to do and why clearly and quickly. Try "Download Now," "Claim My Spot," or "Yes, I Want the Free Report," all of which indicate both an action and the end result of that action (implicitly or explicitly). Buttons that do both these things are typically more effective than ones that focus on just one, such as "Click Here" or "Free Report."
The second rule of a good call-to-action is lowering the perceived difficulty of the request. "Get it now" is faster than "Register now". "Read the eBook" is more immediate than "Sign up for the eBook". Make the action as easy as possible.
And if you can use the "F"-word—free—do so. We've seen conversion rates increase when people simply add "free" to their buttons and other copy.
Finally, make sure the button itself is large and obviously clickable.
Calls to action (CTAs) are arguably the most important piece to your landing page puzzle. You could have a beautiful page with practically poetic copy, but if your CTA is lacklustre or hard to find, your conversion rate will suffer. Get a CTA Button Pro Tip
Congratulations! Now you know how to make an effective squeeze page.
The best squeeze page templates
When it comes to landing page design and squeeze page/capture page templates, it's not a "one-size-fits-all" kind of discussion. The truth is, it's highly variable. Your audience, where they are in their buyer's journey, along with the nature of your product/ service will all determine how to structure your page and what features to include.
That being said, of course, we can offer up a few tips for success:
Keep all content above the fold (to display on a single screen with no scroll)
Focus on a hard-hitting headline
Use a full-width background image or colored background
Choose a contrasting color for your CTA button
Remove all navigation, external hyperlinks, social share buttons, etc.
Avoid Squeeze Page Generators
In your search for capture page templates, you may stumble on services that offer 90-second squeeze pages, free capture pages, free opt-in page templates, and the like. While free always sounds nice, in the case of these generators, it's definitely a case of getting what you pay for. They have few, if any, customization options. And you'll almost always end up with a spammy, off-brand page that delivers lacklustre results.
Want to learn more about landing pages?
Check out this robust landing pages guide, featuring:
What about you?
Do you use squeeze pages on your website? What have you learned about creating a high-converting squeeze page for your audience?
Tell us what works and what doesn't in the comments below!