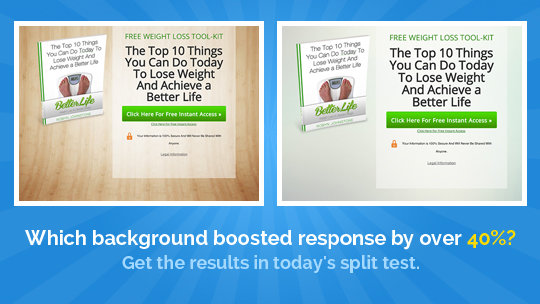 By Kat Von Rohr, Writer and Editor for LeadPages
When you're split testing, something as simple as changing your background colors can have a significant impact on your results.
Take this split test below for example. This quick background change boosted conversions on this lead generation page by over 40%. I'll give you the exact numbers on this split test here in a second.
First, I need to give credit to LeadPages users, Chris Johnstone and his wife, Robyn Johnstone from mybetterlife.ca for running the split test below.
As you can see, Chris and Robyn are only testing background colors in this split test. Specifically, they're testing the standard LeadPages background color vs. a background color that matches their business's branding.
So the question is: Which background made the difference here?
Take a look and then scroll down for the answer…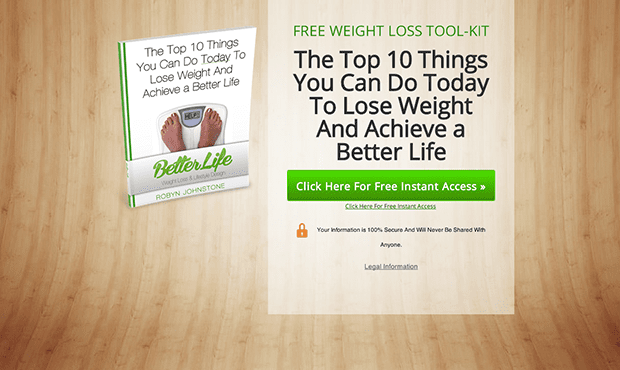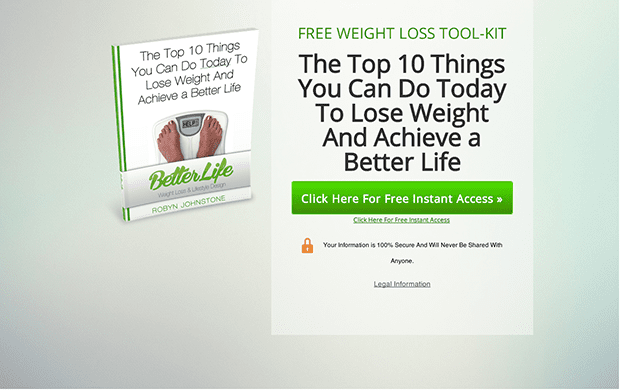 And the Winner Is…
Variation 1, with the green background that matched Better Life's branding.
This second background with the business's branding led to a 42.54% boost in response — and a 99.96% probability rate that this winning background was not due to chance.
(As a benchmark for your own split tests: Most marketers consider split test results statistically significant if the probability rate — also called the "confidence rate" — climbs above 90% – 95%.)
LeadPages users, Chris and Robyn have been running this split test since early October. Since then, the winning page grabbed an impressive conversion rate of around 20% — compared to 14% for the losing page. You can see the exact conversion rate range and conversion data for each page below.
Also, a total of 1,974 visitors have viewed the two variations of this page throughout that time. You can take a closer look at the numbers from inside LeadPages here.

Digging into These Results
According to Chris, when they began split-testing, they hypothesized that the second background with Better Life's branding would increase conversions. After months of testing, they have been proven right.
Also, over the course of a several month-long campaign and split-testing, Chris and Robyn have managed to lower their cost per lead, while boosting their conversions. As Chris told me…
"Our new insights into what triggers our prospects to take action has helped us position our offering better and increase sales conversions." 
A big thanks to Chris and Robyn Johnstone for sharing their results with us. To learn more about what they're working on now, visit mybetterlife.ca.
How to Run This Test on Your Own
This isn't the first time we have seen a split test like this.
Last year, James Schramko ran a similar split test that we reported here on the blog. The result? James also found that swapping out the traditional LeadPages colors for the colors of his blog boosted his conversions.
Of course, that's no guarantee your audience will respond in the same way to your unique branding on your own pages. So you'll want to test to find out.
Considering that it only takes seconds to swap out a background on any opt-in or sales page, I recommend you run this split test immediately to see if it boosts your conversions.
If you're already a pro LeadPages member, you can start testing right now with our built-in split testing tool. (If you're not a pro member, you can find out more about how to upgrade your account in the video below.)
Even if you're not a pro member, you can still split test your pages inside LeadPages with any other split testing tool on the market, if you prefer. It's entirely up to you. 
That's it for today. Before you go, what's your take on today's split test? Did you find these results useful? Let us know in the comments below.