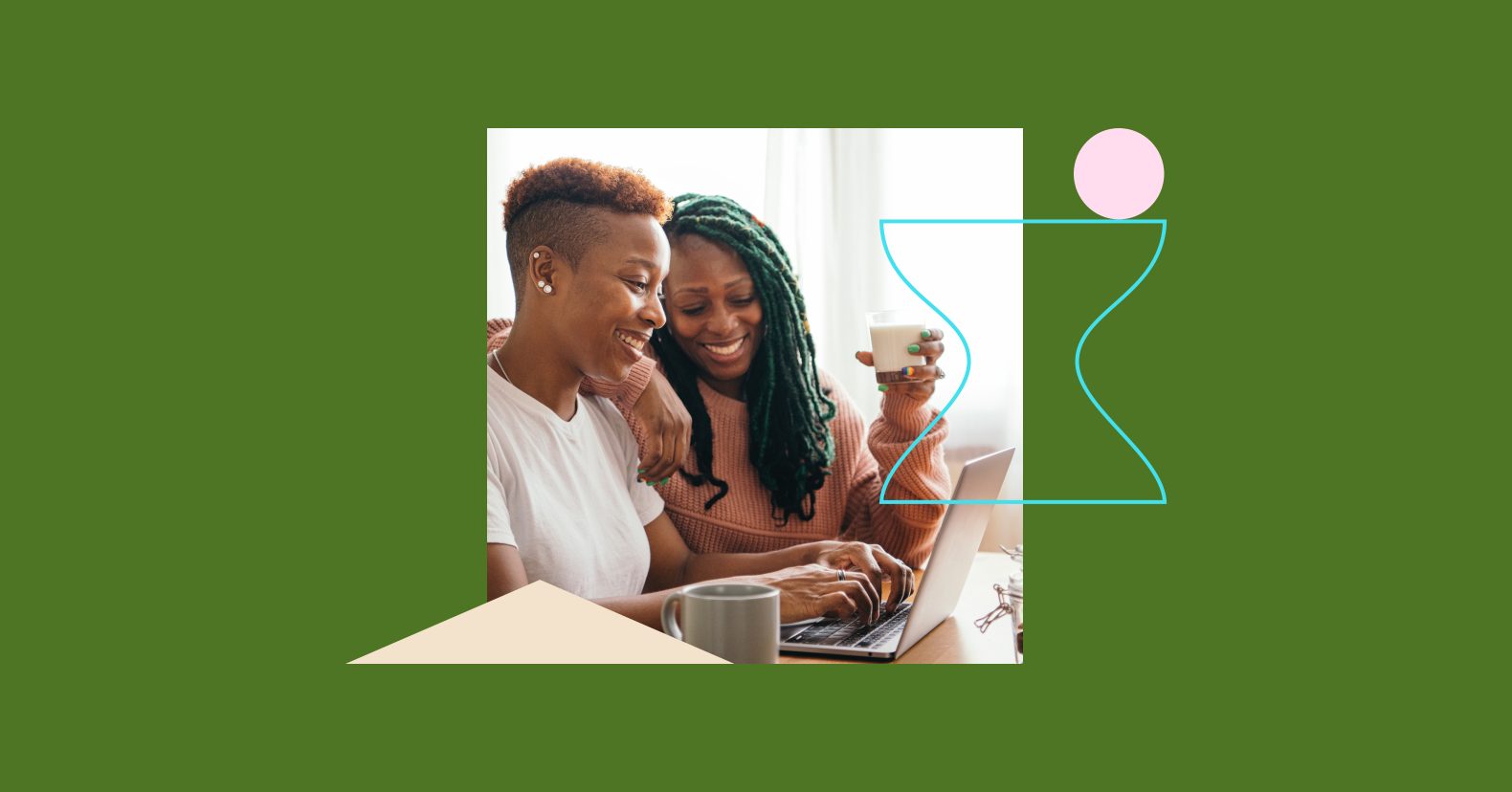 We're in uncharted territory as we face a global health pandemic. Most of us are hunkered down at home, protecting ourselves—and our communities—from harm's way.
Here's some silver lining…You can use the self-quarantine time to your advantage. There are so many things you can do as a small business to use this time to propel your business forward.
Here are 10 ways to use physical distancing and isolation to your advantage as a small business owner:
1- Check your metrics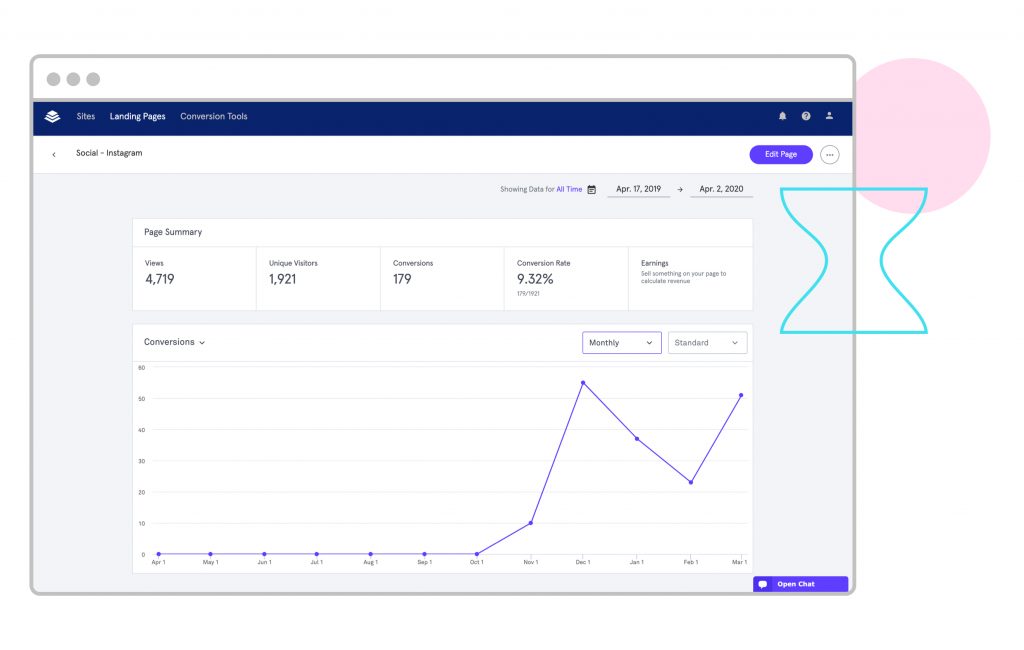 As a small business owner, you often operate in overdrive, and think only 'in the (right) now'. But during self-quarantine, you have a unique opportunity to look back (and into the future) by checking in on your metrics.
We know you probably check your daily web metrics frequently, but we're talking wide-angle views. What are the three, six-month, and yearly trends? What's taking off? What's falling off? Take a longitudinal look at your:
Your Leadpages dashboard, if you're a user
Web analytics, like Google Analytics
Sales revenue
Qualitative customer feedback
To determine important metrics like:
Unique visitors
Time on page
Number of leads
Customer retention rate
Click-through rates
Conversion rates
Traffic sources
Then, once you gathered all appropriate metrics, identify the gaps and opportunities in your business. Ask yourself:
"What are my weaknesses?"
"What are my strengths?"
"Where are my opportunities?"
"What are my long-term threats?"
Gather all the data and then (and this is the important part)—find the insight. The insights should lead to hypothesized or proposed solutions to become a stronger force in your industry. Data is one thing, but to glean insights is another. Here's the truth:
Data –> insight –> action.
You can inform yourself of incredible insights which you can put into action with the help of numbers.
2 – Fashion yourself a project manager
When we're in a lull, instead of choosing the 'hottest fire to put out,' we might find the time to really organize our tasks. We're often running from urgent to urgent, but it's the important pieces that have an impact. Use this lull to reset and recommit.
Want to know how to do it? Stack-rank every task in terms of estimated impact and level of effort so that you know where to begin and what to focus on first. Then, identify your objectives and chunk those down so they're actionable. After that, set a time frame for each one of the bullet points.
Then, after you create a prioritized task list, think about the mental roadblocks that deter you from being efficient. Ask yourself:
"What will get in my way?"
"How will I move through it?"
Set weekly and daily goals, time estimates, track your progress & completion. This will keep you on track as you move toward your goals!
3 – Care about self-care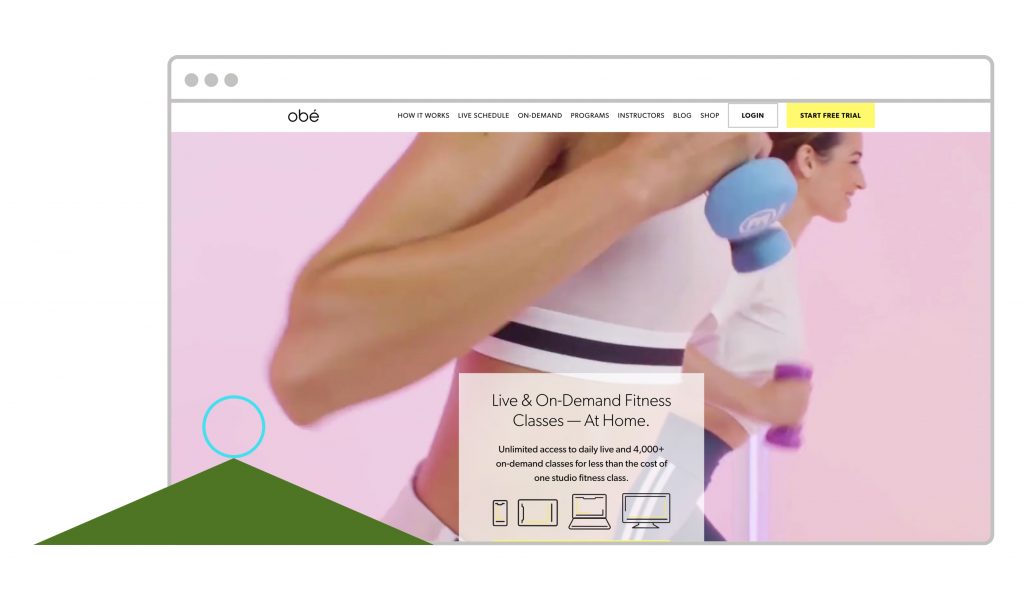 Ok—you're working from home, isolated, maybe a little anxious. Especially if you have the news blasting 24/7 with the recent reports. So, how are you going to stay on track? There are so many things you DO have control over to be your best self during this time.
Remember when you had to commute 30 minutes to work, each way? Use that hour to focus on fitness. There are so many on-demand fitness resources, and many are free. For example, Planet Fitness is offering free live-streamed fitness classes and YouTube always has a gamut of online classes. Here's a full list of free or discounted online fitness classes. Or, if you live in a climate with warmer weather, go outside and bike, run, or walk!
If the Coronavirus is leaving with you with high anxiety, you're not alone. To combat it, the CDC recommends the following actions:

Take breaks
It's important to take breaks from watching, reading, or listening to the news, including social media.
Take care of your body
Take deep breaths, stretch, or meditate. Cultivate a sense of calm in knowing that you are in control of your self-isolation and are doing everything in your power to stay healthy.
Make time to unwind
Try to do some other activities you enjoy from the comfort of your homes like reading, singing, or sleeping.
Connect with others on video chat
Talk with people you trust about your concerns and how you are feeling.
Organize your day
Schedule your time so you can commit, keep your word, do what you say you're going to do. This is the time to prove to your boss and leaders that you can be successful while working from home. If you're a small business owner, you should challenge yourself during this time to push limits.
Find an accountability partner
Anytime you have a partner on a wellness journey, you will be more successful. Whether it's a spouse, friend, or co-worker, having a work buddy can keep you virtually responsible!
Take regular breaks
You are not going to be successful if you expect to work one, giant 8-hour block. Your brain and body don't work that way. Instead, work for 50 minutes, and if time allows, take a 10-minute break to stretch, walk around, or pet your dog.
Organize your eating
A lot of people who are used to working in an office worry that they're going to be elbow deep in a chip bag. Well, they could be right. Just as you schedule your day's tasks, schedule your eating as well. Take a quick 10-minute break between breakfast and lunch, step away from your computer to eat a well-balanced meal that doesn't make you crash afterward for lunch, and then a healthful afternoon snack.
4 – Prune your email list
You've spent so much time growing your sales funnel and collecting leads, so why not take this opportunity to scrub your email list? Practice good email list hygiene by doing the following things:
Removing duplicate contacts
Removing bounced email addresses
Segmenting active and inactive leads
Decide how to re-engage inactive leads
Can't re-engage an email subscriber? Then say good-bye.
If you're sending lots of emails and getting poor engagement, it could hinder your deliverability and throw off your email metrics. Wouldn't you rather know how many subscribers are actually quality leads?
Your email list can quickly get messy, so take the time to do this. Why? It will save you from communicating to the wrong email addresses or people who are disinterested in your brand.
5 – Teach yourself SEO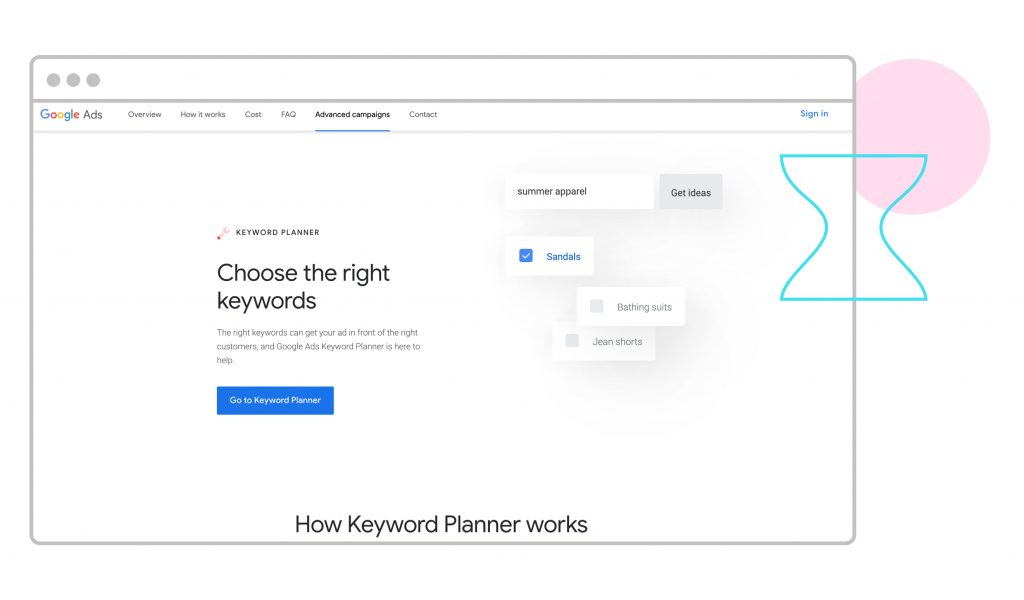 Search engine optimization (SEO), you know that little activity that helps rank your website content on Google and other major search engines? While it seems like a daunting task to learn, it's actually not as bad as it seems. There are methodical ways to get search bots to rank your content high on search engine results.
And, we made it easy for you to learn about SEO. We put together a guide on the essential SEO tips for small businesses. In it, it outlines:
Choosing the right platform
Each online publishing platform, from WordPress to the drag-and-drop variety, has a different specialty and offers a different array of tools. Find the one that works best for you.

Pairing keywords to customer intent
Tap into the psyche of your prospective clients, while also uncovering keyword demand from tools like Google Keyword Planner.

Mapping keywords to content
Now that you know what makes a good keyword, it's time to connect your best keywords to content that you'll publish.

Headlines tags: By including your primary keyword as well as synonyms within your headers and subheaders, you provide better signals to search engines that your content is relevant and extensive. Within HTML coding language, headline tags.

Meta descriptions: It's an HTML tag that contains a short snippet of text that summarizes the content on a page. This brief description appears alongside a link on a search engine's result page to get people to click on your link instead of anything else on the page. The description sends signals to both the search engine and the searcher—so it's important to write well.

Image optimizations: Written text content isn't the only thing that needs to be optimized for search engines. The images you place on your pages and blog articles also need some special attention.

Content gap analysis: SEO is not a 'set it and forget it' kind of operation—quite the contrary! It requires careful monitoring and maintenance. One of the best habits that you can acquire is to conduct a regular content gap analysis and adjust your content accordingly.

Featured snippets: Once upon a time, search engine results were strictly blue links and meta descriptions—but those days are gone. Featured snippets are rich bits of information that appear on a search engine result page, other than the traditional text-based search result.

Applying the 80/20 rule: 80% of the rewards will come from 20% of your optimizations. Find that 20% and focus there—forget the other minutia and flashy trends.

SEO reality checks: As a small business marketer, the more diverse your marketing channels are (where your traffic comes from) the more stable your business will be as different platforms change their policies and popularity.
6 – Command your own productivity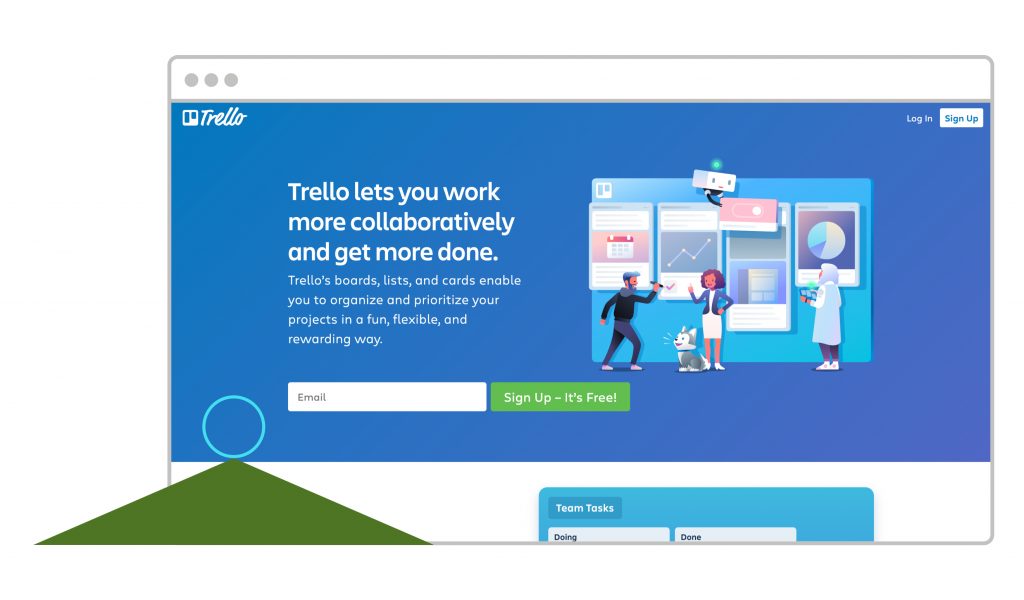 If you're new to working from home, it might be tough to stay alert and productive because this method of working is new to you. Luckily, there are so many things tools you can use to keep your performance up and stay motivated:
Switch your mindset to thinking that working from home will be a bust. Many people end up being more productive at home because they eliminate office distractions and watercooler chats. When you're working, work. Set aside 8 to 5 each day to work, just as you would any other day going into the office.
As you're working, make specific commitments to keep your performance up. Use the above tips on goal, task, and objective setting to get 'er done!
7 – Sprinkle in artisanal marketing on your website
First, what is artisanal marketing? It's digital marketing that's crafted to deliver better results by maintaining a made-by-hand personal touch. The 10 tips on bringing a personal touch to a high-tech world (in a nutshell) are:
Layer personal contact into every lead generation funnel.
Break up with stock photography.
Audit your tech stack.
Find (and use) your authentic voice.
Use your customers' voices.
Don't be a bot. Just be on chat.
Be courageous and get on camera.
Lifeless marketing? Go live.
Pick up the phone.
Do an authenticity gut-check.
Get the full guide and learn how to add a touch of artisanal marketing to the mix!
8 – Engage in content marketing planning
Would you be surprised to learn that only about 48% of marketers have a formal marketing strategy? It's true. And even less have a formal content strategy.
So many small business owners shoot from the hip with their content creation, writing arbitrary blog posts about topics we think our audiences want to hear about. But is this a smart approach? No.
Marketers who engage in marketing campaign planning and put their strategy down on paper are more than 5x more successful than those who don't.
We've got a blueprint for content marketing planning success so you can carry forward tips from those who have gotten it right. Here's a summary of the guide:
Pick a goal and stick to it.
Be specific about your goals and how you'll get there.
Be friends with your audience.
Get ready to perform on your stage.
Select and design your content.
Create a time-bound schedule. (And if you're looking for content inspiration, download our 2020 content calendar)
Support your campaign with digital marketing.
And, remember… Don't just plan one month out. Take the time to plan three to six months out so you can establish timelines and create a cohesive calendar.
9 – Take the website in a weekend e-course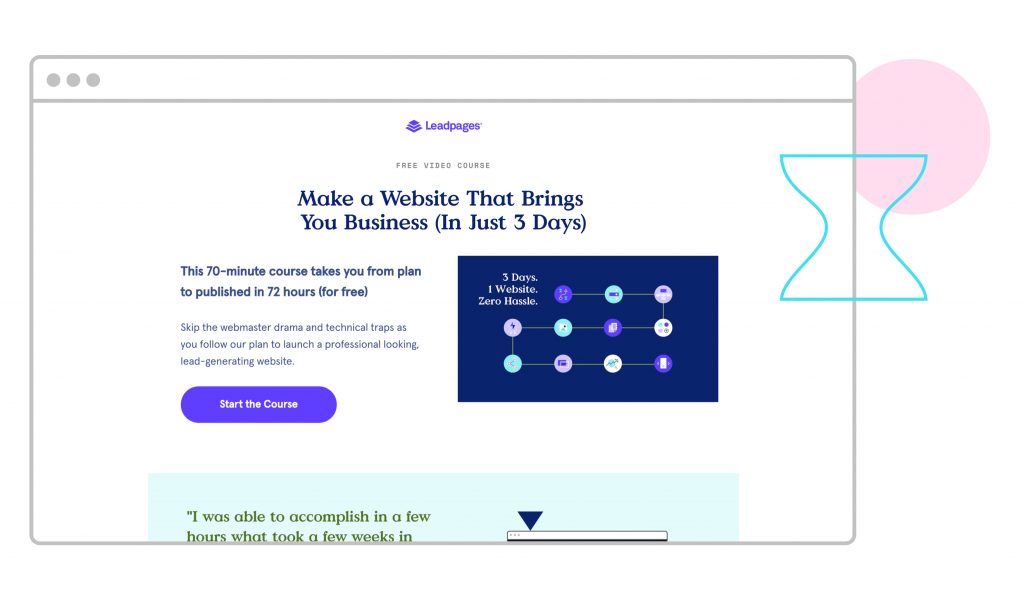 If you still feel like you need to fill up the to-do list, try an e-course. We put together a step-by-step guide to take you from plan to publication in 72 hours. So, if you are a business owner without a website, tune in! We've got a website in a weekend course for you to consume.
The course outline includes the following elements, broken down by section:
Day 1
Site strategy: Before you build, ensure your success with a strong strategic plan.

Hosting options: Choose how you'll connect your website to your existing online marketing.

Plan your content: Create a content map to showcase your expertise and offers.
Day 2
Set your visual brand: Add your logo and color palette for a consistent look throughout your website.

Gather your content: Bring together the copy for your home, about, services, and other pages for your website.

Gather visuals: Spruce up your website with background and content images.

Focus on conversion: Turn more of your traffic into leads and clients. Skip the webmaster drama and technical traps as you follow our plan to launch a professional-looking, lead-generating website.
Day 3
Get social: Build your word-of-mouth traffic and social community.

Final pages for publishing: Ensure a great website visitor experience with your thank you page, 404 error page, and privacy page.

SEO and tracking: Get more organic traffic and know how to measure your results.

Optimize your site: Enhance your appearance with mobile optimization tactics, margin and padding adjustments, and entire website variations for seasonal campaigns.
10 – Invigorate landing pages in your brand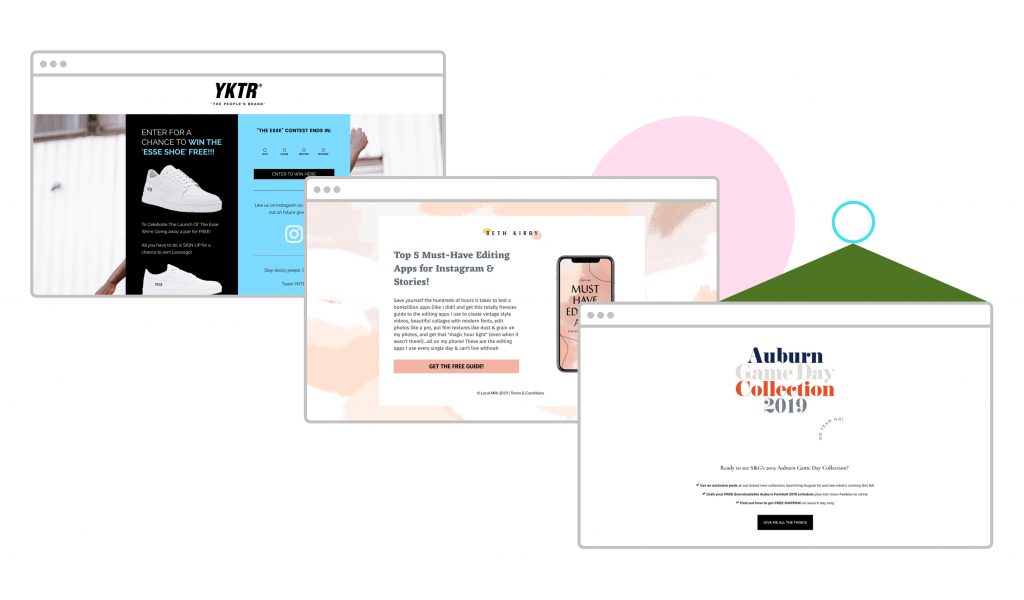 Many marketers out there have a website, but don't harness the power of landing pages. Landing pages have intrinsic value. They focus on the mission of transforming your web traffic into qualified leads and loyal (happy-to-recommend-you) customers. Here's the quick and dirty on landing pages. Dig into our linked resources for more information!
There are multiple types of landing pages you can create, from a splash to a squeeze page.

In order to collect a visitor's email address, you'll have to earn it by offering value in exchange. Sales pages, resources, events, and other valuable collateral all work great for landing page offers!

For best-case results, your landing page should target a single point of conversion and nothing else. If you find you're trying to include too much, your audience will get confused and flee.

Your landing page is often part of a larger campaign. Keep your page's message, mood & tone (imagery) consistent with the ad that visitors first clicked on and carry over that same look onto the thank you page. (Learn other landing page best practices here.)

Landing page design matters! In addition to copy, design plays a large role in how visitors interact with your landing page. Review our landing page design checklist now.
If you already have a landing page, ask the following questions:
Are all your landing pages still relevant?
Are there any content updates I could make?
Should I redirect old ones and send that traffic to your website/ or a more relevant offer?
Do all of my landing pages have an AB or split test?
Are you compiling your learnings from testing?
Create a doc so you can start to build on your successes and meaningfully learn what works well for your audience.
Did we miss anything?
While we're in a time of crisis, think positive! Use self-isolation as an advantage. Think about ways you can learn, and become a better small business owner during this time. Make your mind a sponge, boldly innovate, and do everything in your power to tap into the value of online marketing channels to make an impact.
Do you have additional tips on activities to do while in self-quarantine? Share them in the comments below!