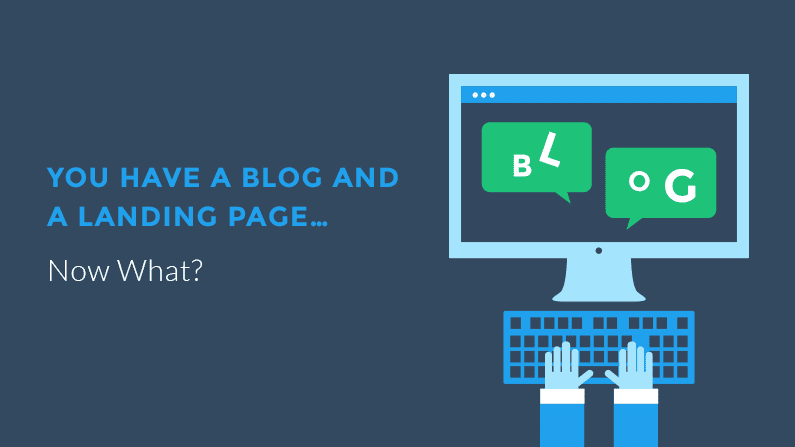 How to Drive Traffic From Your Blog to
Your Landing Page
Content Marketing, or Blogging, is a great way to get exposure for your landing page. If you're already blogging for your business, you're in a great position to drive traffic to your landing page. With a few minor tweaks to your site, you can easily start using your blog to drive more leads and sales.
But if you're not blogging yet, you can't just go out, create a WordPress blog, and expect your future customers to want to hear what you have to say.
Instead, you have to consider who you're creating content for, and what kind of content these people would want. The secret to a successful blog, or content marketing strategy, is to provide useful, informative content. Fortunately, you can also use this to build your list and grow your business.
A couple of important notes about blogging:
Make sure you post regularly. People who make their living off of blogging post daily, sometimes even more. Your site visitors will expect to see new content at least once a week, if not every few days. To keep them coming back and keep your email list growing, you'll have to keep creating new content.
One of the benefits of creating new content is that you'll be able to maintain an ongoing relationship with your potential customers. Make sure your blog posts have a comments section so that readers can communicate with you. Ideally, you should respond to every comment as quickly as possible – especially the same day you publish the blog post. You never know, your readers may be giving you ideas for future blog posts.
What Kind of Content Should Go On Your Blog?
That can be one of the hardest parts about blogging, finding subjects to talk about. Again, and I will reiterate this throughout this post, you want every blog post you create (whether it's a written post, video, or podcast) to be useful and informative. This does two things for you.
First, it gets you an engaged audience. (That's what you want, right?) Having this engaged audience will help you build your email list and allow you to grow your business. If your content is compelling and informative, your audience will share it with their friends, which will help you grow your business even faster.
Second, it will help your blog posts show up as relevant content in the search engines.Google specifically states in their article "Steps to a Google Friendly Site" that you should "Provide high-quality content on your pages, especially your homepage. This is the single most important thing to do. If your pages contain useful information, their content will attract many visitors and entice webmasters to link to your site."
The more people visit your site and the more links you have coming into to your site, the more it will be recognized by the search engines as relevant content. That means it will show up higher on the search engine results page (SERP).
But that still doesn't answer your question of what you should talk about.
Obviously, you want to talk about your product or service. I mean, that's the whole point, right? However, people are going to get really bored, really fast, if that's all you talk about. So instead of just focusing on your product, focus on things that have to do with your product.
For instance, if people are always asking certain questions about your product, create separate blog posts to give in-depth answers to some of those questions. Ideally, you should be answering general questions about the problem your particular product or service solves for your customers.
For example, you might talk about one specific strategy that anyone can use to solve this particular problem. Or you might just identify the person's problem for them. (And yes, you are allowed to mention that your product is one way to solve this problem. We do it all the time.)
Another option is to talk about other products, services or situations that compliment your product. For instance, if you're selling an aromatherapy diffuser, you might create a blog post about the properties of each oil and how they are used in aromatherapy. Ideally, you would also mention how your diffuser enhances those properties.
What you're really trying to do here, is position yourself as an expert in your industry. Once people start to trust and rely on your information, they will also rely on your recommendations.
So whether you talk about your own product, or you recommend another product or service that complements your own, your audience will listen to what you say, because you have positioned yourself as an expert within your particular field.
This is a really in-depth topic, and there is no way I can cover it all within this post. Instead, I will point you to this post on unique content by Sean Bestor, and this post on the different types of blog posts by Will Hoekenga. I would also recommend perusing Copyblogger's blog after you're done reading this post.
Link to Your Landing Page
Yes, you're definitely allowed to do link to your landing page on your blog, especially if it's a sales page. In fact, people often want more information when they finish a blog post, so you're doing them a service by linking to your pages and showing blog visitors how they can get more information. After all, you're trying to drive traffic to that page, so use every opportunity you get.
For example, LeadPages® super-user, Amy Porterfield has a link to her landing page that catches your eye as soon as you land on her blog post. It's the image at the top of the side bar.
You can also use text links within your posts (where appropriate).
While this is a great way to get people to your landing page, there will be people who won't click on your link. Especially if your landing page is designed to get people to register for a webinar or sell a product, you'll also want to give people opportunities to opt-into your email list (with no obligation to buy or register) right there on your blog posts.
Getting People to Opt-In
You're writing all of this engaging content, which your site visitors love! The problem is the same visitors who love your posts can still leave your blog and never come back. So ideally, you want to add these folks to your email list so you can continue the conversation.
If you can get them to opt into your email list, you can let them know when you've posted new blog posts, so eventually, you can direct them to your landing page, and sell them your products or services.
So how do you get people to opt into your list?
First, you make it as easy as possible to do so. There are several places on your blog page where you can give readers the opportunity to opt into your email list, including:
A Hello Bar: You can see a Hello Bar at the top of this screen. This a neat little tool that you can use to prompt site visitors to do many different things, including signing up for your email list.
A sign-up form at the top of your sidebar: You will see this on a lot of websites. We recommend doing this with a 2-step opt-in form, instead of a 1-step opt-in form. I'll talk more about this below.
At the end of your post: If someone has gone to the trouble of reading your entire post, they're obviously interested. Make sure you put a link or a sign-up form at the end of every blog post. (See the end of this post for an example.)
A sign-up form in your footer: Again if someone has scrolled all the way down, you want to give them the opportunity to sign up, even if they're just looking for your address.
Within the post itself: See what I did there? If you click on that link, it will trigger a pop-up that lets you enter your email address. And this leads nicely into my next section, all about…
LeadBoxes: Grow Your List From Every Blog Post
A LeadBox™ is that pop-up box you just saw if you clicked on the link in the last bullet point. (Go ahead, click on it if you haven't. Don't be shy.) This is a special feature within LeadPages® which you can use on your landing pages or anywhere on any website you have. Go here to learn more about how LeadBoxes® work. You can grow your email list by adding LeadBoxes® anywhere on your website. This includes your sidebar banner, within your post, or at the end of your post. You can make LeadBoxes® appear from a text link (like I did above) or with a button like Jason Swenk did here:
More importantly, LeadBoxes® use a 2-step opt-in process. We've found that using LeadBoxes® boosts your conversions by an average of 30%. It's easy to see why. When a site visitor clicks your LeadBox™, they only have two options: Either join your email list or exit the LeadBox™. But they have to make a decision. Simply asking your blog readers to make this decision tends to boost opt-in rates. We have found this 2-step opt-in approach is much more powerful than including a form field on your page that can easily be overlooked or ignored.
You can add multiple LeadBoxes® to a page, giving you the opportunity to have site visitors opt-in to different lists on the same post. For example, you can have one LeadBox™ that collects email addresses for your blog list, and another LeadBox™ that collects email addresses for people interested in signing up for your upcoming conference.
Another great thing about LeadBoxes® is you can use them to automatically deliver lead magnets (also referred to as opt-in bribes.) In fact, you can get our lead magnet for this post by clicking on this link. To help you get higher conversions from your own blog, we're giving you a landing page designed specifically for bloggers that you can use to help grow your list. We're also giving you a PDF that shows you the top 8 tools you need to create great content upgrades to use with your LeadBoxes®. ("Wait," I hear you cry. "What are content upgrades?" Don't worry, I'm going to talk about content upgrades right now.)
Content Upgrades
A content upgrade is a lead magnet (also referred to as an opt-in bribe) that you design specifically to go along with a given blog post. It doesn't have to be fancy or complicated. In fact, it should take you under an hour to create.
The content upgrade doesn't have to be more valuable than the blog post itself, but it should add value to what you talk about in the blog post. For instance, our list of 8 tools gives you resources you can use to create content upgrades. That's valuable to anyone who wants to make content upgrades, but complements everything you've heard in this post.
If you want to learn more about content upgrades, read this post. There's a lot of great information here, including 21 examples of content upgrades that you can create in under an hour.
As I mentioned above, you can use LeadPages® to automatically deliver your content upgrade any time someone clicks on your LeadBox™.
If you're a LeadPages® member, our system lets you upload your content upgrade to your LeadPages® account:
Then you can create an email to send with your content upgrade, and select your content upgrade from a list of uploaded files.
When someone enters their email address in a LeadBox™ and clicks on the opt-in button, our system will automatically send them their content upgrade, with no further work on your end.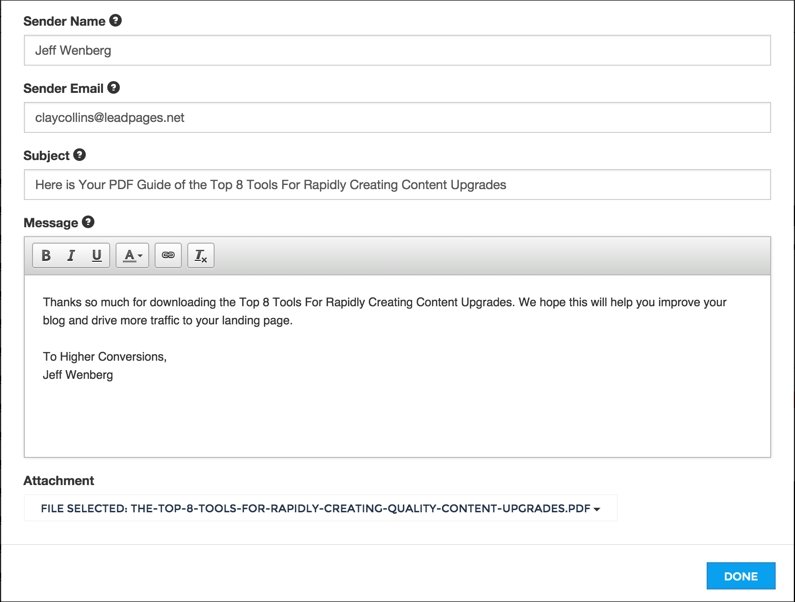 If you're not a LeadPages® member, your email service provider or customer relationship management software may have a similar delivery system.
The great thing about content upgrades is that you continue to add value for your audience, beyond each of your blog posts. This can increase the popularity of your blog, boosting your opt-in rate and ultimately drive more traffic to your landing page, which is always your goal.
Now You Have Another Tool in Your Promotion Toolbox
So there's another way for you to promote your landing page and grow your business. Go here  if you missed the first post in this series, about promoting your landing page with social and paid media. More importantly, make sure you download your blog specific landing page and our list of 8 tools you can use to create content upgrades (four of these are free.)
See, here I am, giving you an opportunity to opt-in at the end of my post.

Where to Go From Here
Blogging is just the first step of a bigger content marketing strategy. On Tuesday, May 26th, we're hosting a live training to show you how to build an entire content marketing funnel for your business. You can get details below.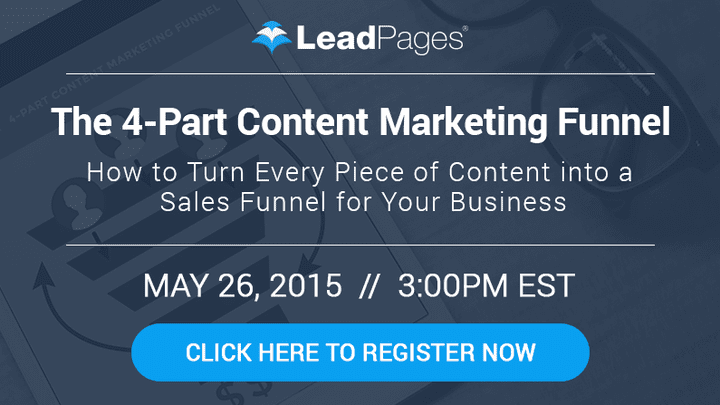 In the meantime, are you doing any of these things to promote your landing page? If so, tell us about them in the comments section below. Or tell us what you plan to do to promote your landing page.