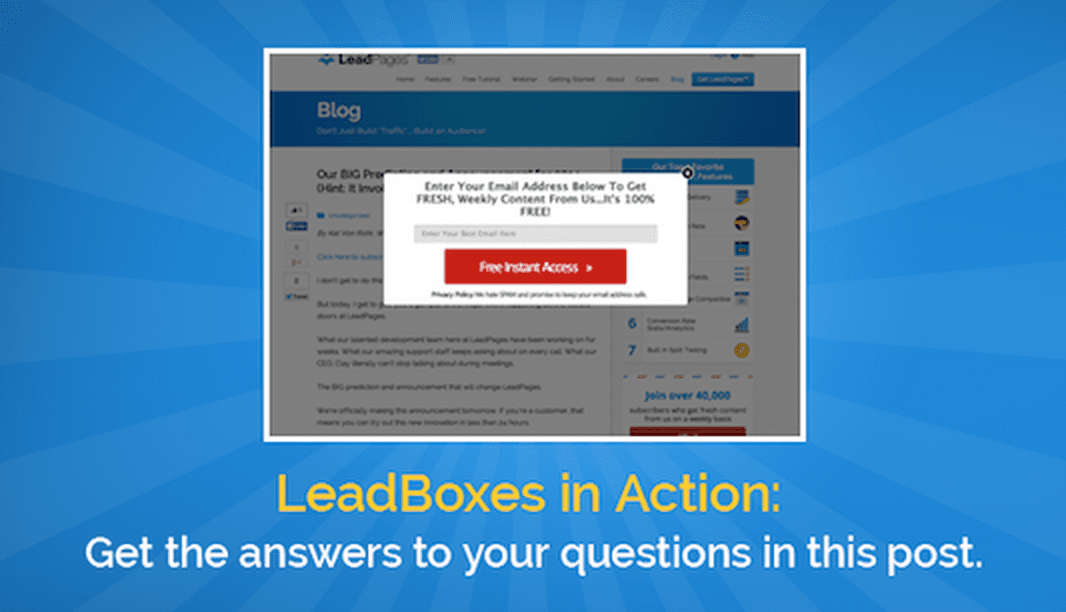 By Kat Von Rohr, Writer for LeadPages
Wow. We JUST launched LeadBoxes 48 hours ago.
Already, we have gotten some amazing feedback from customers.
Here's a quick glimpse at what our ecstatic customers are saying…
"YESSS!!! WOW!! Incredible, it is EXACTLY a feature that I was looking for. LeadPages #1." – Valerio
"This is freaking brilliant!!! Logging into my LP account now to implement immediately!! 🙂 You have just made my life sooooooo much easier and the work I do for my clients will be that much better!"- Karen
"This is just so fantastic!!! You all have such great products and an incredible team! Is is awesome how you also how you listen to your community as well. This all makes for a great company!!! Thanks!!!!!!" – Scott
But along with this incredible feedback, our customers also have plenty of questions about the best way to use this new innovation in their businesses.
So we want to take just a moment and answer as many of your questions about LeadBoxes as we can right here.

Let's start with the most basic…
What Are LeadBoxes and How Do They Work?
There's a good reason why we call LeadBoxes "the evolution of lead generation."
For the first time, you can use LeadBoxes to grow your email list from any html site — without using a landing page. Simply post your LeadBox code on any html site, and you can start building your list from anywhere.
So for example, you could add a LeadBox to your latest post. To do that, you need to go inside LeadPages and create your first LeadBox. (It only takes minutes. For a step-by-step tutorial on how to create your first LeadBox, see the video below:
Once your LeadBox is ready to go, grab the LeadBox code and drop it into the html version of your post. And you're done! Your prospects will see a link inside your post that says: "Click here to join my list."
When your prospects click on that link, a LeadBox will appear on their screen just like below…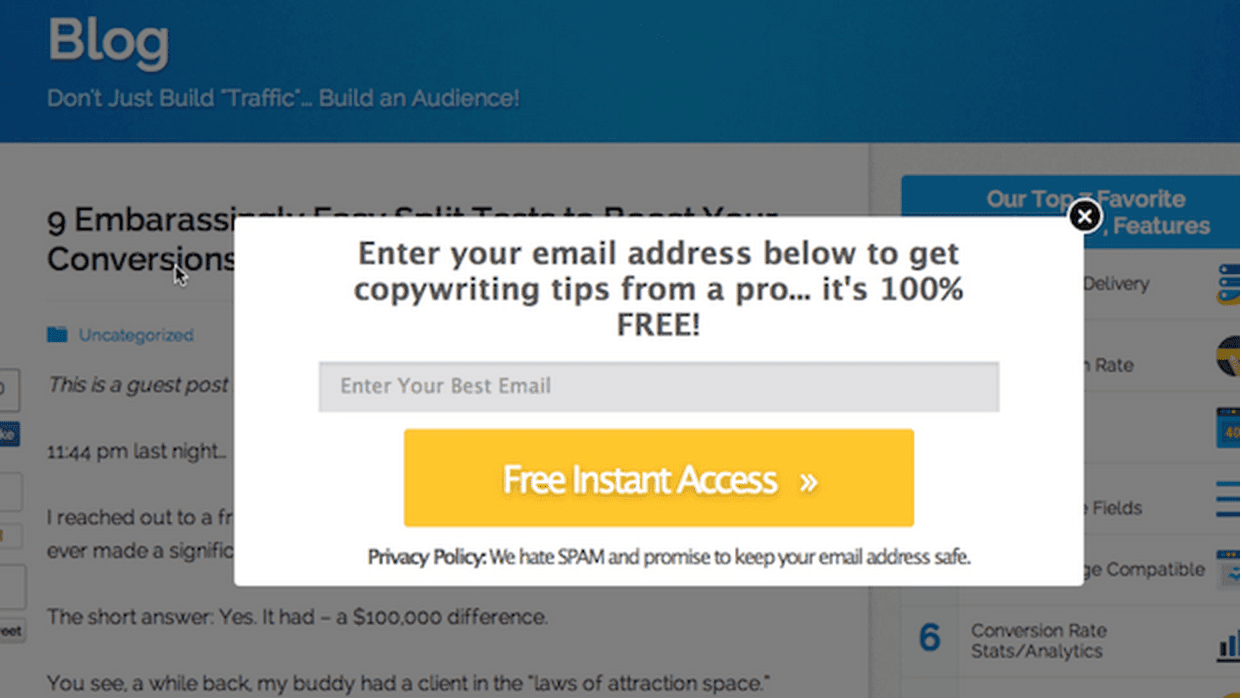 It's as simple as that.
You can use LeadBoxes like this inside of WordPress, outside of WordPress, on html pages or anywhere else you can post an html link. (You can see below for more details on exactly how to do that!)
Why Do You Say LeadBoxes Are a "Two-Step Opt-in?"
(And Why Is That a Good Thing?)
In case you missed Wednesday's blog post, the inspiration for LeadBoxes came from the fantastic success we have had with two-step opt-in processes.
A two-step opt-in process asks your prospects to click on a link before they see your opt-in box to opt-in to your list.
Over the last few years, we have found that two-step opt-in processes crushed it in our split tests. In fact, in several instances we found that switching from a one-step opt-in process to a two-step process increased conversions around 30%.
Now with LeadBoxes, you have another two-step process you can use to grow your list. Think about it. Your prospects have to click on your LeadBox link to show they're interested, before they see a LeadBox that allows them to opt-in to your list.
So in effect, you're asking your prospects to take two steps – click a link, and then opt-in to your list through your LeadBox. If our previous research is any indication, LeadBoxes is going to crush it with a two-step opt-in for your list once again.
Are LeadBoxes mobile-friendly?
YES! Absolutely, LeadBoxes are mobile-friendly.
However, when you use a LeadBox on mobile devices, your LeadBox will open as a new page. That means that your LeadBox will not appear over your prospect's screen, like on a desktop site.
This is normal and 100% intentional on our part, because we want to ensure that your prospects can easily see your LeadBoxes on any mobile device.
As an extra feature, if your prospects try to exit your LeadBox browser page on a mobile device — it will automatically return your prospects to the previous page.
Can I Track the Analytics for my LeadBoxes? 
Yes! No problem.
Inside of our app we provides native analytics data for all of your LeadBoxes.  This is a service that all customers get free of charge.
However, if you want to use a 3rd party analytics service, simply click on the "tracking code" link in the sidebar. Then paste any tracking code from Google Analytics or any other 3rd tracking service you might be using into the tracking code box itself.
Can I Use Multiple Form Fields in my LeadBoxes?
Yes! Easily.
You use an unlimited number of form fields on any LeadBox. That means you can ask for your prospects' names, email addresses, phone numbers or any other data you would like to collect.
In addition to adding multiple form fields, you can also change the order of your form fields. For example, you can decide to put "email address" first in your form fields. Or you might decide to ask for your prospects' first names first. It's entirely up to you.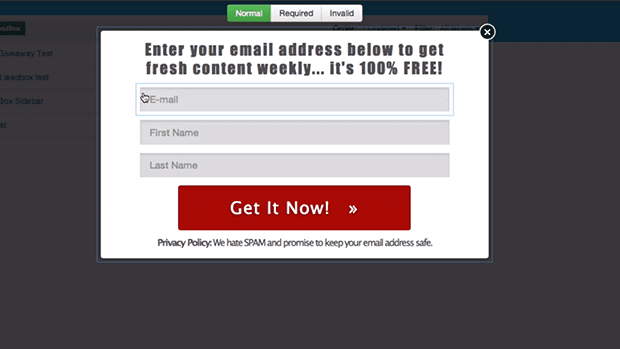 Can I add a LeadBox to my Facebook page?
Yes! Absolutely.
One of the awesome features of LeadBoxes is it lets you grow your list from literally any site that you can post an html link on. That includes social media (Facebook, Twitter, Google+, Linkedin, Pinterest, etc. etc.).
Here's how you do it…
To post your LeadBoxes link, go into LeadPages and create your LeadBox like usual. Once you get to this screen below, simply copy the URL from your LeadBox code. Then you can post this LeadBox URL link anywhere.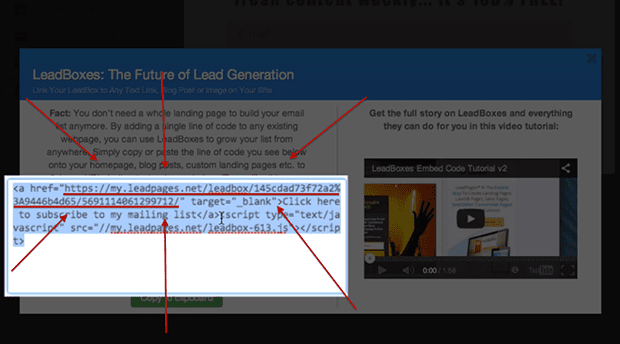 However, if you are posting on Facebook, keep in mind that your LeadBox will appear in new browser window.
But regardless, you can still post on Facebook (or any other social media platform) and quickly start growing your list in a matter of minutes.
How does LeadBoxes work with guest posting?
One of the very cool things about LeadBoxes is you can grow your list from any guest blogging that you do.
For example, let's say I wrote a guest post on our friend, Pat Flynn's blog.
At the bottom of this guest post, I would include my author bio. Something like: "Kat Von Rohr is a writer for LeadPages and she's awesome. Click here to join our LeadPages list and hear from Kat all the time!" (Just kidding.) 🙂
Seriously though, I could link that "Click here to join our LeadPages list" to a LeadBox and instantly start growing the LeadPages list from our friend, Pat Flynn's blog. To do that, I would just need to give Pat the code for my LeadBox along with my guest post.
Or if you don't want to mess with coding, you could also add a LeadBox URL to your guest post if you prefer.
To add a LeadBox URL, simply grab the URL from your LeadBox code and post it inside your guest post. Once you do that, your LeadBox will be rendered as an actual page, rather than just a box. For instructions on how to post a URL, see the Facebook question above.
Can I link a LeadBox to a sidebar on my site?
Yes, absolutely!
In fact, one of the coolest ways to use this feature is to link your sidebar to a LeadBox. Here's an example of what our readers would see if we linked a LeadPages sidebar to a LeadBox…
This is incredibly easy. Here's how you do it…
Step #1: Go into LeadPages and create your LeadBox like normal.
Step #2: Once your LeadBox is ready to go, copy your entire LeadBox code.
Step #3: Go into your site and add a text widget to your sidebar.
Step #4: Paste your LeadBox html code into that text widget field.
Step #5: Save it! Then preview to make sure you like it.
If you have questions about this — or any other technical questions about how to implement LeadBoxes — our amazing support team is standing by to help. If you're already a customer, you can contact support from inside the members area.
Can I Use a LeadBox as a Quick LeadPage?
Yes! Absolutely.
This is actually one of Clay's favorite features about LeadBoxes. If you're pressed for time, you can use a LeadBox as a quick landing page from any site.
Simply grab the URL from your LeadBox code and post it anywhere. Once you do that, your LeadBox will be rendered as an actual page, rather than just a box.
For more details on how to grab the URL and post it on a site, see above in the Facebook question.
Are LeadBoxes Available to All Customers or Just Pro Members?
Great news here! LeadBoxes is a feature that's available to all LeadPages customers. (Standard and pro members alike!)
If you're already a customer, you can begin using LeadBoxes right now. Simply go into the members area and click on "LeadBoxes" at the top to get started.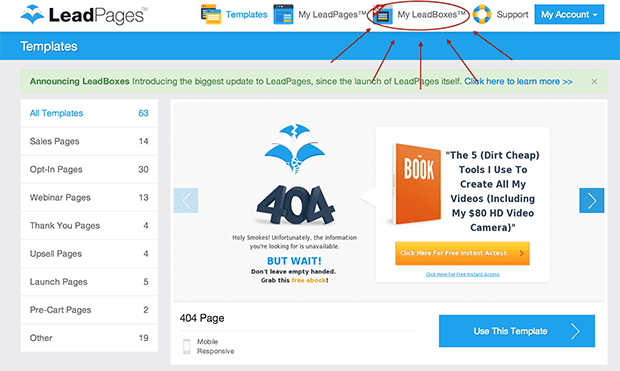 Tell Us How LeadBoxes Are Working for You
Several of our customers have already reached out to tell us how much they love using LeadBoxes.
But we want to hear from you. Let us know in the comments how LeadBoxes are working in your business. Tell us your story. You may just end up as a "featured customer" here on our blog in the next couple weeks. 🙂
Also, do you have any questions that we didn't cover in this post? If so, drop your questions in the comments and we'll do our best to answer them.