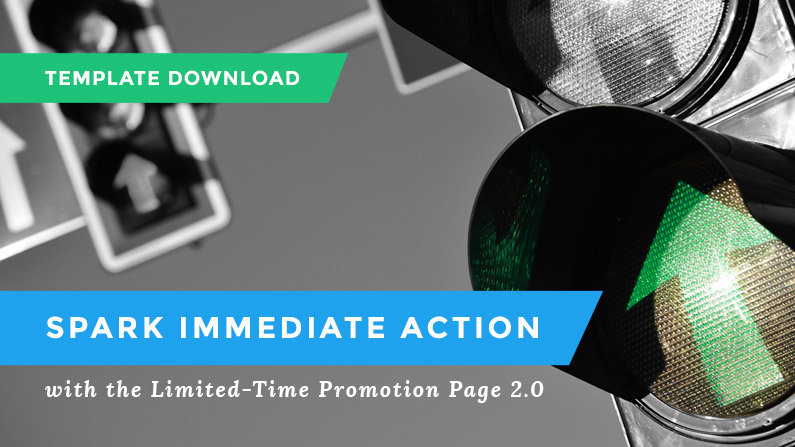 Most landing-page templates we release were built in response to demand from Leadpages members and the larger marketing community. It's pretty simple: customers tell us what kind of pages they need, and we turn those ideas into templates for everyone to use.
This one's a little different. The template we're releasing today was built specifically to deliver the kind of landing page we at Leadpages wanted for our special promotions. But although we've been a little selfish with this one, we're hoping to offset that by offering it to you free. Check out this new free landing page template here: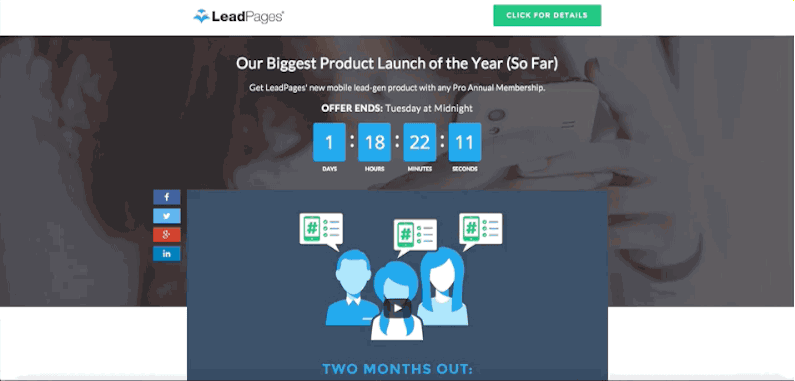 If you're familiar with our template library, you may notice it bears a resemblance to this page: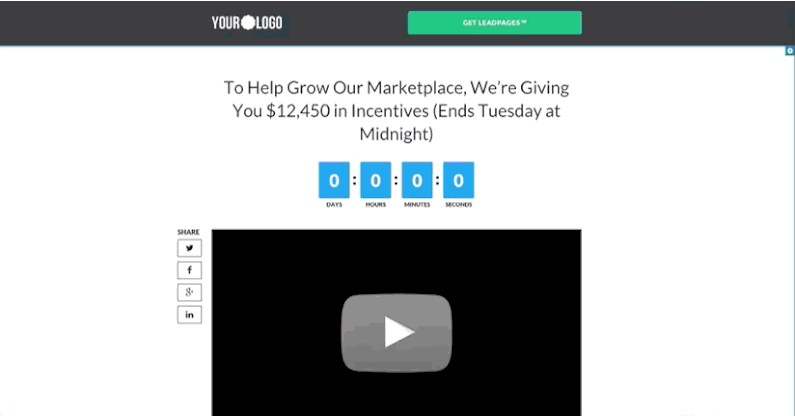 That was a good start, but we recently made several tweaks to suit our current promotions—and maybe yours, too. Here's a closer look at what puts the 2.0 in the Limited-Time Promotion Page 2.0.
Now with extra urgency
When you launch a promotion, it's not usually just for kicks. You generally want to meet a very specific business goal, and you want to get there sooner rather than later. This page is built to communicate a sense of urgency with a few key elements:
Large countdown timer: This visually communicates that "the clock is ticking" on your offer, inspiring visitors to get in on the deal. This simple device can be powerful: in some instances we've found, adding a countdown timer has doubled or even tripled a landing page's conversion rate.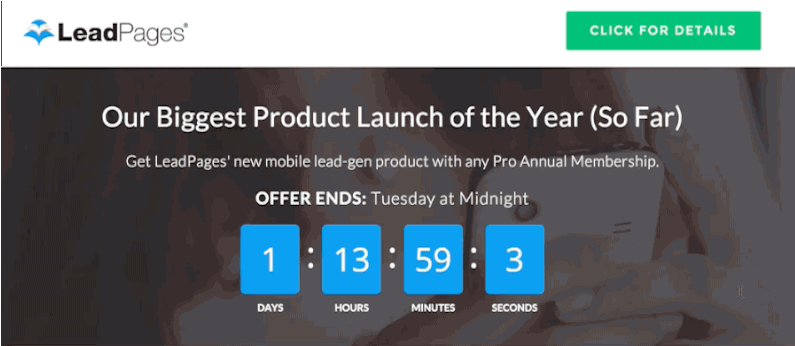 "Deadline" fields: This template also boasts a text area immediately above the timer where you can spell out your deadline for an even greater effect. And there's yet another place to do this right below the primary call-to-action button. Take advantage of these, and visitors are unlikely to drag their feet before clicking that big button.
Video: Using a video on your landing page sets you apart from many other online marketers. In a recent interview, Casey Henry of video-hosting company Wistia shared the results of a study he conducted on hundreds of thousands of PPC landing pages, in which he found that just 1% of those pages had a video.Studies disagree on the exact conversion impact of including a video on your page, but not that a substantial positive impact exists. E-commerce retailers in particular tend to find that adding video makes customers between two and three times more likely to purchase. There's something about seeing what you have to offer in motion that makes its benefits more vividly real.
Elegant design
When you're driving attention toward one all-important action, you don't want too many frills to district visitors. This page keeps things simple, but it improves on its starker predecessor in a couple of small ways:
Photo background section: Photo backgrounds routinely triple or even quadruple conversion rates when compared to a solid background, so we've added the option to include a photo behind the video. For best results, choose images with muted colors or a soft focus to improve the page's feel without drawing attention away from the call to action.
Defined content holders: Version 1 of this template was built with a minimalistic white background. To help lead the eye down the page and make your information appear as easily navigable as possible, we've introduced subtle background-color changes from section to section. And of course, you can choose to make the contrast sharper or change the colors to match your brand.
Flexible content options
One of the biggest changes in this new template is the addition of rich content sections after the video. Here you have space for text paragraphs, headlines, images, and integrated call-to-action buttons. With our new Multiple pop-up feature, you can connect those buttons to your primary pop-up, to an external URL such as a checkout page, or to a different pop-up entirely, all without leaving the template builder.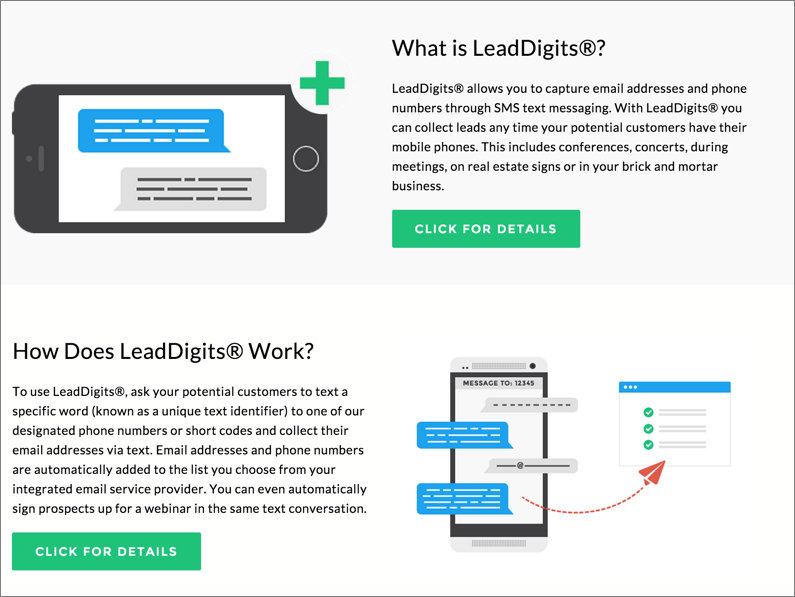 Below that, you have lots of content sections you can hide or expand as needed. In the default version, we've used them as an FAQ section (broken up by unmissable call-to-action buttons), but you can add and format any kind of text you like here.
Then again, if you're making a straightforward offer, you can remove them with one click.
Social features
Version 2.0 of this page has bigger, brighter social share buttons, and they travel with you as you scroll down the page. If you think how many times you've come across a great deal and immediately thought of a friend or family member who could use the same thing, you can see the benefit of these buttons. Another set appears at the bottom of the page for good measure.
Social media also enables a highly dynamic feature: a comments section powered by Facebook. Turn this on, and you accomplish two things: showcasing unfakeable social proof, and discovering what your audience thinks of your promotion in real time. You can encourage people to ask any questions about your offer right on the page, and respond to them from your business page account.
We hope this page will be as successful for you as it has been for us at Leadpages.
In your experience, what landing-page elements make for a killer promotion? Tell us in the comments!