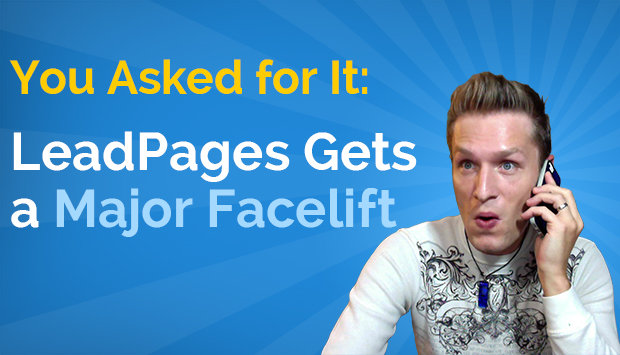 Hello? Yeah, I was just about to check it out. Woo-hoo-hoo.
Having a wide range of templates to choose from has always been one of the big things that attracts customers to us. When customers come to us, it's often because they need the variety of high converting templates that can be sorted by average conversion rate so that everyone can benefit from the data that we're all contributing back about what works and what doesn't. Now our customers kept coming to us asking for more information on which templates did what and they were also telling us, they were asking these questions because it wasn't clear from our template selector exactly what was in the template.
The template selector works great but it's a little hard to see what the template looks like with such a little thumbnail here. Sometimes you actually have to go into the template just to see what the page looks like and then decide from there if you want to use it. So we thought about it and we thought, you know, you're right, we're not doing the best job we possibly can about showing you what's in each template before you select it so we did a major overhaul to our template selector to make it more user friendly. So if we look at these back to back, you can see what a massive difference this makes in ease of use. Not only is there more room down here to see the template but there's also a slider up here at the top so you really can see in depth what the template looks like. This saves you from having to take the time to open a template just to see what it looks like and then decide from there if you want to use the template.
Now you can decide more easily here by just looking at it. When you find a template that you'd like to deploy, you just click on use this template here on the slider or when you hover over one of the thumbnails below, you can click on use this template here. You can also easily select template categories over here on the left and you can also see how many templates are in each category. Here's where I need to point that we do actually have more templates that are listed here. I'm actually using our beta site to make this video so it will coincide with the official release of our new template selector. When this is deployed on the site that's live right now, all of the templates and numbers will be correct.
The new template selector does still support the sorting of the different templates by average conversion rate. I'd also like to point out that when templates are newly released and we don't have enough conversion data on them to rank them by conversion rate, you'll see those listed below this bar. So if you'd like to take a look at the new templates, you can easily find those as well.
One other thing to note is each template now states whether it supports the collection of multiple form fields for the people that do want to collect multiple form feeds on their LeadPages. So when I click on this template that supports the collection of multiple form fields, I can go in and customize it accordingly. In the page editor, I just select the opt-in form integration, select which service I want to integrate my form with and then the list that I want to add people to. Now when you click on customize this form, all of your custom form fields that you've created in your email service provider account will be loaded here and then you can add them to your form over here on the right.
Finally, we've also upgraded the design to give the whole LeadPages member area a much more web 3.0 flat design. Everything from the login page, banner, account selector and so on got an update. It's much more beautiful to look at and we really think this looks amazing and we'd like to take a second and give our graphic designer Stella a huge shout out for doing such a great job on all the elements we updated here in the member's area. We're constantly trying to improve the look, feel and usability and we think that this is a huge step forward for LeadPages and we're really excited about the upgraded look and feel of our template selector.
So let us know what you think the comments section below this video. I'm Jeff Wenberg. Have an excellent day.
[0:03:32]