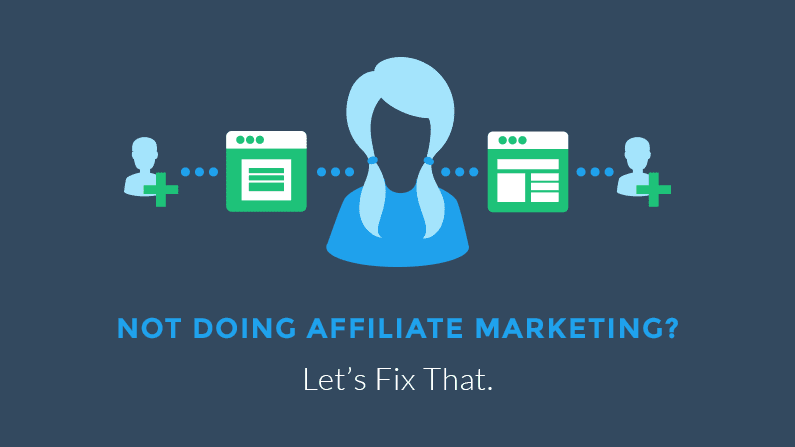 Today, we're going to show you how to make affiliate marketing so easy, you may feel a little silly if you're not doing it.
Recently, our Marketing Educator, Bob Jenkins, put together an 11-part course to teach you everything he knows about using affiliate marketing to boost your revenue—and meet several other business goals you might not have considered.
The course includes videos, a mindmap, a checklist, MP3 files, and slides, as well as "what's working now" strategies from our business-development manager Brandon Lytle. It also includes a customizable dashboard so you can start tracking the success of your affiliate partnerships from day one. And it's completely free for you to view right here.
How did Bob acquire so much valuable information on affiliate marketing? Well, for one thing, we at Leadpages have closely observed the success strategies our own affiliate customers have used for some time. But more personally, before Bob joined the Leadpages team, he actually started off as an affiliate—until one of the strategies he reveals in the course caught the team's eye at Leadpages.
It's safe to say that even within the Leadpages team, we've learned a ton from Bob's affiliate marketing expertise. In this post, I'm going to build on what he's shared to explain why you should be doing affiliate marketing in the first place, where to start, and a few next-level techniques.
1. Boost your revenue by 30%
Exhibit A that this can be done: Bob himself.
Bob saw a 30% revenue boost each year for a six-year period running his own coaching business before he joined Leadpages.
He got these results using all the strategies he shares in the Affiliate Marketing System Course, but the first thing he did right was to make some canny decisions about which companies he'd partner with. To get similar results, you'll want to look for products that:
You know and love. Start with the very products you use to run your business. It'll add instant weight to your recommendations, and let you get extra mileage from your affiliate marketing efforts down the line (more on that later).
Make sense for your audience and for your business model. Be sure that the products you're recommending really meet your audience's needs. On the flip side, be sure that they don't compete with the services and products you're trying to sell. Look for gaps in what you're able to provide, or products that enlarge the universe of what people can do with your own.
Offer recurring commissions. This lets you get more out of each recommendation. For instance, Leadpages offers commissions not only when you send them a new customer, but each time that customer renews their subscription. Forever.
Are easy to promote, share, and sell. For most businesses, a key draw of affiliate marketing is that it's largely a passive revenue stream. Aside from some initial setup and one-off promotions, it should involve very little work for you—so avoid vendors with needlessly complicated promotion and sharing protocols. Likewise, choose partners with strong sales strategies of their own. Once you deposit customers at a product's landing page, the work of selling should be in your partner's hands, and they should be able to seal the deal.
2. Enhance your authority
Think about the people in your life who are connectors. The ones who always seem to know where to go or who to seek out for anything you want to do.
Maybe they hooked you up with a great business opportunity, or maybe they just pointed you to your new favorite restaurant. Chances are, you enjoy being around those people. The more great recommendations they make, the more likely you are to seek them out in the future, and the more weight their opinions hold.
Affiliate marketing can work the same way. If you position your business as a source for amazing tools and products in your customers' industry, they'll be likely to turn to you again and again, taking advantage of your expertise in an array of other areas.
3. Make the business tools you use pay for themselves
Not sure how you should be measuring the success of your video marketing efforts, or what profit benchmarks you should set? Here's a place to start: for each product you promote, aim to earn enough affiliate commissions to pay for your use of that product.
When Bob tried this with Leadpages, he found that he only needed to inspire three or four customers per month to sign up for Leadpages to cover his subscription costs. (This strategy is also an easy way to keep tabs on your operating expenses.)
4. Create a successful lead magnet
The first three affiliate marketing goals are pretty straightforward. They boil down to directly increasing your revenue and enhancing your brand.
But there's no reason to stop there. From here on out, we're going to talk about a few less expected ways to use affiliate marketing.
First up: adding a new lead magnet to your arsenal.
A lot of lead magnets will depend on your particular business model. If you're a fitness pro, maybe you offer a free video lesson; if you're a small-business consultant, maybe you offer a guide to incorporating a business. However, there's at least one lead magnet that everyone can use: the resource guide.
Everyone uses certain tools to run their business—and it's a fair bet that no matter which tools you use, there are solid reasons why you chose them over their competitors. Assess the tools that would be of interest to your customers, and write a short guide on how to use them.
Now, if you've followed our recommendations so far, you've probably got affiliate accounts set up for a few of those tools. For each product, place your affiliate link into your guide so that when customers purchase those tools, you'll get a commission.
Presto: you've got an evergreen opt-in bribe that took no additional research and will earn you money for as long as you make it available. How's that for ROI?
5. Do some market research—and get paid
What is your audience most interested in right now? If you've got a rich network of affiliate partnerships, you don't have to set up a survey or commission a study to find out. Instead, you can check out what they're buying and who they're buying from through your affiliate links.
This information can shape the topics you cover in future blog posts or lead magnets, help you decide between two competing areas of focus, or even inspire your next big launch.
Speaking of which . . .
6. Test new product ideas
Thinking about adding a new product feature, or growing your business in a new direction? One way to gauge interest is to set up an affiliate account for a product that fills the new niche you're exploring. If you find that lots of people are taking advantage of your offer, that may demonstrate that you have an opportunity to further serve your audience (ideally, even better than the "test case" vendor does).
7. Do some "vendor-subsidized customer training"
Say one of your existing products just isn't getting the attention it deserves. To drive interest, you could build a standard promotion around it such as a special discount.
Or, you could offset the cost of promoting that product with affiliate marketing. Say you offer customers a discount on your overlooked product if they also purchase a relevant product from one of your affiliate partners. The commissions you receive make up for the revenue your forego by discounting your product. And in the end, the customer will have two shiny new products to thank you for.
8. Create a powerful new info product—that turns into a recurring revenue stream
Bob calls this the "double revenue dip." The basic idea: choose a tool from one of your very favorite affiliate partners, and design and sell an info product based on getting the most from that tool.
Bob's a master of video training. He's also been a Leadpages superuser and affiliate partner essentially since the company was founded. So for him, this strategy took the form of creating a multi-week Leadpages Challenge video course. It earned him direct revenue when customers paid the course fees, and additional revenue when they signed up for Leadpages accounts through his affiliate links. This strategy is a win for you, your audience, and your affiliate partners.
And really, that's the idea behind affiliate marketing in the first place.
Want to kickstart your affiliate marketing efforts?
The cool strategies I've covered here are just a portion of what Bob covers in his course. For a more detailed look at implementing every step of a successful affiliate marketing strategy, head over to The Affiliate Marketing System course. You can watch all 11 videos on this page, but to get the full effect, I'd recommend you download the entire free course. In addition to full video and audio, you'll get handouts, transcripts, and sample resource guides and pages you can use to put the strategies you'll learn into practice right away.
Are you doing any affiliate marketing yet? Which of these strategies do you think would work best for your business? Share with us in the comments below!