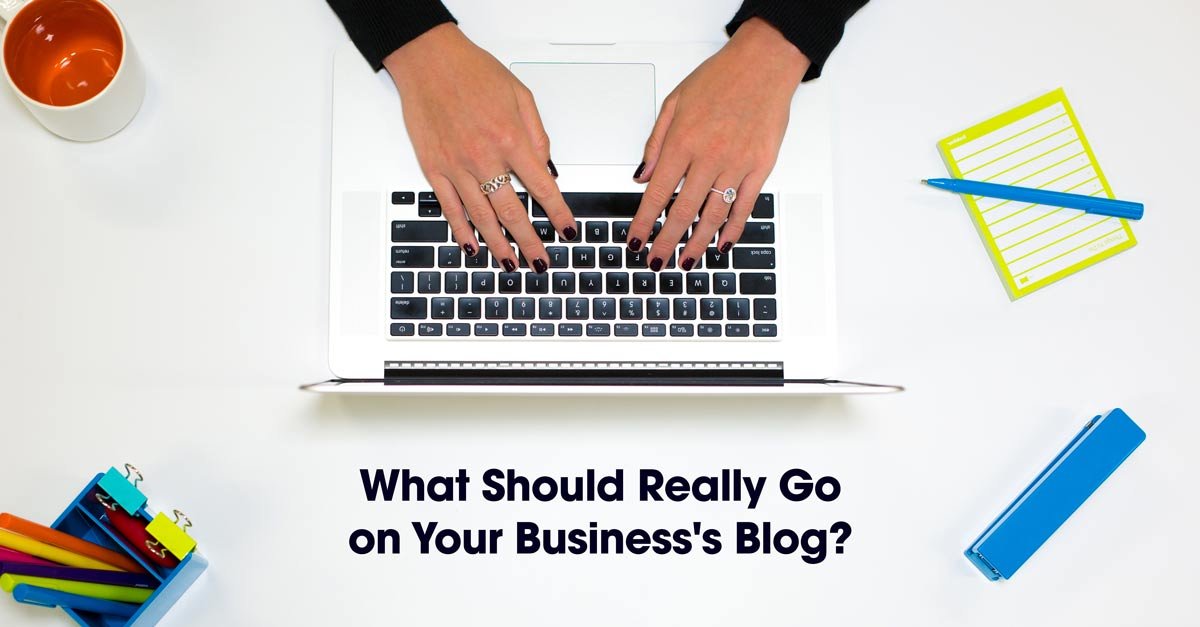 Does your business have a blog?
If the answer is no, maybe one of these reasons rings a bell …
"I'm not sure we could find the resources—or that it'd be worthwhile if we did."
"We tried it, but it was hard to justify the time when we couldn't really measure the ROI."
"Honestly, the CEO isn't much of a writer. And I know no one would be interested in hearing from me—I'm just a midlevel marketing manager."
"I work in a pretty buttoned-up industry. We don't want to give away our secrets or let people look behind the scenes. Otherwise, what would clients pay us for?"
"Ugh, don't remind me. And please don't click the 'Blog' link on our website. The same 6 posts have sat there since 2009, and I've been meaning to do something about it since 2013."I've written thousands of blog posts on behalf of brick-and-mortar businesses during my career in content marketing, and I've heard all of these objections—and many more—from new clients.
I've also heard many of those same business owners later say their only regret is not starting a blog earlier. The fact is that blogging, when done right, is an extremely effective marketing tool. A well designed and well executed blog strategy will help you fill your pipeline and drive sales.
Whether you're a business owner looking for a new source of leads or a marketer trying to convince a boss or client to get serious about blogging, I have some ammunition for you in this post. I want to help you figure out whether your business should be blogging, and then to give you an approach that'll make sure you get back way more than you put in.
Let's look at 5 big problems that prevent businesses from blogging successfully, and how to solve them.
Blogging objection #1: "I don't think anyone will want to read what I have to say."
Think again if … You or your company have expertise on a topic people want to know about.
First rule of results-driven blogging: it's not about you. And it's not really even about your company.
When most businesses talk about "the company blog," it conjures visions of staff profiles, product updates, photos from the holiday party.
That can be fun, but it's not how you want to spend (most of) your limited content-creation time. To get interested readers—the kind who come back every week and turn into customers—you need to start with the kind of problems they want to solve and the information they want to know, and use your unique expertise to help them.
That's the only kind of content that will actually draw people closer to your business as customers. It's the only kind of content that will generate what every growth-minded business wants: more high-quality web traffic.
How do you make sure you're only investing time in blog content people actually want to read?
You need a traffic plan.
Before you write a word, plan out how you'll get traffic to your blog content (which will help get traffic to your site). You generally have three options to get more qualified visitors to your site—you can drive them there with paid ads, you can route them to your site from social media, or you can capture earned and organic traffic from search engines and direct links from influential people and publications.
Whether you're paying for traffic or seeking free traffic, or doing a little of both, you need robust content to market, and every time you write a blog post it's an opportunity for:
Search engines to index a new page on your site, resulting in organic traffic
Social media buzz to lead to website visits, as you share or promote posts on Facebook, Twitter, Instagram, and other platforms
Paid ads and promoted posts to jumpstart views and visibility
Creating fresh, valuable content can lift search metrics across your site—and since blog posts give you more room to cover more ground than most areas of your website, they give you a chance to enhance your domain authority on crucial topics. (While it's possible to search-optimize your landing pages, it's a little trickier; blog posts are usually an easier SEO win.)
But how about turning those page views into real, live leads?
Blogging objection #2: "Blogging seems fun, but it's hard to prove the ROI."
Think again if … You want to grow your email list or get more leads.
Your email list is a major asset. Every email address represents a lead, a potential customer who might be interested in your next promotion, product launch, or free course. At Leadpages, we continually expand our email list through a number of lead generation strategies, but one of the most effective tools at our disposal is this blog.
And when you can tie leads directly to your blog content—then you can be absolutely sure if your blogging efforts are paying off. Because leads turn into sales, meaning you can do the math on conversion rates and pin a dollar value to every pageview your posts get.
How exactly can you gather leads through your blog? I recommend a multipronged approach:
Content Upgrades: A content upgrade is a bonus resource you give away from your blog post as an incentive for readers to join your list. It should upgrade your post by offering a value-add to help readers implement the insights in the post, and I'd recommend you add one to every post you create.
Cornerstone Lead Magnets (and Other Opt-in Opportunities): Does your business currently generate leads through webinars, ecourses, ebooks, or other in-depth content? If so, you can include opportunities for all that traffic we mentioned in the previous section to opt in on your blog. If it makes sense for the topic, you can use one of these pieces of cornerstone content as a call to action inside the post. Otherwise, choose your very best content and offers to feature in the sidebar of your blog.

At Leadpages, we always feature our weekly webinar in the sidebar, and we also feature limited-time promotions from time to time. You can even create a "Favorite Resources" sidebar if you have a lot of cool stuff to link to.

In the example below, a career coach for industrial engineers places opt-in links to three different appealing resources in his blog's sidebar.
Subscription pop-ups: It's surprising how many business blogs do not actively seek subscribers. Many people who read your blog will be interested in coming back for more. Don't miss the chance to turn your new readers into subscribers. Once they subscribe, you can invite them back to your blog with an email every time you post, nurturing these leads into customers. (Pro tip: Use a button to trigger a Leadbox opt-in form, rather than embedding an easy-to-ignore form field in your posts or header bar.)In the example below, a real estate training company uses this charming Leadbox to get blog subscriptions:
Exit po-ups: In addition to asking people to subscribe in the sidebar or header bar, you can set up a timed or exit Leadbox. This is a pop-up triggered only when someone has spent a certain amount of time on your blog or attempts to exit your blog. Use it to offer one of your best cornerstone lead magnets or a content upgrade for best results.
Even visitors who never become leads can still help boost your blog's SEO value simply by clicking into a post from the SERPs and spending some time on your site, signaling to search engines that you're producing engaging content.
However, I know that not everyone's comfortable prioritizing SEO in their marketing. Let's take a look at that perspective.
Blogging objection #3: "SEO-driven writing sounds so mass-produced and formulaic. How could that kind of content get us quality customers?"
Think again if … You know what kind of ideal customers you want to reach, and what they want from your company.
Trust me: good search optimization doesn't look like spam comments and unreadable, keyword-stuffed 300-word "blog posts" these days.
As search engines get more advanced, they become more attuned to the kind of content people actually want to read. Those people include your ideal customers, who are likely to be searching for information on a problem you can help them solve.
In fact, a good blog SEO strategy can't happen without close attention to your audience and the stages of your funnel that audience moves through.
Every time you start thinking of an idea for a new blog post, ask yourself or your content team about:
a) The target audience
b) The funnel stage that audience is at when they're looking for information on your blog topic (awareness of the problem, discovery of solutions, consideration of specific solutions, or conversion into a customer)
c) The next funnel stage you can move them to
For example, ask yourself: is this a simple, 101-style topic that is well suited for people who are in the discovery phase of your sales funnel, and just learning about your business? If so, frame the content in such a way that you can help push them into the consideration phase, where they begin deciding whether to make a purchase from you.
Say you run a cloth diapering business. A discovery-to-consideration post might be titled, "Are Cloth Diapers Really Cheaper Than Disposables?" This post would simply introduce people to your business and get them more interested in what you're selling.
If you're writing to people who are already in the consideration phase, you'll want to include more about the benefits of making a purchase from your particular business, to push these leads into the conversion phase. An example blog post for the diaper business would be, "How to Cloth Diaper Your Newborn for Under $200." This post could include specific information about the features and benefits of the products you sell and a shopping checklist.
At both stages, you'd do well to research what keywords people in these stages are searching for and what kind of posts you'd have to create to get more attention than what's currently on Page 1 for those keywords.
Don't forget about your existing customers, who are in the repeat purchase or retention stages of your funnel. Content for your current customer base should help people get the most out of your products and encourage them to purchase add-ons. Continuing with the diaper business blog, post ideas might be, "10 Cloth Diapering Accessories You Really Need (and 5 That are a Waste of Money)," and "It's Potty Training Time—Here's How Cloth Diapers Can Help."
By creating a quick but well thought-out content strategy for each blog post you publish, you can be sure that all of your blogging efforts help you attract, convert and retain customers.
Blogging objection #4: "I'm not sure blogging would fit with my company's image."
Think again if … You're hoping to establish authority in your industry.
One of the key benefits of blogging is perhaps the most simple one. Your blog is your direct communication channel to your prospects, customers and colleagues. By taking advantage of this, you can establish authority in your field and build a strong brand.
Authority, of course, is a vague metric. It's not easy to put on a chart and your boss is probably more interested in leads, sales, and retention. But authority is a catalyst for all of those things.
The best business blogs answer questions leads and customers have. If you're consistently publishing content that's helpful for your customers and potential customers, your blog will become a critical resource for your sales team, your customer support specialists, and your target demographic. Think of the impact of sharing an educational blog post you've written with a confused customer, who is on the verge of requesting a refund.
You can do all this in a voice that fits your brand, whether it's chatty and funny or no-nonsense and meticulously researched.
You won't be able to establish yourself as a respected brand or a thought leader overnight, but as your blog gains a following, you will gain authority.
There is a bit of a shortcut here: publish newsworthy content. This needn't involve big events or publicity stunts—instead, think about what kind of interesting data you could create or collect and publish on your blog. That might include:
Surveying your customers
Commissioning surveys of typical consumers
Calculating statistics based on publicly available data (for instance, the diaper company might add up the landfill space taken up by the average infant using disposable diapers)
Running your own tests online or in your business
Blogs and news outlets love a snappy statistic or an eye-catching chart. If you're lucky enough to have PR staff on your team, reach out for help identifying good potential placements. But otherwise, a few emails and a lot of amplification on social media may be enough to give your data the spotlight.
Blogging objection #5: "Blogging just takes so … much … effort. Isn't it better to invest in bigger projects instead of writing blog posts every week?"
Think again if … You're interested in compounded value and long-term returns.
While it isn't easy to sell all business owners on the idea of blogging, most of them can get on board pretty quickly with the idea of extracting compound value from a one-time effort.
For example, if you sit down today and spend three hours writing and publishing a blog post with a good content upgrade attached, maybe you'll get 100 views and 10 leads by this time tomorrow.
The next day, as people start catching up on their emails, maybe you'll get 50 more views and 5 leads. You'll go on to net a few more over the next few days as latecomers drift in. And this lead machine isn't done yet.
The blog post is just starting to be indexed and ranked by search engines, meaning in the weeks and months and even years to come, you can continue to get free traffic to this post.
The majority of traffic we get to the Leadpages blog comes to posts that are at least one month old. That's about how long it takes search engines to catch up. In fact, some of our posts that drive the most leads today are now years old. (Pro tip: every few months, look at your highest-traffic posts and update the ones that are showing their age so they're still accurate and brand-appropriate.)
Not every blog post you write will continue to deliver value for months and years to come, but if you're writing valuable, unique, evergreen content, some of them will. And if you include a content upgrade on those posts, you'll be getting top-quality leads the whole time.
If you don't blog for your business, why not? If you do, did you have to overcome any objections (your own or others') to start? Tell us about it and share a link to your company's blog in the comments.