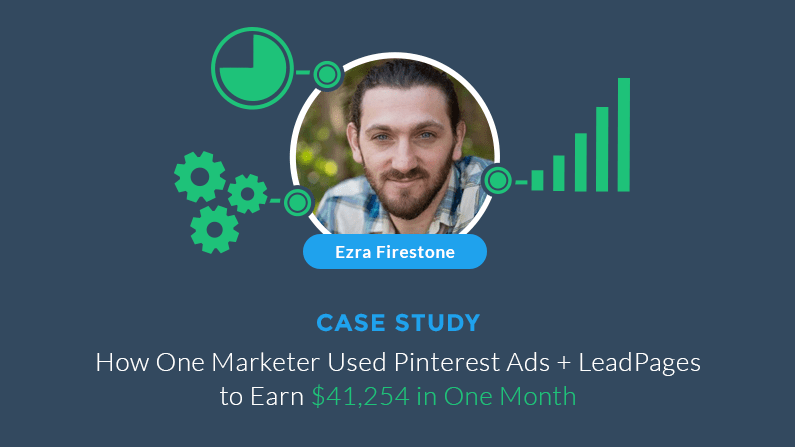 It's hard to surprise Ezra Firestone.
As the CEO of a marketing-training hub Smart Marketer and an e-commerce wizard, he always keeps one eye on the horizon, scanning for new platforms he can use to power his campaigns.
That's why he knew Pinterest was going to be huge, right from the start. The photo- and media-sharing site's user base was an e-commerce marketer's dream: higher income, 70% women, and growing faster every day. Plus, he figured he could get a spectacular return on his ad budget by becoming an early adopter. As he says:
"When a new platform launches, they are still working out the kinks in the system and dialing in its targeting capabilities and platform functionality, so ads are cheap . . . Basically, new social ad networks use cheap ads to attract advertisers as paying beta testers for their fledgling platforms. Win-win!"
– Ezra Firestone
So Ezra couldn't wait to harness this powerful new source of traffic.
Well, he had to do some waiting. In late 2013, Pinterest finally opened a waiting list for companies who wanted to start publishing promoted pins, and Ezra wasn't selected right away—all the first invitations went to Fortune 500 brands.
In the meantime, he had the campaign to run for a makeup brand targeting baby boomer women (an ideal audience to reach via Pinterest). He set up a website anyhow, figuring some organic traffic might trickle in.
It didn't. But 9 months after he joined the waitlist, the news came: he'd been approved to start promoting posts on Pinterest.
Ezra's Funnel
The first thing Ezra did was to take a look at Pinterest's ad-targeting system.
He found that, happily, it was similar to Facebook: he could choose his own keywords and target an audience using factors like location, language, and gender. That meant he could speak directly to the baby-boomer women who were this brand's ideal customers. And he'd reach them via promoted pins—posts that fit right in with all the other posts on Pinterest and couldn't be easily dismissed as mere advertising.
We talk a lot about lead-generation funnels at Leadpages, and with good reason: they get reliable results. In this case, though, Ezra wanted to make up the time he'd lost waiting for Pinterest to let him advertise. So he decided to use his Leadpages landing pages to build a direct sales funnel and focus on immediate sales more than long-term list-building.
Here's what his sales funnel looked like:
Ezra started with a promoted post built around an original and appealing hook: makeup tips for older women from 64-year-old supermodel Cindy Joseph. When Pinterest users clicked through from the promoted post, they were taken to the promised article, published on a landing page that Ezra made himself using Leadpages.
The article was no afterthought. It combined useful tips with the interesting story of Joseph's late-blooming modeling career.
It also convinced visitors to purchase in a host of ways. Product links were sprinkled throughout the article, followed by a direct call to action, product listings, and social proof in the form of reviews and photos of customers wearing the products. (Ezra customized his own template using the Leadpage template builder, but the predesigned templates in our library are also full of these features—try the Native Ads Landing Page for a start.)
Once customers decided to purchase, they were taken through a well-designed checkout sequence that inspired them to add to their order by displaying other recommended products. As with most e-commerce sites, customers entered an email address to check out, meaning that Ezra had a way to follow up with them in the future.
And although it wasn't the primary objective of his campaign, Ezra did decide to capture leads for his email list while he was at it. In the top bar, visitors were invited to "Join the Boom Club," and when they clicked, they saw a LeadBox™ prompting them to opt in to the brand's email list.
The Results
After a month, the power of this strategy was clear. The Pinterest campaign brought in
$41,254 in sales
from an ad spend of just
$775
.
For a new campaign, that's astonishing by any standard. But it becomes even more impressive when you consider where this campaign started.
Before Ezra started using Pinterest, the brand's site was getting no direct sales or organic traffic. But once he began promoting posts, in addition to people who bought directly after clicking through from Pinterest, he saw a huge spike in direct and organic traffic.
This meant that his promoted post was so memorable, customers went back to his site directly or via search after they'd seemingly exited the funnel the first time around.
Seeing these results, Ezra naturally doubled down on this strategy. In the past two months, he's spent $26,990 on Pinterest advertising—and generated $198,894 in revenue.
So How Does This Apply to You?
At Leadpages, we've used and taught others
how to use Facebook advertising
extensively—it's been an incredibly powerful tool to drive funnels of all kinds. Ezra's inspiring example shows us that Pinterest could potentially grow to be just as powerful. Plus, he says:
"If Facebook and Google are any indicators (and they usually are), we have a year or two of extremely cheap, high-quality traffic in front of us before Pinterest gets to be any kind of competitive (read: expensive)."
– Ezra Firestone
If your business involves e-commerce or any products targeted toward Pinterest's prime demographic, you should consider trying Ezra's strategy for yourself. We'd recommend coupling it with conversion tools such as Leadpages landing page templates and LeadBoxes® to ensure you're getting the most out of this kind of campaign.
Are you doing any Pinterest marketing? Do you want to? Let us know in the comments below!