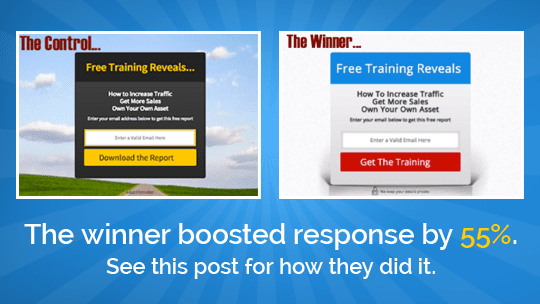 By Kat Von Rohr, Writer for LeadPages™
11:44 pm last night…
I reached out to a friend of mine in the copywriting industry to see if split testing had ever made a significant difference in his freelance copywriting business.
The short answer: Yes. It had – a $100,000 difference.
You see, a while back, my buddy had a client in the "laws of attraction space."
Like any entrepreneur, his client was consumed with the daily tasks of running her business. She didn't have time to run experiments. She was too busy building her $300,000 business from nothing.
Then my friend, Kory, came onto the scene. He suggested testing a headline (something she had never tried before), and created the A/B split test to do it. It took him 90 minutes to set up the test.
That 90 minutes of work led to a 30% boost in sales. Considering she had a $300,000 business – that 30% boost was worth about an extra $100,000 of pure profit.
That's why Kory now says: "If you're not split testing, you may as well pile up a bunch of cash and set it on fire."
"What Has Worked vs. What May Work"
Fact: Every split test you run for your business has the potential to boost your conversions just like this. I've seen split tests that blow this one out of the water – increasing conversions by 50%, 90% – or even over 1,000% in some cases.
But exactly what to test – and how to test it – that's where things get interesting. (We'll get to that here in a minute.)
First, you need to understand that when you're split testing, you're always testing against your control page. This means you're testing "what has worked" vs. "what may work better now" for your pages.
When you're testing against a control, you can see astronomical, off-the-charts results in the 60% – 95% range. But you can also get very minor results in the 2%, 7% and 10% range. (And that's okay – even small incremental changes like this can make a difference over time.)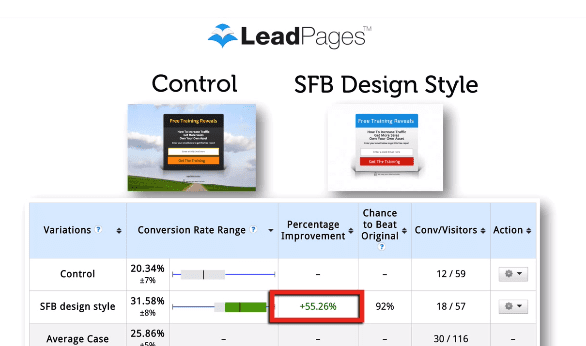 If you've ever noticed, most businesses only report their A/B split-test findings when they see truly significant, amazing results anyway.
Obviously, the big results are the most memorable (and worth bragging about). But for every blockbuster, off-the-charts result, these businesses also have dozens of less exciting, but just as informative split tests.
So if you start searching for "what has worked" for other business owners in your industry, you're bound to see some skewed results. Also, you'll likely see a lot of unique findings that may or may not work for you.
But that's why A/B testing on your own is so critical…
Your Results = Your Competitive Edge
Like anything else in your business, your split-test results are unique to you and your business model. No one else.
What works for your landing pages may or may not work for the entrepreneur sitting right next to you – even if she happens to be in your same market, with a similar business model.
In fact, what works for you right now like gangbusters, may not even work for you again in a couple months.
That's why my buddy says you're burning money if you're NOT split testing. It's because split testing allows you to see what's really working for your business at any given moment.
It also gives you unique knowledge on your own customer-base. Split testing tells you a little bit more about your audience with each passing test. That kind of customer intelligence is almost impossible to find anywhere else.
Once you have those results, that split-testing data is yours. You own it. It's YOUR unique competitive intelligence – about what works for your business, your product and your audience right now – and yours alone.
Really, the only way to start building your own body of split-testing intelligence is to start with simple, easy-to-implement split tests that will quickly give you the answers you're looking for.
As a LeadPages™ user, I hope you're already split testing – and therefore light-years ahead of everyone else. But just in case, here are some quick, easy split tests that you can test to start boosting your conversions.
#1 Switch from Benefit-Driven Headline to a Curiosity Headline
(And Back Again)
The simple headline change that my buddy made for his client led to a 30% boost in sales. Even minor headline changes like this can have a powerful impact on your bottom line.
When you're testing different headlines for your landing pages, I like to test two radically different styles of headlines, so you can get an accurate gauge of what offers your audience responds to.
Specifically, I like to test benefit-driven headlines vs. curiosity headlines.
A "benefit-driven" headline tells your prospect directly how their lives will improve by responding to your offer. Most landing pages you see have a benefit-driven headline like the one below…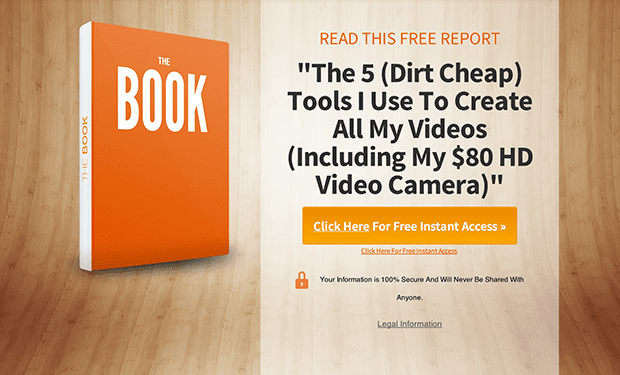 A "curiosity" headline is not as direct. This type of headline is designed to intrigue your prospect to the point where they have to know more – and therefore respond to your offer.
The best A/B split tests involve testing headlines with similar information – but are written in these two unique styles.
For example, if you wanted to test this benefit-driven headline above – you might test it against a curiosity headline like…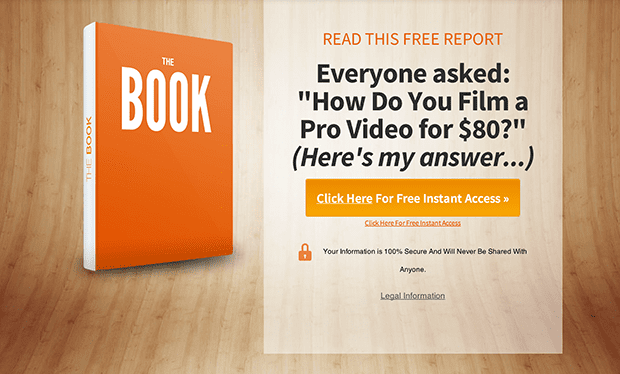 See how it's a slight variation on a benefit headline? Same information, just a different style. With a quick change like this, you can test two radically different styles of headlines on your own pages.
#2 Make Your Landing Page Match Your Website
A LeadPages™ user has already proven this split test is certainly worth the 10 minutes it takes to set it up.
Earlier this year, the user, James Schramko took one of the LeadPages™ standardized templates – and simply switched out the colors. With this small, easy-to-implement change, he had a new landing page ready to test that matched the colors of his website.
This custom color job handed James a 55% boost in response.
Here's what this A/B split test looked like…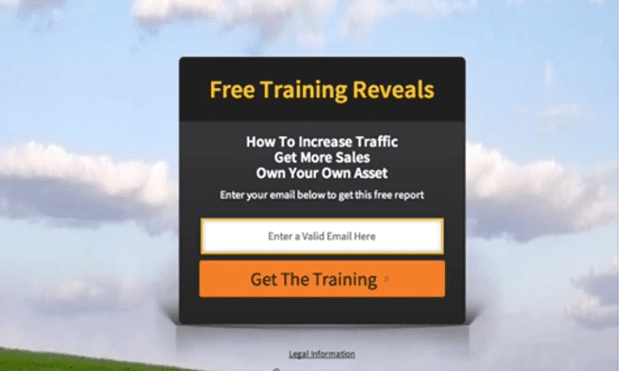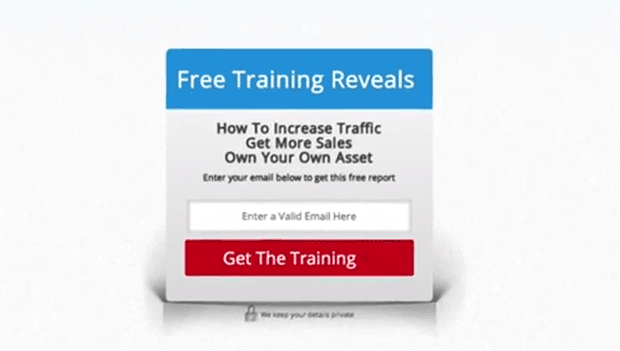 For your own pages, this is another extremely easy thing to test. Simply take your control landing page and customize the colors so they match your website or business logo.
Then run the test and see what happens.
#3 Give 'Em a Different Freebie!  
We all know giving away free stuff works. It's the standard operating procedure for building your email list (and has been for about 10 years now).
But even though we all know it works — you have no idea how well it could work until you start testing the free stuff you're giving away.
As you're building your list, you should be testing different "lead magnets" or "content bribes" to entice new subscribers to opt-in for your list.
The possibilities for this kind of A/B test are endless. Here are just a few ideas…
Free report vs. free video
Free membership site vs. free training course
Free series of videos vs. free live webinar.
Free mindmap vs. free infographic
Free how-to guide vs. free list
(Any combination of the above)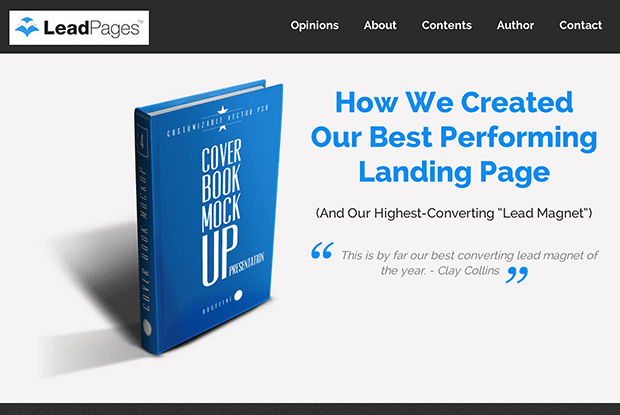 If you're a LeadPages™ user, you can easily give your subscribers different pieces of content (and still allow them to opt-in for the same list) with the digital asset delivery feature.
#4 First Name vs. No First Name
This is a simple change that can make a huge difference in your conversions.
When you're building your email list, you have the option to ask for your prospects' first name and email address, or simply ask for their email addresses only when they opt-in for your list.
Now for a long time, we have actually advocated just asking for email addresses. That's because we have found that asking for only email addresses boosted conversions. So if you check out most of the LeadPages™ templates – most are automatically set up for email only.
But this may not be the case for you – so you'll want to test to find out.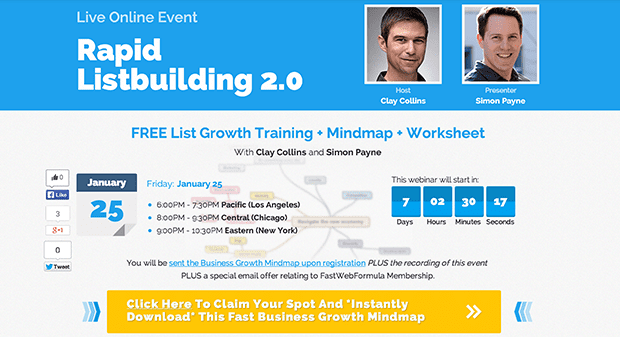 You can test email + first name vs. just email, with a few simple clicks on several LeadPages™ templates including the Webinar 3.0 Registration page above. For more on how to add a first name field, see this video.

#5 Fill Out the Forms for Them 
This is also called "pre-populating landing page fields." Here's how it works…
Usually, when a prospect gets to your opt-in page, they have to fill in their email, first name and possibly other personal data to opt-in to your list.
But by "pre-populating the landing page fields," your prospect will instantly see all their personal data already entered in the boxes.
With the forms filled out, all your prospect has to do is press the call-to-action button to opt-in. This makes it that much easier for a prospect to quickly opt-in for your list.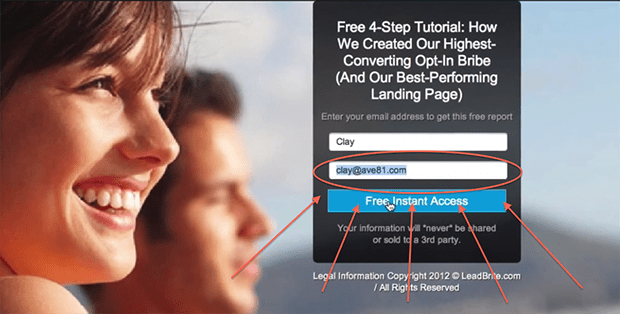 This one strategy has been known to boost conversions by double-digits. So if you have not tested this yet, you should try it, and see what happens.
#6 Testing Borders, Images, and Buttons
Sometimes, something as simple as adding a new border to your sales page can make a significant difference to your results.
That's been the experience of another copywriter friend of mine, Jen Adams. As a veteran copywriter in the survival space, Jen has proven conclusively that simply adding a border to her promotional pages significantly boosted her sales.
For your own pages, this is one of many visual elements you can test.
Here are a few more ideas of visual A/B tests to run…
An image vs. no image. You'd think an image page would always dominate over a page without an image – but the site, WhichTestWon has actually published test results that show that removing your image can be just as effective as adding one.
An image of a person vs. an image of your product. Generally, images of people will outperform a picture of your product. But an A/B split test could prove this generality wrong for you – so you'll want to test.
Different images of people: If you find that images of people work best for your business, you can take this one step further. Test a single person (or couple) vs. a group. A man vs. a woman. A child vs. an adult. You can also test the atmosphere around your people (for example: outdoors vs. indoors).
Change Your Call to Action: Since your call-to-action button is the one place on your page you want every prospect looking at, it's always a good idea to run several tests to discover the best copy, placement and even color choice for the opt-in buttons on your pages. Even subtle changes can make a difference here. For example, LeadPages™ user, Maggie Percy boosted her conversions by changing her call to action from "Notify Me" to "Tell me more." See her test below…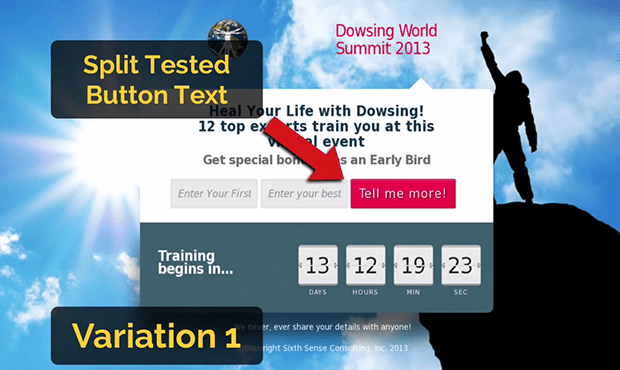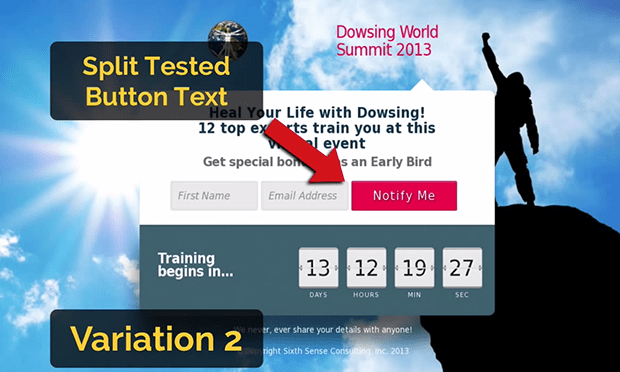 Again, that's just a few ideas of the visual A/B tests you can run.
#7 Change Your Headshot.  
I have to give credit to a LeadPages™ user, Carl Taylor for this one.
Earlier this year, Carl tested two landing pages that were exactly the same in every way. Same graphics. Same messaging. Same layout.
The only difference was his headshot.
Carl tested a page with a professional photo of himself in a suit and tie vs. a page with a laid-back photo of himself in a T-shirt and jeans. For his particular audience, the laid-back photo crushed it – and boosted response by 76.62%.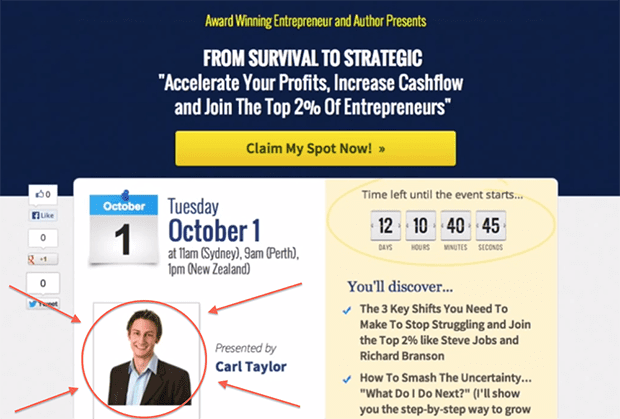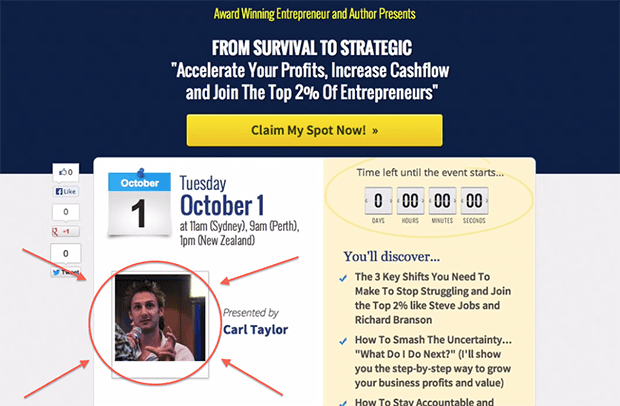 This is another extremely easy A/B split test that you can run.
If you have pages marketing your product, your webinar, your email list – or anything else that's built on your personal authority – try testing two radically different photos of yourself and see what happens.
#8 Video Page vs. Static Page
Thanks to a new LeadPages™ feature, you can now test a moving-image, video background on your pages vs. your traditional, non-moving image background.
So for example, you could test an opt-in page with a background video of a moving city landscape (with zooming cars etc.), vs. a non-moving image of just the city landscape itself. Or you might test a landing page with a video of a stormy sky (that features real, flashing lightning) vs. a non-moving image of just a stormy sky.
Since this is a relatively new feature — it's likely that your prospects haven't seen anything like this before. So it stands to reason that a video background could outperform a static page.
A little insider knowledge: We have already seen several customers boost response by triple-digits using this new page.
However, there's no way to know how your prospects will respond to this new technology if you don't test it.
This is a very easy test to set up. To learn more about how to use this feature, check out this video.
#9 Literally Speed Up Your Conversions
This is one of the easiest A/B split tests to set up – and it's also the last one most marketers and business owners would think to try.
The idea behind this test is the faster your landing page loads, the better your results will be. If you think about it, it makes sense. No one wants to wait for a page to load anymore. The longer your page takes to load, the more likely you are to lose potential customers who will click off the page.
That's why hosting your landing page on a faster server can boost your conversions. Another LeadPages™ user — Juan Martitegui — proved this when he ran this A/B test in his business. Juan tested running the same landing page on his own server, vs. the faster LeadPages™ server.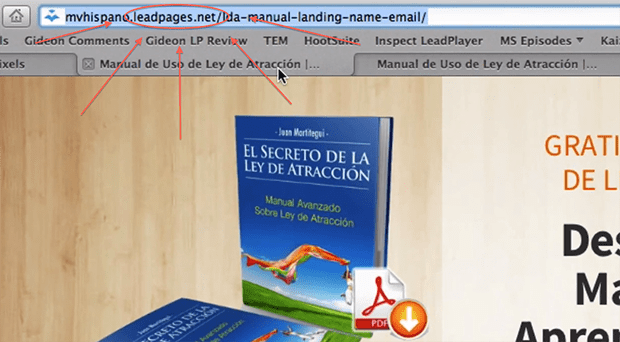 Just with this small change, he saw an 8.47% boost in his conversions. While that may not sound particularly significant — keep in mind that Juan saw this boost in conversions without changing anything on his pages. (To see the full details on this test, check out our video.)
To test this theory in your business, set up two identical landing pages to test. Host one landing page on an external server, and host the other on LeadPages™' (really Google's) server, which is engineered to be the fastest server in the world.
Run an A/B test and see how this speed affects your conversion.
Remember: This is About Intelligence
Every A/B split test you run gives you more knowledge about your audience. It tells you what's working in your business and customers on a moment-to-moment basis. This is the kind of intelligence you can't find anywhere else.
Also, there are dozens of other simple split tests that could go on this list. But for now, this is a short list to help you get started.
Remember even a small 5% or 10% change can make a significant difference for your business. So keep testing.
A Few Questions Before I Go…
1.    Of all these, what's the best one to test in your opinion?
2.    What's the best, simple split test you've ever done (that showed a significant result)?
3.    What other  A/B split tests should be on this list?
I'd appreciate it if you could answer in the comments.