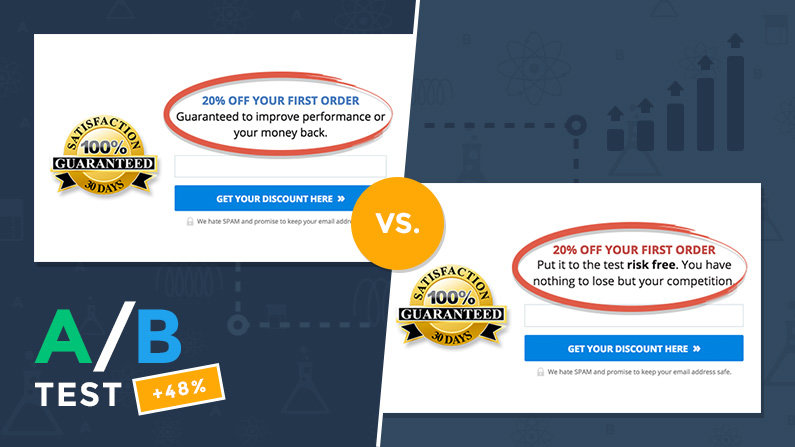 Advertising a money-back guarantee can definitely convince hesitant customers to open their wallets. It makes intuitive sense, but there's also some data behind this. For instance, a 2011 study in the Journal of Retailing found that money-back guarantees "evoke a positive emotional response, thereby increasing consumers' purchase intentions and willingness to pay a price premium."
But can you increase your revenue simply by changing the way you present that guarantee?
And beyond that: can you drive additional engagement even before the purchase stage by mentioning the guarantee?
Almost certainly. In today's featured A/B test, one LeadBox™ for a coupon outperformed the other by 48.32% when it framed its money-back guarantee differently.
Version A invited customers to "Put it to the test risk free. You have nothing to lose but your competition." Version B was more straightforward: "Guaranteed to improve performance or your money back."
Which LeadBox™ do you think increased the opt-in rate by a relative 48.32%?
Note one complicating factor before you guess: the headline color also changed between variations (red in Version A, blue in Version B), so consider whether this could have an impact, too.
Go down to the comments and tell us which one you'd choose and why—then vote below to see if you were right!
[split_test id="7595″]