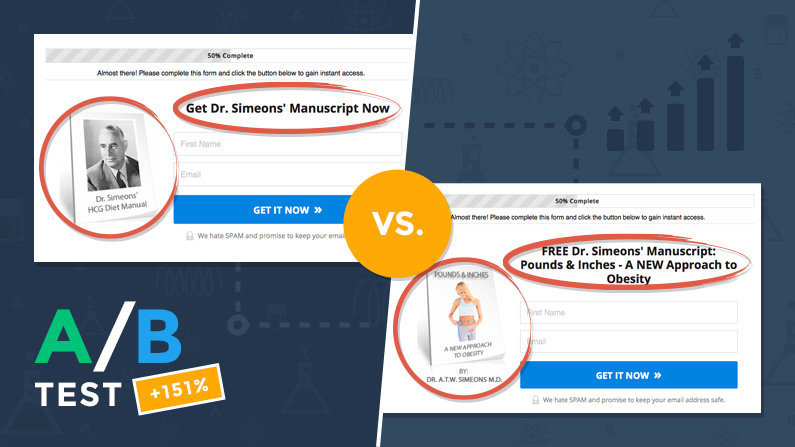 When it comes to weight loss, do people look for a time-tested solution backed by medical authority . . . or just whatever's new and inexpensive?
That's what today's A/B test examines. The answer could affect not just the final version of this LeadBox™, but this weight-loss company's entire branding strategy.
Version A keeps things highly professional, with a black-and-white photo of Dr. Simeons and a streamlined, to-the-point call to action. If you've been burned by unrealistic weight-loss claims in the past, this approach might be inspire more trust.
In the other corner, Version B drops the subtlety and goes all out to capture attention. The doctor is downplayed, pushed off the cover of the lead magnet by a smiling woman in workout gear. Meanwhile, the call to action emphasizes the "FREE" and "NEW" information inside.
Which version do you think increased opt-ins for this LeadBox™ by 151.36%?
Go down to the comments and tell us which one you'd choose and why—then vote below to see if you were right!
Vote to reveal the winning A/B-tested LeadBox™ and our analysis.
[split_test id="6951″]