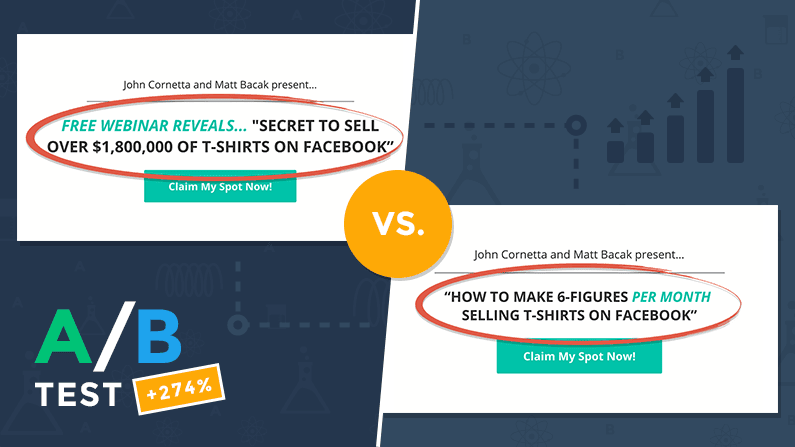 Where's the line between "tried and true" and "been there, done that"?
As marketers, we can easily become desensitized to our own techniques. For example, a headline formula that seems overfamiliar to someone who's written hundreds of headlines might seem fresh and compelling to someone who encounters it in the wild.
Or it might seem familiar to them, too. One way to find out: run an A/B test. That's what entrepreneurs Matt Bacak and John Cornetta did with this webinar page headline. Version A used time-tested persuasive copywriting techniques such as building suspense with an ellipsis, prioritizing the word "free," and suggesting exclusivity with talk of a "secret revealed."
Version B was much more straightforward, presenting the webinar as a simple how-to:
Version A: "Free Webinar Reveals… "Secret to Sell Over $1,800,000 of T-Shirts on Facebook"
Version B: "How to Make 6 Figures per Month Selling T-Shirts on Facebook"
Which version do you think increased opt-ins for this LeadPage® by 273.80%?
Go down to the comments and tell us which one you'd choose and why—then vote below to see if you were right!
Vote to reveal the winning A/B-tested LeadPage® and our analysis.
[split_test id="6618″]