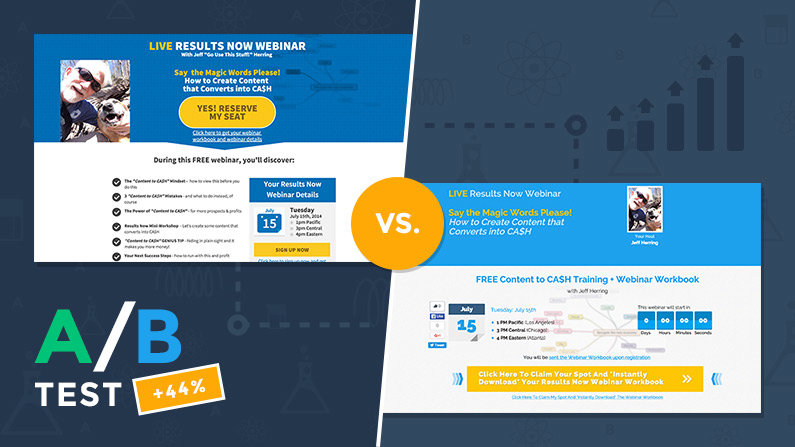 When you combine LeadPages' template library and Marketplace, you're looking at around 300 landing page templates to choose from.
There are a couple of things you can do to narrow down that dizzying array. You can sort them by category. You can even sort through them based on the average conversion rate of all the pages published using each template.
That helps. But you're probably not a totally average business. After all, there could be a template out there that may outperform the others based on your industry, demographics, etc. Fortunately, there's one more thing you can do: run an A/B test.
In today's A/B test, Jeff Herring tested 2 different templates to promote his webinar. Version A uses the Thank You/Webinar Page template and features the call to action at the top of the page, with a more compact page layout. Version B uses the Web 3.0 Webinar Registration page, which features smaller graphics, a more spacious layout, and a countdown timer.
Which version do you think increased opt-ins for this LeadPage by 43.96%?
Go down to the comments and tell us which one you'd choose and why—then vote below to see if you were right!
Vote to reveal the winning A/B-tested LeadPage and our analysis.
[split_test id="7519″]