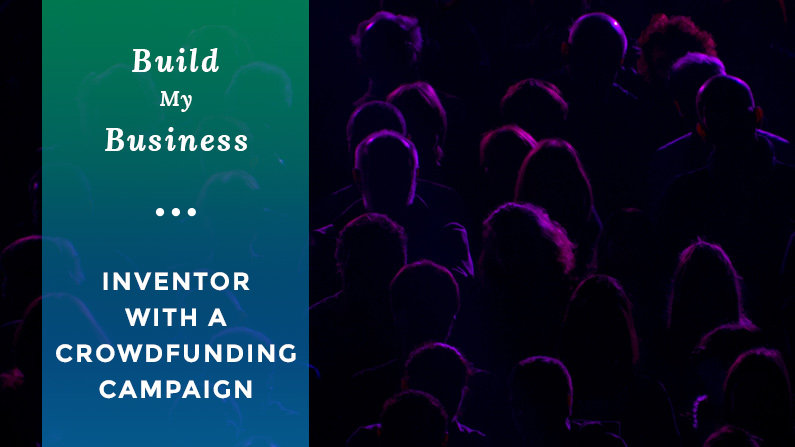 Editor's Note: This post is part of our Build My Business series, in which our in-house experts, hobbyists, and insatiably curious marketers show you how they would use LeadPages to launch a campaign for a very specific—though hypothetical—business purpose.
This week, split-test analyst John Nye devises a super-powered crowdfunding campaign for a colleague's invention. One especially neat part of John's campaign: a brand new landing-page template we've just designed for crowdfunding campaigns, which you can download free along with a matching thank-you page below.
I've always been a fan of the underdog story. The start from nowhere, the rise to success, the seemingly insurmountable goal . . . I love it all.
If you're an underdog at heart, there's no more natural business plan than a crowdfunding campaign. It gives you a chance to get started with very few resources—without even an existing product to your name—and prove yourself in the eyes of the world. (And ultimately make some money.)
A few months ago, I interviewed Zack Cram, a LeadPages® customer who managed to do just that. To get more out of his Kickstarter campaign for the MonoShot, a Bluetooth-controlled monopod designed for capturing hands-free smartphone pictures and video on the golf course or any other terrain. At the time of writing, less than 40% of Kickstarter campaigns reach their funding goals, but by adding LeadPages® and some other savvy marketing techniques to his campaign, Zack met his funding goal nearly 3 times over.
Zack's story left me in awe of his success, as well as crowdfunding's sheer power to transform people's lives.
What Zack did is certainly impressive, but in my opinion, the world is full of great ideas and short on funds to bring them to life. And when I began talking about crowdfunding around the office, I discovered that another great idea was just around the corner.
The Challenge: Bring a New Niche Product to Market Using Kickstarter
I learned that my colleague Chris Davis isn't just the Head of Marketing Automation at LeadPages. He's also an inventor. A while back, Chris devised a product he called the Tab 'N Grab: a set of plastic tabs, much like those used on file folders, that easily attaches to the edge of your most used credit cards and other important pieces of plastic so you can find them swiftly in your wallet or pocketbook.
Chris had actually created a set of Tab 'N Grab for his wife, who instantly began impressing cashiers and other shoppers when she used them in the checkout lane. He thought it'd be neat to turn his prototype into a real, mass-produced product, but the costs involved in manufacturing a totally new product as a solo entrepreneur were more than he wanted to take on.
After hearing this story, I decided to create a campaign that could give Chris's and other inventors' ideas the wings and funding they deserve. And as the best-known crowdfunding platform, Kickstarter seemed like the best place to find Chris a big enough following to support the Tab 'N Grab.
A quick primer on Kickstarter if you've somehow missed this zeitgeist: when you run a Kickstarter campaign, people can pledge different amounts of money toward your project, which entitles them to perks if your funding goal is met. In this case, I decided I'd offer sets of Tab 'N Grabs and discounts on future purchases. (Though we could get even more creative: perhaps custom Tab 'N Grab labels for higher tiers or thank-you cards drawn by Chris's adorable kids?)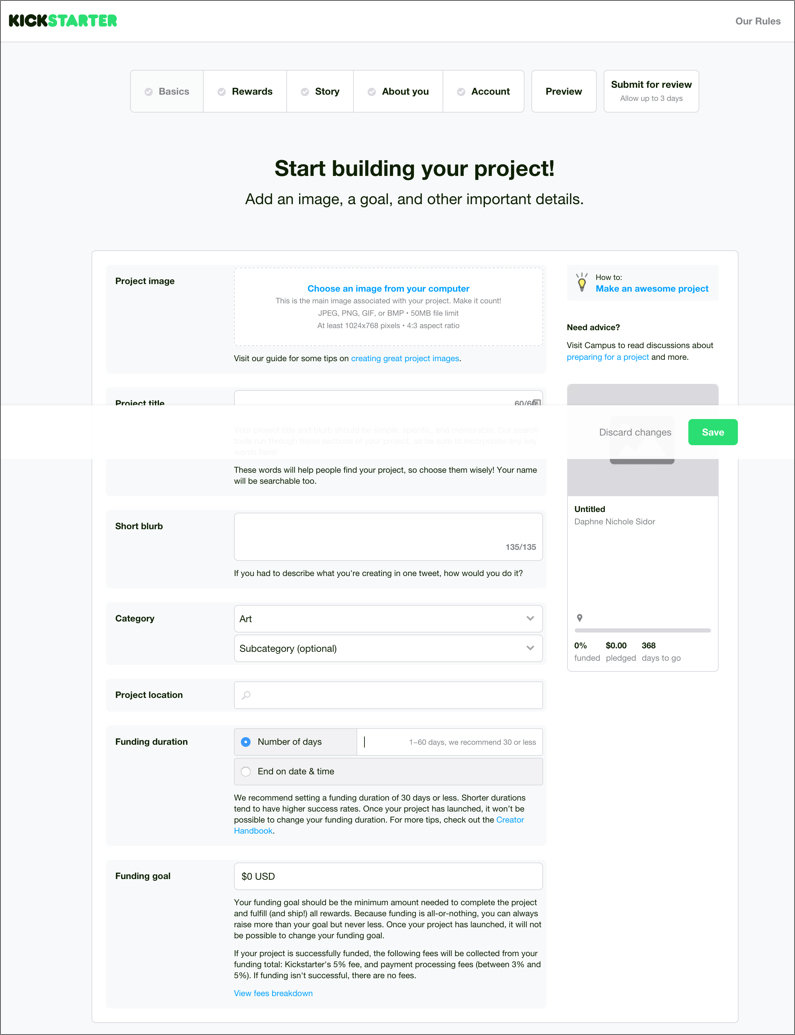 There were a couple of potential challenges, however. Kickstarter lets campaigns run for a maximum of 60 days, and if you don't reach your funding goal within that time, you won't get any of the money people have pledged. Plus, it can take several days for your project to get fully approved by Kickstarter once you've set up your page, and I didn't want to let that time go to waste when we could be driving interest.
Chris and I were pretty sure this product would find a following, but we weren't sure that 60 days would be enough time to drum up enough traffic to our Kickstarter page. So, inspired by Zack Cram's approach, I devised a way to give us a bit of a cushion.
The Centerpiece: An On-Brand, List-Building Pre-Launch Landing Page
To serve this campaign, I asked our design team to create a totally new landing page template. (Aren't they nice?) Here it is in all its glory. Click the button below to download all the template files, along with a thank-you page template, to use for your own time-sensitive campaigns. (If Kickstarter's not your thing, you can simply hide or replace the logo.)

I designed the page around the following elements:
Images and details of my product
The Kickstarter Rewards that I will offer those contributing to my campaign
An "About" section dedicated to humanizing this campaign
A countdown timer set to count down the minutes until my Kickstarter campaign goes live
That's right: I'm actually going to launch this page before people can pledge to my Kickstarter—up to several months before, in fact. Here's a diagram of my campaign funnel: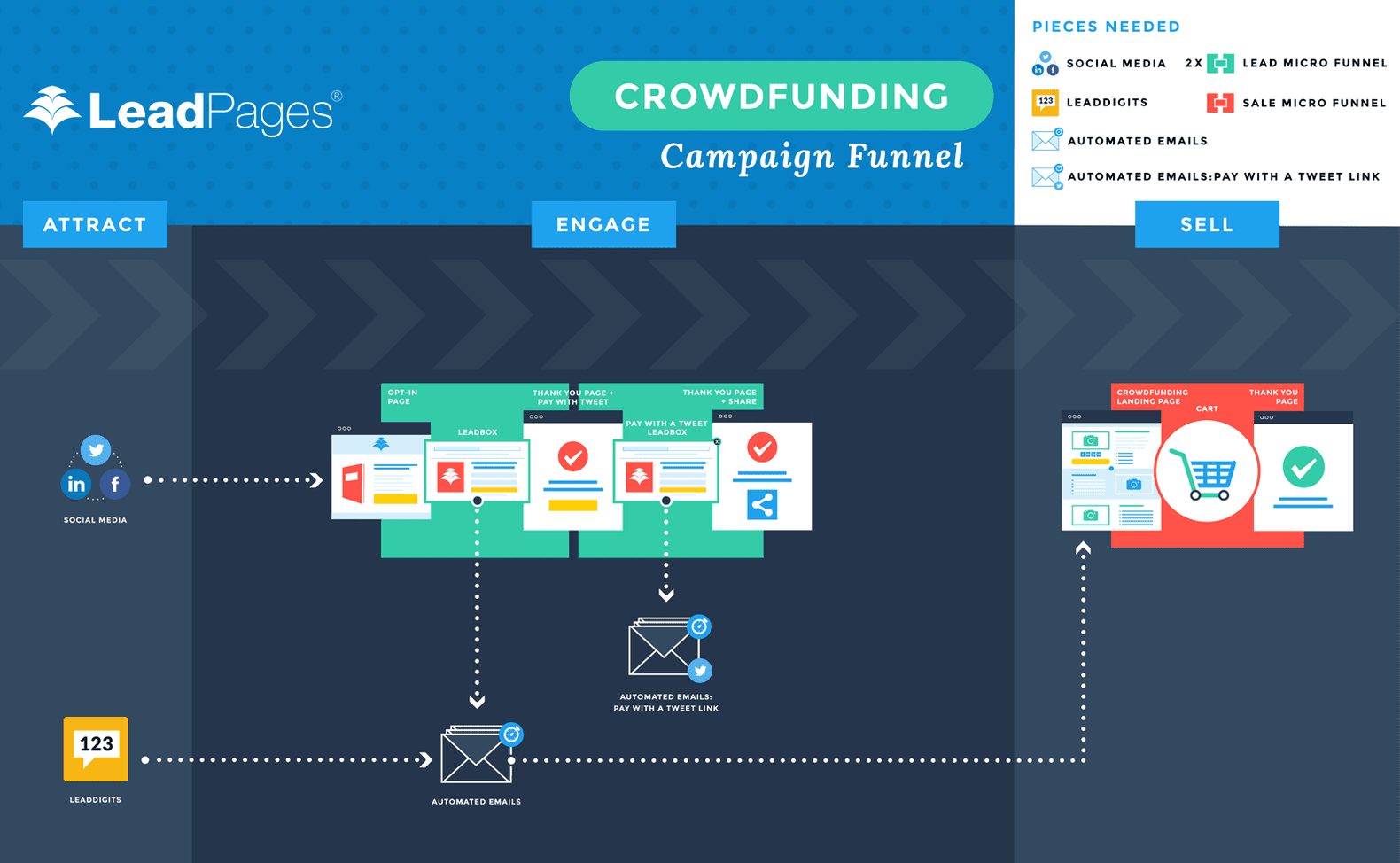 Although visitors won't be able to see my Kickstarter page yet when they reach this landing page, they can still take action. This page is a way of building buzz and enticing people to join my email list.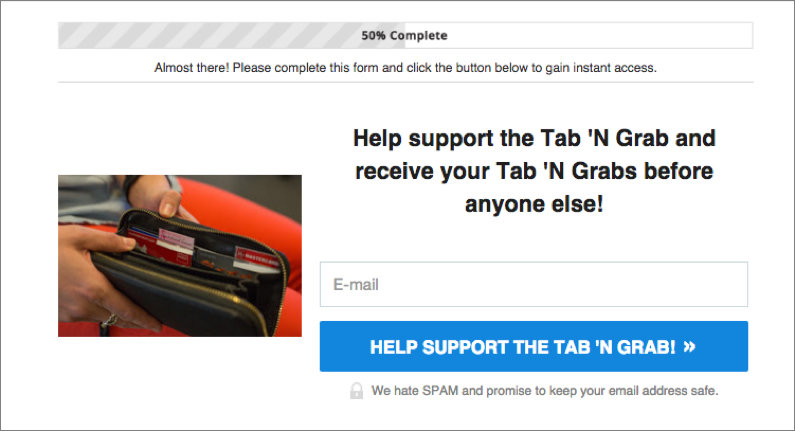 Then, once they're on my list, I can occasionally contact them to stay fresh in their minds and drive them to my Kickstarter campaign page once it launches.
For an email service provider, I'm going to use Active Campaign, as it allows for basic automation for as low as $9 per month (at the time of writing). For a one-off project like this campaign, I don't want to spend too much money on my marketing tools.
Once people opt into my landing page, they'll receive emails once or twice a month, containing content such as:
Our plans for getting the Tab 'N Grab into production
Calls for input into the Tab 'N Grab's design and other similar products we could create
First-person stories and anecdotes that illustrate the Tab 'N Grab's usefulness
Invitations to connect with me on social media
And, of course, a final push to back my Kickstarter campaign once it's live
The Thank-You Page
Few people want to support a faceless product on Kickstarter. Stories sell, and I'll take every opportunity to build a warm connection with my leads. As soon as they opt in, they'll see a thank-you page where they're acknowledged and encouraged to share the page with others, with the chance to get a free product as an incentive: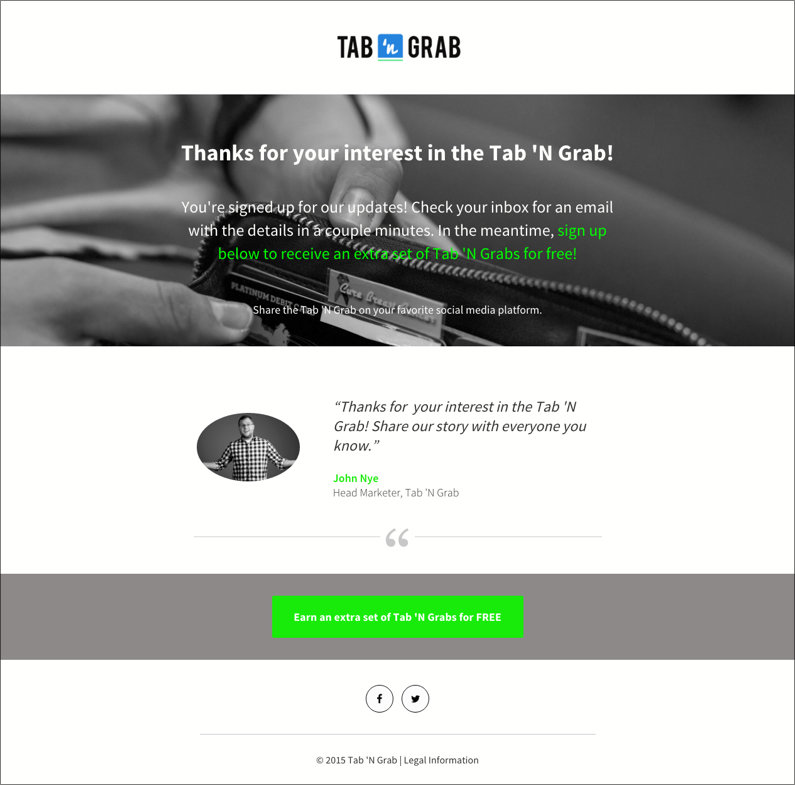 You can get all the files for this Social Share Thank You Page template and the Crowdfunding List-Building Page template free below:
Traffic Sources
Once I've set up my pages and planned my followup emails, it's time to drive traffic to my centerpiece landing page. I'll do that primarily through the following sources:
Facebook Page: Since Facebook shows only a small percentage of your unpromoted updates to followers, I don't expect my Facebook page to be a huge source of traffic. But it's free and easy and will let me ask all my personal Facebook connections to follow my new venture at the click of a button. Once they've "liked" my page, I can even try to get them to opt into my mailing list by publishing a version of my landing page as a custom Facebook tab.
Facebook Ads: The Tab 'N Grab could appeal to many demographics, but to keep my ad spend down, I'm going to show my ads to a narrow demographic: adult women who care about their fingernails and are thus the likeliest to truly need the Tab 'N Grab. I can select an audience of women who list things like nail art and artificial nails as interests, or whom Facebook has identified as spa enthusiasts. For this audience, I'd create ads like this one pointing to my landing page: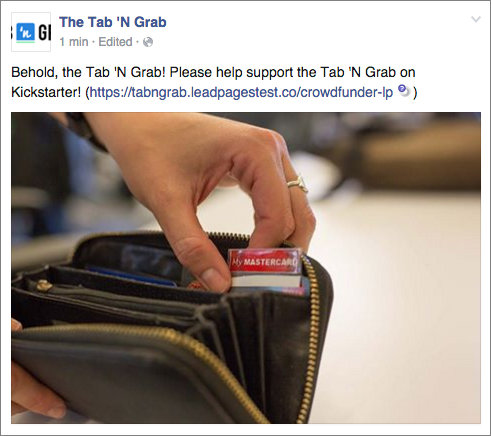 Twitter: I'd create a Twitter account for the Tab 'N Grab and tag my posts with popular hashtags like #nails, #nailart, and #lifehack to make them findable by other users. I could also reach out to nail artists and beauty bloggers via Twitter in the hopes that they'd be interested enough to click through to my landing page and retweet my posts.
The Big Launch and Beyond
If all goes well, once my countdown timer runs out, the Tab 'N Grab will be poised to start attracting backers who are already invested in the project. At this point, I'll divert traffic from my ads and social media platforms directly to the Kickstarter page to reduce the number of funnel steps for my new supporters.
Since the clock's now ticking on my Kickstarter campaign, I'll also introduce a couple of new marketing tools to fan the flames. Creating a separate email list segment just for my backers, I'll send them a link where they can "pay" with a tweet (or another social post) and claim a coupon for an extra set of Tab 'N Grabs. The tool that lets me do this is called, naturally, Pay with a Tweet. Here's how it works: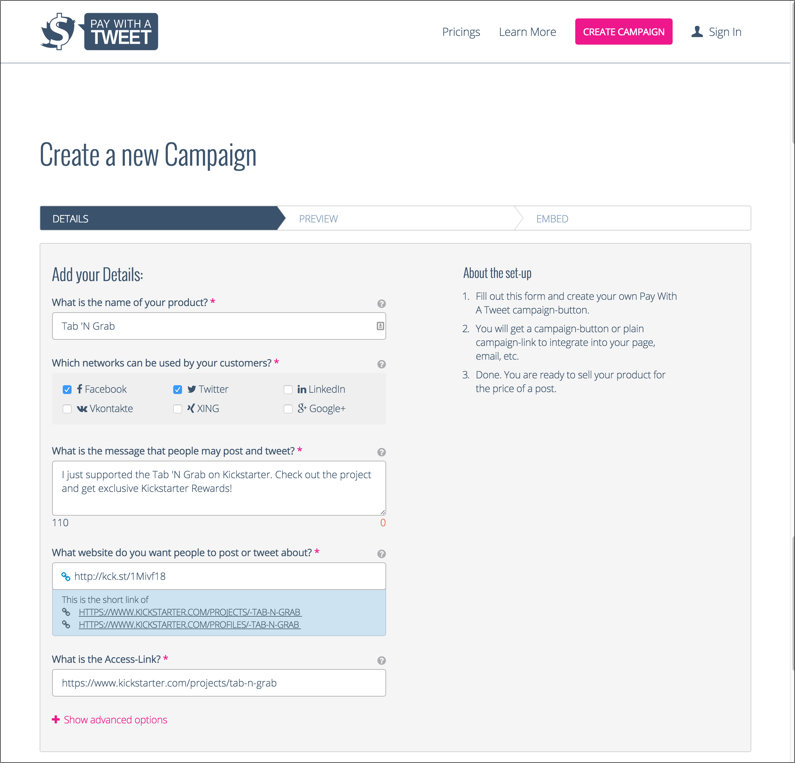 I'll also set up a LeadDigit so I can promote my campaign offline. LeadDigits® lets your audience text message a specific word or phrase to a 5-digit number to receive something in exchange for their email address—in this case, info on how to get the Tab 'N Grab.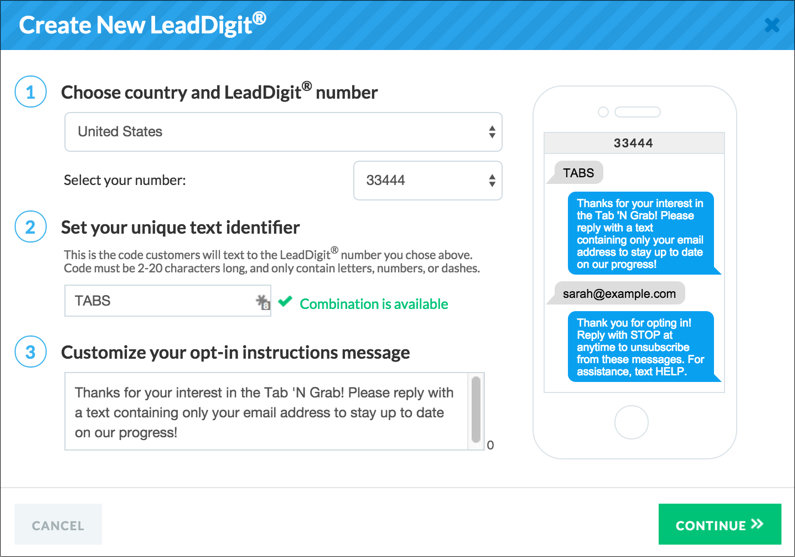 I can print my LeadDigit on cards to hand out at networking events, so that every time I find myself in a conversation with someone who may be interested, I can quickly capture that lead offline. Perhaps I could even contact nail salons and offer them a website critique in return for posting a flyer printed with the Tab 'N Grab's LeadDigit.
Unlike with most businesses, the end goal for a crowdfunding campaign is clear: make enough money to produce and deliver the product. If I can do that, I could consider shopping it to larger manufacturers—that is, if the campaign's success doesn't convince Chris to give up marketing automation for the inventor's life.
To get the Inventor with a Crowdfunding Campaign Marketing Stack Guide, as well as the landing page templates I used in this campaign—including the brand new Crowdfunding List-Building Template and the Social Share Thank You Page Template page—click below:
Have you ever run a crowdfunding campaign or backed a crowdfunded project? Tell us how it went in the comments!