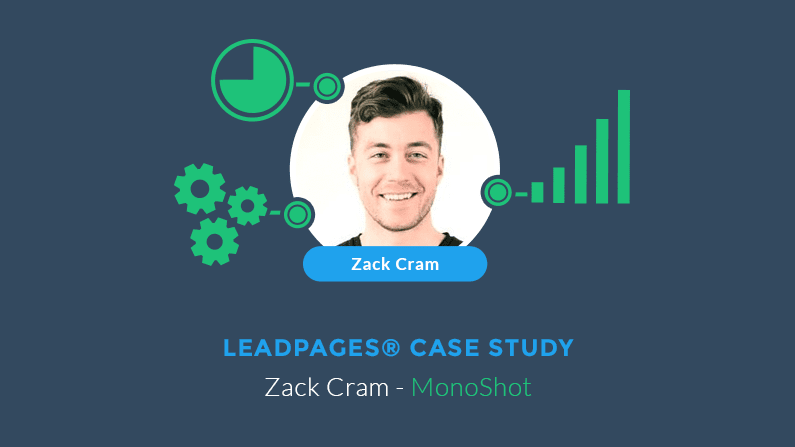 Albert Einstein once said, "Play is the highest form of research." This could not be more true for inventor, and entrepreneur, Zack Cram.
As a golfer, Zack wanted an easy way to record himself so he could improve his swing. With few solutions on the market that would deliver the results he was hoping to achieve, the idea for the MonoShot, a Bluetooth-controlled monopod designed for capturing quality, hands-free smartphone pictures and video, was born.
As hard as he tried, Zack couldn't find funding to get his invention off the ground. So he turned to crowdfunding. He knew he'd need to build a strong list of people interested in his product, so he created a pre-sell campaign with Facebook and Twitter driving most of the traffic.
Zack created his own landing pages and lead generation boxes to grow his pre-sell campaign email list. Unfortunately, his original landing page and lead generation boxes weren't performing as well as he had hoped.
He realized that this low conversion rate was putting his campaign at risk. At this point, Zack had to make a decision; continue with his current landing page and an opt-in box or trying something new with the hopes of increasing his conversion rate. He decided to give Leadpages a try.
Through his day job at Ontraport, a leading CRM company, and various industry recommendations, he made the decision to go with Leadpages. His goal? To grow his email list quickly, so he could pre-sell his product and launch a strong crowdfunding campaign to pay for his new product.
The Switch
Once Zack started using Leadpages he was able to create landing pages quickly and easily.
"(I) didn't have to spend 5 hours setting up a basic landing page, I can spend 5 minutes and work on the business instead of worrying about landing pages or paying somebody to do it." – Zack Cram
One of the things Zack had to overcome was the idea that the MonoShot was "just a "selfie stick." He needed to highlight the many features of the MonoShot, including an all-terrain spike that allows you to take accurate photos and video practically anywhere.
Zack chose the Smart Product Landing Page 2.0 to show off the product's features and loved the design and color palate. In fact, Zack kept most of the same colors because he felt they would give him the best chance to improve his conversion rate. He knew Leadpages templates are tested to drive the highest possible conversion rates right out of the box.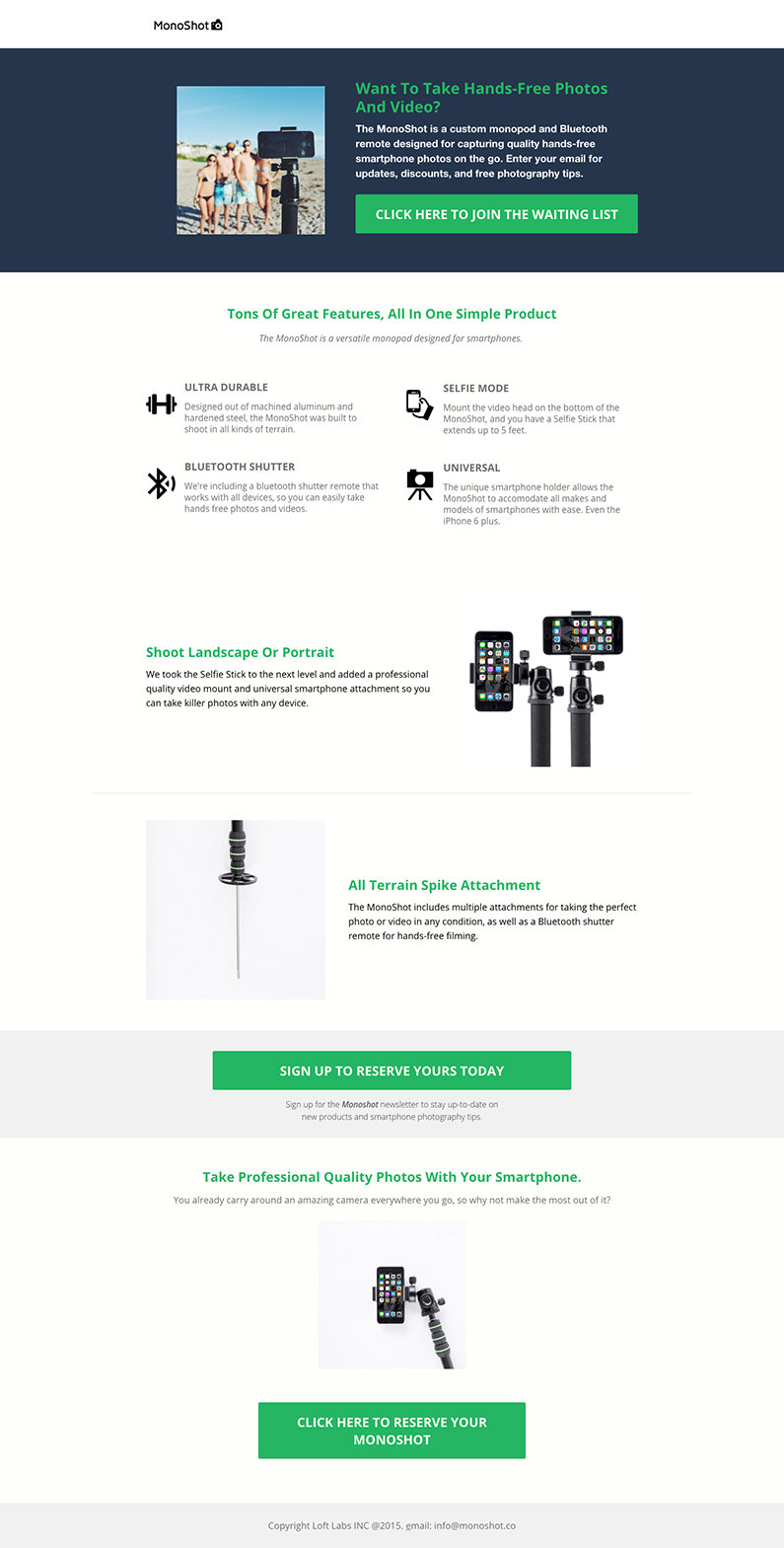 Zack followed the same strategy for the Social Share Thank You Page as much of the original template's colors were left intact. Zack's goal for the thank you page is to share the link to his landing page through social media channels such as Facebook and Twitter. This expands his ability to find more leads through their social networks. This is a great strategy for extending your reach in just about any industry.

In conjunction with the Smart Product Landing Page, Zack has implemented a Leadbox to capture email addresses. This simple 2-step strategy helped Zach increase his opt-in rate by 300%, putting his campaign back on track and giving MonoShot the best chance for successful crowdfunding.

 What's Next for Zack?
Once Zack has built a substantial list, he will be emailing his list about his crowdfunding campaign. As many crowdfund-based inventors and entrepreneurs would attest, building your email list to help fund your project may be the single most important aspect of your campaign.
Fortunately for Zack, he already has this high-converting campaign in place to drive opt-ins. To see Zack's campaign and opt-in to his list, click this link!
"If you're thinking about doing it yourself, just don't do it. Use Leadpages you're going to save hours of time and you're going to fall in love with it. It is addicting to use, for sure." – Zack Cram
If you want to create a campaign like Zack's to use in your own business, we're giving you the landing page templates files for free, as well as our 11-part Facebook Advertising System course. To access these templates and the course, click the button below!