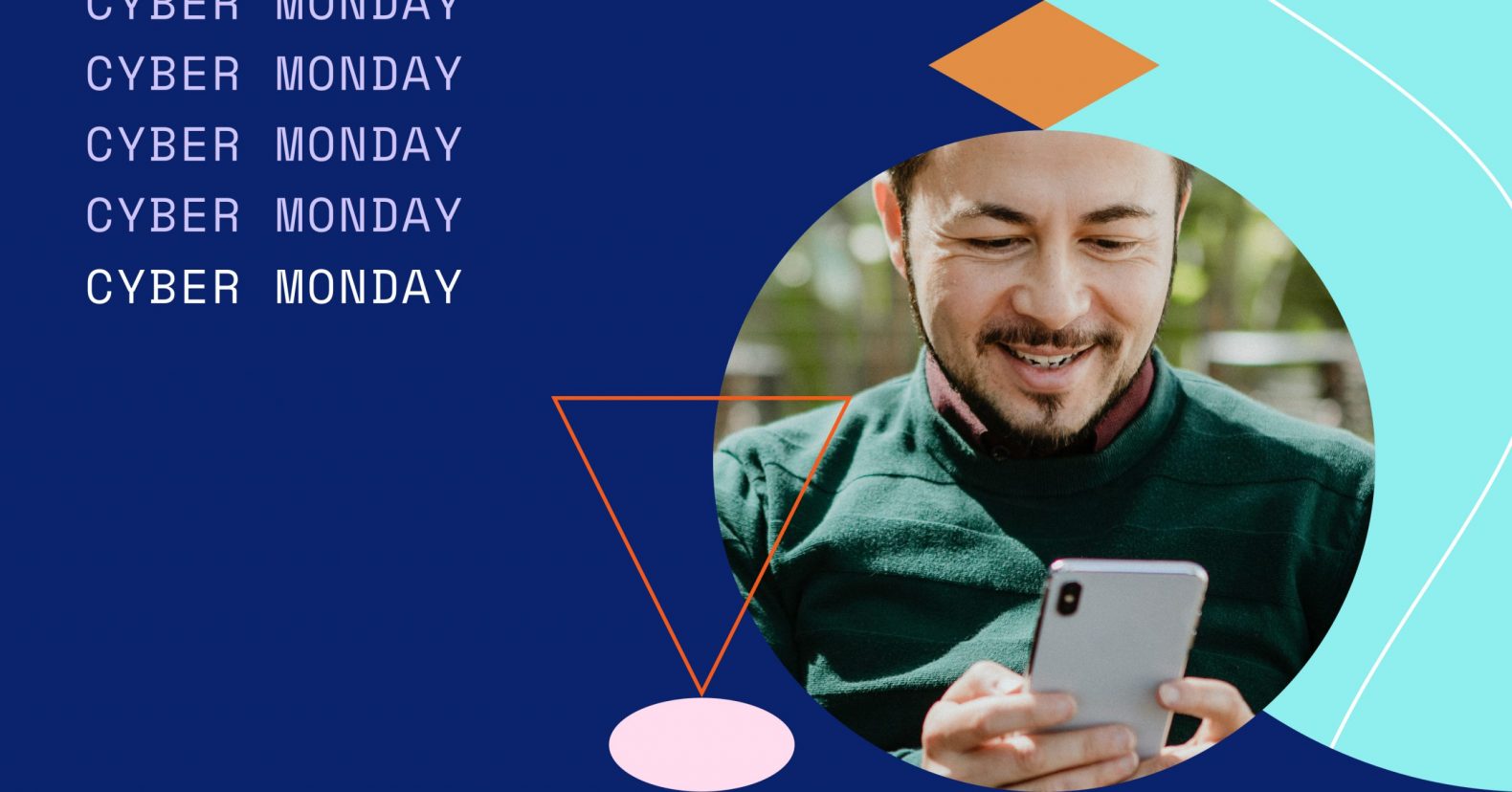 Last year, Cyber Monday sales hit $9.2 billion, making it the biggest sales day ever.
With that sort of money on offer, you might want to sit down and make a Cyber Monday marketing game plan right now.
You've made the right move! The sooner you start to map out your holiday campaigns, the more likely you will reach huge success this year.
Good news: Doing that is no longer a challenge, especially after you read over this guide.
Today, we'll walk you through 7 proven strategies to develop a successful Cyber Monday marketing plan 2020. You'll learn everything you need, from evaluating your website to creating a follow-up strategy after the holiday is over.
Let's get it on.
1. Is your online store ready for the holiday rush?
The first Cyber Monday marketing tip we have for you is simple: reviewing your website or online store.
If you don't know how to do this, take a look at this checklist:
#1 Check your hosting plan
If your website runs on a hosting plan with capped monthly visits, you'll face a lot of challenges in the holiday season. The reason is that it'll cause your site to slow down or crash when your site hits the traffic limit.
To avoid that, you can ask your hosting service provider to provide you with a real-time scalability feature. This way, your site can run smoothly at all times.
Another thing to consider is website downtime, which refers to when a website is unavailable or fails to perform. You can work with tools like UptimeRobot to monitor uptime, downtime, and overall responsiveness of your site.
#2 Check your site loading speed
A slow site loading speed affects the ranking of your site on search engine results and shopping experience. The more time a website takes to load, the more likely your customers will leave your site and switch to your competitors'.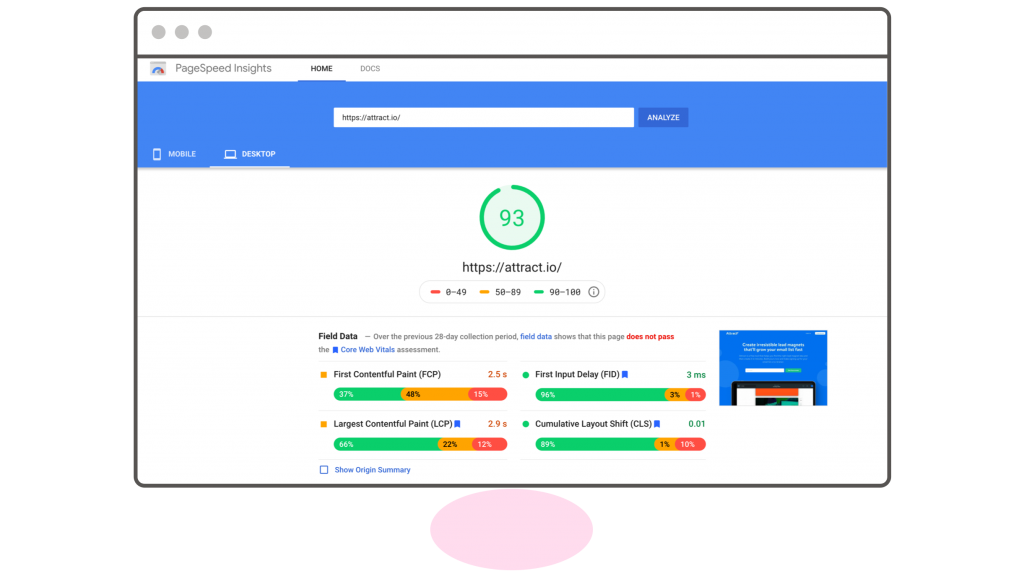 To avoid that, you should:
Try to keep your site loading speed in 2 seconds or less. Use tools like GTMetrix and PageSpeed Insights to test loading time and see how you can optimize it.
Compress images and videos on landing pages and most-visited pages on your site.
Minify JavaScript, reduce redirects and use a strong CND (content delivery network).
#3 Check the shopping experience
Makes several website tests to check how it performs when a shopper browses your catalog, navigates the websites, compares a product, adds to the cart, makes the payment, etc.
Also, check the shopping journey in different geographical locations, devices, transaction types, and payment methods to ensure every shopper leaves with a great experience.
#4 Upgrade your security
The holiday season isn't just the ideal time for driving sales and buying online, but also for cyberattackers to breach your system. When it comes to cyberattacks, no brand is immune, regardless of business sizes and types.
To ensure that doesn't happen, you should:
Update your systems and web applications regularly.
Remove any apps you aren't using as an added security measure.
Remove any sensitive customer data that isn't essential to your business. For example, credit card and bank account information.
Reassure shoppers by using a secure shopping cart and an SSL to encrypt data. Also, display security trust badges from reliable third-party providers.
Build a protection system against any kind of attack and adopt a technology to block unwanted traffic.
#5 Check content on your website
Review content (product description, website copy, etc.) on all your product pages, collection pages, and landing pages. Be sure the content is grammatically perfect and no typo eros. The best practice is to hire another person (who is good at English writing) to proofread your content.
Also, check how your competitors write product descriptions and landing page copies and see if there is anything you could learn from them.
#6 Stock up inventory
In 2017, customers were slamming Walmart after items like TVs and clothes ran out of stock online. Lesson learned!
You've invested tons of time, money, and effort to promote your sales. But that doesn't mean anything if your customers go online to order and it's out of stock.
Take action:
Identify your fast-moving products, constantly moving products, and slow-moving products. Then, build forecasts and stock up accordingly.
Use inventory management tools to help you control your stock.
Display the number of items remaining on product pages, so customers will know if the product is in stock or not. This is also a good way to encourage them to take action quickly; otherwise, they miss their chance to buy.
#7 Provide flexible payment options
What if a customer is excited to buy from you but soon feel disappointed because they can't find their preferred payment method on the checkout page? The answer is simple: They'll never purchase from you because they know they can't make a payment.
Fact: Lack of payment options is one of the most common reasons why shoppers abandon their carts.
Here is the solution: Check for popular payment options specific to your target geo-location and add them to the checkout page. Also, think about the trending payment methods like ACH and mobile wallets.
#8 Provide amazing customer service
Shoppers expect a faster response on Cyber Monday when stakes are high, and deals are time-limited. To provide efficient and quick customer service, do the following:
Make Cyber Monday-specific FAQs, user guides, tutorials, etc. available. Show them at a prominent place so customers can easily find them.
Adopt a live chat system like Drift for quick and real-time resolution of issues.
Check your social media mentions and inbox frequently. Use IFTTT to collect mentions in a spreadsheet. Don't let customers wait for too long.
Train your customer staff and provide them with templates for particular responses.
#9 Get your apps sorted
Think about apps or plugins or software that can help increase your conversion rate. Browse eCommerce app stores like Shopify and BigCommerce, then find what might work for you.
Here are some ideas:
Tools like Leadpages help you create beautiful, professional landing pages of all types. You can even add a countdown timer to these pages to create a sense of urgency.
Tools like Drip help you drive more revenue with automated eCommerce marketing and live chat technology. You can also personalize emails, control customer data, and manage engagement metrics in one place.
Tools like Later help you implement social media marketing campaigns effectively. They provide many useful features like scheduling posts, collecting user-generated content, and analyzing content performance.
#10 Keep your site mobile-friendly
According to Adobe, "mobile shopping is faster, easier, and results in more dollars per minute for online retailers."
To make sure your store is mobile-friendly, here are a few things to keep in mind:
Easy navigation: Make your menu clear. Check any apps you've installed to ensure they don't overwhelm your website interface or make it difficult for visitors to navigate.
High-quality visuals: Check what your images/videos/graphics look like and fix or remove any poor quality.
Great text: Be sure that your text looks good on screen. Take to write great content and proofread it before publishing.
#11 Create and schedule content
Create and schedule all the content to free up your time to manage the influx of sales and customer service inquiries during Cyber Monday sales.
You may need content for landing pages, banners, pop-ups, alert bars, Cyber Monday-related blog posts, email copy, banners, and social media posts.
Regarding images, if you're not a designer (or don't have the budget to hire one), you can make use of free stock photo sites like Unsplash. Find your images, then customize them with text and effects using Canva.
Remember to keep your visuals and messages consistent across all channels, but optimize copy to suit each social audience or customer segment.
#12 Do test orders
Put yourself in customers' shoes by making a few test orders in your store. This is especially important if you're just updating plugins/apps or adding new features on your website.
Don't let one tiny detail like wrong shipping settings throw your whole Cyber Monday marketing plan when you can improve it early.
2. Offer at least one jaw-dropping deal
The main reason why people are longing for Cyber Monday, and so it results in so many sales, is that 90% of online retailers offer aggressive deals on this day. Some exclusive promotions are available on Cyber Monday only, making this event more popular than ever.
Case in point: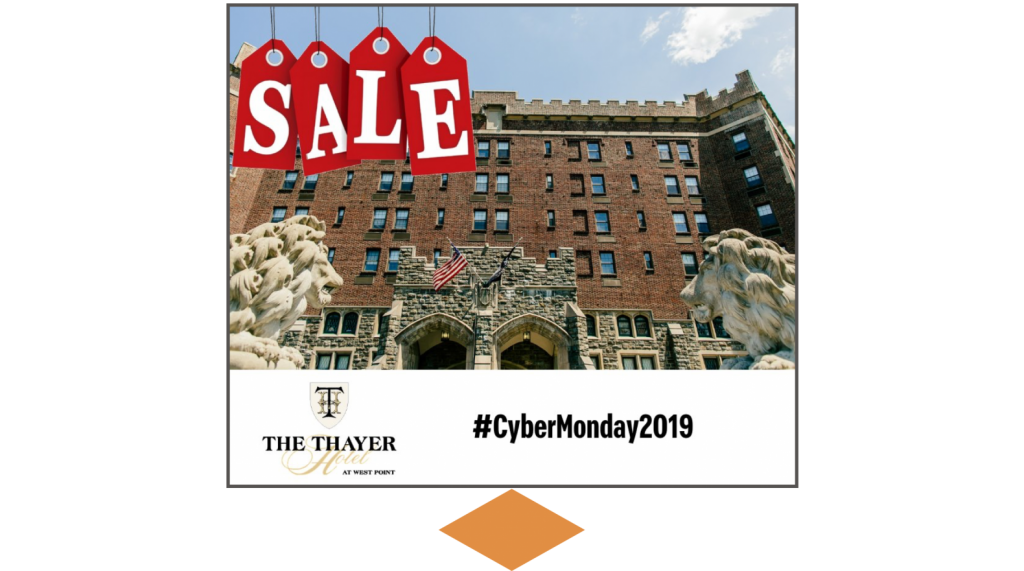 Because of that, the competition among retailers is increasingly high. To succeed, your offers should be unique. Consider these options:
Exclusive coupon codes for specific customer segments.
Bundle of A, B, C products with the price of A.
Site-wide sale with a universal coupon code.
Sale products or collections (no code required).
Early access or limited-edition products.
A free or reduced-price trial. Extend the free trial days.
Free 24/7 customer service, free install service, etc.
Extend your sales beyond Cyber Monday.
Buy one get one free, buy two get four free.
Free worldwide shipping or free delivery on the same day.
Free wrapping, personalized gift wrapping.
New deals released every day or every hour or at different intervals throughout Cyber Week.
Gift or gift card with minimum purchase. For example, give a $20 gift card for orders above $100.
Remember that not all retailers are Walmart and Amazon. Drastically slashing prices isn't feasible for most small businesses.
Ask yourself: What is your sales target for Cyber Monday? What does your product cost? Will your offer apply to everything or specific products or categories? Are there other ways to reward your customers without killing your profit? Then, create an offer that is valuable to your customers but still helps increase your margin.
3. Promote offers on social media
After you have a compelling offer, start promoting it on social media. Be sure to target your campaigns broadly to get the biggest bang for your buck.
Here are some ways you can do that:
Run a Cyber Monday contest/giveaway
A Cyber Monday contest/giveaway works for almost all platforms, especially Facebook and Instagram. The goal of a social media contest/giveaway is to encourage existing fans to shop in your store, ask them to share your sales, and probably gather email addresses.
Here is an excellent example from H&M: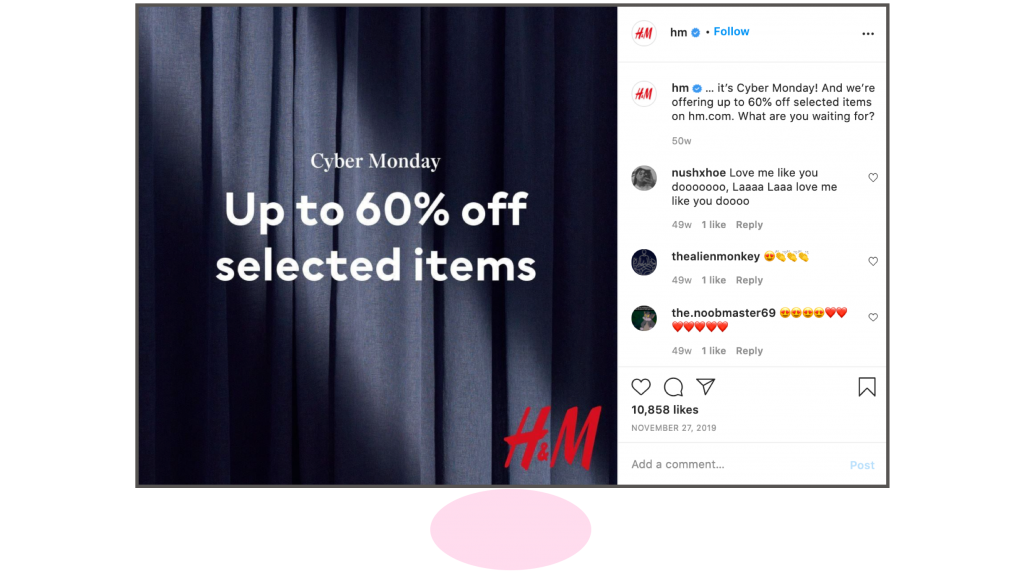 Some contest ideas are:
Tag to win: People have to tag a friend to enter the test.
Follow to win: People have to follow your account to join the contest.
Like to win: People have to like one of your posts to participate.
Comment to win: People have to comment on a specific post to join.
Write a caption: People have to caption a photo that you've posted.
Join challenges to win: People have to complete a challenge like posting their selfies and using a hashtag you've created. Then, you just search for the hashtag and pick the winner. Or, you can ask other people to vote on the best photo through likes or comments.
Bear in mind two tricky things about using contests:
People simply want to win. You may end up attracting those who aren't necessarily interested in your sales.
A few people enter your contest.
What you should do to solve these problems is to ensure you give away relevant prizes that your followers will want to have. At the same time, your prize should be closely aligned with your products and brand as well. The more valuable your prize, the more engagement you possibly get from your contest.
To let people know your contest, you should use the right hashtags in your social media post. If you're not sure what hashtags you should use, here's a good list to start with:
#(your brand's name)
#cybermondaycontest
#cybermondaygiveaway
#cybermondaysales
#cyberweeksales
#cybermondaydeals
#cyberweekdeals
Partner with influencers or other brands
Look for brands or social media celebrities that will support you. Then, partner with them to cross-promote each other to respective followers.
Case in point: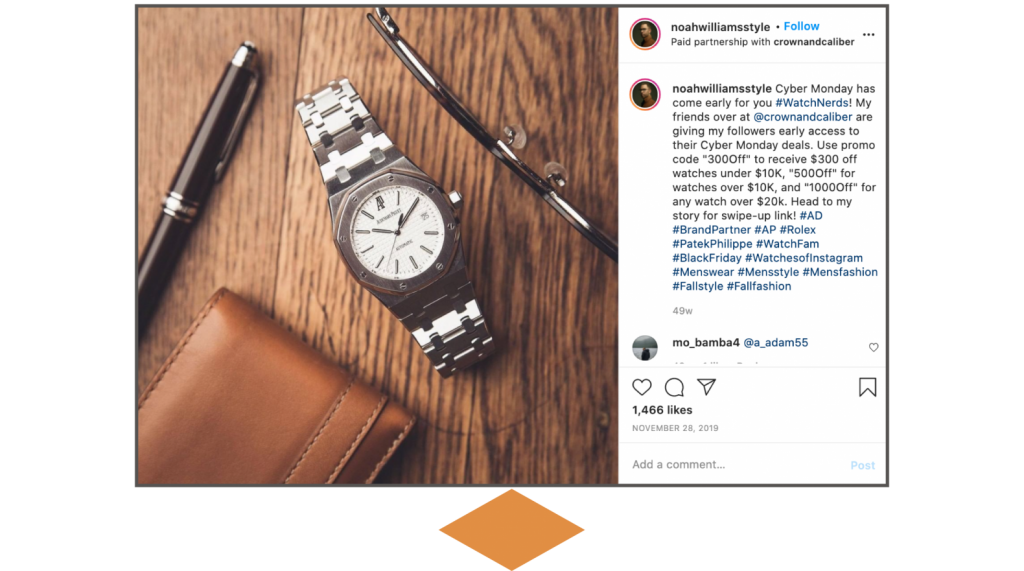 You can create an exclusive discount code or deal that is catered to an influencer's followers. Or, ask the influencer to curate a bundle of their favorite products on your store, which helps build a more authentic connection to the products they're promoting.
4. Don't forget to upsell and cross-sell
On Cyber Monday, shoppers are eager to buy and take advantage of all the discounts. So, upselling and cross-selling can be a good strategy to drive more conversions. It's also useful to increase your average order value.
Case in point: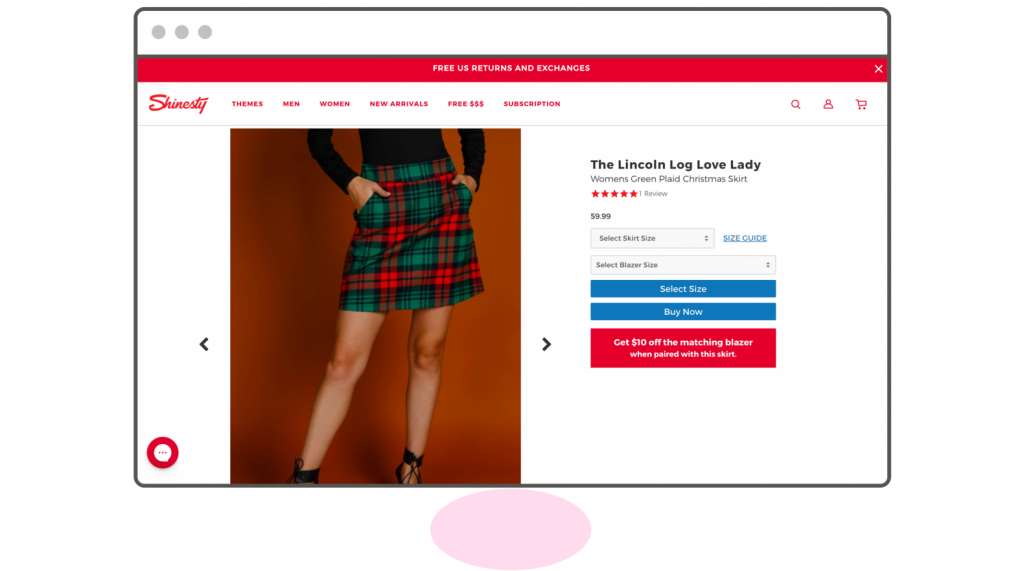 You can offer upsells or cross-sells:
On product pages: Show related products and complementary products alongside the main listing.
On the cart page immediately before checkout: On the cart page (immediately before checkout), list items that customers might be interested in, with an easy-to-click add-to-cart button.
On the landing page after checkout, but before thank-you page: Create an upsell landing page with a 1-click upsell button, so customers can buy an upsell product without entering payment information again.
Via email after purchase: Once a customer has purchased an item, send them an email suggesting related products that they might be interested in. The key is to ensure that extra items will be shipped with the original order.
5. Offer hassle-free returns
The holiday eCommerce return rate is about 30%. In the U.S alone, return deliveries are predicted to cost $550 billion by 2020.
No one likes returns. It can be a hassle for both customers and retailers. The fact is that it happens all the time, especially in the festive season.
To prepare yourself for holiday returns, the most important thing is to establish a standard procedure for handling returns at the beginning.
Make your return policy clear and prominent
It's common when many businesses just copy a return policy somewhere and paste it into their website. (Read a return policy, and you notice two different, "not-relevant-at-all" business names, it happens!) They don't even check the content until a customer returns an item and refers to their policy.
Remember: A return and exchange policy isn't a one-size-fits-all scenario. It's your commitment to your customers. It's how you deliver your commitment when things go wrong.
If you don't pay serious attention to your return policy, you'll soon face a bunch of problems.
Brummell did a great job of creating a 5-step return policy, letting customers know what is required for a return and what to expect in terms of processing time.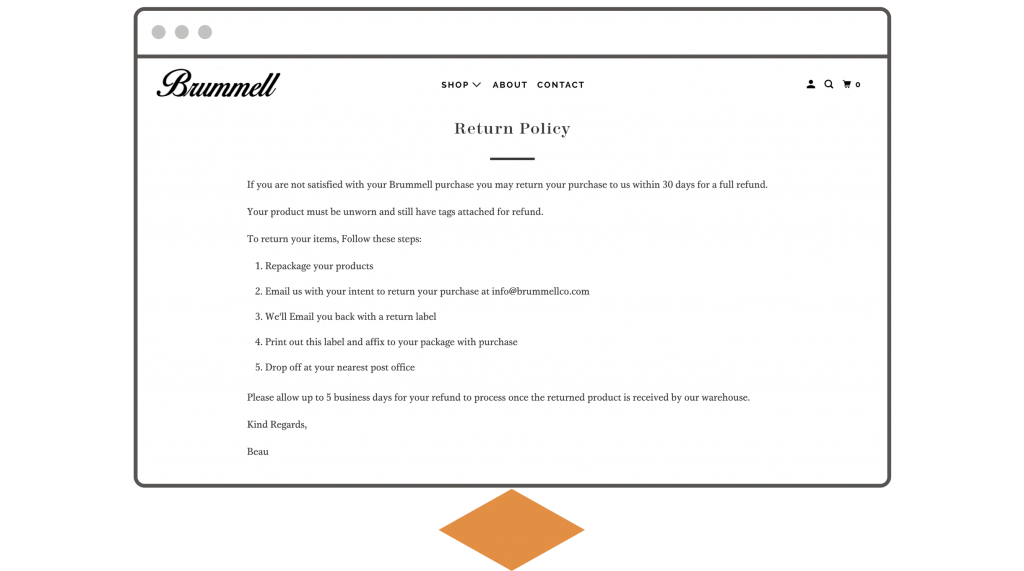 When creating a return policy, follow these tips:
You can use a template but ensure to personalize it to your business and target audience.
Use plain language and keep it easy to understand. Never confuse customers with complicated legal jargon and vague words.
Avoid using scary phrases like "you must" or "you are required" or "we are not responsible for." Don't offload the issue on customers.
Show exactly what customers can expect from you. Make it as straightforward as possible.
Don't hide your return policy. Display it in the main menu of your site.
Turn returns into exchanges
When a return/refund occurs, listen (well) to your customers and try to understand why it's happening. You can ask customers these questions:
"Why do you return the product?"
"What is wrong with the product (if anything)?"
"Do you need help with learning how to use the product?"
"What type of product are you looking for instead?"
"Are you satisfied with an exchange versus a return?"
The simplest solution is to turn a return into a product exchange. Sometimes, customers just want to have the same product with a different size or color or model.
In this case, just send them the product they want.
Turn returns into customer service opportunities
A great customer service experience can sometimes compensate for a return due to product damage or wrong delivery.
Eventually, customers want to be listened to, to be understood, to be respected, and feel good when leaving a store. Hence, you shouldn't stress over a return, but instead, think of it as a golden opportunity to show off your amazing customer service.
With this in mind, you can try the following tactics:
Ensure your return process is simple, quick, and hassle-free for customers.
Never blame customers for requesting a refund. Show your empathy with their problem and focus on how you can help.
Keep your promise. If you say you'll come back to them for an answer after 3 hours, do that.
Ask questions and listen to understand the reason for the return. The goal is to find out why and what customers need, not to blame the customer.
6. Build a Cyber Monday landing page
Running an email marketing campaign or ad campaign is an important strategy in any Cyber Monday marketing plan. Most of the time, these campaigns include a link to the category page or the homepage. When customers click on the link, they'll be directed to these pages.
The problem?
A shopping page might be a little premature when customers are just getting acquainted with the offer. And your homepage is far too busy—how will your customer know which link corresponds with the offer in your email or your ads?
What you need is a sales landing page dedicated solely to your Cyber Monday offer. This will help create an experience designed specifically for the needs and wants of deal hunters. A standalone landing page focused on convincing visitors to grab the deals and make orders while removing anything that could distract them from that goal.
To create a Cyber Monday sales page, you can use Leadpages Landing Page Builder. Then, follow these tips to make your page amazing:
Emphasize time-sensitivity and sense of urgency.
Prominently display promotions and specials.
Make your landing page mobile-friendly.
Make use of social proof like reviews and ratings, testimonials.
Enable social sharing and customize default sharing messages.
To learn more tips and tricks, read this detailed guide to landing pages.
7. Prepare for abandoned carts
Besides returns, high abandoned carts are another problem for online businesses.
As of June 2018, the average abandoned cart rate is almost 70%. That's a huge chunk of potential sales lost.
So, if you haven't had a cart recovery strategy in place, it's time to prepare one. By doing that, you can maximize your sales on Cyber Monday and other holiday events this year.
Show exit intent offers to entice shoppers
An exit-intent popup will appear when a shopper is about to leave your store. It comes with an offer like a coupon code, a discount, or a free gift.
To create an exit-intent popup, you can use tools like Leadpages Popup Builder. Take a look at the below example to get inspired.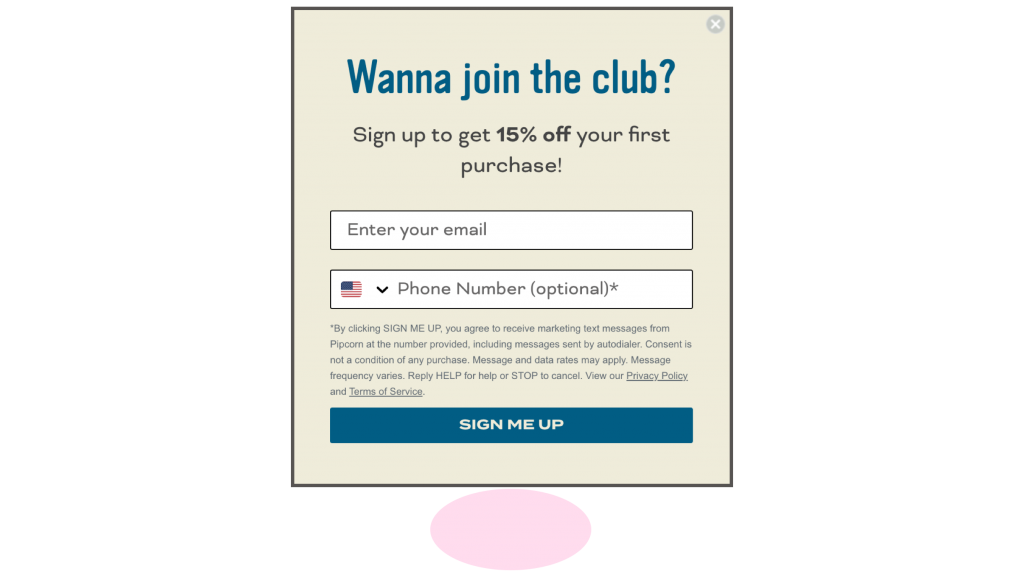 Add social proof to the cart page and checkout page
Reviews and ratings are often shown on the product page only. But you can also display them on the cart page and checkout page to reduce cart abandonment.
Case in point: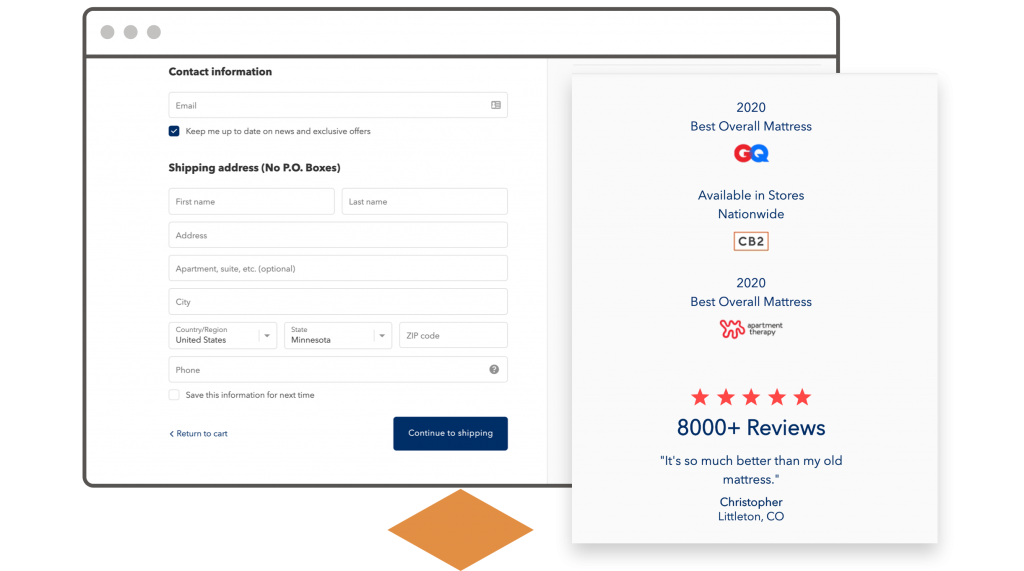 Apply urgency and scarcity in cart page and checkout page
If you want shoppers to quickly enter payment information and complete their purchase, push them by creating a sense of urgency and scarcity.
For example: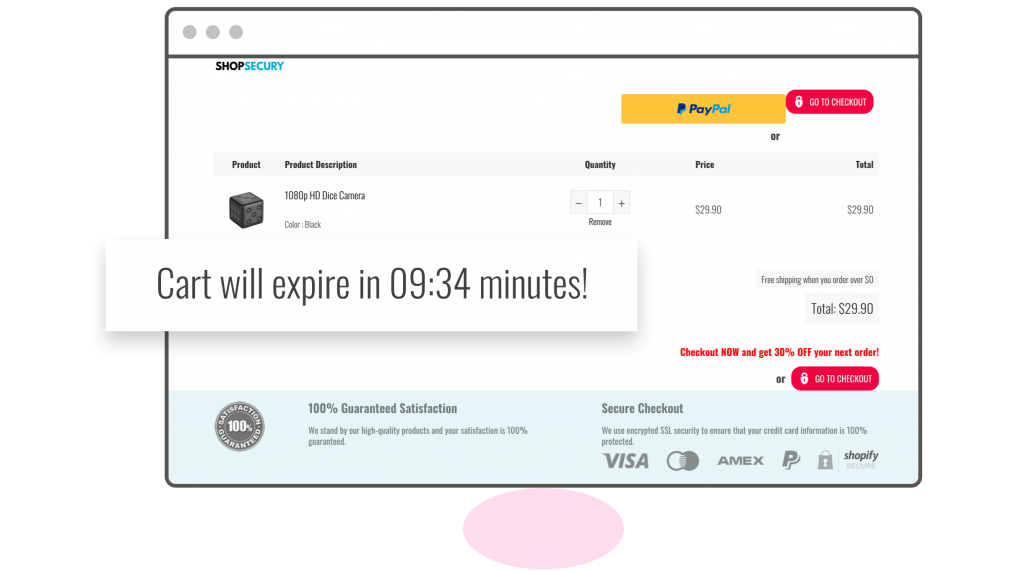 Here are some ideas for you:
Show a countdown timer on an exit-intent popup or an opt-in form.
Show a countdown timer on the product page.
Add a countdown timer on the checkout page.
Show low stock warnings.
Offer a discount if shoppers "Checkout Now."
Use web push notifications
Web push notifications are short and straightforward messages that show on your shoppers' desktop screen. You can use them to announce your sales promotions or retarget abandoned customers.
The best practice is to send push notifications as soon as possible, perhaps within 30 minutes since shoppers leave your site. Never do this a week later since shoppers likely forget the product or the site they found it.
Send abandoned cart emails
Abandoned cart emails are effective to bring shoppers back to your store and complete their purchase. Some people have been using this tactic for years, and their sales were recovered by up to 20-30%.
Here is a great example of an abandoned cart email: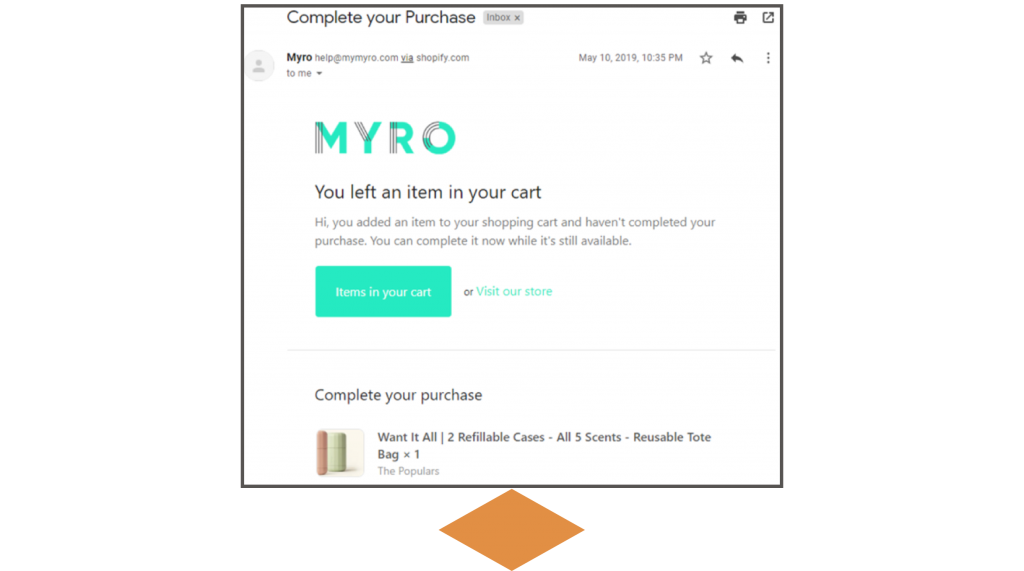 To succeed, you should send emails within 24 hours after customers abandoned their cart. The emails should show the exact product they forgot and include a link directly to its respective product page. You can offer an exclusive discount to give them a little push they need.
The key to success in 2020 Cyber Monday: Start now!
Cyber Monday has the potential to bring you loads of cash (and new long-term customers).
But unless you offer good deals and implement an effective marketing plan, you'll miss out on a lot of that money.
Make use of all tactics above and start developing your successful Cyber Monday marketing strategies for 2020. NOW is the right time.
Let us know which tactics you plan to try in the comments below.