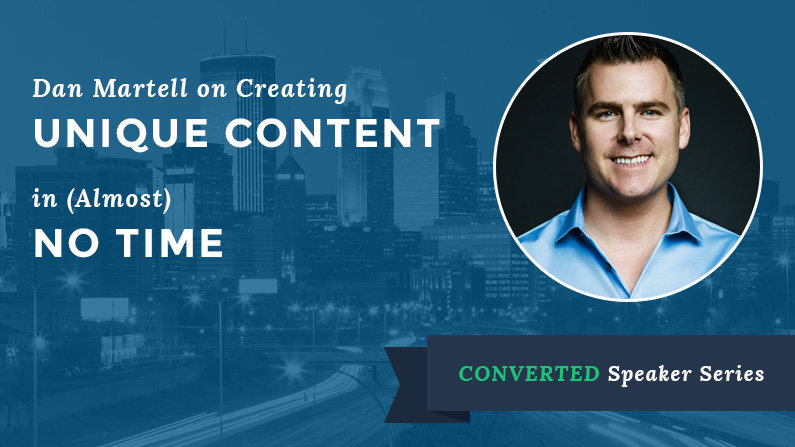 Dan Martell made his mark by creating start-ups. His first success was Spheric Technologies, a social enterprise consulting and applications company, which he sold in 2008. Next, he founded Flowtown, a social marketing application, which sold to DemandForce in 2011.
His most recent venture is Clarity, a platform that connects entrepreneurs with business-growth advisors, via phone consultations. Clarity sold in February of this year.
As he was trying to figure out what he wanted to do next, Dan started working on a content strategy to get a steady stream of leads subscribing to his newsletter. In the span of just 6 months, he's built a new email list from 0 to 14,000 leads using the strategy he developed. His ultimate goal is to have an interested audience of entrepreneurs for courses he plans to create on founding tech startups and software companies.
I had the chance to talk with Dan about his strategy for creating unique content.
Keeping It Simple
As a father of two little boys, Dan didn't want content creation to take up all of his time: "Over the years I've been blogging, and tweeting, and speaking at conferences. I decided to just try to figure out the best approach to being out there, having an impact, serving people, and also not taking a lot of time to do that."
The result is a simple system that takes very little time and generates a steady stream of leads.
Every four months, Dan spends two days shooting videos, which he repurposes into several different formats. Once that's done, he spends about two hours a week setting up and scheduling all of his social and paid media to go out to the many platforms he uses, like Facebook LinkedIn, Medium and Twitter. Then he sits back and spends time with his family while the leads roll in.
During his two video-production days, Dan shoots eight six-minute videos a day. From these 16 videos, Dan generates four months of unique content. Those videos get edited and broken out into quote cards, images, audio files, blog posts, email newsletters, as well as any other digital medium Dan can use to promote himself.
Every Monday, Dan sits down for about two hours to schedule his content to go out for the rest of the week. That's his entire content marketing strategy.
"I have a YouTube audience, I have a Facebook fan page, I have my LinkedIn profile, I have Medium, I have my blog, I've got my newsletter, I've got Twitter. I've got all these different social media networks that I'm using to deliver high quality content that's relevant, and I didn't have to spend a ton of time building."
I asked Dan whether he was worried about using the same content over and over. The answer was, not really.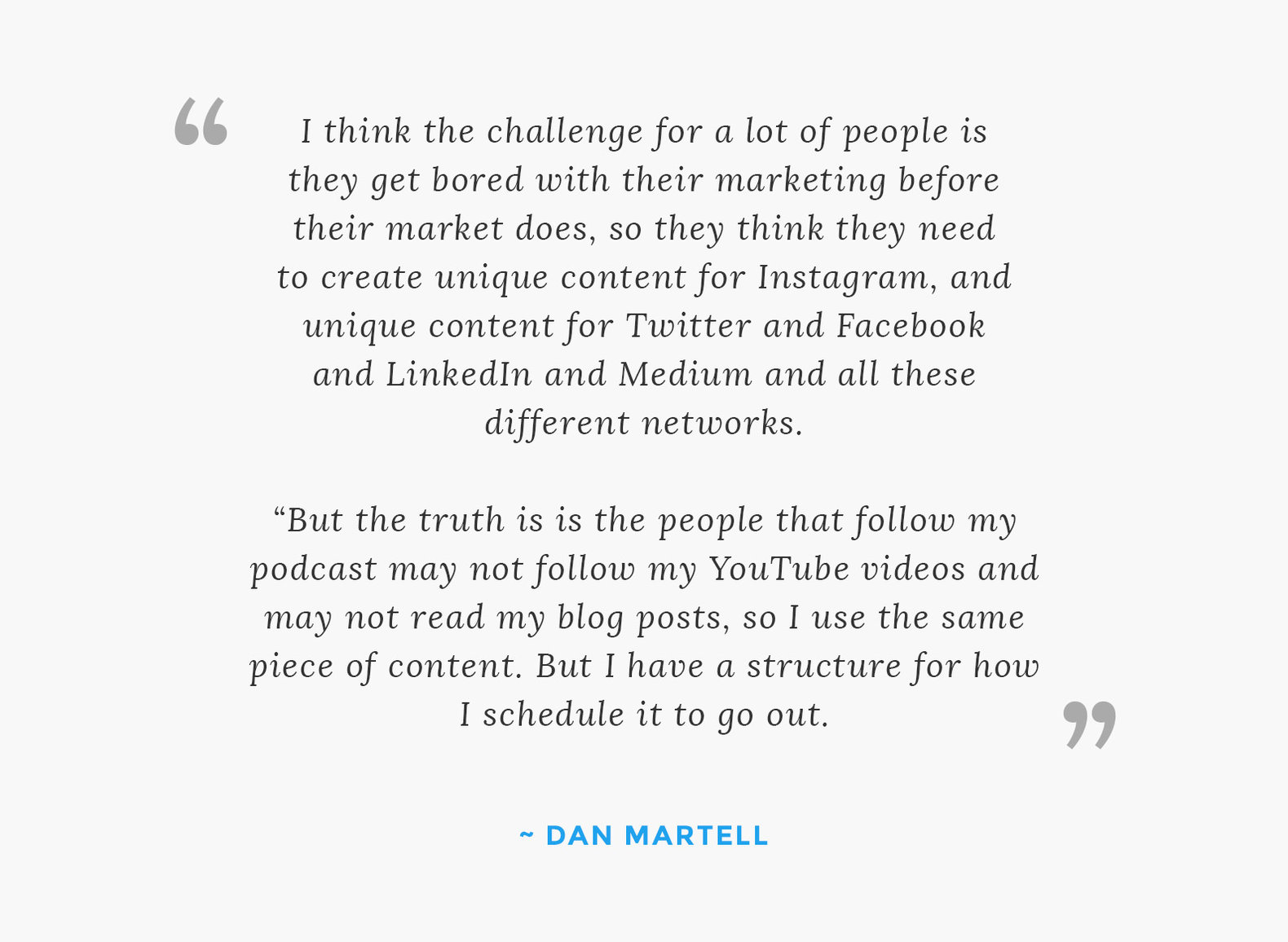 Creating Unique Content Ideas
"Not all traffic's created equally," Dan admits. "First off, I figured out who I want as a visitor, a customer, or subscribing to my newsletter. Once I figured that out, then I actually surveyed them to ask them if they had questions for me. That drove my whole content strategy. Which I think sounds simple, but it's not always implemented."
So to generate his content, he asked his audience one question: "If you could ask me one business question, what would it be?"
The response was overwhelming. Dan got hundreds of questions, which he narrowed down and refined into 150. He's working his way through those questions, releasing one video a week. He says, "I'll probably be answering those questions for years."
A lot of the questions Dan received were very similar, or were about the same topic, so he combines those into one video. "The content's kind of packed full of vitamins and goodness," he said. "I'll do a video on daily success habits, but in there I'll talk about my morning ritual, I'll talk about my reading, I'll talk about a few other things that may have originally been 5 or 6 different questions."
When I asked him why he chose video as a medium, he explained it was the most flexible format for what he was doing.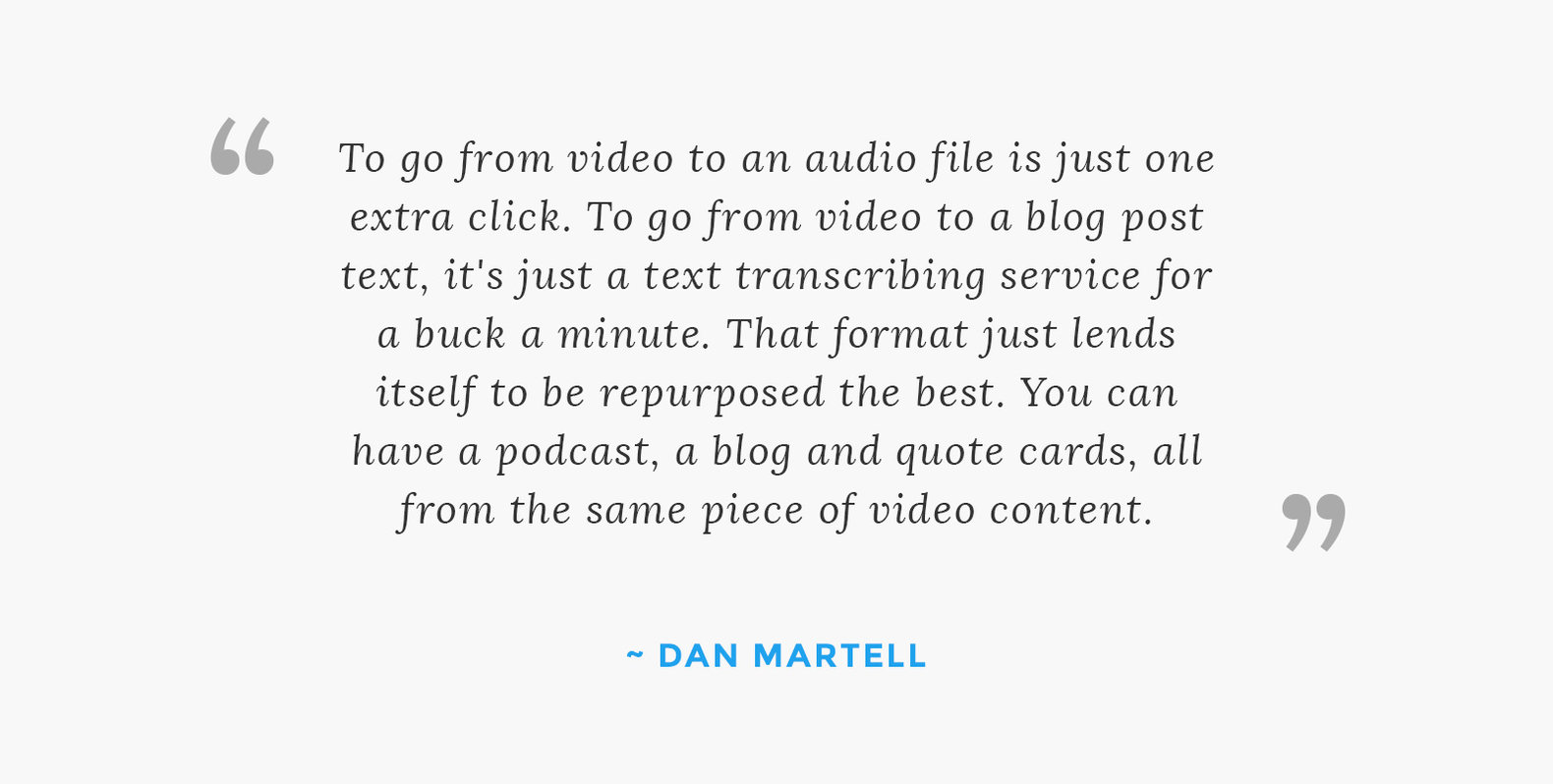 To create quote cards, Dan has his editor go through the transcript and bold different sentences or words he says during the video that she feels would be good for quote cards. He works with a designer to transform those quotes into the graphic images he uses for his Facebook and Instagram marketing.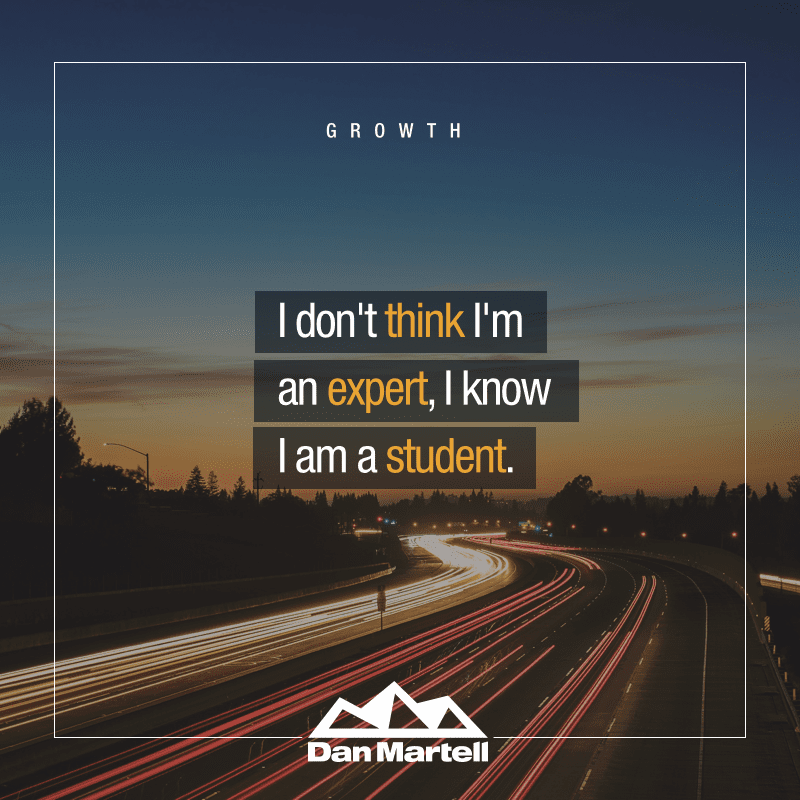 Where Should You Put Your Content?
Dan will cover this, as well as the rest of his process, including how to schedule your posts most effectively, during his presentation at CONVERTED in October. However, he did tell me that he distributes most of his content through social media and he does much of that for free.
When it comes to choosing your social media platforms, Dan recommends only using platforms that have a paid advertising option. "I spend $150 a month on paid, but it's very specific paid. There's just something about being able to pay to have your message put in front of your audience that really allows you to build your profile and create a lot of value and scale."
What Kind of Content Will You Create?
Do you agree with Dan that video is the most versatile form of content for marketing? What kind of content do you find easiest to create? Tell us all about it in the comments below.