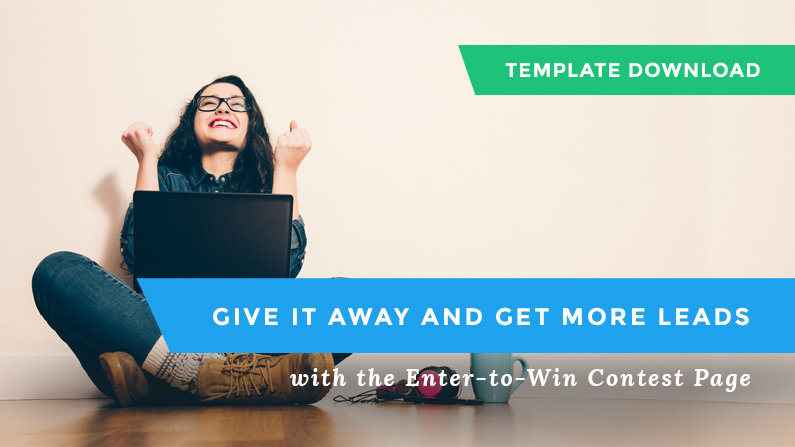 Who doesn't like a contest?
No matter how long the odds may be, most people will think it's worth putting their name in the running if what you're giving away is desirable and the barrier to entry is low.
That makes running a contest an excellent strategy for attracting tons of leads fast. And, perhaps more surprisingly, it can also be a good strategy for attracting high-quality leads. In 2013, marketing app company Kontest found that 1/3 of people who entered contests on their platform opted in to receive information from the brand running the contest—even when it wasn't required.
People have been using Leadpages to power their online contests for a long time, and now we've developed a new template designed specifically to help you build a large, engaged audience by giving away something great. Get a peek at this new contest page template.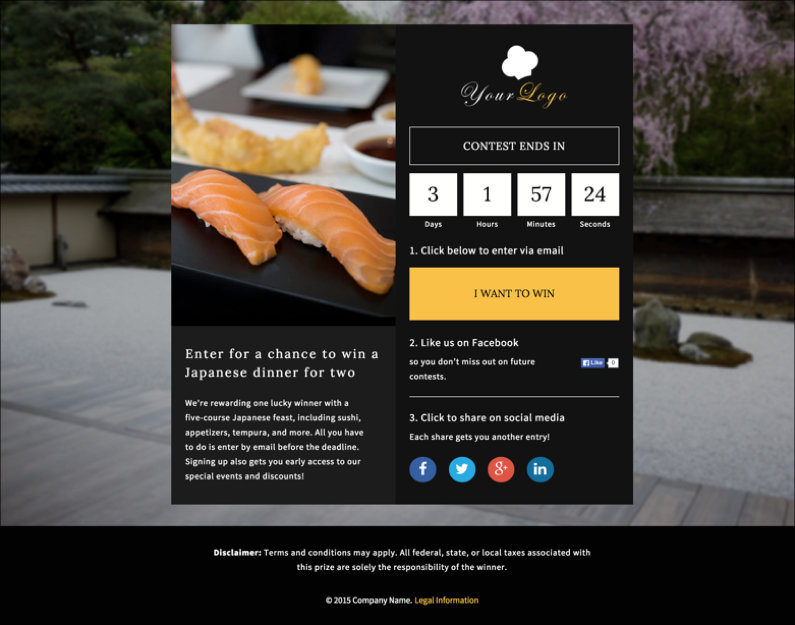 Running a contest with a page like this is similar to using any other kind of lead magnet or opt-in bribe to grow your list: you offer a valuable resource in exchange for an email address. Run correctly, a contest can be even more powerful for your business than a standard lead magnet. To run an appealing yet efficient contest, follow these two rules of thumb:
1. Keep it simple. One type of prize awarded to one or a few winners is all you need for a successful contest, and a streamlined concept makes it less likely that you'll encounter unforeseen logistical hurdles that could disappoint entrants.
2. Keep it relevant. Why not give away something nearly anyone would want, like a cash prize or an iPad? Because you want qualified leads. If your audience is too broad, you'll be spending money to acquire leads who may have no interest in your future offers. Instead, give away either your core product or something that's closely related to it. That way, you'll be filling your list with the people who are the most likely to become your paying customers down the road.
The example above would be a great contest type for a restaurant or other food-related business, but you can easily customize this template for any kind of business and prize—such as a personal trainer . . .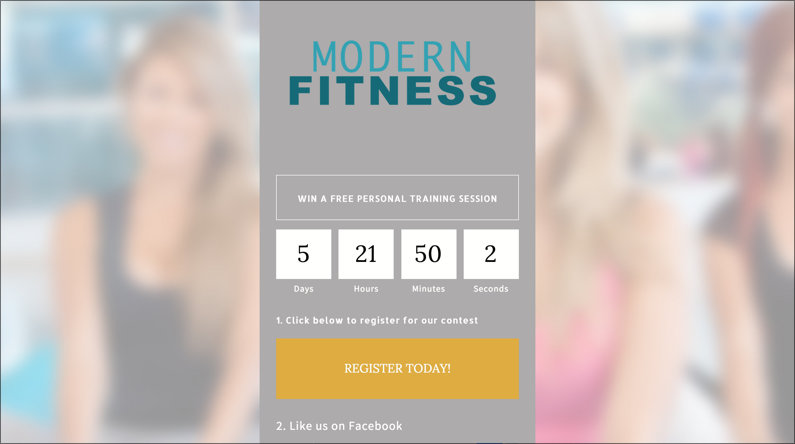 . . . or a travel agency: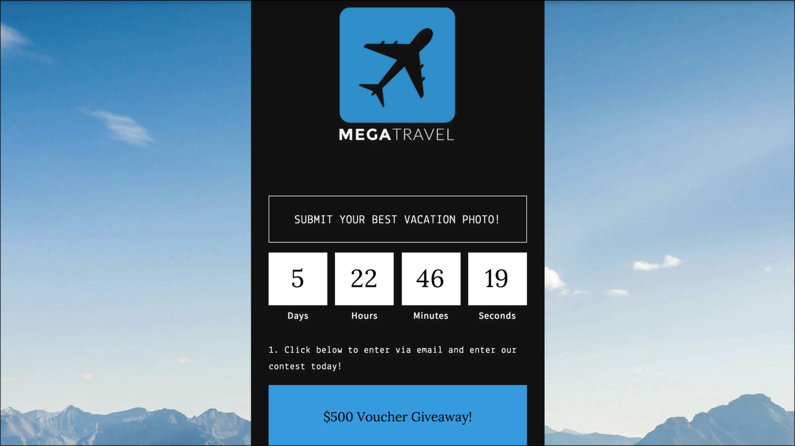 As always, you have the ability to customize colors, images and text within Leadpages to align with your offer and brand. You simply have to click something to change it.
A prize giveaway alone is likely to collect lots of leads, but this template sports two extra features designed to increase your conversion rate and expand your reach. The first is an element you may have seen on our webinar and promotion templates: a countdown timer.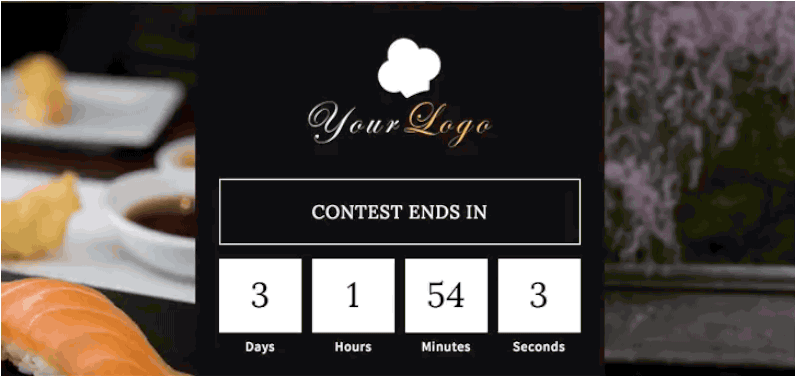 Offers with a firm deadline tend to get more takers than open-ended campaigns, so choose a realistic deadline for contest entries and make sure everyone knows it. To set this timer for your own contest inside Leadpages, you simply select a date and time from a drop-down calendar.
The second feature is a set of social share buttons. You don't have to include this in your instructions, but allowing additional entries for each social mention can be a great way to expand your reach.
Not sure if people will actually use social media this way? Consider this statistic from Buffer: 35% of Facebook users who have liked a fan page have done so specifically in order enter a contest.
You can ask visitors to become a fan, to share your page, or both. Either way, you're getting more eyes on your contest and building a stronger network of people who know that you're out there offering amazing things.
To cover all your bases, this template even has a rules and disclaimer section at the bottom. Our own disclaimer: legal requirements for online contests vary by state and country, so be sure to look into the applicable laws for your area when setting up your giveaway.
Sign up for Leadpages with a free 14-day trial. Then you'll have immediate access to this template and over 250 more inside Leadpages. You'll be able to customize and publish any template without ever having to touch a line of code—so you'll save a ton of time and money.
We recommend a Pro Annual subscription, as it comes with the majority of the features Leadpages offers and costs 39% less than paying monthly.
Have you ever run a successful contest—or won anything great in a giveaway yourself? Tell us about your experience in the comments!