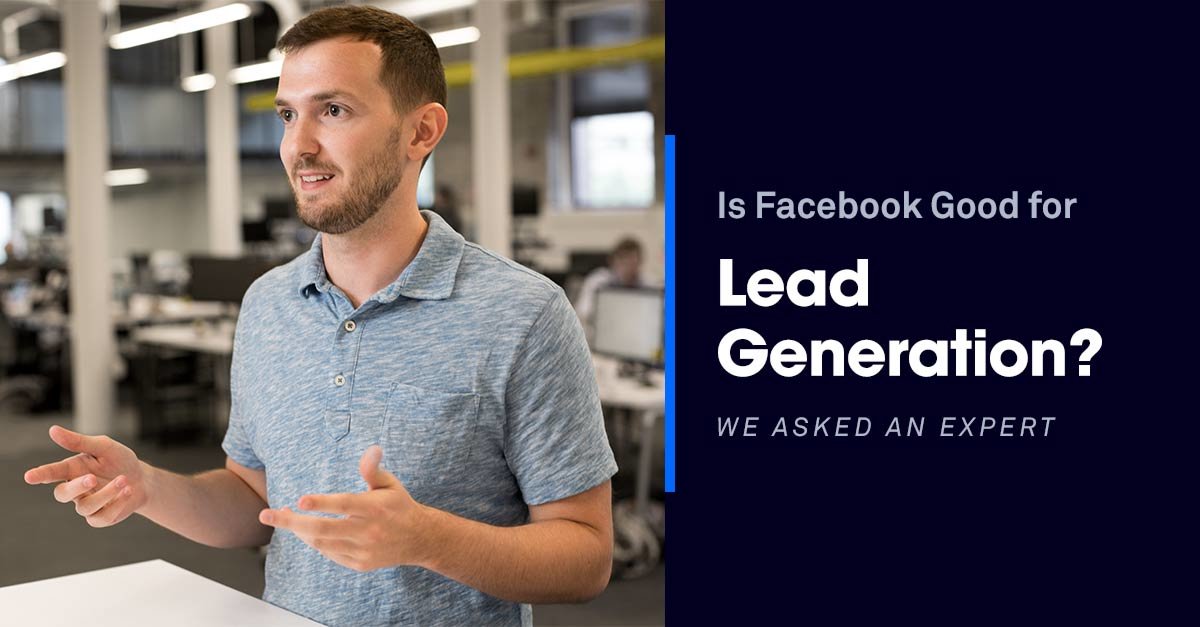 Using Facebook for lead generation has almost overwhelming potential. When you feel like you've tried everything but pulling leads out of thin air, Facebook (and its mountain of consumer data) is just a click away.
In fact, last fall, Facebook added lead-generation ads to its stable of ad types. Whereas previously its default ads focused on getting viewers to perform actions inside Facebook or click through to a website, this move acknowledged that not all businesses are just looking for traffic when they run ads.
That's because some businesses are wise enough to know their ideal clients aren't going to make a big investment directly from a Facebook ad. They know that they need to cultivate a lasting relationship that goes beyond the boundaries of Facebook.
These businesses are looking for leads.
TJ Mitchell (that's him above) has worked with many such businesses. He joined Leadpages as a digital marketing consultant after running successful Facebook Ads campaigns for clients including John Lee Dumas (founder of the EntrepreneurOnFire podcast and community), Target Corporation, and a number of small independent companies.
TJ is self-taught—which means he brings both expertise and a ton of empathy to his clients. Wherever you are with your business, he's been there.
I recently sat down with TJ to ask him what small business owners should do to generate quality leads with their Facebook campaigns—and what pitfalls they should avoid. He shared his top 9 dos and don'ts for generating leads on Facebook without maxing out your marketing budget.
Do: Spend time defining your ideal audience
Facebook allows you to target your ads very strategically, taking advantage of consumer data that was previously only available to those with big-agency budgets.
But with all that data available, some businesses can miss the prospects right under their noses.
TJ recommends that when you build your custom audience, you consider adding:
Your Facebook fans. It's sad but true: only a tiny percentage of your business's Facebook followers will ever see any given post you make. To reach these people and turn them into leads you can contact outside of Facebook, add them to the custom audience for your ad.
Your LinkedIn connections. Not many people realize this, but you can export your connections from LinkedIn and upload the file to create a custom audience on Facebook. If you're a B2B business or you think you have lots of prospective customers among your LinkedIn contacts, consider this option.
Visitors to your website. If you place a Facebook retargeting pixel on your website, you can display ads to people who have visited your website.
Lookalike audiences. This is a way to reach new people who are likely to be interested in your business because they're similar to your current customers. You can base a lookalike audience on a variety of existing audiences, such as people who have liked your page or visited your website.
Facebook users based on demographics and behaviors. Who is your typical customer? Male or female? Millennial or baby boomer? Business owner or college student? Are they likely to subscribe to certain magazines? Have they recently bought homes? Using Facebook's very specific targeting categories, you can make show your ad to people who are certain to be in your target market.
A partner's mailing list. If you run any joint marketing efforts with a partner business, you can display your ad to their mailing list (without mailing people who aren't expecting to hear from you). Your partner can export this list from their email service provider and let you upload it to Facebook.
To cut down advertising costs, you can also choose to exclude certain groups from your custom audience. If your Facebook Ads campaign is focused on generating new leads, you can upload your existing email list and exclude those people from your ads' audience. That way, you're not paying to convert people you've already converted.
Do: Take advantage of insights 
"These are great tools that help marketers understand their customers and determine who they should be targeting," TJ says. With audience and page insights, you can find information about a group's geography, demographics, purchase behavior, and more.
Audience Insights allows you to review trends about your current and potential customers across Facebook—you might look up data about the online purchase behavior of people in your service area, for example.
Page Insights provides data about the people who interact with your page via likes, comments and shares.
"The more insight you have into your audience, the better you can speak directly to them. You might find different insights about different segments of your audience, and then you can create ads directed toward those audiences," TJ says.
For example, let's say that I want to generate leads for my women's fitness studio in Minneapolis.
Using Audience Insights, I would research my target demographic—women ages 25–40 in my area. I could find out:
How many female Facebook users in this age range live near my gym
Their average income levels
Their family structure
Their online interests
When I research this group on Audience Insights, I might learn that the majority of women in my target market are married, working, middle-income mothers who tend to look for health information online.
Armed with this information, I can devise and target ads speaking directly to working mothers. For instance, I could generate leads by offering a free video series demonstrating workouts that are easy to fit into the smallest amounts of time: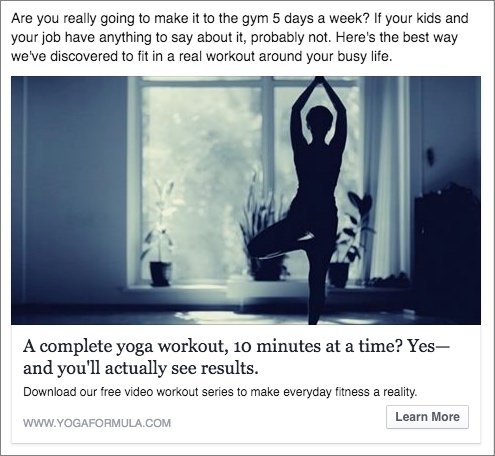 In my follow-up emails, I could emphasize my fitness studio's wide range of class times that work for women trying to squeeze in a workout around their other obligations.
These insights could even influence the future of my business. Maybe I should consider staying open later in the evening since most of my clients work, or perhaps offering a shorter lunch-hour class.
Speaking directly to your audience is important not only to build a connection, but also to get the best advertising rates.
This is because Facebook considers how relevant an ad is when determining whether to show it to specific people. When your ad is deemed relevant to your audience, its relevance score is higher, which means it's more likely to be served than other ads targeting the same people. The better your relevance score, the less you pay to reach your audience.
"Keep an eye on your relevance score. If it begins to drop over time, consider updating your content or targeting," TJ advises.
Don't: Assume your audience is ready to commit
This principle works in your favor if you're trying to generate leads.
"Facebook ads, and really all ads for that matter, are a top-of-the-funnel thing," TJ explains. "Many people who see your ad are just being introduced to your business for the first time. You have to let them get to know you and build a relationship before they are going to act."
To do this, instead of directly advertising a product in your Facebook ads, showcase a free lead magnet to build your list of leads. We find that webinars, checklists, cheat-sheets, resource guides and videos perform well. When you combine a high quality opt-in offer with effective follow-up communication, you can guide people further into the funnel.
Here's an example from marketing master Amy Porterfield: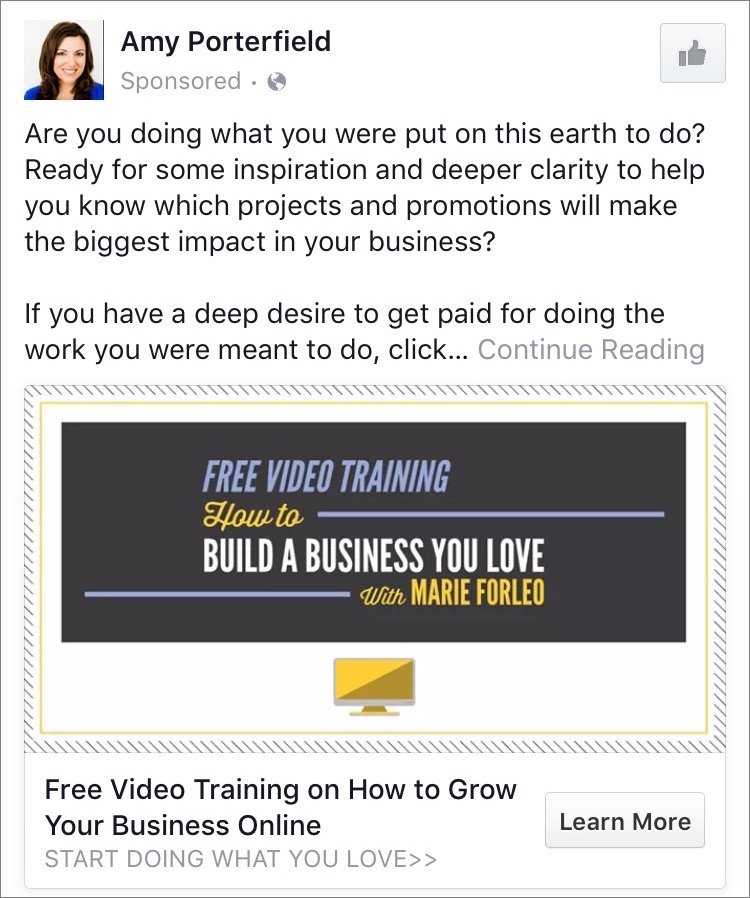 Do: Send Facebook ad traffic to a consistent, high-converting landing page or Facebook tab
Getting someone to click on your ad is only half the battle. Getting people to take the next step once they get to the destination page is the second challenge.
The best way to do that is to send traffic from your Facebook ads directly to a highly targeted landing page. That way, you can deliver exactly what you promised in the ad as efficiently as possible, with no distractions that could throw them off track.
Here's what that might look like for the yoga offer example above: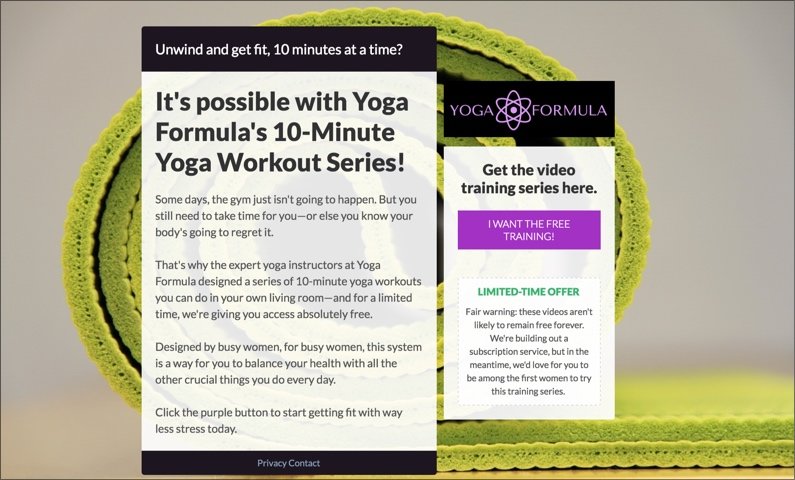 If you're a Leadpages member, you also have the option to publish your landing page to a custom Facebook tab (a tactic that can frequently improve your conversion rate, since you're operating within the trusted platform of Facebook). Here's how custom tabs look in action:
"However you decide to set up your landing page, make sure it is consistent with your ad," TJ warns.
Ads that mislead users (or are just a little unclear) about the context of the destination page may receive poor relevance scores, which costs you money.
Do: Ensure your profile is accurate and consistent
"Many people actually click into a business's Facebook profile from an ad, instead of following the ad's link," TJ explains. He continues:
"Make sure you leave a positive impression on the people routed to your profile. Make sure you have the correct contact information and a good description of who you are and how people can find more information. I've seen many Facebook pages with wrong addresses, broken website links, and outdated business names, and this creates a terrible first impression."
Additionally, NAP (name, address and phone number) consistency across web listings is important if you are concerned with improving your organic local-search ranking.
Take it from TJ: "Before you get started creating that first ad, take a few minutes to make sure your Facebook page is top notch."
Don't: Expect instant, foolproof results
Yes, with 1.65 billion users (and information about each of their individual likes, activities and even buying habits), Facebook is an advertising powerhouse.
But it's not a cure-all if there's something amiss in the rest of your business. TJ explains:
"Facebook is not a magic pill. The most common barrier I see is business owners wanting results right away. They want to be just like a successful case study without investing the time, money or effort on the back end of their business to make it work.

"You need to make sure your offer is a good one and that, logistically, you can fulfill it. Then, you need to practice patience as you devise the best way to position it on Facebook—making tweaks until you are getting results."
That leads into TJ's next big don't.
Don't: Ignore the back end of your offer or your business
"One of the biggest mistakes I see is when a business owner thinks that simply running an ad will get them sales," TJ says. "They bank on this and ignore the back end of their business, and it costs them."
It isn't enough to have an enticing offer in place and market it on Facebook. "You have to have systems in place to engage with people who are attracted to your offer. Otherwise, they probably won't buy," TJ adds.
Because people who respond to your ad are likely not yet ready to buy, you should have, at minimum, an email follow-up sequence prepared. Then, whenever someone opts in, they'll automatically learn more about your business at a pace that makes sense for both of you.
Don't: Choose the first stock photo you see.
"To grab the attention of someone who is mindlessly scrolling through their Facebook newsfeed, as we all do, you need to have a unique image," TJ explains. "In my experience, ads with custom imagery far outperform ads with stock photos."
TJ recommends using a high-quality photo of yourself or your customers along with a testimonial. "Images like these perform great, adding a ton of credibility!"
Here's an ad with a fun custom image from Pat Flynn of the Smart Passive Income blog: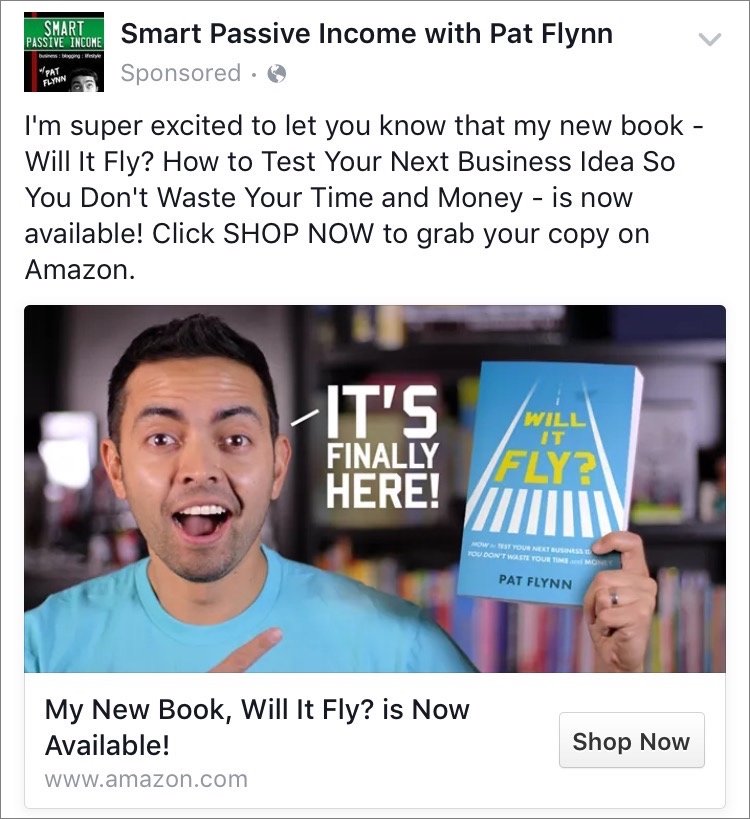 If you do not have the skills to create an image yourself, TJ suggests reaching out to a designer on a design marketplace site like Fiverr: "These sites can be very affordable and the designers can usually work in very little direction."
If your only option is to use stock photography, try to choose a photo that will stand out and grab someone's attention (while making sure you don't run afoul of Facebook's advertising policies). Facebook's ad builder now contains a built-in stock photo library, so if you use this tool, it's worth trying more specific search queries and scrolling past the first few screens of results.
And because stock photos are so easy to grab, you might want to consider testing a couple of different photos to see which performs best.
Do: Set up split tests to find out what works fast.
"There is no formula for a perfect Facebook ad—sorry!" TJ says. "Like all things in marketing, the secret is simply to test, test, and test again until you've figured out what works in this campaign, at this moment."
Of course, you can't spend all day glued to your Facebook Ads dashboard. But there are three straightforward kinds of tests anyone using Facebook ads can set up.
1. Creative: Don't go looking for a "test" button inside Facebook—you won't find a tool specifically designed to let you scientifically test different versions of one ad.
However, there are two simple ways to compare different creative approaches to elements such as:
Your ad's headline
Your intro and description (for in-feed ads)
Your image
Your ad type (though you may want to avoid boosted posts—TJ has found that this typically does not drive the same returns as placing an ad)
Here's another example from online business maven Amy Porterfield, showing two different takes on the same webinar ad: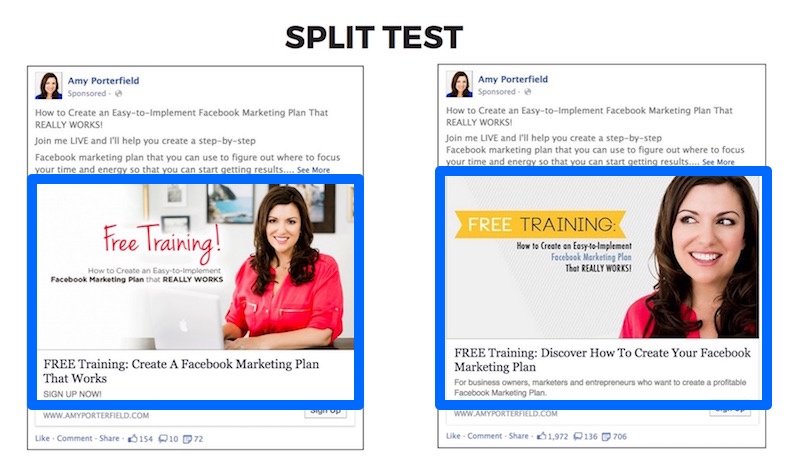 Both creative testing methods start with ad sets. Ad sets are collections of one or more ads that have the same targeting, budget, schedule, and placement settings.
First, you can just let Facebook do all the work. Create multiple versions of an ad within one ad set, and Facebook will track their relative performance and automatically direct more traffic toward the winner. This is a quick and fairly reliable way to learn what works.
But if you want to have more control, you can instead create two ad sets, each containing just one variation of the ad you want to test and keep the other settings identical.
Then, watch what happens. Turn off the less effective ad set when a winner is clear, and apply elements of the higher-performing ad to the rest of your marketing.
2. Landing page: If you use a landing page platform with built-in split testing like Leadpages, this is simple. Take the page linked to your Facebook ads and create an A/B test to see which landing page variation converts better.
If you're not quite sure what to test, check out this post for high-impact A/B test ideas.
3. Audience: Facebook makes this one easy. If you're not sure who your offer will appeal to most, you can use the "split audiences" feature to show one ad (or ad group) to two different audiences.
For instance, in this example from Facebook, a shoe retailer is testing whether their spring sale will appeal more to women ages 18–25 or ages 26–33.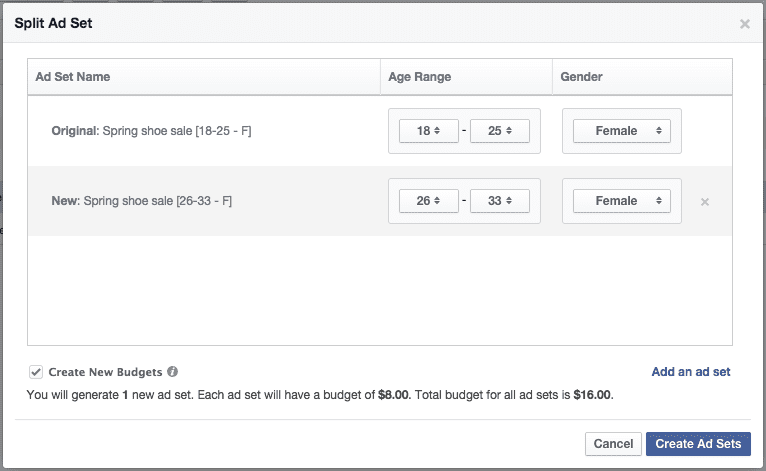 "You can learn a lot from testing by spending just $5–$10 a day," says TJ—though, of course, "if you have a larger budget, you'll get better results in less time."
And you don't necessarily need to run formal tests in order to make your Facebook campaigns more and more successful. As you learn what works in the rest of your marketing, you can adjust your ads, your landing pages, and even your opt-in offer itself to generate more leads, more effectively.
Go forth and generate leads!
Now you're armed with TJ's top dos and don'ts, plus a little practical advice on implementing them in your marketing. For even more detailed guidance, don't forget to download our free Facebook Advertising System course before you go. In 11 video modules and bonus resources, you'll get a complete blueprint for running Facebook ads.
Have any questions about generating leads on Facebook that we can answer? Ask us in the comments!