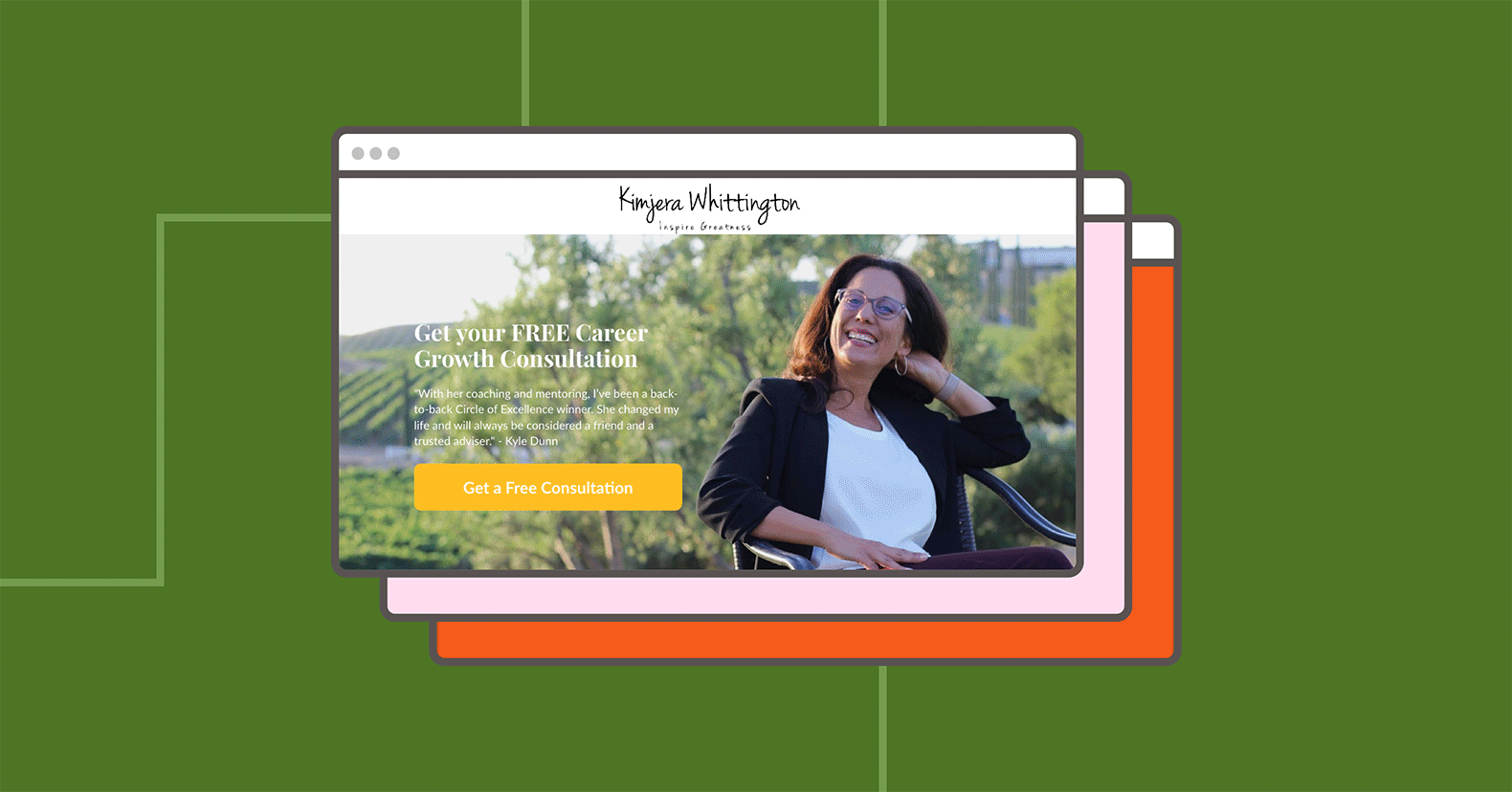 Offering a free consultation is a favorite way for service providers to bring in prospects and book new clients—but there's an art (and science) to converting sign-ups and closing the deal. If your business depends on selling your services to high-value leads, perfecting how you market and offer a sample session is absolutely critical. Let's look at 7 real-world business owners who nailed it and help you build on their best-in-class example.
A free consultation is an awesome way to capture qualified leads that actually want to buy from your business. Not only do you get the lead's contact info, but you're also streamlining conversion by opening the door to one-on-one interactions with your new lead. This is especially effective for professional services and coaching businesses that thrive on establishing relationships with their customers. 
But not all free consultation offerings work as well as they should.
What is a free consultation?
A free consultation is a one-on-one interaction, conversation, meeting, or interview given freely to share ones thoughts and discuss possible opporunities of working together.
Free consults actually have a higher barrier to entry than other types of lead magnets. The visitor isn't just giving you their email address in exchange for a downloadable, for example. They're also investing their time and energy into the consultation with you. This means they need a little more convincing to be "sold" on the value of this consult. (Whether or not it's "free" doesn't matter as much as what they'll get out of it.)
That's where the crafting of your free consultation page comes in.
To transform your leads to customers, you have to prove you're worth it. That means optimizing your lead page so well that the customer won't be able to pass up this incredible opportunity to get even more value from your business.
The best way to learn about creating an awesome free consultation lead page is by checking out gorgeous examples that have killer conversion rates. So we're giving you 7 Leadpages examples to spark your creativity and get ideas for your own free consultation page flowing.
Want to build your own Free Consultation landing page?
All of the examples below were built with Leadpages, so you can easily recreate them inside your own account. Peruse free consultation landing page templates >
1. Free career consultation from Kimjera Whittington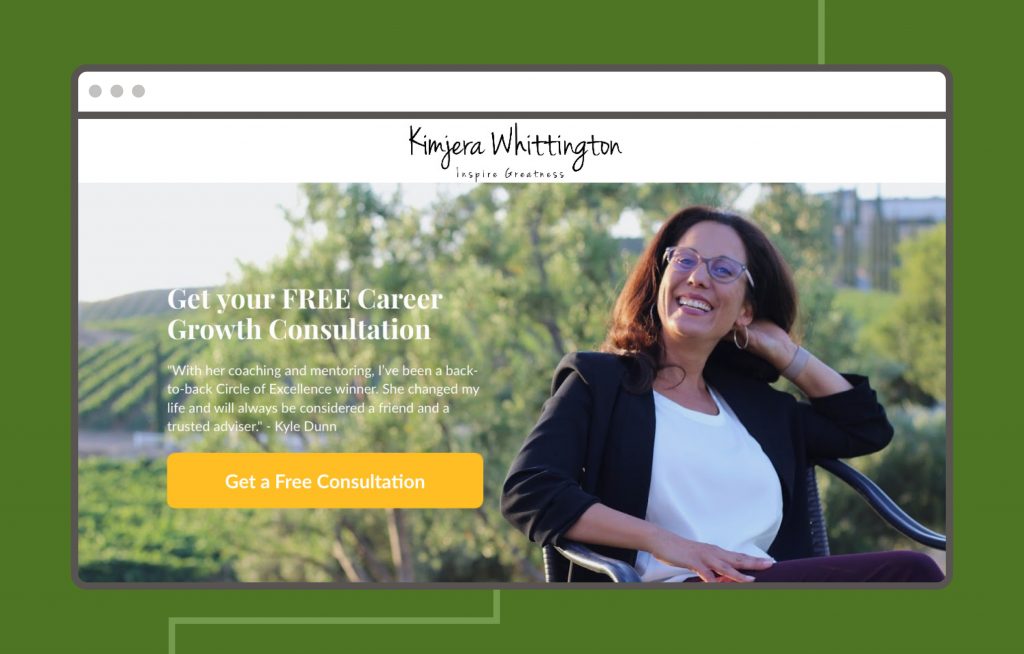 Kimjera Whittington's free consultation page is simple and value-driven, but it also showcases her personality in a way that makes it stand out from cookie-cutter free consultation pages.
What do we admire Kimjera's example?
Flash a smile. The first thing you see is Kimjera herself—the person you'll have your consultation with. Putting a face on your consultation builds trust with your audience, so they feel more comfortable signing up. It reinforces the fact that Kimjera's clients do business directly with her, rather than a faceless brand.
Start with testimonials. The first element of copy here is a glowing testimonial about how Kimjera has changed her client's life. Visitors treat testimonials like personal recommendations, so emphasizing reviews lends credibility by providing social proof.
Use bold CTA buttons. The brightest areas on the page are Kimjera's yellow consultation buttons. You want your call to action to draw the eye—which in turn draws the mouse to click.
Include a checklist of value. Kimjera's page works well because she describes both the short-term and long-term effects of the consultation. She outlines what her coaching process is for her paying clients, but she also tells you what you'll get in the consultation itself. You want to play both to the need for instant gratification as well as the promise for a brighter future thanks to your business.
Introduce the person on the other side of the phone. If you have a coaching or consultative business, an "About" section is a great way for customers to get a feel for who they'll be talking to during the consultation (and who they'll be working with moving forward). This personal touch builds trust and initiates the relationship, so the visitor already feels a connection that will encourage them to signup.
Notice the personal touches of this page. People sell more than businesses, so don't be afraid to push the "people" side of the free consultation.
2. Self-schedule a free consultation with BlkBld.Co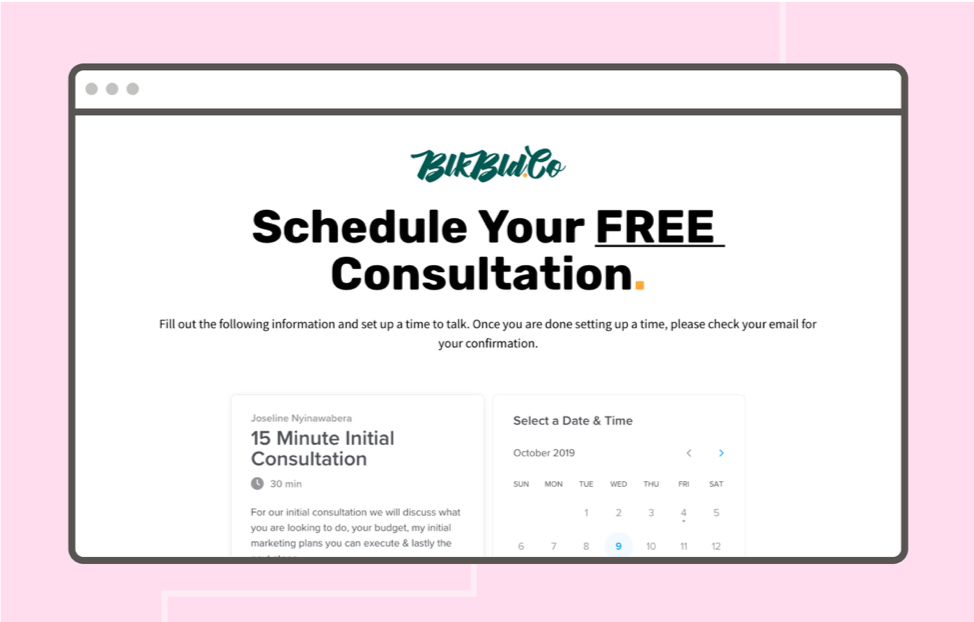 BlkBld.Co's free consultation page is simple, concise, and to the point. But what really makes this page successful is the action-driven scheduler and the page's context in relation to the rest of the business's website.
What can you learn from this kind of free consultation page?
Use a scheduler. Using our appointment scheduler tool not only makes it easy for your visitor to schedule the consultation, but it also helps push conversion. Too frequently, someone signs up for a free consultation but then never answers the emails or phone to schedule it. The interest starts to wane, and you've lost that lead. With a direct calendar scheduler, though, that lead is putting you in their calendar. This creates a greater "buy-in" and commitment, so they already feel invested in actually going through with the consultation with you—which means a higher chance of a conversion.
Keep your branding consistent. Taken by itself, this consultation page seems minimalistic and simplistic in design. But when you look at it in terms of their overall website, you see how seamlessly the design flows together. Even the orange period at the end of "schedule your free consultation" is the same color as the CTA buttons they use to promote the free consult throughout their website. Their brand design is simple and straightforward, so they appeal to an audience who will appreciate a no-frills page. 
Every lead page you offer should be aligned with your website design and goals. All of your pages are working together to push your primary business goals. Learn how to define your business and website goals here. 
3. Social media marketing sample session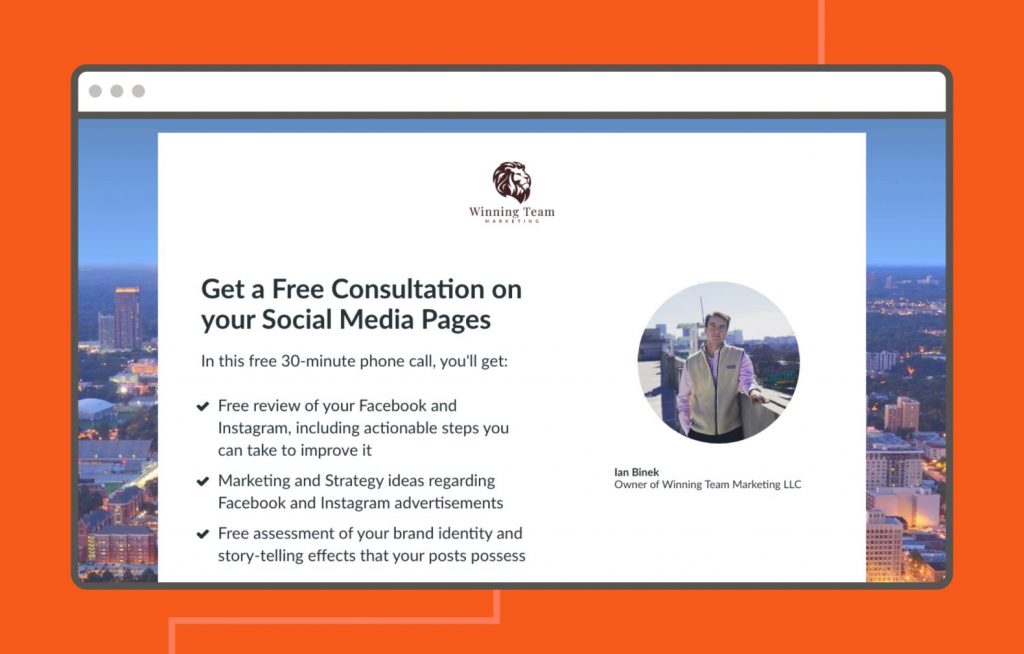 Winning Team Marketing's page demonstrates another simplistic design that works well for its target audience. What can we take from this look?
Keep it concise and directed. Winning Team's target consumers are busy professionals and business owners who want to improve their social media design without putting a lot of time and effort into it. They want fast results without a lot of fluff. You feel that directness in the layout of this page and the specific deliverables they use in their written copy. Click to learn how to write effective content that stands out. 
Consider a splash page. The entirety of this page is "above the fold," meaning visitors don't need to scroll to see any information or schedule the call. This kind of splash page often shows a high conversion rate, especially if you've already put in the work on your website or social media to sell them on the free consult. The page reminds the visitor of the value while streamlining their decision to signup.
Show their face. Like in the first example with Kimjera, showing the face of the person you'll be chatting with is an effective way to build trust and initiate the relationship you'll develop during the consultation. Studies even prove that visitors' eyes are drawn most to faces on a web page. 
Use a pop-up form. We love their use of the pop-up contact form to grab their leads. It keeps the page itself clean and direct, but the pop up removes any friction during the signup process.
4. Free consultation selling premium events & workshops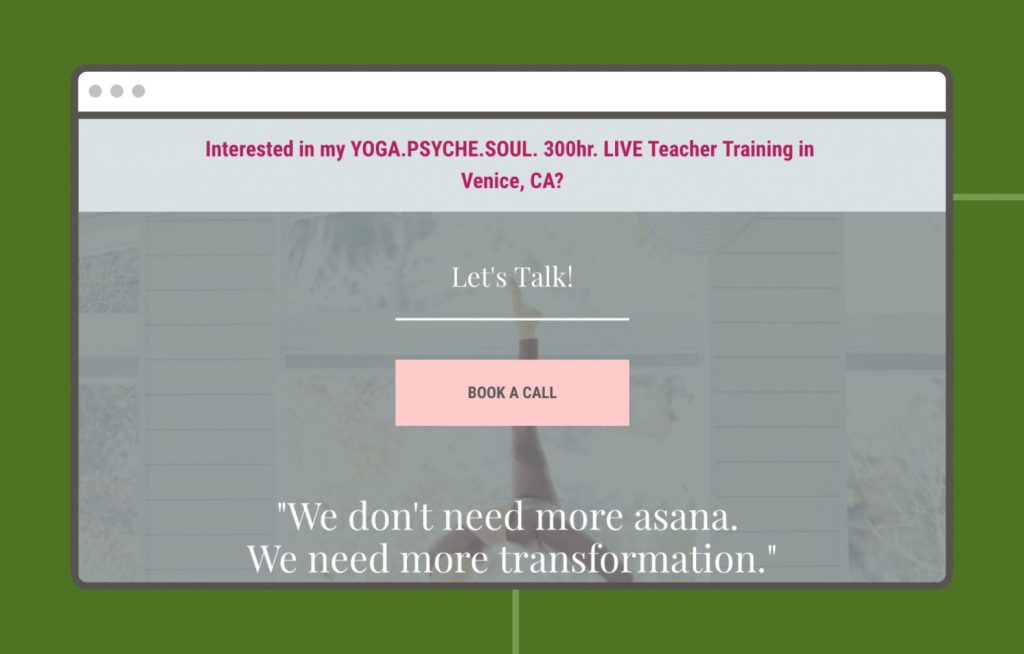 When it comes time to break out of the time-for-money coaching/ consulting model, lots of experts will begin offering high-value workshops, retreats, or educational courses. Why? Because selling one-to-many (rather than one-to-one) is an excellent way to extend your impact without spreading yourself too thin. It's also an opportunity to increase your revenue stream. But higher ticket items mean higher barriers to purchase.
In this example, Ashley Turner, yoga/meditation teacher, Licensed Marriage + Family Therapist, has accompanied her top-shelf live yoga teacher training in Venice, CA, with a consultation call.
She notes that:
* These 20 min. calls are strictly reserved for those students who are seriously interested in attending our LIVE YPS training in Venice, CA.
Like a free consultation, these calls are intended to provide more information, reveal the value, and ensure good chemistry between the potential client and consultant.
What can you learn from Ashley's example?
Couple your premium events with a free consultation call: A common sales tactic is to build relationships with your clients and sincerely help them determine whether your premium-priced services are a good fit. The best way to do that sometimes is to jump on a phone or video call.

Clarify your audience: By providing context for whom the free consultation is for (and whom it is not). For people with quick questions or unrelated inquiries, provide another means of contacting you (such as an email address or inquiry form) so that your consultation schedule is free for only those who truly need to get you on the phone.
5. Free consultation and a freebie from ILoveFashionRetail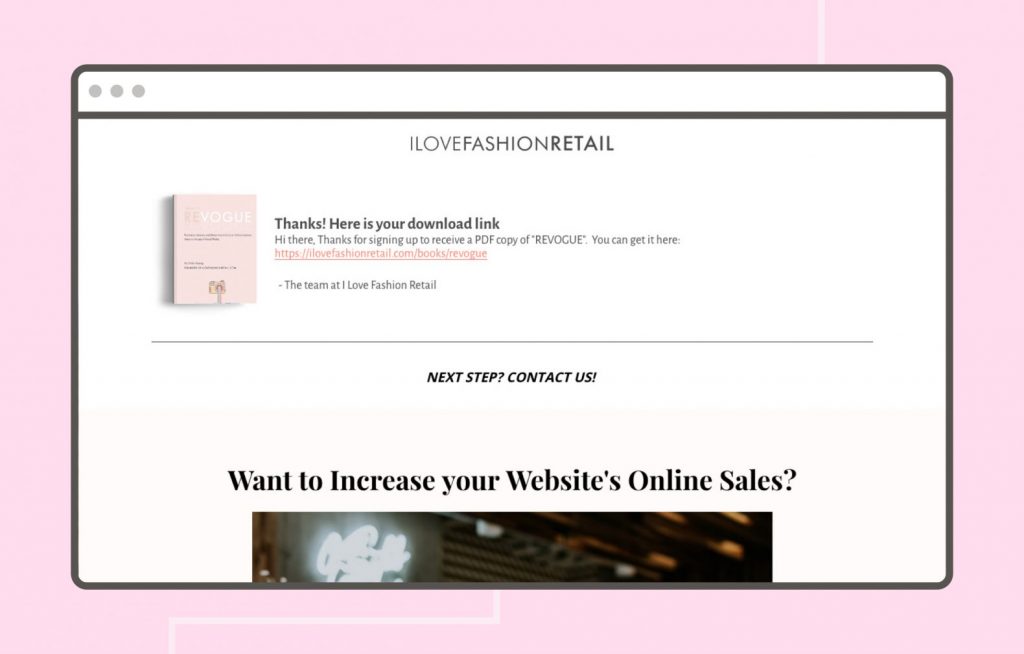 Now we're moving back into longer-form lead page territory, where you have more space to convince customers to signup for their free consultation. We'll run through some of the basics on I Love Fashion Retail's page that is working effectively to convert:
Offer a downloadable as the first touchpoint of conversion. Then instantly and seamlessly move into the second point of booking a free consultation. You can even use the words "next step" to encourage customers to keep moving forward in your sales process. Find out how to create high-value lead magnets in just 30 minutes here. 
Make your CTA button a different color. Sprinkle the button frequently throughout the page, so the visitor can click through whenever and wherever they're finally "sold" on the free consultation.
Explain what kind of short-term value they will receive from the free consultation. Be as specific as possible without overloading on copy.
Explain the long-term value of working with your company in the future. The free consultation is the first date, and they want to know there's a potential for a relationship. What services can you offer them in the future that will solve their pain points? (Psst… Start cultivating that long-term relationship right after they input their contact info using a welcome email series.)
Use customer testimonials or client logos as social proof. Testimonials are recommendations that help quell the hesitancies or questions of your potential lead.
Introduce us to the face behind the consultation. We can't stress this enough. Make your brand, and your consult, personal.
What we especially love about I Love Fashion Retail's free consultation page is that it's quite similar to Leadpages' initial landing page template. It's an oldie but a goodie, and the initial design is still a trusted go-to for so many business owners. In fact, you can transform just about any Leadpages template into an optimized, conversion-worthy free consultation page.
6. Ashlene Korcek's free consultation page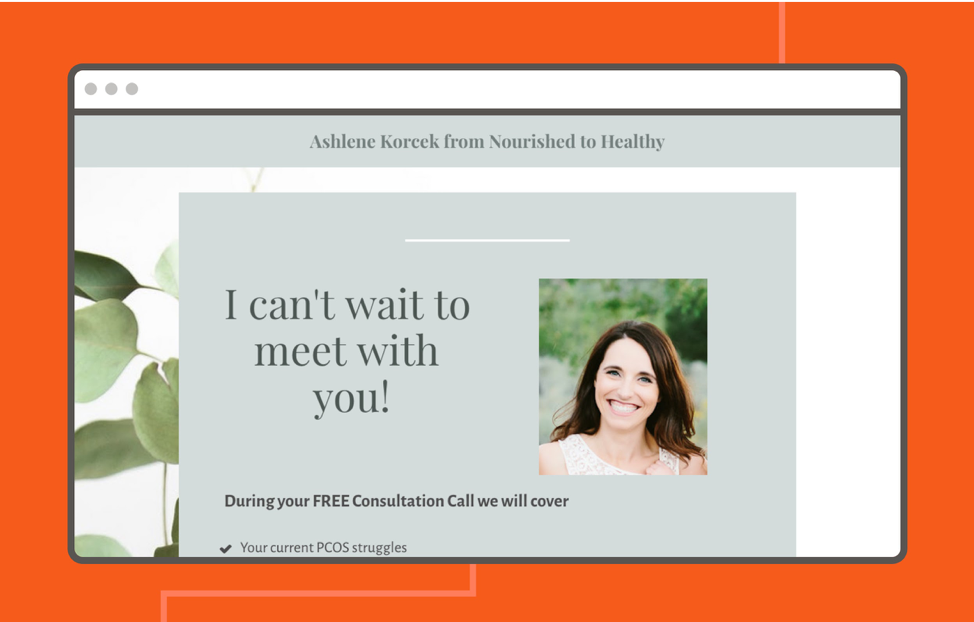 Ashlene Korcek's free consultation page is clean and simple, but it provides just the right amount of information to seal the deal. 
What do we adore about this page?
Face first. Above the fold, you get a friendly, smiling face who "can't wait to meet with you." You're instantly introduced to the person who will be on the other end of the phone.
Specify what the call covers. The visitor knows exactly what they'll talk about and get from the conversation. Then, she uses a concluding sentence to remind the visitor of the long-term value of making that first call.
Make the contact process simple and seamless. She makes it easy to fill in your information with little friction. The form uses the least amount of info necessary to schedule the call.
Design says it all. This page is clean and aesthetically pleasing, which helps pull the visitor down to the bright yellow CTA button.
7. Free consultation from Platinum Trading Systems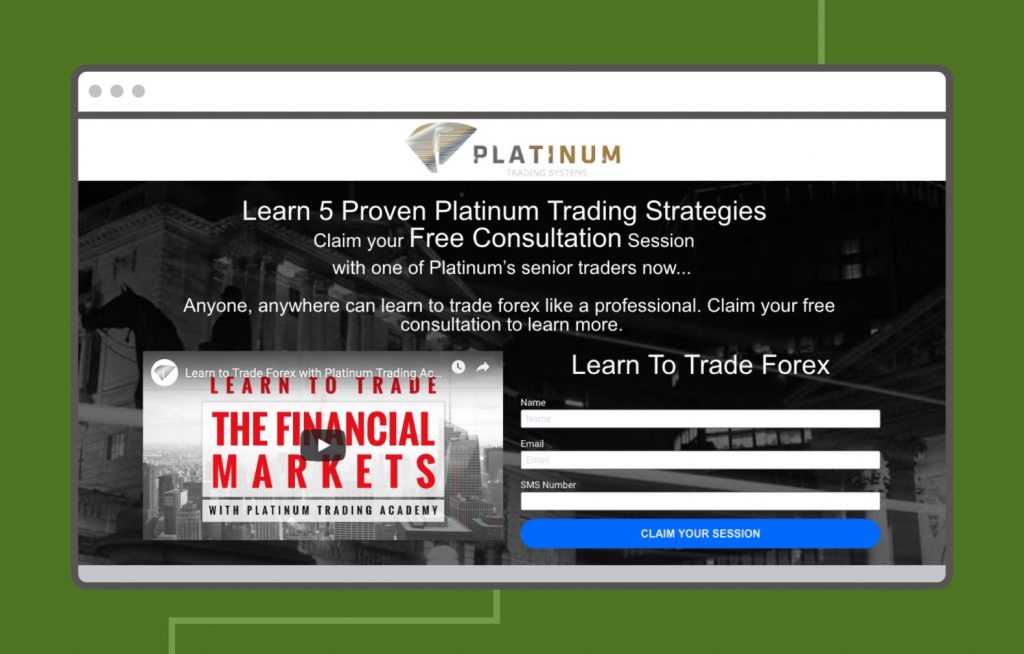 There's a lot going on with this Platinum Trading Systems page. We'll run through each of the details that work together to generate a high conversion rate that you can consider incorporating in your own design: 
Push value first. The page starts with a direct value proposition. There are five strategies, and you (anyone, anywhere) can learn them with this free consultation.
Use relevant videos and images. The video sells you on the academy's benefits short-term and long-term. It also uses urgent language to encourage you to sign up right now.
Put your first CTA above the fold. You see the first contact form before you even start scrolling. It also pushes conversion using exclusivity-based language like "claim" your session.
Show that you're popular. This page offers social proof in two forms: news outlet features as well as client testimonials.
Use long-form copy when necessary. This page delves deeper into the five strategies you'll learn in your session and what they mean for you moving forward. This further encourages hesitant customers to make the call by guaranteeing specific information and value.
Everything about this page pushes the urgency of getting in on the action now. They make you feel like you can't go another day without learning their five strategies.
4 Simple Ways to Improve Your Free Consultation
1. Tell your visitor what to expect
Who is the free consultation with? Including a picture and "about" section is one of the most effective means of building credibility and getting signups.
How long is the consultation? Pick the length based on your target audience and available in-house resources.
What is the format of the consultation? Let them know if it's a call, online chat, video conference, or in-person meeting.
Setting expectations for the meeting is the key to consultation conversions.
2. Answer 'what's in it for me?'
Your visitor wants to know what they're getting in exchange for their time. Why do they need this consultation? How will this consult help them achieve their goals?
There are three strong ways to prove the value of the consultation (and your business):
Provide them with additional value before or after the consultation with free downloadables, worksheets, call notes, resources, and recommended next steps.
Put your customer testimonials front and center. This social proof establishes credibility and trustworthiness that pushes a high rate of conversion.
Leverage urgency and exclusivity. You want people to sign up for the consultation right now by feeling like they'll never get another opportunity like this. Words like "claim your session" or "20 consultation spots left" help encourage signups.
3. Explain the long-term benefits
What happens after the consultation? Most of the time, the customer wants to know that the consult will lead to something bigger and better—especially if you are consistently providing them with value before and during the consult.
So you don't want to just sell the consultation. You want to sell your business. What are the benefits of working with you? What is so unique about your brand? What services do you offer after the consultation?
Start laying the groundwork for conversion even before the consultation happens.
4. Focus on the design of your page
You want to sell the customer on the consultation, but the written copy won't work if your design isn't optimized. That means you want a consistent, bold CTA button that draws attention (and clicks). You want to be direct and concise with your language, but not at the expense of providing necessary information. Use attractive visuals that promote your business and get the point across. 
The secret? Start with a high-converting template.
What do all of these examples have in common? They all come from a Leadpages template! You simply pick the design you like, customize your copy and images, and your page is ready to publish! Leadpages even offers tracking analytics and split page testing, so you can consistently optimize your page to ensure you're attracting a high volume of relevant free consultation leads.
Sign up for a free 14-day trial to start converting traffic to leads in no time!