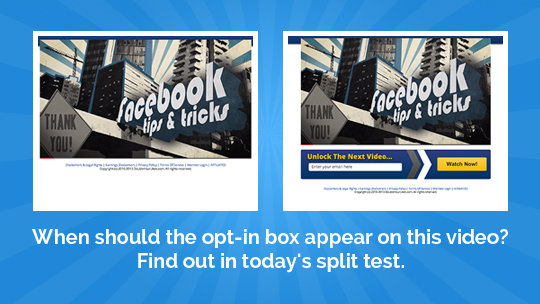 By Kat Von Rohr, Writer and Editor for LeadPages
I have a quick but important split test to share with you today.
If you're currently running videos on any of your lead generation or sales pages, you'll want to pay attention to this one.
In December, LeadPages user, James Grandstaff ran a short-lived split test to see if he could increase the leads he generated on this Video Squeeze Page below.
James began by testing when to ask his viewers to join his list.
On one variation, his lead gen box appears as soon as you open the page, so potential subscribers can join his list instantly.
On the second variation, the exact same lead gen box appears two minutes into the video, so potential subscribers can view his content before he asks them to opt-in.
Testing the timing of this lead gen box ended up boosting his response by 87%. But which variation won out here — the instant lead gen box or the delayed one?
Take a guess and then scroll down for the answer.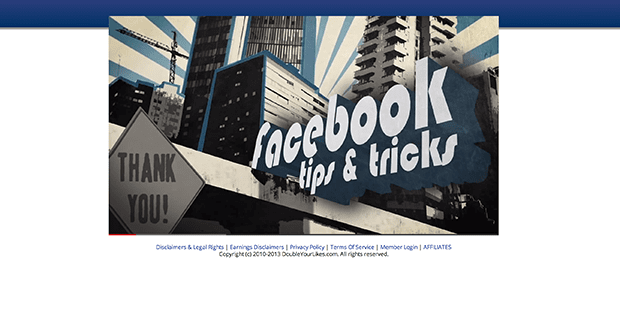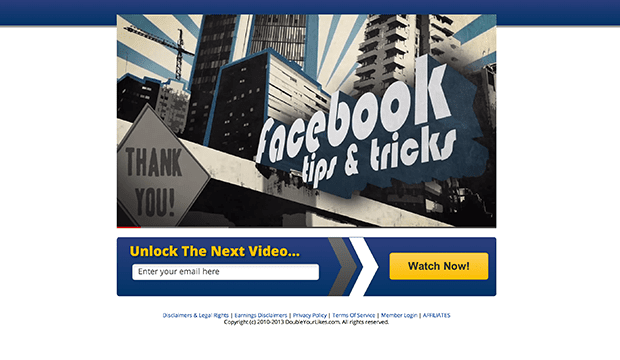 And the Winner Is…
Variation 1: The instant lead gen box.
Immediately introducing this lead gen box increased opt-ins by 87%.
This page also won out with a 100% probability that this result was not due to chance. (Keep in mind: Anything over 90% – 95% is statistically significant.)
James originally set up this Video Squeeze Page as part of two-video series to promote his Facebook marketing course in early December. This short-lived split test only lasted two weeks to promote this limited time offer.
Throughout those two weeks, James only drove cold traffic to this split tested page. That means potential subscribers who were not familiar with James' work were still more likely to opt-in when James gave them the chance to opt-in immediately.
Even with the cold traffic, James hypothesized that asking for the opt-in instantly would increase his conversions on this page. In the end, he was proven right.
Further Proof that this Instant Lead Gen Box Won Out
Like many LeadPages users, James didn't stop with just two variations. As you'll see in the numbers, James also tested a third variation of this Video Squeeze Page.
What I found interesting: The third variation of this video squeeze page also had a "no fade-in" immediate lead gen box. The only difference on this third variation is James also tested removing the video's intro.
But in both cases, the instant lead gen box increased response.

A big thanks to James Grandstaff for sharing his results here. If you're curious about the video on this page, you can see the full video here.
Also, to see what James is working on now, check out his blog.
How to Run a Similar Split Test on Your Own
Once again, James used the Video Squeeze Page to run this split test.
You can see how your own audience responds to an instant lead gen box like this, by running a similar split test on your own pages.
Here's how you would set up this split test…
Step #2: On this first variation, click on "fade-in box" and set the timer for when you would like the lead gen box to appear during your video. (For example, you might set your lead gen box to appear 30 seconds into your video.)
Step #3: Once you have this page exactly as you want it, enable split testing on the page by clicking on "A/B test."
Step #4: Add a variation to this page by clicking "add variation" from the drop-down menu under "A/B test."
Step #5: Choose to "copy and modify" your original variation. This will give you the exact same Video Squeeze Page to modify for your second variation.
Step #6: On this second variation, click on "fade-in box" and change your current time to zero minutes. This will make your lead gen box appear instantly when potential subscribers visit this page.
Step #7: Save it and you're done. Ready to split test.
If you've never run a split test like this before inside LeadPages, I recommend you check out our video on split testing first.
Also, if you're not currently set up to split test, you can find out more about how to enable split testing in our video below.
That's it for today. Before you go, what did you think of this split test? Have you ever ran similar tests on your own pages? If so, did you have similar results? Let me know in the comments.