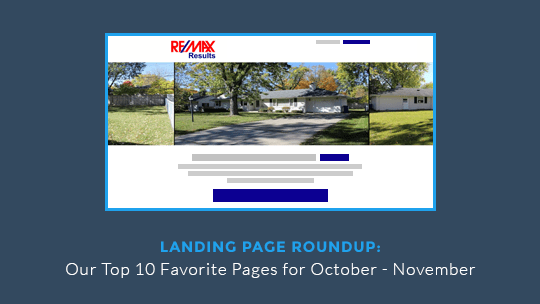 With the launch of the LeadPages™ Marketplace (and the addition of several great new templates inside LeadPages™), users are creating more landing pages than ever before.
Today, we want to specifically point out 10 of those landing pages, and show you what makes them stand out. You can easily walk away from this post with a number of ideas for your own marketing campaigns.
So let's get started, shall we?
What Stands Out: Scott Kelby from KelbyOne.com created a landing page that would have fit right in among the pages in our recent post about landing pages that can boost your Black Friday and holiday sales.
Not only does this page look great, it offers visitors an attractive opportunity to get access to KelbyOne's Cyber Weekend deals five days in advance. This is a win-win for visitors and for Scott.
Pretty nifty page, right? Well, it's the next page that really sends this marketing campaign over the top. . .
Although we rarely feature two landing pages from the same business in our landing page roundups, this page combined with the previous example illustrates a powerful way to build social shares right into your landing pages.
This is the thank you page visitors see after they opt in to the KelbyOne Cyber Weekend page we just observed:
What Stands Out: This thank you page allows visitors to share the upcoming sale with their friends, so they can get in on the good deals too. As you can see, the folks who opted in seem quite keen on sharing the promotion:
What Stands Out: Just because this page is simple doesn't mean it can't be beautiful. The custom background Interactivity Digital created for this landing page is incredibly well designed, which can go a long way toward adding credibility to your offer.
Additionally, they customized the opt-in area to have a white background, which draws attention to their call to action.
Click here to see this page in action.
What Stands Out: A free video series can be a powerful customer acquisition tool for your business, and Your New Life Plan shows how simple it is to create one using the Launch Funnel Page template in this example.
They customized it to match their unique branding, included a well-produced video, and created clean, bright video thumbnails that really make you want to watch the whole series.
Additionally, the Facebook "like" area allows Your New Life Plan to convert visitors to this video series into Facebook fans.
5. Free Calculator Tool: Apptastic Marketplace Page
What Stands Out: Have a mobile app you'd like to show off? Take a lesson from the above page and show it in the context of a mobile device.
By placing your app or tool in that context, you can make it less abstract and more like a tangible thing your visitors can hold in their hands. That's what this page does so well by taking advantage of the mobile device image built into the Apptastic Marketplace Page.
Click here to see this page in action.
What Stands Out: What really stands out on this page is easy to notice — the adorable, high-quality dog photos. As we discussed in earlier examples, it pays to use quality imagery when customizing your landing pages. Nothing destroys credibility faster than shoddy images or any other number of design flaws.
But it's the combination of effective copy and testimonials that really makes this page great.
If you've ever owned pets, you're all too familiar with that worried feeling that bad things could happen to them. That's exactly what Home Security Solutions tap into with their headline, "Bad things happen. Protect the ones you love."
They follow up the powerful headline with rock-solid testimonials from both casual pet owners and animal professionals.
What Stands Out: The only thing more attention-grabbing than the last example's pictures of cute puppies? Imagery that moves.
This video background featuring a jet prepping for takeoff fits right in with the spirit of the page's "high performance" copy. It grabs your attention and puts you in the right frame of mind for the page's offer.
Think a video background might be distracting to visitors? Well, believe it or not, we've actually seen plenty of users get opt-in rates higher than 50% using this template.
What Stands Out: There's so much value packed into this page that we're only showing you half of it in the above screenshot.
That's exactly what makes this such a great sales page — you're able to showcase all the benefits of your high-end product and give people all the information they're going to need to make a major purchasing decision.
As you can see, Matt Kennedy did more than just write about his product's benefits — he actually showed the type of beautiful, unique photographs his course will teach you to take throughout the page.
This page also gives you room to pack in bonus offers, as you'll see when you check out the full page here.
9. Hong Kong Business Supercharged: Pat's FoodTruckr Marketplace Page
What Stands Out: Again, we have a page containing so much value that only half can be seen in the above screenshot.
If you offer any type of "ultimate guide" or "definitive resource," you'd do well to study this page.
The inherent problem with any type of "ultimate guide" is that it's usually about an overwhelmingly large topic. That's why it's important to remove overwhelm from the equation with your copy, and that's exactly what Hong Kong Business Supercharged did in theirs:
"Running an international business via Hong Kong is a serious endeavor. Michael Michelini breaks down the overwhelming process of running an international business from Hong Kong into step-by-step instructions you can follow. This book will be your go-to resource to set up your business as well as an ongoing reference guide you can go back to again and again."
Additionally, this page makes excellent use of the large photo areas by inserting high-quality, energetic photos that match the sprawling, exciting feel of international business.
Click here to check out the full page.
10. Mobit: Free Course Giveaway Page
What Stands Out: As you can see, the Free Course Giveaway Page doesn't have to be used to give away a free course. It works just as well for a number of other purposes, including giving away a free guide.
The page's clean design allows the clear, effective copy Mobit wrote to shine throughout the page. As we've discussed before, clean design and clear copy form a combination that's tough to beat.
[Bonus Page] Ryan Fischer: Real Estate Landing Page
What Stands Out: We normally only feature 10 landing pages in these roundup posts, but this is such a phenomenal usage of a powerful new Marketplace template that it couldn't go unrecognized.
Not only does Ryan Fischer show off great photos and all the important details about his property, he also makes it incredibly simple for prospects to schedule a showing. They can click on the "Schedule a Showing" button and fill out the necessary information, send Ryan an email, or simply call him.
Before You Go, Tell Us…
Congrats to all the marketers featured in this month's landing page roundup. Thanks for sharing your pages with us.
Before you go, I'd love to hear your thoughts on these landing pages.
Tell me: did any of them spark an idea for your own marketing? If so, simply drop a quick "yes" in the comments section below. If you have an extra few seconds to spare, let me know which page inspired you.
Or, simply hit one of the "share" buttons to let me know this roundup was useful to you.