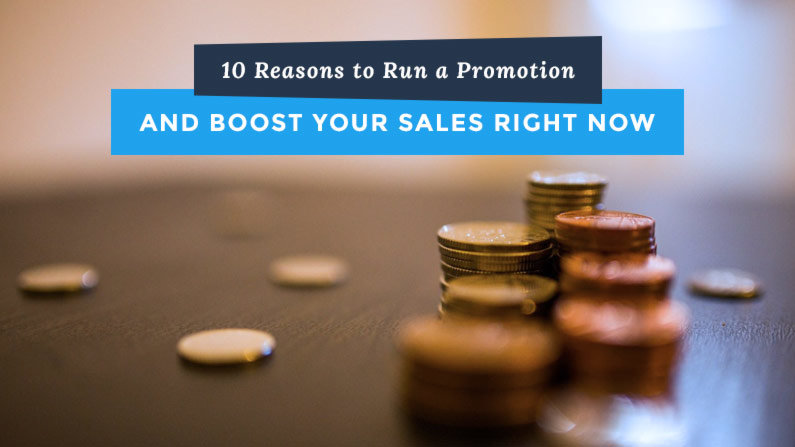 Since 2013, I've been involved in every major promotion here at LeadPages. I've assisted with dozens of promotions, offers, webinars, launches, and lead generation campaigns.
Two years and countless landing pages later, I've learned two very important lessons:
1) You don't have to wait to run your next promotion. You don't need to spend weeks, months, or (even worse) years crafting the "perfect promotion" for your product or service. Instead, it's much more valuable to create quick sales pages and keep testing different offers and promotions until you find what works.
2) The most successful promotions give a reason why. A "reason why" is the purpose for your promotion or special offer. It's the justification you're giving for why you're running a specific promotion on a specific date.
I'm going to give you 10 of those reasons in this post, but you should also download the free PDF guide I've created for you to find these and 15 more. (I'd save this to consult any time you need a little bit of promotional inspiration.) Click below to get "25 Reasons for Your Next Promotion."

When you sit down to craft your own sales pages, you should always give a reason why you're running a particular promotion. That's what I want to talk to you about today.
Don't be a stranger without a reason
Think of it this way. Imagine that you're hanging out in a bar, and an attractive stranger approaches you.
At first, you think this good-looking barfly might try to pick you up. You expect the stranger to introduce themselves, sit down, and maybe ask to have a drink with you. You might even be a little interested.
Then the stranger does the last thing you expect. Without giving their name, your new bar buddy starts speed-talking—rambling, really—about absolutely nothing at all: their boring job, their dull relatives, their long-gone high school sweetheart.
You try to be polite, but you've lost. You have no idea what this person is talking about—or why they're talking to you at all.
Strange right? Makes you feel uncomfortable, makes you want to leave the bar?
Remember this feeling. If you don't present a compelling "reason why," that's how a stranger can feel when they see your sales page for the first time—especially when you're running a promotion or special offer.
That reason gives your readers an excuse to stick around just a little bit longer to hear what you have to say. The more compelling your reason, the better your chances of holding your would-be customers' interest—and boosting your sales.
What makes a good reason why
Giving a reason for your promotion or offer does more than simply attract attention. It also:
1. Shows Respect: It shows you respect your customers, and you're being completely transparent about what you're selling and why at any given time.
2. Explains Why Customers Should Care: It shows your customers why they should care about your offer, and why they should keep an eye on what's happening in your business.
3. Lets You Talk About Your Product Again: It gives you a reason to present your product or service in a different way. This is particularly useful if you have been selling the same product or service for some time.
4. Takes Your Customers Behind the Scenes: It allows you to take your customers behind the scenes and show them what's happening at your business.
No matter what industry you're in, there are literally dozens of reasons why you could create a sales page and start running a special offer or promotion immediately.
Today, I'm going to walk you through 10 of my favorite reasons why to run a promotion that you can use to start selling your products or services.
1. Launching a New Product Feature or Service
You can launch a new promotion every time you add a new feature to your product or service.
Adding anything new to your product or service gives you a reason why you should be talking about your product. It also gives you free rein to promote your existing product in a completely new way.
For example, let's say that you're a yoga instructor and you host a yoga retreat every spring. This year, you're planning to give 1-on-1 guided meditations to your retreat attendees every morning. To launch this new feature, you might run a promotion like this one below: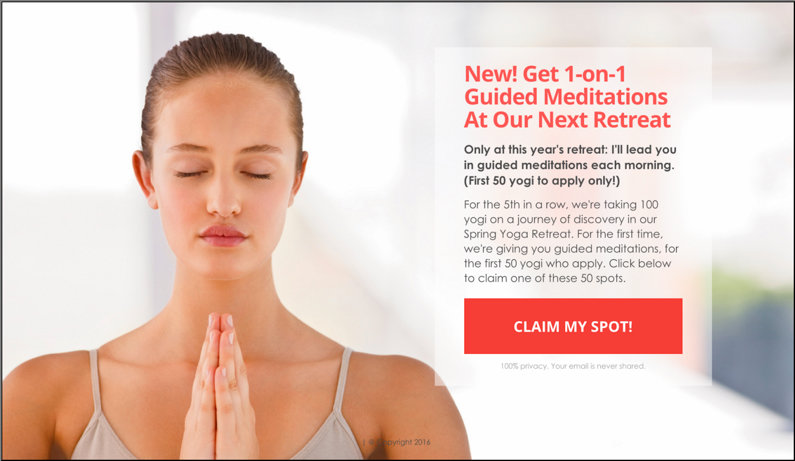 2. Adding new bonuses to your product
Adding any kind of "bonus" to your product gives you a reason to run a special offer. Here are just a few bonuses you might add to your own product:
Extra courses
Extra software
1-on-1 bonus training
Strategic partners' products
Physical products
Favorite books or resources
Checklists
New reports
New videos
Mindmaps or process maps
Anything that will help your customers use your product
When you're brainstorming which bonuses to add to your product or service, ask yourself: "Is there anything that I don't personally sell that could make my product or service even more useful to my customers?" If so, that extra item could make a fantastic bonus for a promotion.
For the best results, I recommend you only offer a particular bonus for a specific limited period. From the testing I've done, 3-5 days tend to work best in my experience.
Here's an example of a promotional page we have used at LeadPages to give away bonuses: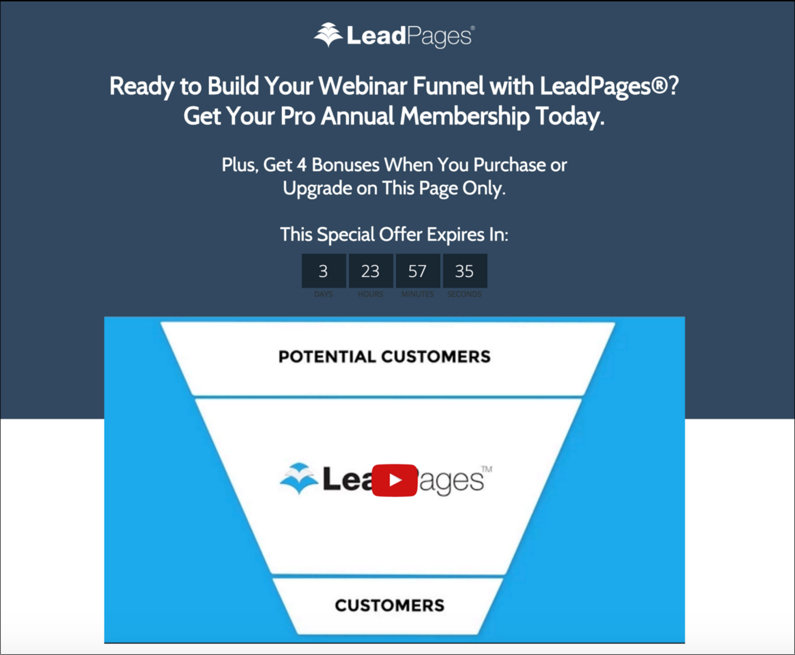 3. Removing features or bonuses from your Product
Strange as it sounds, removing a feature or bonus from your product can also give you a reason to run a limited-time promotion.
If you're planning to remove an older feature or discontinue one of your services, consider running a "last chance" promotion to get this soon-to-be-removed feature or service. (Keep in mind: you will have to continue offering this feature or service for the customers who purchase during your promotion.)
For example, let's say you run a dental office. For years, you've been offering discounted teeth cleanings every six months for patients who maintain a cavity-free lifestyle. Soon, you're planning to end these discounted cleanings for new customers.
Before you remove this 50% off discount, you might run one final promotional offer like this: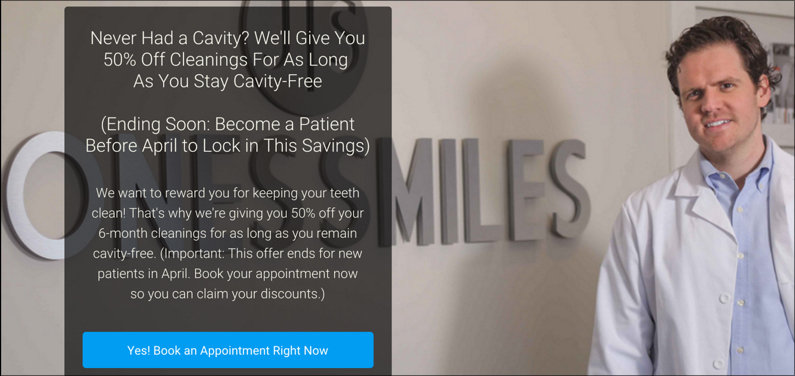 4. Announcements
Any good news or "first" for your business can be a reason to run a new promotion.
Running this kind of promotion gives you a chance to announce to the world that something new and different is happening in your business.
For example, you might run this type of promotion to announce a:
The new event you're hosting
The new webinar you're running
New product you're launching
A new book you're writing
New CEO in your company
The new franchise you're opening
The new place you're speaking
The new place you're selling your product/service
We recently ran an announcement promotion here at LeadPages to announce our first-ever Virtual Copywriting Workshop. You can check out the page below.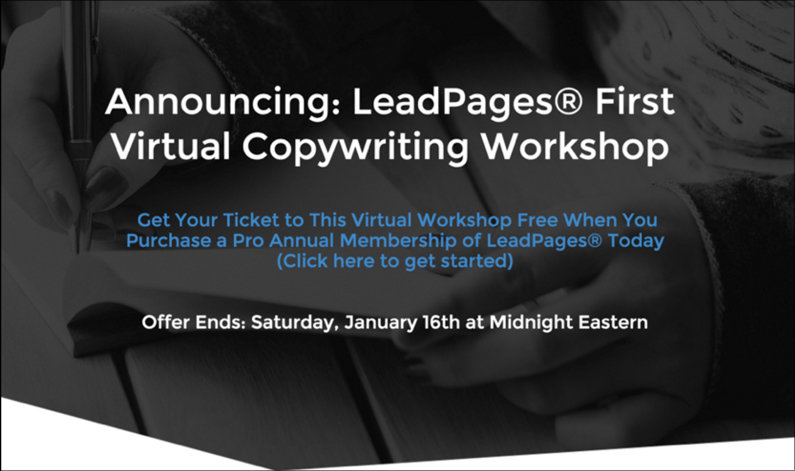 5. A new experiment
If you're testing a creative new offer, you can position it as a "new experiment" to your customers, and use this experiment as your reason to run a promotion.
For example, let's say you're testing the idea of offering coaching services to your clients.
In your sales copy, you might tell your customers that you're running an experiment to offer coaching services for the first time, so so you're giving away free 30-minute coaching sessions to the next 25 customers who purchase your product.
(As you might guess, this will also help sell your "experimental" offering on its own.)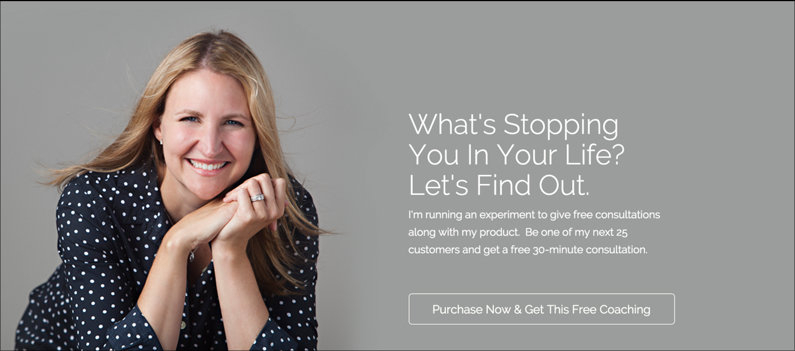 6. Holidays
Christmas. Independence Day. Black Friday. Almost any holiday can give you a reason to run a specific promotion.
Keep in mind: depending on the holiday, your customers may be busy and distracted. So be sure to give your customers plenty of time to respond to your offers.
For example, here's a promotion we ran here at LeadPages in December to ring in the holiday season (and allow our members to "give the gift of LeadPages").
7. Customer appreciation
Gratitude can be the best reason to run a promotion. It's your chance to show your appreciation for your customers and everything they do for you and your business.
You might use this type of promotion to thank your customers for:
Helping you reach your goal for the month or year
Selling out your latest conference
Your book hitting the New York Times Bestseller List
Playing a role in your latest launch
Being early adopters, or the first customers ever to purchase your product
Giving you feedback and helping you make your product even better
Giving you amazing testimonials
If you're thanking your customers, you might give them a special discount or bonus if they recommend your product/book/conference/etc. to a friend. Here's what this page might look like if you were a best-selling author: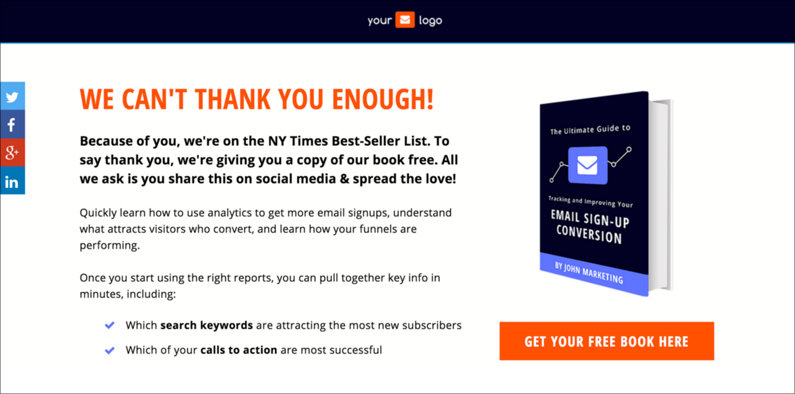 8. The specific date
Even if it's not a national holiday, a specific date can be reason enough to run an offer. Here are just a few of the specific dates that might warrant a promotion:
Your company's anniversary
A specific date in history that has personal meaning for you
The beginning or the end of a season, like the start of tax season or the end of summer vacation
An important day in your industry
For example, if you owned an ice cream franchise, you might run a promotion to honor "National Ice Cream Day" here in the U.S. (That's July 7th in case you're curious.)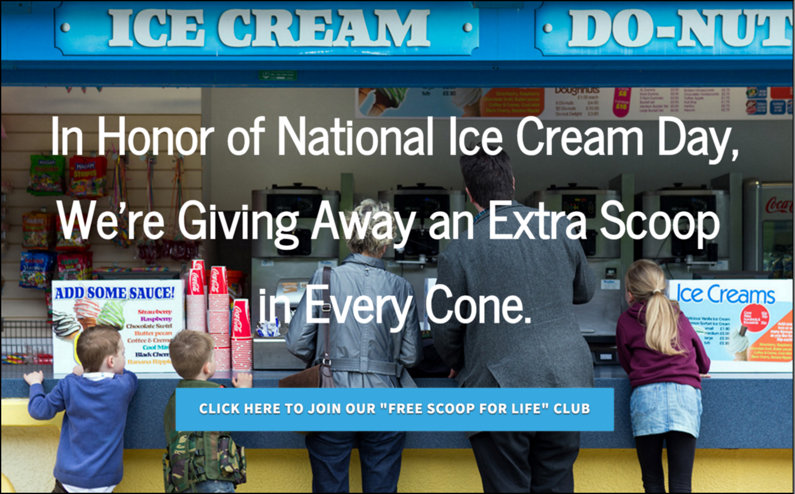 9. Consumer advocate
Is something happening in the news that impacts your business (or your customers)? Is there a problem in your community or city that your product solves?
If so, you can position yourself as a consumer advocate and use your promotion to alert your community about the problem and your solution.
You can use this type of promotion to raise awareness about a not-for-profit organization, a rising health risk (either physical or mental), new government regulations, increased criminal activity in your area, change in market conditions, or even a coming weather anomaly.
For example, let's say that you run a Florida company that installs hurricane shutters. You just heard that this summer is supposed to be the worst hurricane season in over a decade.
You could run a promotion that quotes the major news source about the coming hurricane season. You could even offer a safety guide on your website as a means to prepare for this coming season (or offer a special deadline-oriented discount to order shutters before the season begins).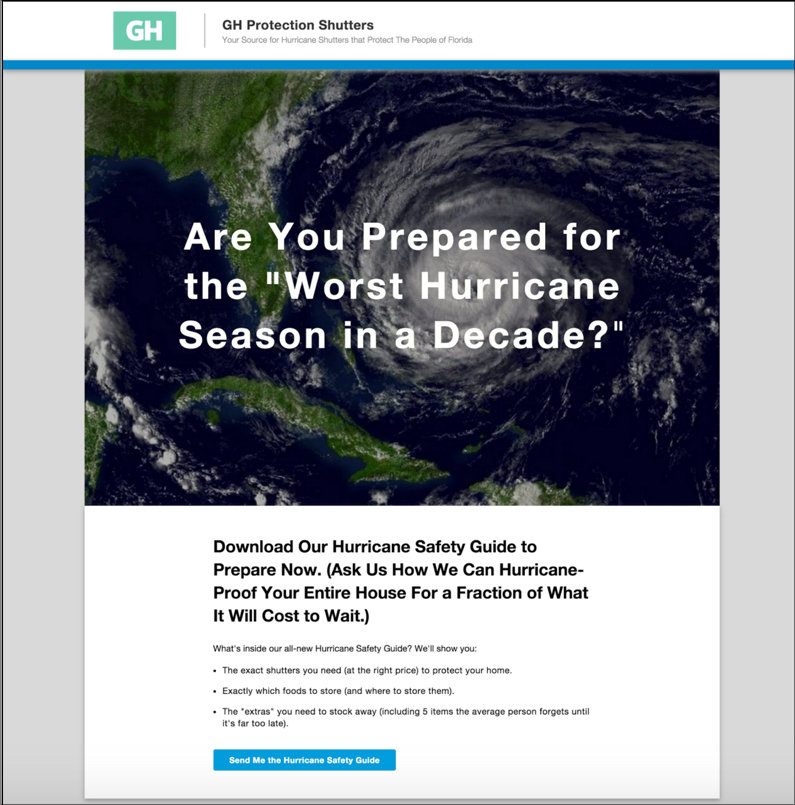 10. Presell of a new product
As a business owner, you can reward the first early adopters of your product by "pre-selling" copies of your product or service before it even launches.
(Important note: If you're in the U.S., the law requires you to deliver this product within 30 days of your customers' purchase.)
Here at LeadPages, we have a long history of rewarding early adopters. Before LeadPages even began, we allowed our first early adopters of LeadPages to join and lock in our lowest rate for memberships.
In 2014, we did this again when we rewarded the first early adopters of our text-to-opt-in product, LeadDigits. You can see how we positioned this pre-sale promotion below.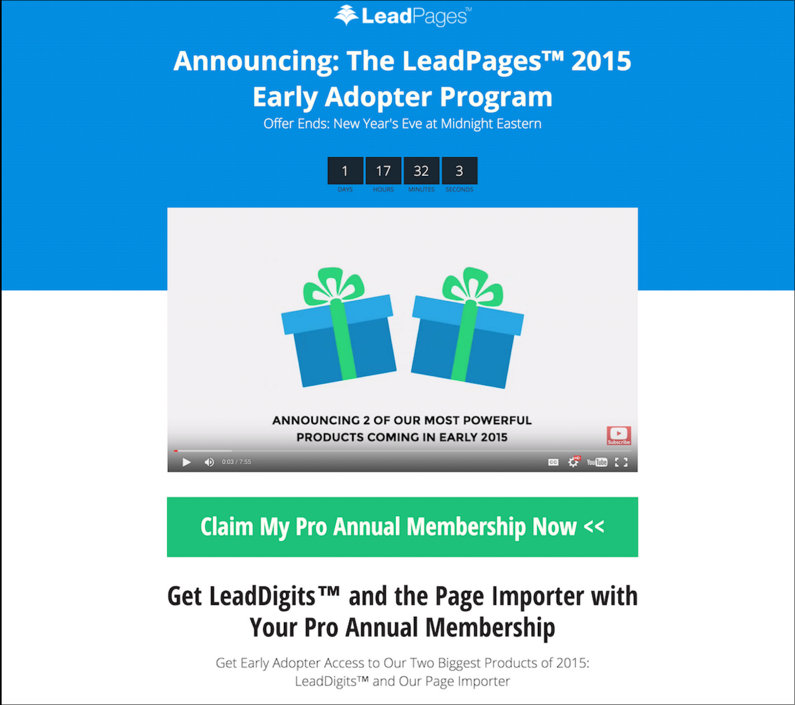 Now it's your turn
Remember: You don't have to wait to run a promotion. You can start testing new offers and promotions immediately to find out what resonates with your audience.
If you're already a LeadPages member, you can dive into your account and publish a new sales page so you can start testing new offers immediately.
As you're brainstorming your offers, keep in mind that you always should give a reason for why you're running a particular every promotion. It's what separates weak, easy-to-overlook sales pages from compelling offers that grab your customer's attention.
Before you go, tell me in the comments: What's your favorite idea above? Do you have one you'd like to start testing immediately?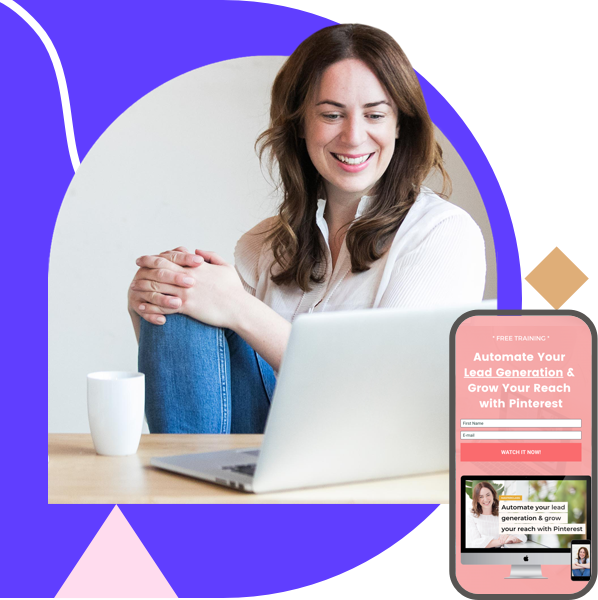 Still not a Leadpages customer?
Take a look at our platform when you start a free 14-day trial today.