Today we're going to show you how to get our new Ultimate Resource Guide Landing Page and Chapter Page along with 10 handpicked, royalty-free header images and a guide full of coordinating color schemes that will work great with the templates.
Check out these images in action: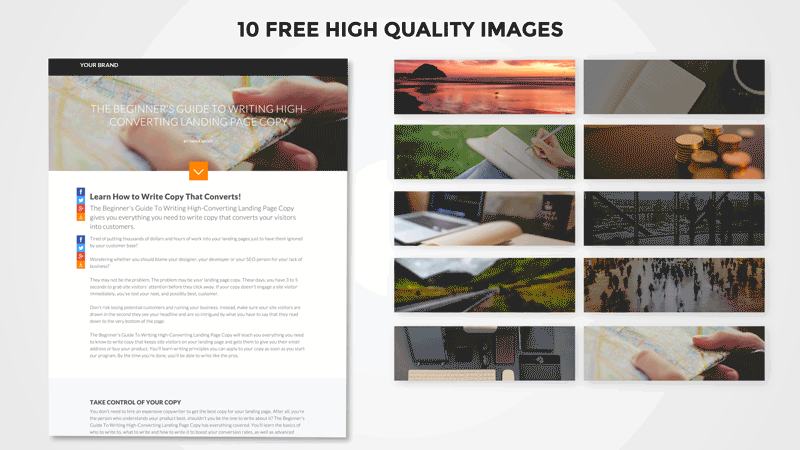 But first, let's talk about why this type of Ultimate Guide page works so well.
One surefire way to improve the search ranking of your business is by creating long-form content that brands you as an authority. For example, HelpScout published this 8-chapter guide about Customer Loyalty on their website. The guide is optimized with specific keywords so people can find the useful content in search results but also learn about the brand at the same time. In fact, if you google customer loyalty, Help Scout's guide ranks third for "customer loyalty" and gets over 8,000 searches per month.
As another example Neil Patel, the co-founder of Kissmetrics and Crazy Egg, wrote this guide for his brand Quick Sprout. This in-depth guide to building a blog audience is meant to rank highly in search engines for anyone looking to grow their blog. Once on the site, visitors not only learn valuable lessons about growing their audience, they also learn about Quick Sprout.
Having a long-form, high-quality piece of content that lots of people will find value in and want to link to is a fantastic method to rank organically for keywords related to your content.
Let's take a look at the Ultimate Guide Landing Page and Chapter Page. The Landing Page is a beautiful template for you to share an intriguing excerpt from your long-form content. The goal here is to have a blurb that entices the viewer to either download all the content with any of the numerous download buttons, or to click through to the individual chapter pages to read more.
The Chapter Page can be linked using the chapter buttons on the Landing Page. When visitors click through to the chapter page, they'll see the entire chapter—and they can read it on the page, download the chapter, or share the page with their audience.
As an added bonus for both of these pages, we're also giving away 10 custom images and coordinating color codes for you to use with these templates, or anywhere else you'd like to use them.
You can download all the files by clicking the button above. Or, if you're a LeadPages customer, you'll find the images in the image bank for these templates.
Now let's look at how easy this template is to customize and use. Using the free provided images, we've customized it as a guide to productivity, and here it's set up as a travel guide.
The best part is we customized all of these pages in just minutes. It's that easy.
To change any text, just click and type. To change an image, just select a new one. To link the Landing Page to a Chapter Page, just paste the URL of the Chapter Page here. If you want to change the colors to match your branding, you can do that here.
Now, there are two ways you can get this template. You could download the HTML, CSS, JavaScript and image files by clicking on the button above. It's free and there no strings attached. But you'll need to be a coder or hire a coder in order to customize the template to use on your site.
The second way is to sign up for a LeadPages account. Then you'll have immediate access to this template and over 100 more inside LeadPages. You'll be able to customize and publish any template without ever having to touch a line of code—so you'll save a ton of time and money.
We recommend the Pro Edition with an annual subscription, as it comes with the majority of the features our customers need and is 39% less than paying monthly. Join us at the Pro level today!