Andy Fossett and his team want to help you do a perfect handstand.
Yep, it sounds impossible to me too, but Andy's company, Gold Medal Bodies ("GMB") has helped thousands of people do just that through YouTube videos like "Handstand Tutorial – How to Do a Handstand Perfectly."
In fact, GMB linked that YouTube video's description to the split-tested landing page you see below. In today's split test, you'll see how GMB built a better landing page to turn their YouTube viewers into leads.
To determine which page was more effective, Andy and his team designed two versions of the same Basic Squeeze Page using two background photos.
Let's take a look at the options below and see which page had a significantly better conversion rate.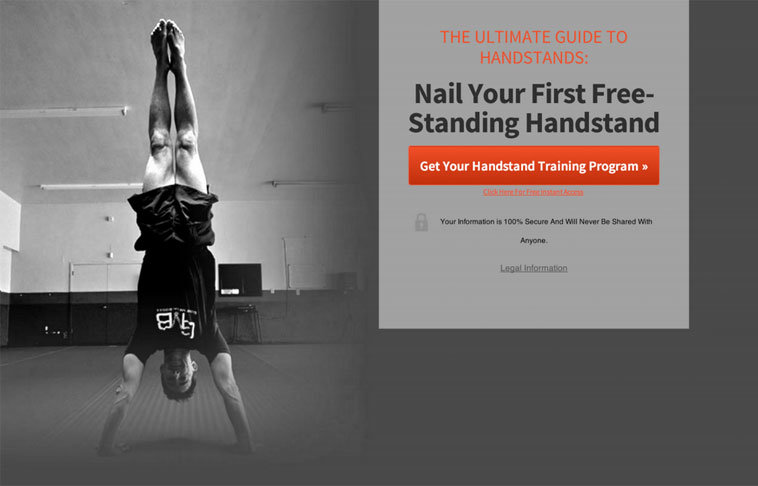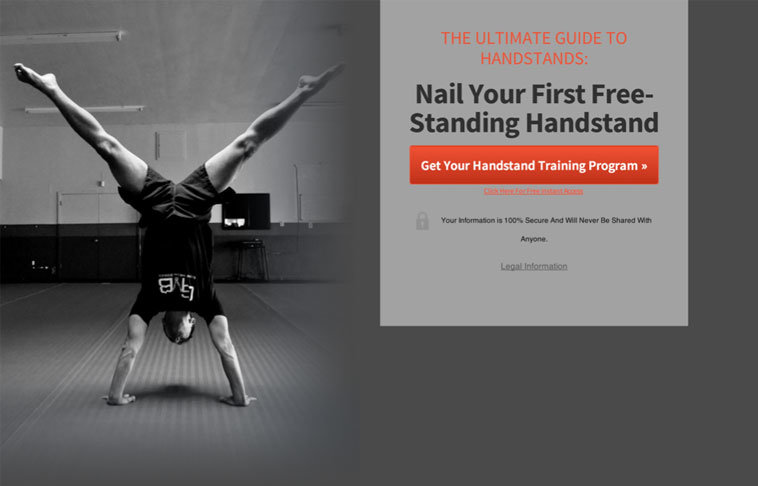 And the Winner Is…
Winner: The Split Handstand.
The Straight Body page converted approximately 46% of visitors, while the Split Handstand page improved on that for a conversion rate of 55%.
That's a 19.5% boost in conversions over the original Legs Together variation, putting the probability of outperforming the original at an impressive 96.94%.
(Keep in mind that anything over 95% is considered to be very significant here.)
With the change, GMB can expect to see an additional 100 people signing up for their exercise and fitness training programs for every 1000 visitors. On a video with hundreds of thousands of YouTube views, that's a significant improvement.
Check out the full numbers below for a full look at what happened:

Here's what Andy saw when he looked at the results of his test. Conversions and visitors are divided to become a conversion rate, which is tested for statistical significance on the right.
 Andy's Take On The Results
When I asked Andy about his reaction to this split test, he gave a fantastic response…
"We ran this test and several other similar ones to see if we could suss out some patterns on what kinds of visuals converted best in different situations.
The hypothesis was that the [split handstand] version would win, for two reasons: no distracting eye contact, less verticality to the design (keeps eyes focused on the center of the page instead of moving down).
We kind of hoped for the straight handstand to win, because it's better technique…"
So as it turns out, Andy wasn't surprised by the results.
Andy and his team use split tests like this one to spot patterns in what works best at generating conversions. This understanding gives the marketers at GMB the ability to better predict what will and won't work for lead generation.
Running Your Own Split Tests
I'd like to say thank you again to Andy and everyone at Gold Medal Bodies for sharing the results of this test with us today.
Not everything thinks to run a split test on variations of a photo, but sometimes it can pay off in a big way.
Past split tests have proven that even slight differences in photos like this can have a significant impact on conversions.
Best of all you can modify your own background in minutes using one of the many free landing page templates and built in-tools like the one Andy used in this test.
Swapping out a new headshot, using a video over a photo as a background, and at least nine more embarrassingly easy changes are all right at your fingertips.
If you're brand new to our system, this three-minute tutorial is a great place to get acquainted.
At the moment, only Pro users of LeadPages have access to our in-house split-testing tool, but any account has the option of using another split testing tool within our system. Check out the video below to learn more about upgrading your account.
That's it for today's test. Of the two photos above, which did you think deserved to win? Or why do you think the second photo with split handstand won?
Leave your responses or any other questions in the comments below. Let's continue this discussion.