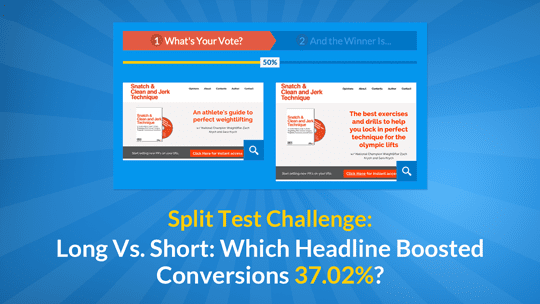 A simple change to a single line of text. . .
In essence, that's all a headline split test really is — changing a handful of words on your landing page to see which version gives you a higher conversion rate.
But even though it may seem small, this is the kind of split test that has the potential to dramatically impact your landing page conversion rate.
That's exactly what happened in the split test below from LeadPages user Doug Larson of BarBellShrugged.com, a fitness website for athletes, coaches, and gym owners.
Doug split tested two headlines on a landing page he created (using the eBook Landing Page (from Pat Flynn) LeadPages template) to give away a free weightlifting guide:
Headline #1: "An athlete's guide to perfect weightlifting"
Headline #2: "The best exercises and drills to help you lock in perfect technique for the olympic lifts"
One headline is short and general. One is long and specific. Which headline do YOU think won in this split test?
Vote below to reveal the winning split test variation and our analysis!
[split_test id="3712″]