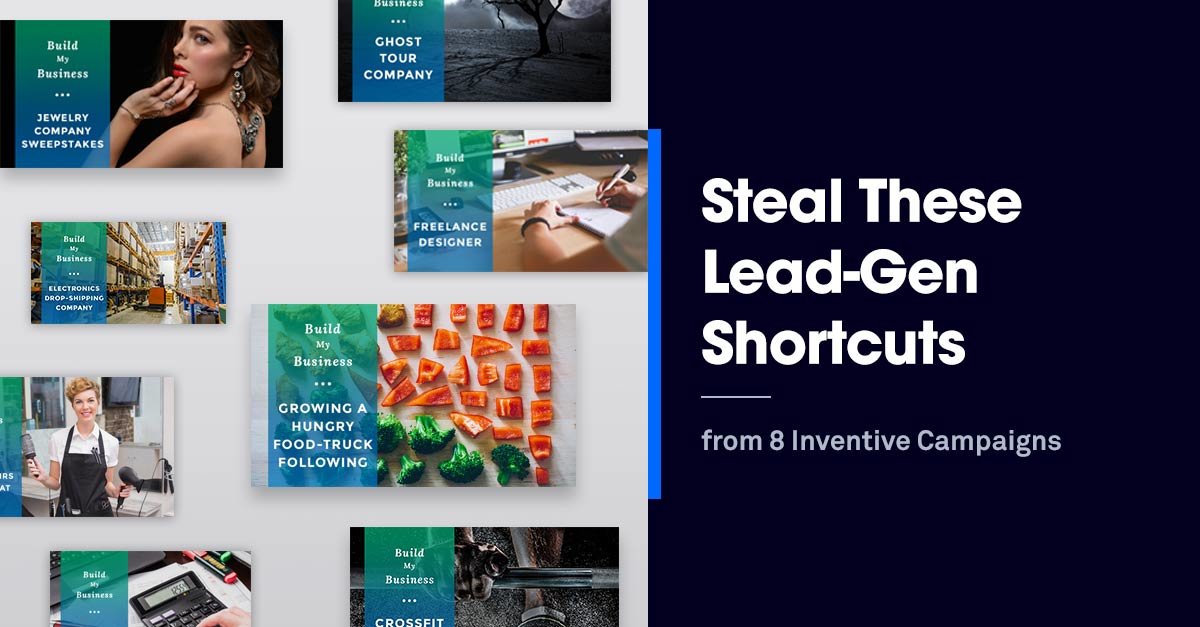 It seems like anytime I get deep in conversation with a coworker at Leadpages, I end up learning something totally unexpected about them.
Like that they had a whole other career (or two) before doing what they do now. Or they've developed extraordinarily deep expertise in a different industry through consulting. Or they're using the marketing knowledge they've developed at Leadpages to help a family member get a business off the ground.
No matter how different the paths that took these people to Leadpages, one thing always becomes clear in these conversations: they're united in their endless curiosity and drive to figure out how Leadpages can help business owners in their area of interest generate more leads and grow faster.
The Build My Business series lets them explore that question by creating start-to-finish digital marketing campaigns for a fictional (but plausible) business of their choice. In each Build My Business post, an in-house expert or hobbyist chooses a business, a goal, and a digital-marketing-driven way to get there.
There's just one thing you might have missed, even if you've read some of these posts. Many of the marketing tactics inside don't just work for the business model being considered. They have the potential to make digital marketing a lot easier for a wide variety of businesses. Today, I'm taking a look at some of the coolest and most widely applicable ways we've found to make the path between a site visitor and lead—or lead and customer—much shorter.
If you think of every eventual customer's story as a journey to conversion, these are the little workarounds that shave a couple miles off that journey.
Which of these 8 ideas could get leads into your database and customers through your door a little faster?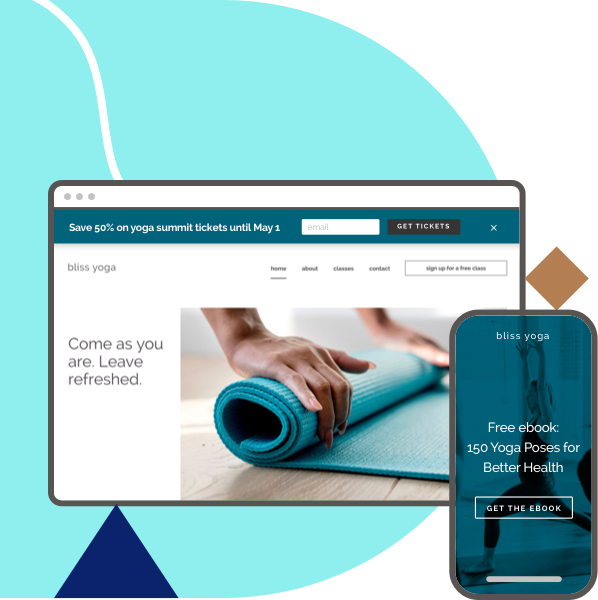 Turn clicks into customers
Leadpages helps small businesses connect with an audience, collect leads, and close sales. Easily build websites, landing pages, pop-ups, alert bars, and beyond.
1. Shorten the path
The shortcut: An effortless virtual coupon sequence.
What you need to steal it: A service-based business, a Leadpages account, and an online appointment booking system.
Plenty of people intend to use coupons. (The front of my fridge is a testament to that, though I can't say I recall the last time I handed a coupon over to a cashier.) It's frustrating if you're a business owner because someone who clips and saves your coupon is so close to coming into your shop. But typically, there's no way to give a coupon hoarder the extra nudge they need.
Unless you shift the entire sequence online. That's what Head of Marketing Automation Chris Davis did in his Build My Business: Hair Salon campaign.
When you set up a simple opt-in page such as the Coupon Page template below, you've essentially hired what Chris describes as "someone handing out coupons for your business in the mall or on the street corner … who never gets tired or goes off the clock."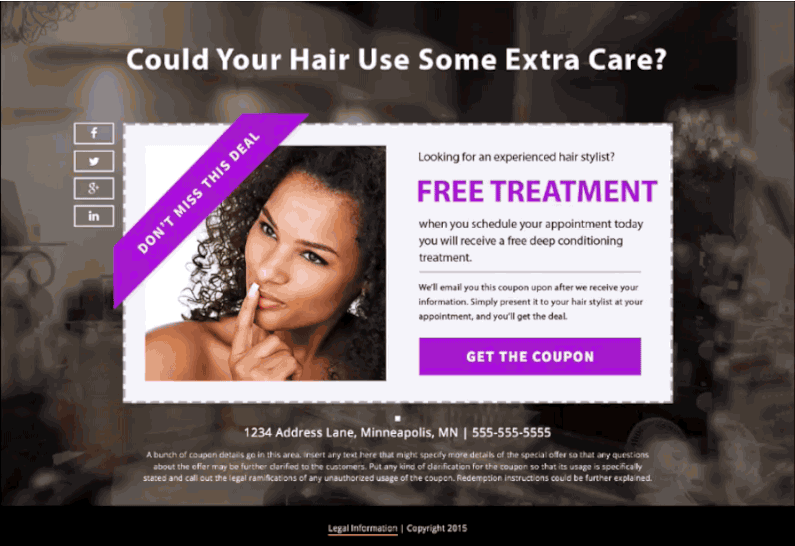 When leads opt-in, they'll automatically be sent a coupon by email. But it doesn't stop there. As soon as they've submitted their email address, they see this custom thank you page: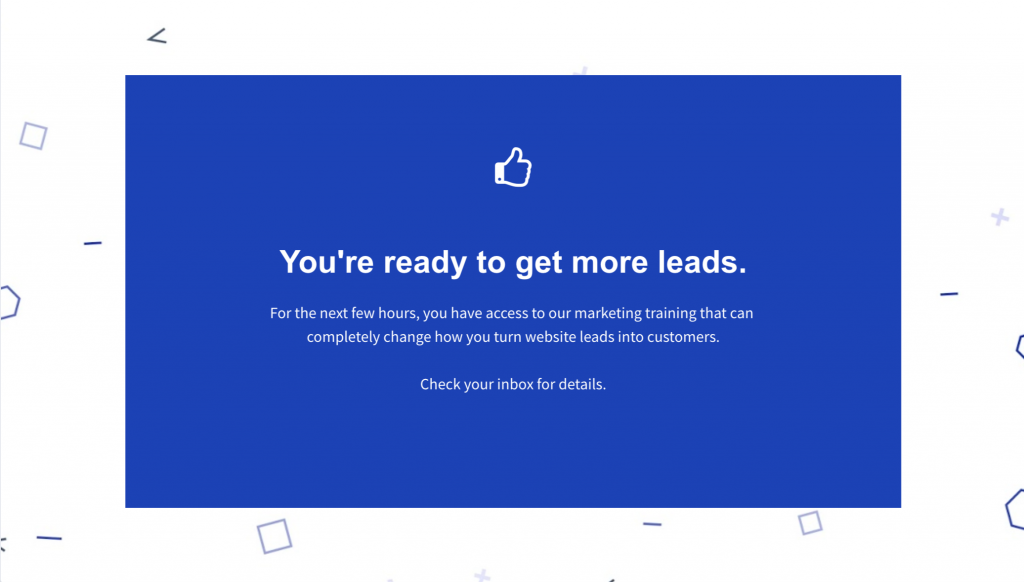 Clicking the link takes leads immediately to the salon's booking page. Carried by the momentum of this quick, easy process, why wouldn't you go ahead and lock in your appointment—and your discount—right then?
2. Cold prospect to lead
The shortcut: Content marketing on the fly.
What you need to steal it: A landing page or a homepage with an opt-in form.
Content marketing sounds brilliant—if you love creating content, which in its most basic form means lots of writing. But not every entrepreneur does, and with this idea from designer Taylor Wegner, not everyone has to.
Even if you don't mind writing every once in a while, it takes fortitude and, especially, time to do it regularly and well. That kind of commitment just doesn't make sense for some business owners, but usually, you have to commit: a blog with five posts spaced six months apart may look worse than no blog at all.
In his Build My Business: Freelance Design campaign, Taylor came up with an elegant solution: take the pressure off by blogging only occasionally—and very strategically—on the Medium platform.
To connect with the small business owners Taylor hopes would become graphic design clients, he could write occasional posts answering questions such as "How Much Should I Pay For A New Website Design?" and include a couple of links to a "free estimate" landing page throughout, ending with a focused call to action:
Not only is this strategy easier than traditional blogging, it's also likely to get more eyes on your work. On Medium, people can find your work through browsing tags and searching for relevant topics, and you can make your own work more findable by writing replies—essentially mini blog posts of their own—on other authors' posts.
And when all your Medium activity links back to a high-converting landing page or mini-site, you've got an extremely viable content-marketing-lite strategy.
3. Local prospect to lead

The shortcut: A media-friendly lead magnet.
What you need to steal it: A Leadpages account, basic design software so you can create a PDF, and a handful of relevant media contacts.
Some local business are good at attracting media attention, some are good at doing lead-gen, but it's fairly rare to see one small business succeed at both pursuits. After all, each typically takes quite a bit of time and energy on its own.
Unless you combine them in one compelling content asset. That's what I aimed to do in Build My Business: Ghost Tour Company, adapting tactics we've used successfully at Leadpages to work for a very small local business.
I call it the media-friendly lead magnet strategy. When most people think about lead magnets or opt-in bribes, they think about content that will appeal to their target audience and that will provide a natural opportunity to sell their products or services.
That's perfectly sound thinking, but there's another layer you can add to increase the return on the time you spend creating that lead magnet. You can create a resource that appeals not just to potential customers, but to the media (whether local or across your industry).
Really, it's not too different from what authors and publishing companies do all the time: give special access to their content to high-profile sources so that they can spread the word, which in turn gets them paying customers.
For my imaginary ghost tour company, I invented a lead magnet called the Map of Haunted Minnesota that I could offer on a landing page, which I could then promote via Facebook ads and organic social media posts.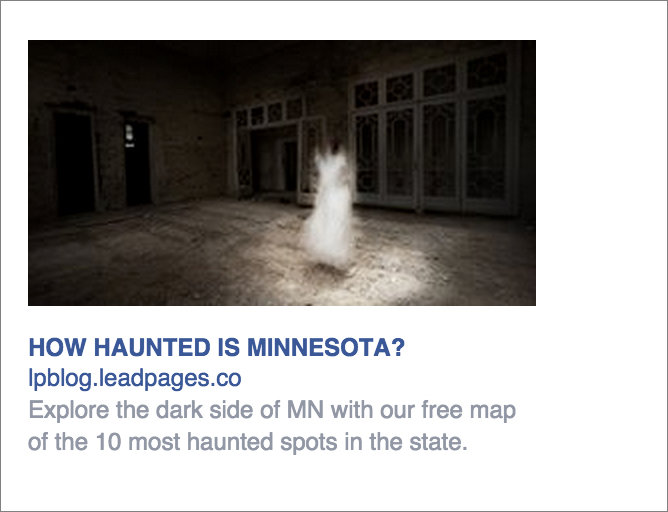 At the same time, I'd give access to the map to local media while inviting them to report on the information in my map. The result: headlines like "Local historians name the 10 most haunted places in Minnesota," which position me as an expert and give exposure to my lead magnet and my tours.
These days, it's easier than ever to generate and access interesting data, or simply to package the knowledge and research you've already accumulated into a polished PDF. Could that result in something newsworthy? It's worth some thought.
4. Partner lead to customer
The shortcut: The magazine-cover thank you page.
What you need to steal it: An opt-in offer, two landing pages (opt-in page and thank you page), and one or more pages or pieces of high-quality content elsewhere on your site.
Running a joint lead-gen campaign with a partner brand should be a win for both companies, each of which gets exposed to the other's audience. It requires walking a fine line, however.
Your joint offer needs to make obvious sense for both brands, but it can't simply merge into one or the other—if it does, the risk is that one brand's audience will never realize they're being introduced to something new. They may opt in, but then go on their way without paying much attention to the new company.
In Build My Business: Jewelry Company Sweepstakes, Affiliate accounts manager Jennifer Wagner found an appealing way to deepen the relationship between a partner's audience and your own brand after opt-in.
Her strategy depends on a fancier-than-average landing page: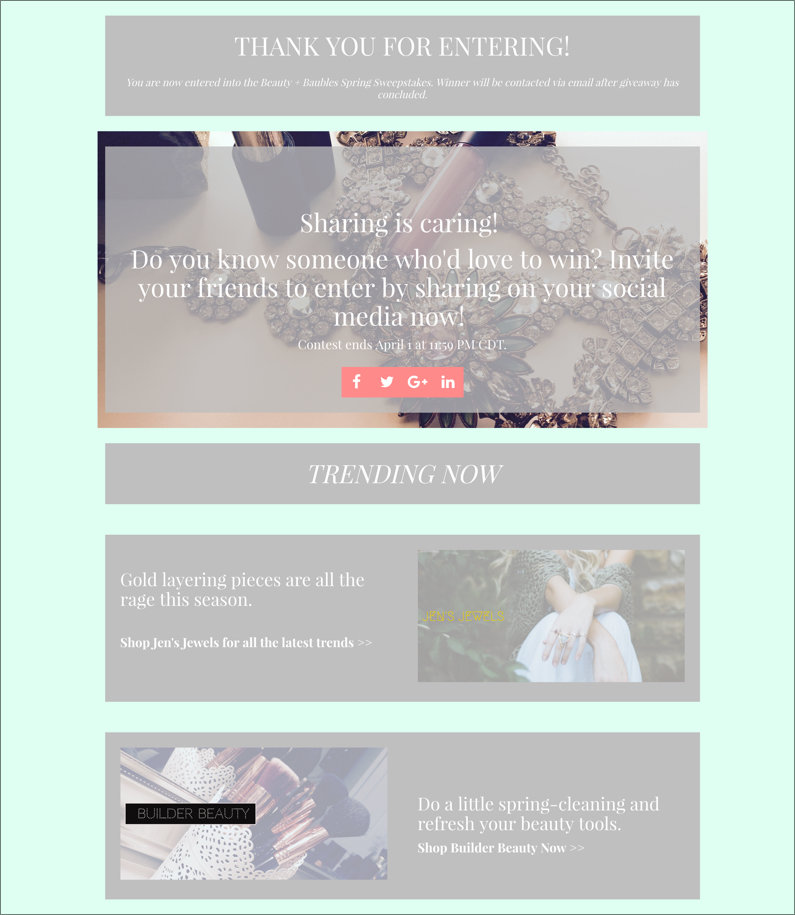 In many cases, once someone has opted in for your offer, they're still in the mood to browse and explore. By adopting the format of a fashion blog or magazine, this landing page provides appealing channels for that impulse. Rather than just sending leads to each brand's homepage, it frames their products as spring trends to investigate, not just stuff to buy.
This kind of content-gateway thank you page works especially well for e-commerce partnerships, but any business with a blog or other content can use it.
To repurpose existing content for this kind of page, think about how your content might be presented in a sidebar or in a "suggested content" widget. Adjust your headlines, imagery, and descriptions for maximum clickability, then add links to one or more top content pieces to your thank you page.
And, of course, if you're using this technique with a partner campaign, do the same thing for the content your partner would most like your audience to see. Everybody wins.
5. Turn tuned-out subscribers into customers
The shortcut: The "fork in the road" email.
What you need to steal it: An opt-in offer, a Leadpages account with trigger links, and an email marketing tool that allows for automated emails and basic segmentation.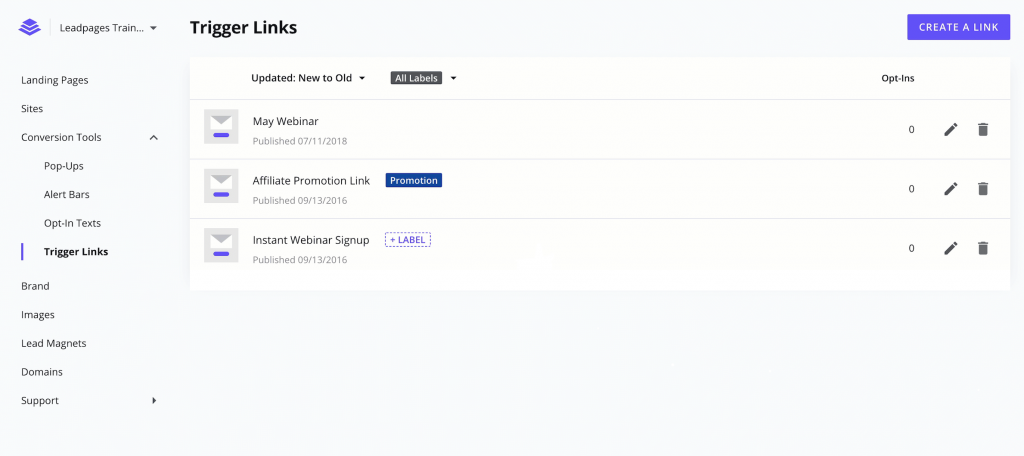 When it comes time to make a purchase, most people feel just fine doing a little preliminary research or even making the occasional impulse buy. Others aren't comfortable opening their wallets until they've compiled spreadsheets and run an extensive cost-benefit analysis.
It can feel natural to focus most of your marketing energy on the former group. They're easier to reach; they're a more reliable source of revenue. If someone doesn't convert from a lead into a customer right away, you leave them on your list and hope for the best, but otherwise, you let them be.
This can leave the slower decision-makers in your audience feeling a bit abandoned. They may decide to pause their search for whatever it is you're offering, seek out your competitors instead, or simply unsubscribe from your list if you're a frequent emailer.
Videographer Adam Ruhland has a better way, which he explained in his Build My Business: CrossFit Gym campaign. He writes:
If someone reaches the end of my "join" email sequence without becoming a paying member, it might be time to let them go—or it may just not be the right time for them to join yet. Rather than making one assumption or the other, I'll let those leads tell me the answer by adding one final email to the "join" sequence.

This email will give them the option to stay on my email list to get occasional special offers, once or twice a month at most. Since most people are unlikely to update their email subscription preferences, I'll include a trigger link they can click to join this list without leaving their inbox.
A "fork-in-the-road" email like this can tantalize leads on the verge of tuning you out, encouraging them to keep opening your emails by holding out the prospect of great offers down the road. It also gives them agency in the content they receive from you; they're more likely to open emails they've actively requested.
And that means they're more likely to become your customers. Using this tactic could shorten their decision-making process, or it could simply spell the difference between a customer who converts and one who never does.
6. Internet bargain hunter to customer
The shortcut: The e-commerce gateway.
What you need to steal it: An online store, a Leadpages account, and an email service provider.
"Most e-retailers do maintain some kind of email list," writes digital-advertising expert Andrew Scherr in Build My Business: Electronics Drop-Shipping Company. "But often, the only way they get people onto that list is by including an auto-checked 'subscribe me' box on the checkout page. I think that's a little backwards. So I devised a simple marketing campaign designed to get more online sales by putting lead-gen first."
Traffic sources such as Facebook ads can be a great fit for online retailers, especially if they offer bigger-ticket items (such as electronics) that people are likely to already be researching online. You can apply advanced targeting to reach actively interested shoppers and prompt them to click through to your site.
But what happens from that point? In some cases, visitors find themselves on a homepage offering everything under the sun, even if the ad promised something quite specific. In others, they'll end up on a certain product page—which is probably more effective, although if they don't buy during that session, retargeting ads are probably the retailer's only option to convert them.
Andrew took a third path with a short and sweet welcome page, designed to let visitors interested in a particular product category sign up for deals or move swiftly to a category page. Here's an example: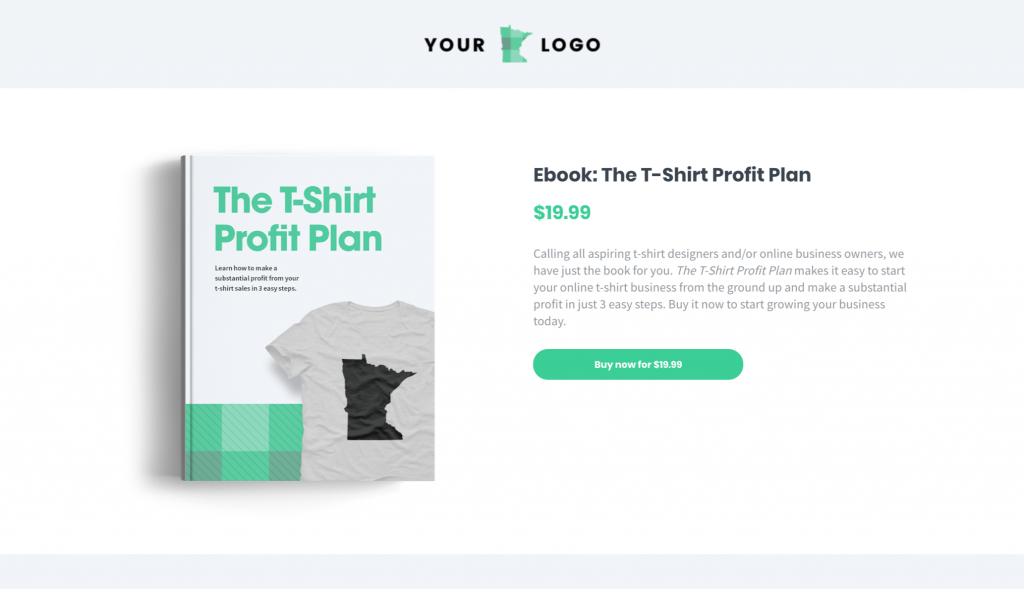 Actually, Andrew recommends building multiple versions of this gateway page, one for each product category you're advertising. He's kept the page extremely simple, the better to clone it with just a few clicks.
A page like this will get a percentage of first-time visitors onto your list, where you can reach them inexpensively down the road. As for the rest, they can click through to your main site feeling confident that you have plenty to offer in the category of product that interests them. If you have enough deals to regularly send out emails, it's likely you have a deal for them.
7. Web visit to sales call
The shortcut: The multi-channel Leadbox.
What you need to steal it: A landing page with a pop-up form.
Lots of businesses sell best in a person-to-person setting, whether they meet clients in an office or over the phone. They might have a highly traditional business model or work with people who don't consider themselves particularly tech-savvy. On the other hand, digital advertising might still be the best way for them to get the broader exposure their business needs.
In his Build My Business campaign, Marketing Automation Manager Nate Johnson explored one such business: a typical small accounting firm, for which he designed a campaign to smooth out seasonal dips.
The campaign relied on getting clients on the phone for a free consultation to discuss a new, high-value tax planning package. Nate created a lead magnet opt-in form for prospective clients to request a consultation, but he realized that not everyone likes filling out a contact form and waiting for a call.
So he did something simple but ingenious: added a phone number and let people know they were welcome to call.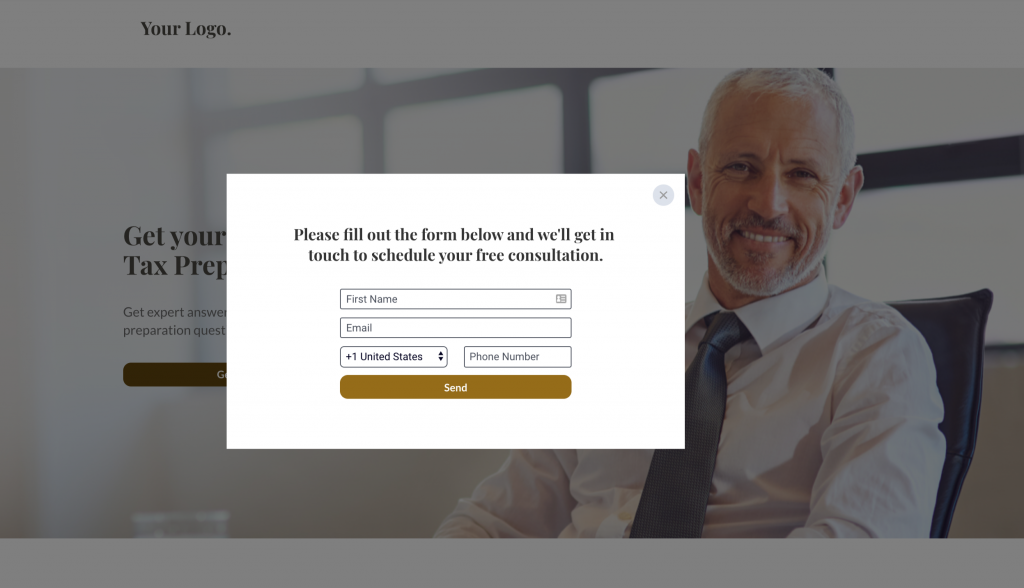 By asking prospects to mention the offer name, business owners can track how many responses they're getting from their Leadbox—even if those prospects don't submit the form.
You could even take things to the next level and ask your caller to fill in their information and submit the form while on the phone with you as part of an intake process. But either way, this tactic helps you do two things: reach email-averse audiences and tell those people you care about their preferences. That's a good foot to set off on.
8. One-time customer to repeat customer
The shortcut: Turning potential trash into marketing assets.
What you need to steal it: opt-in texts.
As marketers and entrepreneurs, we're never satisfied.
Once we've got a new customer … we immediately start thinking about how to get them to come back and become a repeat customer even sooner.
One way to do that is to keep in touch between visits or purchases—and an email list is generally the best tool for the job.
However, depending on your business, it might be pretty hard to get customers onto your list. They might use Yelp to decide you're worth checking out, pull up Google Maps to find your address, and visit your location without ever stumbling across your website and signup form.
Or, if you're like the business in Head Product Educator Jeff Wenberg's Build My Business: Food Truck campaign, you might not even have a fixed location customer that you can return to. In that case, it's especially important to keep in touch with customers—otherwise, they might be literally unable to find you.
Jeff had just the right tool in mind: opt-in texts. Customers simply text a designated message to a short number to kick off an automated text conversation asking for their email address in exchange for something good (in this case, a coupon for free food).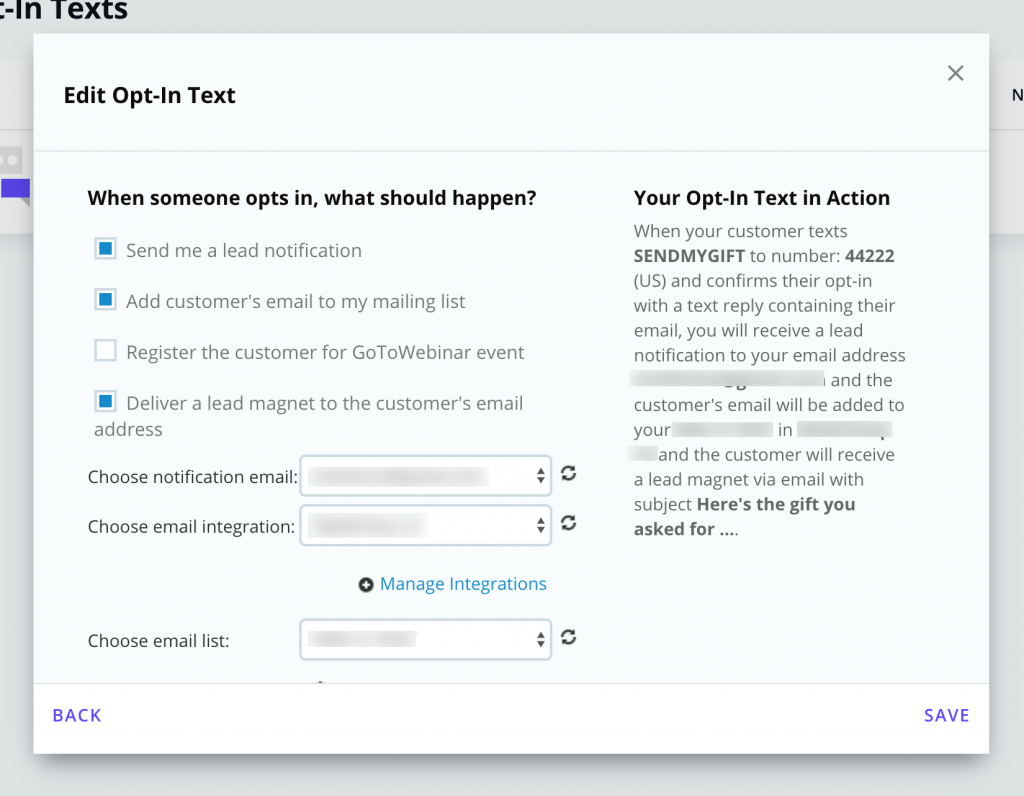 But Jeff's real innovation with this campaign is taking a look around and seeing every possible surface as a place to print his Leaddigit. Menus, paper cups, napkins, plates, the truck itself—almost everything but the food can be a medium for a call to action.
Although this strategy makes lots of sense for food-based businesses, it's a good fit for any business that gives things away on the go. Think flyers, brochures, coupons, free samples. If a call to join your list or opt in for something fun will fit, print it.
What lead-generating shortcuts have you discovered in your own industry? Could they work for other kinds of businesses? Tell us in the comments!