At Leadpages, we love our customers.
They inspire new templates, push us to build new integrations, and even suggest totally new features that we can use to improve our tools. Not to mention impressing us with their beautiful landing pages and clever marketing strategies week after week.
And when our amazing customers get together with our in-house Leadpages experts, great things can happen.
One forum for these kinds of interactions is implementation coaching calls.
Yeah, it's kind of a mouthful. But the program is simple: our Advanced level customers get an hour on the phone with a coach who'll make sure they have the knowledge they need to get the most out of their Leadpages membership.
Our implementation coaches have collectively logged hundreds of hours on these calls, and they've amassed tons of insight into how people are using Leadpages and what they can do to improve their efforts. As much as we love our customers, it seemed a little unfair to limit all that insight to people who can get our coaches on the phone.
So I rounded up five of our most experienced implementation-call superstars and started asking questions. What do people need to know the most when they start creating landing pages? What mistakes do they tend to make? What should they prioritize?
Our coaches—Will, Eric, Ben, Evan, and Drew—had lots of advice to share. And you don't need to use Leadpages in order to benefit. Many of these landing page tips shed light on best practices for anyone who's trying to get more leads online.
The team also had some great tips to share for getting the most out of your coaching call, and although I couldn't fit them all into this post, I've turned them an extra bonus for readers of this post: the How to Get the Most Out of Your Coaching Call Worksheet.
If you're considering taking advantage any kind of coaching call yourself—whether you're looking into Leadpages, business coaching, or any other kind of consultation to improve your success—you'll be better prepared and find your call far more productive if you complete this worksheet ahead of time.
Now, I'll turn the floor over to our coaches' words of wisdom:
Tip #1: A great landing page is a great start to your marketing plan—but it's not the entire thing.
"Buy thing, money will pour out."
That's how implementation coach Will Maddock jokingly sums up some users' approach to marketing software. And man, would I love to market a product with user instructions like that.
Of course, it isn't quite that simple. Which is why, coach Eric Gasior says, one of the most common questions he hears runs something like, "Once I get this page going, what do I do with it?"
Well, you need to start getting some eyes on that page. How you do that will depend on the resources you have and the goals of your business.
If you have an existing audience you're trying to reach better, you can start directing them to your landing page via any channels you currently use to reach them, such as social media. If you're a blogger, you can link to your landing pages in guest posts. If you're up for some research and a bit of a slower climb, you can dig into SEO optimization and aim to show up in organic search results.
But to reach totally new audiences quickly, you'll likely want to consider some form of paid media. Google AdWords and Facebook Ads are two tools that many beginning web marketers find successful (and economical). For an introduction to each, our coaches often direct callers to free resources like these:
Tip #2: If you're only using landing pages, you're missing (at least) half the picture.
This may have been the most surprising thing I learned when I talked to our coaches.
It's totally possible to use Leadpages for six months…and never once set up a pop-up.
Yep—it turns out that one of our biggest features is news to some customers.
If you've never heard of pop-ups either, let me explain.
A pop-up is a form that prompts site visitors to take action—perhaps by subscribing to your newsletter or opting in to download a free guide or white paper. It can be triggered when someone clicks a text link or a site button, or you can set one up to appear after visitors have been on a page for a certain length of time—or even when they make moves to exit that page.
Here's how they look in action: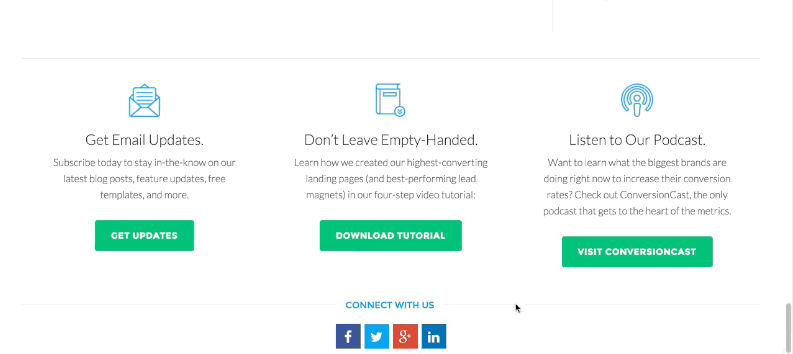 The options are nearly endless. You can use them to add people to an email list, register them for a webinar, schedule a consultation, or automatically send them information. You can simultaneously store that information in your email service provider or your CRM (or simply have it emailed to you automatically).
So why does it take some time for the power of pop-ups to sink in? Implementation coach Drew Mooney has a theory: pop-up windows are "so prevalent across the web in so many forms, I think people are just desensitized to them and don't think about how they could use them."
Tip #3: A call-to-action button doesn't have to be boring.
Theory number 2 about why people overlook pop-ups comes from Eric: "Some people see it and they think, oh, it's a box."
But there's no reason your pop-up has to spring from a plain old rectangle or a "click here" link. In fact, you can turn just about any object on any page into a pop-up trigger, including photo images and ads. Says coach Evan Blotner:
"A lot of people do not know the cool stuff that they can do with pop-ups. That's really fun, because you can show them some of the nifty tricks that you can do. . . You can trigger a LeadBox™ with banner ads, you can do that with sidebar ads, all kinds of places."
And pop-ups definitely aren't confined to your landing pages. You can place them on your homepage, on your blog, or even in guest posts on other blogs if you're a guest blogger.
Being able to turn anything into a pop-up trigger means you can get really creative in crafting your call to action. And that lets you capture more attention and, ultimately, more leads.
Tip #4: Don't miss out on opportunities to collect opt-ins offline.
"If you go to a conference, this will make your life much easier," says Will.
He's talking about another lead-generation tool that flies slightly under the radar: opt-in texts. It's getting impressive results for the customers who do know about it, and perhaps most impressive is the fact that it doesn't require a landing page (or even an internet connection) at all: "You can just give out that opt-in text to people and you can get them on your email list right there during the conference."
That works way faster than handing out a brochure or business card.
It happens like this: leads text an alphanumeric code that you choose to a specific number in order to get information or a giveaway that you're offering.
For example, if you were giving away a coffee-shop coupon, you could put out a chalkboard sign asking people to text "FREECOFFEE" in order to get the coupon via email. Upon texting and being prompted to reply with their email address, they'd automatically be sent the coupon and be added to your email list.
Eric says he especially loves introducing people to opt-in texts: "Everybody loves it. Once they see it, they're like, 'Wow, that's super easy, and I already know 50 things I can do with it.'"
Tip #5: Never underestimate the power of a link.
Trigger links aren't as pretty as pop-ups. They're not as immediately exciting as opt-in texts™.
But their strength lies in their simplicity, and in their ability to go where other lead-generation tools don't: into email inboxes.
Implementation coach Ben Dlugiewicz explains: "If you were working with an affiliate that had 10,000 email addresses on their list, you could send out that trigger link [to the affiliate list], and everyone who clicks on it will be added to your list. When people hear about that, they're just like, 'What?!'"
These simple URLs allow you to capture opt-ins from anyone reading your email through a single click. That means you can do things like sign people up for a different email list, or even register them for a webinar—without requiring any other information from them.
Tip #6: Facebook's more customizable than most people realize.
As a business, what can you do with Facebook?
If you're like most entrepreneurs, you might answer: set up a fan page. Interact with customers. Maybe run some paid advertising.
But there's one other possibility that many people miss: custom tabs.
"A lot of times, people think that they have to go through Facebook's advertising system and post it that way," notes Evan. "They don't realize that you can actually publish a page to Facebook."
That's right: any page you create with Leadpages can be published as a custom tab directly to Facebook. Here's an example of a custom tab we use so people can opt into our webinar right on the Leadpages fan page: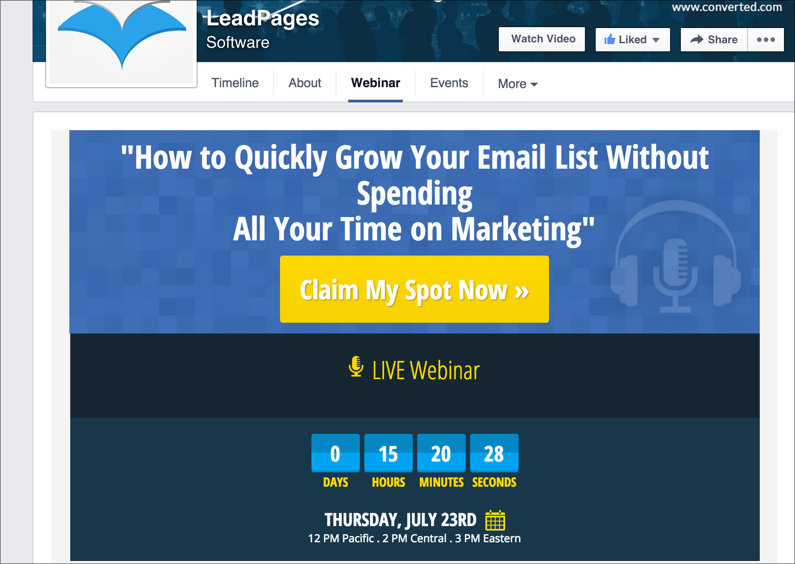 Not only does a custom tab give you the freedom to present content in a drastically different way from the rest of Facebook's interface, it lets you collect email addresses and send content to people who visit your Facebook page. And since it can be difficult to reach even your followers en masse on Facebook, that's a very good thing.
Tip #7: Lead-gen on the web isn't just for web-based entrepreneurs.
I asked our implementation coaches to tell me about the most interesting businesses they'd worked with who were finding success with our lead-generation tools. Here are some of the cool customers they talked to:
Will: "There's one guy that sticks in my mind—I thought it was just the coolest thing, what he does. He was a standup comedian/performer. I remember the first thing I thought was: I have to show this guy opt-in texts. Fortunately, he had already discovered opt-in texts and was using it to great success!"
Drew: "I randomly spoke to a guy who was in my hometown in Maryland and who ran a business bike touring, which is a personal hobby of mine. I was so excited to talk to that guy—I was like, 'Oh my god, I used to live on this street! And biking . . . The odds!'"
Eric: "I spoke to someone who was part of a sports club, and he built a page using the e-commerce template. He had switched the product photos out to be a season recap of all the games—I'd never seen anything like that."
Ben: "A lot of people I've talked to are with already established businesses just looking for a way to optimize everything. . . . I had one guy who was helping people build their own homes in the United Kingdom. So it's kind of neat that we get to talk to people all over the world."
Tip #8: Before you make a landing page, make a plan.
No good landing page is an island.
That means that if a landing page works at all, it'll work within the context of the rest of your marketing strategy. Creating landing pages that don't take that context into account is likely to result in mixed messaging and wasted work.
Drew reports that some people are tempted to get started "without a solid idea of what they're using Leadpages for—a lot people who want good results but don't have a plan necessarily. I start every call by asking people what brought them to Leadpages and what they're trying to accomplish, and if they don't have an answer, it's back to square one. Sure, let's cover how to do some basic things, but you obviously still have work to do on taking what you've built with Leadpages and getting it out there."
On the flipside, people with well-defined marketing goals tend to take away much more from their coaching calls: "I show them how to use these tools, and when we're done, they have a product they can actually take and go market with and do something with their business," Drew says.
Tip #9: Let your landing-page template guide your content choices.
Leadpages landing-page templates are designed to look good and convert well right out of the box, and if you want to retain those benefits in your own work, there may be a limit to the number of changes you should make.
Ben observes two common mistakes when people start adding content to their landing pages. In general, "Less is more, a lot of times. Sometimes people want to cram a lot of content into content-holders that are just designed for headlines."
Second, when it comes to images, "Use the recommended size in the template—there's a recommended size for pretty much every image. So if you use an image that's too big, it's going to shrink to that size. If you use something too small, it's going to blow up." And pixelation isn't a good look for any page.
In other words: if a box is a certain size, it's probably sized that way for a reason.
If you do find you're struggling to fit lots of crucial content in a space that isn't quite right, consider looking for a different template—there are more than 100 in our standard template library alone, with options for all different page lengths and image- and text-heavy formats alike.
Tip #10: For greater credibility, pay attention to your colors and your copy.
Using a landing-page builder puts the power of potentially wild experimentation in your hands. But when you do take creative risks, consider running the results by a neutral observer before presenting your page to the world. Ben frequently notices three creative elements that can harm or help a page's credibility dramatically.
One, he says, is "Color choices. I'm partially colorblind, and if something hurts my eyes, I'm like, 'That's probably not good.'"
Photography and graphics also matter. "Using high-quality images, captivating images" can create a far more engaging experience for page visitors, Ben says. But if you don't have excellent images of your own, you may be better off sticking to the ones in the Leadpages image bank.
Finally, the words matter, too. "Having compelling text that's persuasive and informative at the same time" is how Ben frames his gold standard for landing-page writing. It doesn't need to be flashy, but these elements are key.
Attention to these details doesn't mean spending all your time there, however . . .
Tip #11: Beware the devil in the details.
Here's a quirk of mine: I find aesthetic customization way more fun than it really ought to be.
Though I may know it's sort of pointless, I can get sucked into changing blog theme colors or playing with fonts for an hour at a time.
From what our implementation coaches tell me, I'm far from alone in this habit—but when it comes to creating landing pages, it's a habit we should all break. Here's Eric:
"A lot of people focus on really, really small details with templates, versus thinking about how templates are going to flow, and where you're getting your traffic from—even what kind of value you're offering. People sometimes don't think about that. They just build a page and they see that one letter is maybe not kerned quite right. And that's a problem, definitely, but if you can make a compelling case for your product, people are not going to notice that one little design error."
The takeaway: focus on the design elements that are most likely to drive engagement and credibility, then move on.
Tip #12: To save yourself some trouble, hit save. A lot.
This is a small tip, but an important one. (Ask me how I know.)
There's nothing more frustrating than finishing your work, blithely closing the window . . . and then checking back to find it's disappeared without a trace.
To prevent it, our implementation coaches recommend you get into this habit: as you customize each section of your page or pop-up, after making your selection or clicking "Okay," hit the Save button right then and there. After an editing session or two, you'll internalize this rhythm and make it far less likely that you'll absentmindedly click away and lose your hard work.
Tip #13: Keep track of what you're split testing.
"Split testing can be very confusing to someone who's just starting out," Ben notes. "A lot of times they stumble into creating a split test. They're like, 'I made these changes to my page—why aren't they updating'? And I'll look in there and they'll have another variation—you're making it on the original, but you didn't make it on the variation."
Let's back up and look at how to avoid this kind of confusion.
The Leadpages split-testing tool is a simple way to accurately assess which of multiple versions of a landing page or pop-up prompts a higher percentage of page visitors to opt in. When you set up a split test, our system serves one of your variations at random to each visitor who opts in. After a certain amount of time, you can assess which page or pop-up is the "winner" and make it your new standard.
The key is to remember when you've set up a split test—and remember to check up on the results, because the whole point of split testing is to make a decision. When you look at your split-test analytics dashboard, you'll see a column marked Probability of Outperforming the Original. Once this number reaches the high 90s, you should feel free to declare a winner and stop the test.
You can do that in two ways. First, you could simply delete the losing page or pop-up. But if you're too soft-hearted for that, you have another option. In your dashboard, take the Priority slider for the losing variation and move it all the way down to 0, ensuring that 100% of your visitors will see the triumphant version.
Tip #14: There is such a thing as too much optimization.
If you find you're sinking tons of time into split-testing minor variations of just a couple of landing pages—well, first, congratulate yourself on becoming a split-testing whiz.
But then, back away from the dashboard. At least until you've built some more pages. Evan reports:
"A common thing that we see with people is that we come in and they've only got four or five pages, and zero pop-ups. They're not creating enough content. Clay [Collins, our CEO] repeatedly brings up the number of opt-in points to have on a website."
Indeed, recent research suggests that the ideal number of opt-in points for a successful business is almost shockingly high—HubSpot has reported that conversion-rate gains seem to keep increasing substantially even after the 40-landing-page mark.
Does that mean you should just start churning out pages as fast as you can? Probably not—but there is some a middle ground. Here's Evan again:
"At a certain point, the quality does start to matter more than the quantity, but in a lot of cases people are falling so short on the quantity. They're getting focused on the wrong elements—or maybe not the most efficient elements of what they're doing."
Tip #15: Don't panic.
I asked Will what most often holds back new customers from achieving success as soon as they could. He says simply: "They're timid. They lack confidence in their ability to use [Leadpages]."
Thankfully, that's nothing that 10 minutes exploring the landing-page builder—at a slow pace, with no pressure to get things right the first time around—can't solve. You can create all the Leadpages and pop-ups you want without publishing them, so you have a totally safe practice environment to play in.
Proof that this approach works? When I asked our coaches about the main piece of feedback on LeadPages they've received during these calls, they all agreed: it's so easy.
Tip #16: To connect the dots faster, seek out human connection.

Often, when you're mastering a new marketing tool, you'll learn a lot faster if someone's working with you. Our coaches all said they wish they had enough hours in the day to be able to offer implementation coaching to everyone. I'll leave it to them to sum up the benefits they've found in this kind of one-on-one connection:
Will: "Who else does this? . . . Granted, for [larger] companies, it's probably logistically impossible—but think about how powerful that would be if a new version of Windows came out and they had a link that just allowed you to sign up for a one-hour session where one of their technicians walks you through all the new features. That'd be amazing! I think it's a fantastic program that we do that nobody else really does."
Eric: "Everybody comes in nervous and shaky . . . and almost everyone leaves feeling way, way more confident after their call."
Evan: "We're giving them a one-on-one webinar."
Drew: "I've had people in Australia talk to me at 2 a.m.—I'm like, 'Do you want to reschedule? If this is not a good time, we can do this in the early morning for you. . .' And they're like, 'No, me and my business partner got up because we're really dedicated and we want to succeed.' People really want to succeed with their small businesses, and when you can give them an hour of your time and your education—they would probably pay a lot of money for that, and the fact that we're including it with the subscription is a huge value to them."
It's a good practice for any new skill you're trying to pick up: seek out a community of people who are a little further down the road than you, and soak up their best advice.
Did anything our coaches revealed here surprise you? What's the best piece of lead-generation advice you ever got? Let us know in the comments!