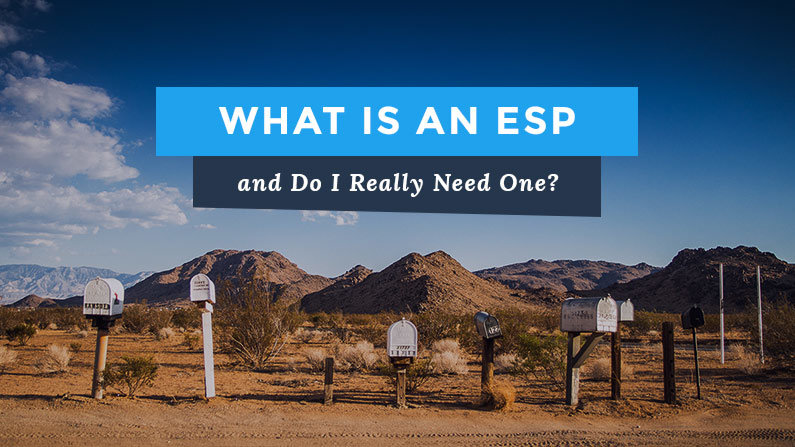 ESP is an invaluable tool for marketers. Think about it: with extrasensory perception giving you the ability to just know what customers are going to do at any given moment … you'd be unstoppable.
Fortunately or unfortunately (depending on whether you count yourself among the psychically gifted), that's not quite what I'm talking about in this post. This kind of ESP is a different kind of tool, and it's accessible even to those who weren't born atop a Ouija board under a full moon.
Despite that, an email service provider (ESP) can allow you to accomplish feats of marketing that verge on the uncanny. Use your ESP well, and your leads may find themselves wondering just how you've managed to be so in tune with their interests.
We'll explore some of that in a little bit. But first, let's look at a few questions new entrepreneurs and marketers tend to have about ESPs when they're first starting out.
What is an ESP exactly? What does it do?
Also called an email marketing service, an email service provider allows you to do (at minimum) two main things:
Store email addresses for people who have opted into your email lists

Send emails to those people
In practice, ESPs have many more features and functions, such as templates that let you design emails with professional-looking graphics, advance scheduling, and the ability to segment your lists based on subscriber behavior.
We'll take a closer look at those benefits below. At this point, though, another question tends to come up.
"Sure, all that sounds nice," many DIY marketers say. "But …"
Why can't I just send marketing emails straight from my email address?
Well, it's probably possible, if a little labor-intensive. But that doesn't mean you should do it.
For one thing, you have to think about the CAN-SPAM Act.
Even you're not flooding inboxes with incoherent missives about cheap pharmaceuticals and free money—even if you think there's no way in the world someone could mistake you for a spammer—if you're sending promotional email blasts directly from your own email address, it's very possible that you're violating the CAN-SPAM Act in some way.
CAN-SPAM was passed in 2003, and it sets a few standards for all businesses that market—to anyone, in any fashion—via email. Using an ESP makes complying with several of these standards easier, specifically:
Identifying your company as the sender
Stating your physical mailing address
Including a way to unsubscribe from the mailing list
Honoring opt-out requests within 10 business days
Those things are pretty basic, but it's important to get them right every single time: violations can cost you up to $16,000 per email. ESP software will help you include your identifying information in the right places and—crucially—fulfill unsubscribe requests automatically when someone decides to opt out.
And you really don't want to be holding your subscribers hostage. People swiftly come to resent companies that send them excessive and unwanted email, especially if they never even opted into the list in the first place. Like knocking on a stranger's door at dinner time, adding strangers to your email list unannounced isn't against the law, but it definitely isn't polite.
Ok, what can an ESP do that my regular email client can't?
There are many other practical reasons to do your marketing with the help of an ESP. Here are a few:
It keeps you organized. When you use an ESP, there's no digging through spreadsheets of contacts or entering names into the BCC field one by one. Your leads' contact information is saved to your ESP account automatically when someone opts into your email list online—and you can keep track of where those leads came from by setting up different lists for different sources.
It saves time. Aside from streamlining your lead collection process, ESPs allow you to schedule emails in advance. That means you can choose the optimal time to deliver without taking time out of your day to send.
But even better is your ability to create autoresponder sequences. If nothing else, you're probably familiar with the idea of an autoresponder from your own email: when you go out of town, you can set up an automatic response to anyone who emails you during a certain window of time. ESPs allow for much more complex autoresponders.
For instance, say someone opts into your list to download a free e-book. You might set up an autoresponder that sends them a welcome email right away, an article related to the topic of the e-book the next week, and a link to a sales page the week after that. And your campaigns can get much more elaborate from there.
It lets you understand and target your leads better. Another powerful capability of an ESP is segmentation. This means you can create different sub-lists to send different groups of leads messages that are appropriate to their relationship with your business.
With an ESP, you can separate out your new leads from your existing customers; people who open every email from people who rarely do; people who encountered your business via a landing page from people who started at your home page. And you can tag and market to them all accordingly.
It gives you the data you need to market better. When you send an email from your personal account, you send it off into the great unknown. You'll know someone's received it if they reply to you or mention it later, but otherwise you have no idea what happens after you pressed Send.
An ESP will fill in the blanks. Deliverability rate, open rate, click-through rate, unsubscribe rate … you can easily see how well your emails are connecting with your leads, and fine-tune them to do even better next time. Some ESPs even allow for A/B testing so you can see which of two subject lines, images, or totally different offers gets better results.
How Is an ESP different from a Lead-Gen platform like Leadpages?
An ESP and a lead-gen platform like Leadpages have different but complementary jobs. They're both much stronger together.
You can see how they work together by imagining a sequence of events like this one:
1. Someone visits your Leadpages landing page.
2. That person enters their email address into the LeadBox™ opt-in form that pops up.
3. Leadpages passes that email address to your ESP, where it's stored in whatever list you've set up for that opt-in form.
4. Now you can use your ESP to send any kind of automated or broadcast email you like to that person.
It's understandable that new marketers can get a little confused about the difference between these tools, because some of their functions can indeed overlap. When you use Leadpages, you get access to our lead magnet delivery system, which is a sort of very simple autoresponder: when someone opts in, you can send them something automatically, and get notified that they've opted in via Lead Notifications. But you won't be able to send additional follow-up emails from your Leadpages account.
Likewise, some ESPs let you create simple opt-in forms, but they tend to be less powerful than tools that are designed specifically to capture leads. We'd recommend letting each kind of tool do what it does the best. (Plus, that way, if you ever decide to change ESPs, you won't lose the lead-gen pages and forms you've created.)
Is an ESP different from a CRM?
Yes. CRM stands for customer relationship management software. While some CRM platforms also have the ability to send emails, you're unlikely to need a full CRM if you're just starting out as a solo entrepreneur.
A CRM (such as Infusionsoft or Salesforce) collects all the information you have on each of your contacts and organizes it in an easy-to-use database. It can also do things such as assign scores to your leads so you can tell which ones are most likely to buy.
If your business has an actual sales team making direct contact with prospects, you'll probably want a CRM. For other kinds of small businesses, it's less likely to be a key part of your marketing stack.
Sounds Like I should get an ESP!
You have dozens of options to consider when you're shopping for an ESP, and with free trials and low month-to-month pricing plans widely available, you don't necessarily have to feel locked into the first ESP you try.
Leadpages integrates with many other ESPs. (It only takes a few clicks to link your accounts.) Here's a quick guide:
And you can expect that list to expand as time goes on.
Have any more questions about ESPs that we can clear up here? Ask us in the comments!