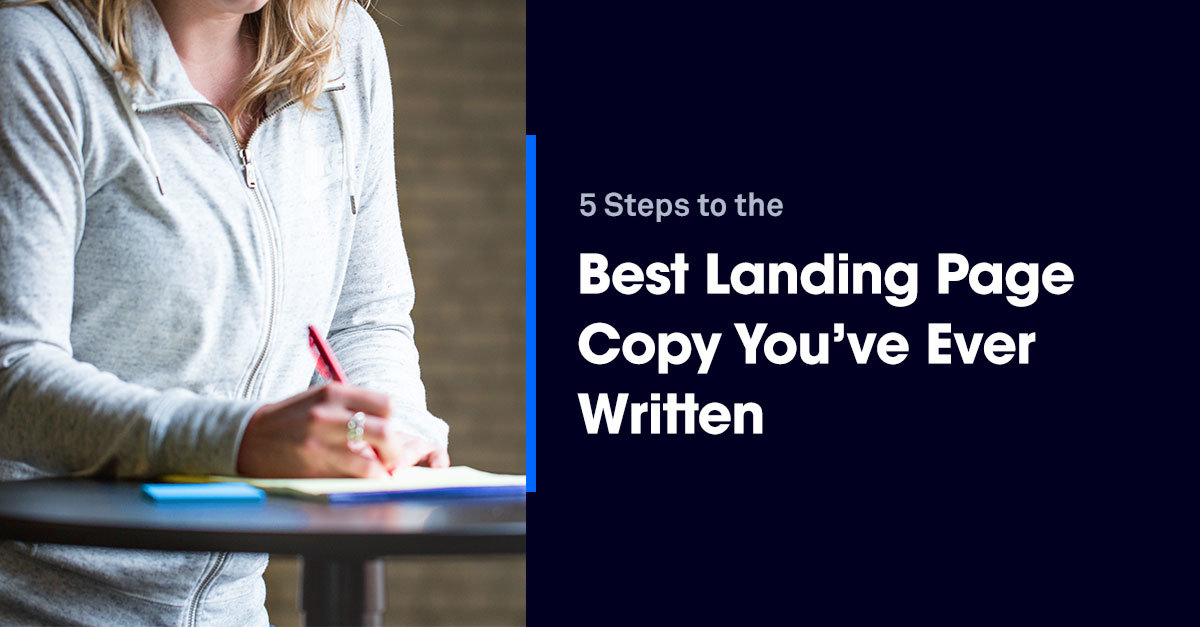 I'm a writer, both by education and by trade.
I have an English degree with a creative writing emphasis … and I have a very embarrassing fact to share with you.
Ready?
It took me two and a half days to write out a first sentence for this post.
I know what you're thinking: "Really? It took you two days to write that? It's not even all that magical or interesting! What were you doing for two days?!"
The simple answer is: I had an awful case of blank page syndrome. I started and restarted; wrote and deleted. I broke focus and diverted my attention to other tasks that felt more pressing … Like trying to curate the perfect mood playlist on Spotify that I was certain would make the words flow from my fingertips!
We all know that writing good copy for our businesses is important—but that doesn't necessarily make it any easier. The truth is: if you want your landing page to really work—if you want better results and more conversions—your landing page copy has to be good.
Not perfect. Not incredible. Not even great. It just needs to be good.


Good copy creates clarity in a world of short attention spans. It positions any business owner as an intelligent expert, and it helps your prospects know exactly what you have to offer, and then tells them how to go seize it.
At Leadpages, we've spent a lot of time writing, creating, analyzing, and critiquing landing pages. And over the years, we've learned a lot about what makes for good landing page copy. The expertise in this space is admittedly crowded, and I've by no means written the definitive rulebook on writing landing pages here (at least not yet).
But we still want to talk through how to nail the five most essential pieces of landing page copy that everyone needs to be able to rock. A few copy tweaks here, and a couple word choice improvements there will mean more conversions for your business—and that means more money in your pocket.
Let's dive in.
Before You Write … You Must Write!
I'm talking about prewriting here.
It might feel like a tad more effort at the start, but try not to think of it as additional work – even a little prewriting can be hugely helpful in setting your landing page up for success. In fact, with a little care and elbow grease, prewriting can actually reduce the amount of time it takes to build your next successful landing page.
Take a few minutes to ask yourself these three questions before you actually start writing your landing page copy:
What is my unique selling proposition (USP)?

You want to identify not just what you're offering on your landing page, but why it's the best. What's the reason your visitors can't get this offer anywhere else? That's what makes you special, and it makes the people visiting your landing page feel special too. List out a few of the reasons you

know

your audience will want what you're offering.
Who is my audience for this page?

Think about who will be most likely to respond to your offer (even if your offer could potentially benefit a number of different audiences). Then, try to boil the most important qualities of that ideal audience down into one target reader. When you're writing your copy, talk directly to that person.
What objections could someone have to my offer?

Before you start writing, try to identify some reasons your audience wouldn't want to take advantage of your offer. When you're writing the rest of your page copy, you can think on those objections, and try to subtly (or overtly) address them. That way, by the time your visitor reaches your call-to-action (CTA), they have no reason

not

to click through.
To help you put together the best landing page copy you've ever written, we're giving you our very own landing page copy creative brief that we often use when building our own landing pages—completely free.
Next time you're ready to build a landing page, simply open this document in your favorite PDF editing software, and fill out each section to the best of your ability. When you're finished, you'll have a better grasp of the goal of your page, and a better feeling for how your page will read before you even begin to build it.

Your Best Landing Page Copy Yet
1. Write a Powerful Headline
Chartbeat CEO Tony Haile reported in Time that the average reader spends about 15 seconds on a given webpage. If that feels like a really short amount of time – that's probably because it is…
But fear not! You have the power to extend the amount of time your visitors stick around and convince them to take an action before the timer runs out – all with a specific and powerful headline.
To do this, be sure your headline answers the following questions:
What is being offered on this page?

Your landing page visitors want to know what they stand to gain if they stay on your page and take advantage of your offer. Be sure your headline lets them know what could soon be theirs!
Why does my audience need it?

Think of this too from the perspective of your landing page visitors. That is, once they've accepted your offer, what will it help them accomplish in their life?
Why is this the only place they can get it?

The answer to this question goes back to your USP above. If you can, show your landing page visitors—right in your headline—why what you're offering is so unique and exclusive. (And don't worry—if you can't get it to fit here, we've got a great place for this info coming up.)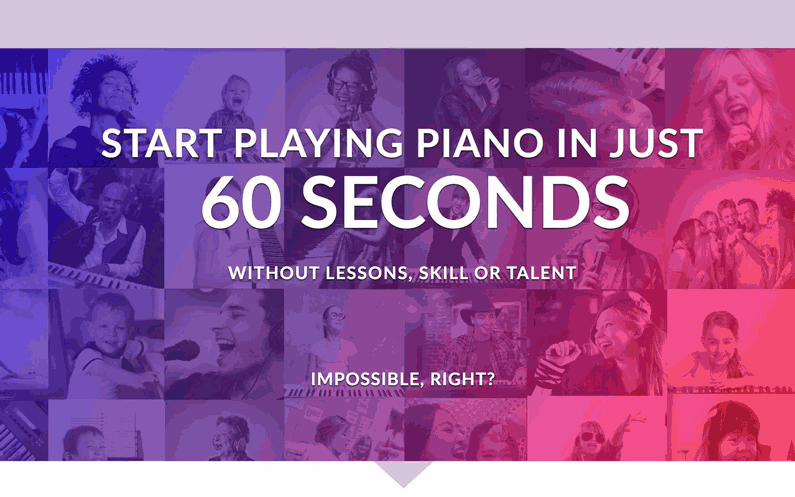 2) Write an Intriguing Subheadline
Your subheadline is up next.
Most often, your subheadline will be the second most prominent piece of text on your landing page, and the next thing to catch the eyes of your visitors after your headline.
You can take several approaches to a successful subheadline, including:
Convey important thoughts that didn't fit in your headline:

If you have headline runners-up that didn't make the cut above, try them here! This is also a perfect carryover space for ideas that were too long to fit in your headline, like why your offer is unique and exclusive.
Intrigue visitors with a surprising metric:

If you can tease or intrigue people further with a surprising metric, your subheadline is a perfect place for that too. Numbers can be engaging proof that your offer is valuable.
Drive visitors down your page with a counterintuitive statement:

A counterintuitive statement is something that puzzles readers in a good way. can prompt visitors to think, "Hmm… Really? Tell me more…" For instance, the following counterintuitive subheadline could support the clear, exclusive-sounding headline:
The Last Knife You'll Ever Need
This knife cuts everything from cheese wedges to soda cans,
yet it's safe enough for a 7-year-old to use.
Use scarcity to create a sense of urgency:

Once you've communicated your offer in your headline, consider adding language in your subheadline that communicates a limited time or a low volume for your offer. If a visitor to your landing page is on board with your headline, and your subheadline communicates a need to act fast, you can push visitors toward a call-to-action even faster.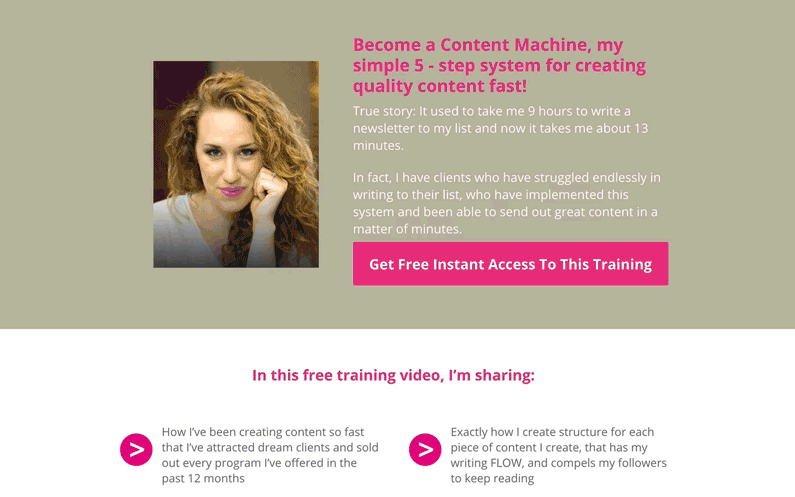 3) Write Fascinating Benefit Bullet Points
Next up are your benefit bullet points. Why add bullet points to the body of your page?
Your body copy is where you have the most space to elaborate. But because it's denser than the top of your page, it's also where your visitors are more likely to start skimming. Eye tracking studies have shown we're more prone to scan over large blocks of text, and often read as little as 20% of the text on a given webpage.
If you can tightly focus your bullet points and make sure they pack a punch, people will not only read them, they'll latch onto the benefit that resonates with them most and find their way to your call to action.
One excellent way to make your bullet points compelling is to vary their structure. The easiest way to do this is to use a number statement with a number, a "why" statement, and a "how to" statement.
If we at Leadpages had a landing page promoting a webinar on the very topic of writing landing page copy, our three bullet points might look something like this:
A Number Statement: "

7 Proven Copy Techniques to Boost Your Landing Page Conversions: You'll see the exact proven copy strategies that are already working for our 40,000 customers."
A "Why" Statement: "

Why Scare Tactic Copy Doesn't Always Work: You'll see where (and how) marketers go wrong with negative selling statements and how to avoid all these copywriting mistakes on your own pages."
A "How To" Statement: "

How to Craft Irresistible Headlines for Your Own Landing Pages: You'll get plug-and-play formulas you can use to start building your own irresistible headlines."
The same techniques that work in headlines and subheadlines work in bullets, too. Try including impressive metrics, making counterintuitive statements, and proving that readers have a need that only your offer can fill.
We as humans are attracted to odd numbers, so we've found it's best to have three, five, or seven benefit bullet points—but keep it concise. You don't want to delay or distract your visitors, because your call to action—what you and your visitors have been waiting for—is next.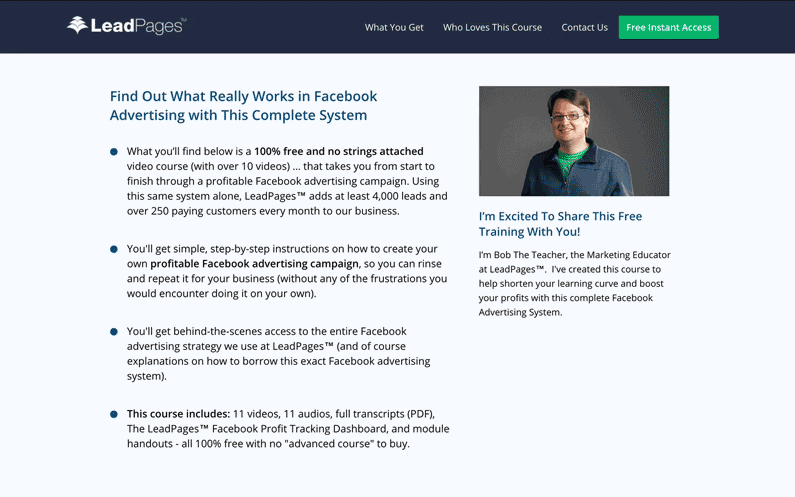 4) Writing Your High-Converting Button Copy
This is the moment of truth.
Your visitor wants to know: "What am I achieving if I decide to click my mouse right now?"
Writing clear and specific button copy in the first person is one great way to make that answer obvious. For example:
Send me the free gardening ebook now!
I'm ready for my exclusive sushi-making webinar!
Give me the free video course!
Another thing to note: if you're offering something for free, don't forget to say so here!
If your landing page visitors do hesitate to respond to your call to action, there's one more piece of copy you can use to close the deal …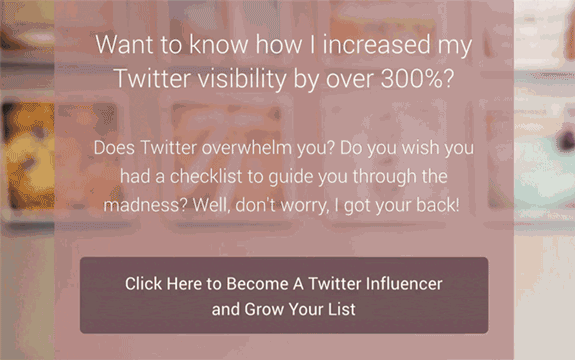 5) Write Your Risk-Free Guarantee
You don't have to write a guarantee on your landing page. However, if you can make it even easier for your landing page visitors to click that button with confidence, why not do it?
Place your guarantee right by your call to action, and use it to say to your visitors:
"Hey! There's no big risk here! Go ahead and click that button! You've got nothing to worry about! It's going to be awesome if you take me up on this offer, and if you don't think it is awesome, I'll make sure you're no worse for wear!"
Remember: a guarantee doesn't always mean you're giving people their money back. A guarantee can be a refund, but it can also be a guaranteed replacement of a product, or simply a guaranteed offer to resolve any complaint someone might have, until they're fully satisfied.
Even lighter flavors of a guarantee can simply let your visitors know that their credit card information will be 100% secure with you, or that you respect their privacy and would never spam them.
It's also important to avoid overcompensating with your guarantee and the language you use. Guarantees are intended to mitigate risk, but done wrong, they can actually raise fears in your visitors that might not've arisen on their own. Imagine seeing this below the "Book Now" button on a hotel's landing page:
We GUARANTEE that we have fully eliminated all viper pits in 100% of our hotel rooms—or your money back!
Whatever guarantee you end up using, be sure to explain it in clear language that addresses any objections you identified in the prewriting section above, to help take your visitors over the finish line.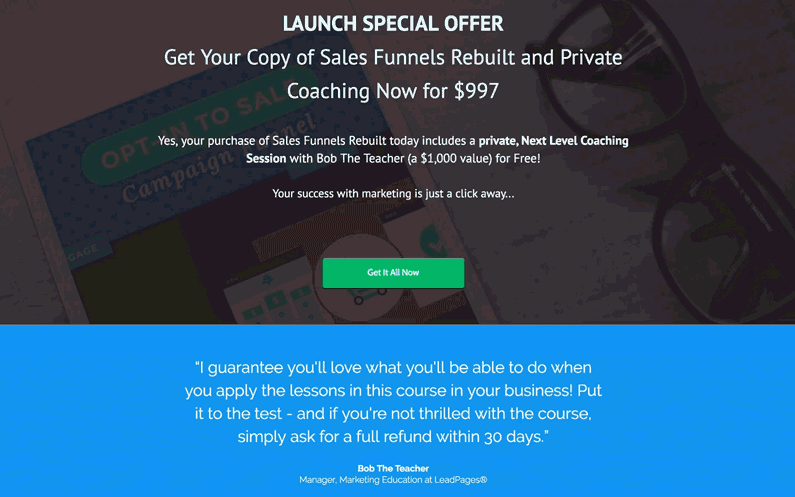 Now that you know where to focus your copywriting attention, it's time to put it into practice. We're giving you a free Leadpages Landing Page Copy Creative Brief you can fill in step by step as you build your next landing page. Download it here:

When it comes to writing your landing pages, what's been your biggest challenge so far? As I explore landing page copy further in future posts, what would you love to learn more about?
Let us know what you think in the comments below!