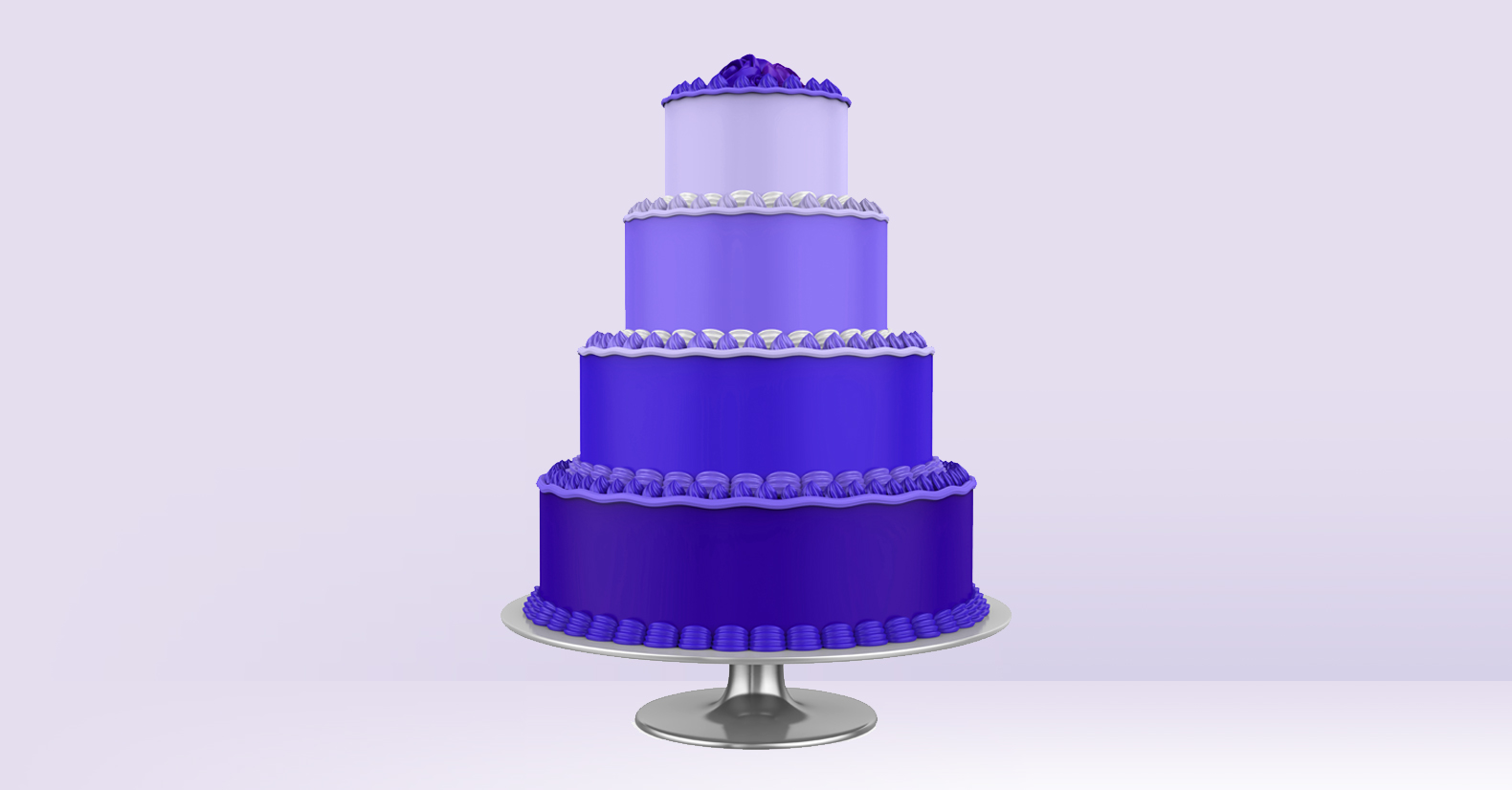 Editor's note: This post was originally written in 2016 and, while the best practices remain as relevant as ever, the article has been updated to include even more insight into sales funnels and how they work within your small business' marketing mix. Dig in!
Does the thought of creating a sales funnel seem overwhelming? Do you know how to create a sales funnel from start to finish?
While sales funnels are the backbone of your digital marketing campaign, they can sometimes seem messy and complicated. But we have good news: creating a sales funnel doesn't have to be painful and time-consuming. In fact, after reading through all of the tips and advice in this blog you might even find yourself enjoying the process of creating sales funnels.
Instead of looking at marketing funnels or sales funnels as being cumbersome and complicated marketing concepts or frameworks, we're going to think of funnels as a cake—a very simple and delightful cake. In this blog, we'll provide you with the ultimate recipe to create the most effective marketing "cake" using just three ingredients, four steps, and one funnel. We'll also demystify the process of creating funnels so that your sales funnels are:
Easy to create

Easy to launch

Easy to measure
In this blog you'll also learn the basic definitions of what a sales funnel is (including quick funnels), we'll walk you through the online sales funnel process, and we'll even dish out the details on how to properly work in lead generation with landing pages—which is our specialty.
Let's get cooking!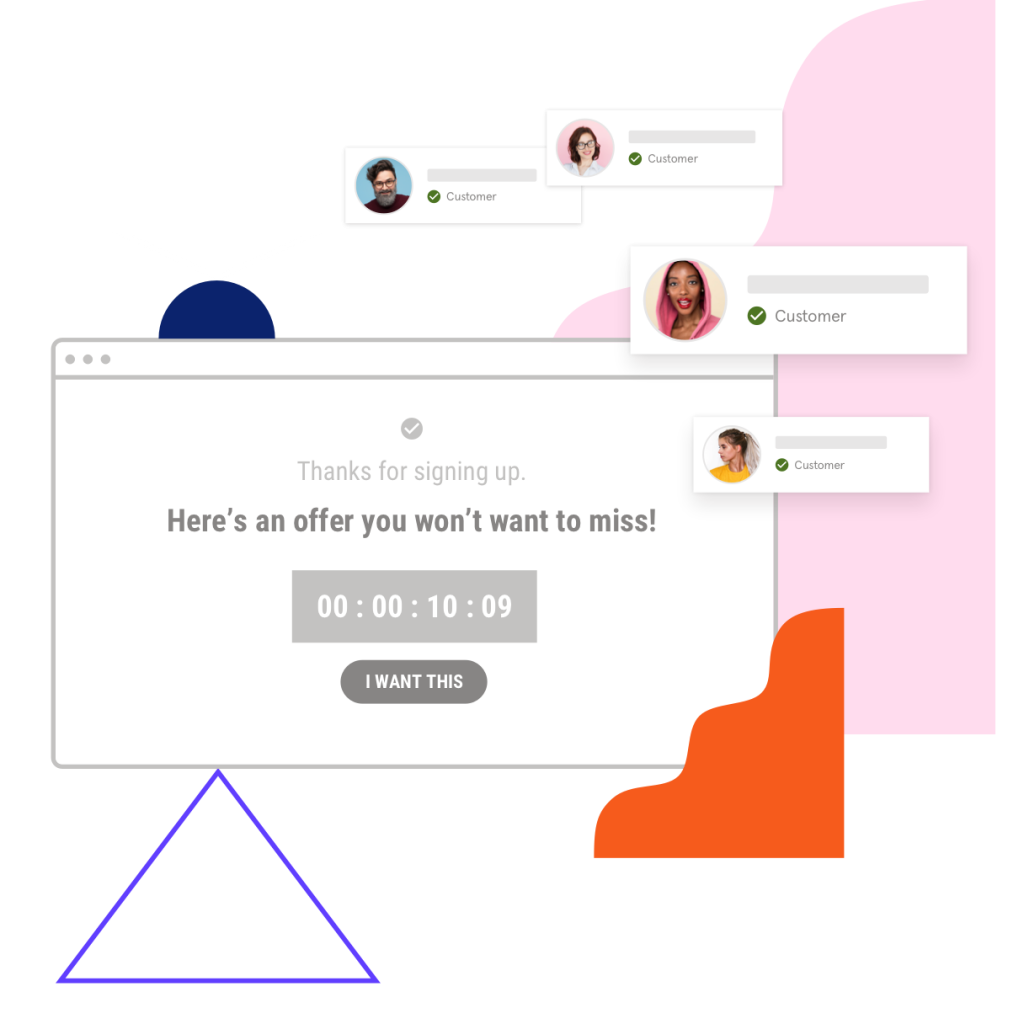 Create a Thank-You-Page Offer That Converts Like Crazy
Free instant access for a limited time

Ruth Soukup and Bob Sparkins teach you simple tweaks you can make to your thank-you-page to immediately increase revenue.
What is a sales funnel?


Landing pages can't function alone or by themselves, and no (successful) web page is an island. A single page usually isn't enough to make a sale, especially when engaging new customers or selling an expensive product. Landing pages are part of a larger ecosystem and, like any ecosystem, all of the various parts have to work in unison in order to flourish.
A sales funnel is the process or system that guides a customer along their buying journey with your brand. From the time you first drive traffic to your landing page to the final moment when you wrap up a sale, a sales funnel involves four stages:
Awareness: Traffic is driven to your landing page and potential customers are introduced to your products, services, and brand.

Interest: Potential customers demonstrate an interest in your products or services.

Consideration: Potential customers are now fully engaged with your brand and weighing their options.

Decision: A final decision of whether or not to purchase is reached by the customer.
Sales funnels have a lot of moving parts, which can make them overwhelming and exhausting for marketers. But when broken down to their most basic ingredients, a sales funnel is simply a four-tiered cake with tiers that represent the path a customer follows along their journey with your brand. At the end of the day, the ultimate purpose of a sales funnel is to "funnel out" the wrong customers to ensure you're left with a strong pool of purchasers.
Are sales funnels effective?
A sales funnel is a series of steps designed to turn prospects into purchasers. From a visual perspective, a sales funnel can be pictured as an upside down triangle—or, in our case, an upside down cake—with lots of potential customers lingering in the widest part of the shape and fewer, but more engaged customers lingering in the narrower regions.
Sales funnels are important and effective tools in the world of online marketing because they help an online business:
Optimize sales. Funnels can help to shed light on potholes or bumps in your marketing strategy that cause prospects to dip out during their journey with your brand. If you can understand which holes to patch, you can convert more customers and, ultimately, land more sales.
Build trust. Customers are more likely to purchase or buy from a brand or business they trust. Oftentimes, sales funnels incorporate automated emails or campaigns which help you to market effectively and connect with the right customers at the right time. A little bit of lead nurturing can go a long way.
Connect with the right customers. Rather than chasing down sales, funnels help to "funnel" out the real leads from the prospects so that your marketing efforts aren't wasted on the wrong crowd. Funnels also help you keep tabs on where a customer is in their journey with your brand. This way you can tailor your content (like send an enticing offer or coupon) to give the extra nudge needed to land the sale or make the conversion.
Gain an edge over your competition. Put simply, if you're in the business of selling a product or service online, you need to use sales funnels. If you're already using funnels in your business strategy, you're miles ahead of any competition that isn't using them, and the results will show that.
Build a funnel page (in three easy parts)
Ready to build your funnel page? The recipe calls for three key sections and four easy steps, so let's get baking!
At Leadpages, we use the "Micro Funnel" system. This type of organization helps to break down the sales funnel into bite-size chunks, so that it's easier to digest.
Think of the Micro Funnel as a three-layered cake. While each layer has its own flavor, all of the layers work together to create a cohesive dessert that entices your customers to take a bite.
The Micro Funnel includes three key blocks:
The landing page is where your traffic "lands" when they show initial interest in your business. (Normally, you will also have a step before the landing page that drives traffic, such as social media or a paid advertisement.)
A pop-up is where your customer decides to make the purchase or opt-in to what you're offering. Our Leadbox is a popup window that appears when a customer clicks on a designated link, image, button, or text. This specialized two-step form makes it easy for customers to opt in to whatever you're offering, such as a free eBook download or a webinar signup. The number of sign-ups you get is directly linked to how streamlined the sign-up process is.
The thank-you page expresses your appreciation for the customer's business while simultaneously encouraging a deeper relationship with your brand. For example, if someone shares their email on a pop-up in exchange for a free eBook, you can now include a designated page that thanks the customer for signing up, gives them the eBook, and encourages them to purchase the associated workbook that enhances their eBook experience.
How does a funnel work?
Each Micro Funnel should always have a specific target and purpose. For example, let's say that Micro Funnel A encourages customers to input their email address in exchange for a free eBook, Micro Funnel B asks consumers to purchase a $5 webinar, and Micro Funnel C works to convert users to become coaching clients for $50 per month.
All three of these individual Micro Funnels can then be strung together to form a larger sales funnel. With funnel A, you've grabbed a customer's email address which gives you the traffic for funnel B, where you're asking for a deeper investment of time and money. Finally, this gives you an audience of customers who have already shown interest in your brand, so that you can upsell for your main product with funnel C.
Now let's look at the specifics of how to create your sales funnel in just four steps. Really, that's it. Four steps and you're golden!
1. Start at the end
What is the outcome?
Before you purchase all of the ingredients needed for a cake, you will likely have already decided on the type of cake you want to bake. This same strategy can be applied to building a sales funnel—you want to know the end goal or final objective before you begin construction.
What do you want the user to do at the conclusion of the sales funnel? What action do you want the customer to take? How do you want the customer to interact with your business?
For example, you might utilize a sales funnel to direct customers to sign up for a webinar. Or your funnel might conclude in the sale of your consulting services. You could even design a sales funnel to upsell consumers after they've already made a purchase from your brand.
The goal of your sales funnel should yield two outcomes:
Build a deeper relationship with your consumer

Convert the consumer to some sort of

call to action
What do the numbers look like?
There are two reasons to put a number on your list of objectives:
You can't determine the success of your sales funnel unless you know whether or not it's helping to grow your business at the rate you expect. In fact, not quantifying your goals could be

why your marketing results aren't living up to your expectations

.

You need to know the end number in order to determine the initial numbers needed. You won't be able to convert all of the traffic you attract. The purpose of a sales funnel is to funnel out

the wrong customers so that you're left with a strong pool of purchasers. This means you will need more initial traffic on the front end.
Let's examine a few numbers.
Say that you have three basic parts to your sales funnel before conversion: a social media advertisement, a landing page, and a pop-up. (You'll usually have a thank you page afterward, but we aren't including it in these numbers.)
You've tracked your campaigns and you've noticed that an average of 20% of the people who see your social media advertisement click through to the landing page. Of those landing page visitors, 40% tend to make a purchase with your pop-up.
So, from a numbers perspective, if you had 100 people see your social media ad, only 20 of those people would end up on your landing page (20% of 100). From there, only eight people (40% of 20) would end up making a purchase.
However, let's say that your goal is to entice at least 100 people to purchase from your sales funnel. By working backward, you can calculate exactly how many people you'll need at each point along the funnel. If you want 100 sales, you will need 250 people to end up on your landing page (100 divided by 0.40). In order to get 250 people on your landing page, your social media ad needs to target 1,250 consumers (250 divided by 0.20).
By calculating and gauging your final numbers ahead of time, you can appropriately design the steps needed in your sales funnel to help you reach your ideal goals.
2. Get them engaged
What will engage your traffic?
You have the end goal in mind, but how do you actually steer customers toward that goal? What will keep customers engaged with your brand in order to make a purchase?
The next step in creating a sales funnel revolves around the content of your landing page and pop-up form. You want to engage your customers in unique ways to gain their undivided attention and, ultimately, their business.
For example, if you're selling an eBook, one way to provide unique content to a customer would be to offer a free chapter in exchange for the customer's email address. Submitting an email address is a low barrier to entry, and the customer will receive a high-value item in return. From there, you can utilize their email address to push them deeper into your sales funnel—especially beneficial since the customer has already expressed an interest in your product.
Free samples or complementary products are often the most engaging offerings. Giving your customers the opportunity to "try-out" your product in exchange for a minimal cost, such as an email address or a low price, filters out the spectators from the serious customers and pulls those highly engaged prospects toward the end of the funnel.
An additional sure-fire way to keep customers engaged with your brand is through the use of enticing copy and text. These landing page copywriting hacks can help to excite and encourage your customers. Make sure that the page is oriented towards conversion, but not like it's written by a sleazy salesman.
3. Learn the laws of attraction
What will attract traffic?
You'll only be able to engage and convert relevant prospects. This means that you need to focus on attracting the right traffic—and lots of it. (Remember all of those numbers you calculated in step one? This is their time to shine.)
We refer to this traffic (the relevant prospects) as "leads." These are the leads you pulled in during the first step in your sales funnel. By knowing how the rest of your sales funnel already looks, you can better direct your traffic sources to qualify your leads.
Keep in mind that most people who come across your business won't click through to the landing page until they've had multiple impressions with your brand. On this note, it's imperative that you find unique ways to gain the attention of your prospects and encourage them to make that initial click.
You're attempting to turn strangers into subscribers, which means you need to focus on a strong source of traffic. Consider how you'll bring people to your landing page. Below are a few of the most common traffic methods:
Pay-per-click ads

Press attention

Blogs

Video

Collaborations

Social media,

especially Facebook

Web search results
This very blog post is a good example of the third step. You likely Googled this topic and arrived here. There are a few enticing clicks related to this topic on this page (Advanced Campaign Guide, anyone?). So the idea is that we get your email address, send you more great content. And eventually, when you're looking for an easy way to make the landing pages that get these conversions, you'll use Leadpages.
If you're on a tight budget, learn how you can still build a sales funnel that starts with quality leads using these 10 budget-conscious traffic sources.
4. Create the Micro Funnel
What is the step-by-step process?
Now that you're familiar with three specific steps required to create a sales funnel (step 1: know your end-goal; step 2: engage your audience; step 3: attract the right traffic), it's time to apply what you've learned and dive into step 4: create the Micro Funnel!
Remember, a Micro Funnel consists of three parts:
A landing page, where your traffic lands.

A pop-up form, where your customers make the opt-in decision.

A thank you page, where you deepen your relationship with customers.
A summary of when to create a sales funnel
You'll want to create a unique Micro Funnel for each objective and transition. There are six main types of advanced funnels:
Blog opt-in to sale

Webinar to sale

Video series to sale

Consultation to sale

Opt-in to webinar to sale

Opt-in to sale
We go over how to effectively employ these processes in our Advanced Campaigns Guide below. The guide also explains how to create sales funnels that will grow your business easily and effectively.
Be sure to structure your sales funnels based on your end goal and the content or products you want to offer to your audience. For example, a life coach might want to offer a free consultation to prospects. After the initial call, the prospect then receives a series of emails and pages that bring them to the final sale.
One handy perk to working with Leadpages is that you don't actually have to create the Micro Funnel yourself. We offer templates that are specifically designed to build the pages, funnels, and conversions for you. Simply input your own content and brand voice, and you're good to go!
Looking for sales funnel examples?
If you're looking for inspiration, check out our free resource on marketing funnel examples.
We'll show you a few new ways to string together Lead Funnels, emails, resources, and traffic sources all culminating in the all-important sales funnel. Many of the examples come straight from the Leadpages playbook, so check out our favorite conversion tactics and implement them into your marketing efforts.
This free resource can be viewed as a continuation of what you've learned up to this point, so dig in.
Ready to build your sales funnel?
There's finally a light at the end of the funnel. We've come to the end of this blog and you've learned all of the ingredients necessary to create a stellar sales funnel.
Remember to keep the recipe simple:
Know your objective, and quantify the goal. (Calculate the end numbers to solidify the start.)

Consider how you will engage leads with your copy and offerings.

Use appropriate traffic sources to find and qualify relevant leads.

Create a three-part Micro Funnel based on your goals.
After you build a sales funnel, you can then focus on analytics and making sure your landing pages, pop-ups, and thank you pages perform well. You can do this through landing page testing and analysis.
Bon appétit!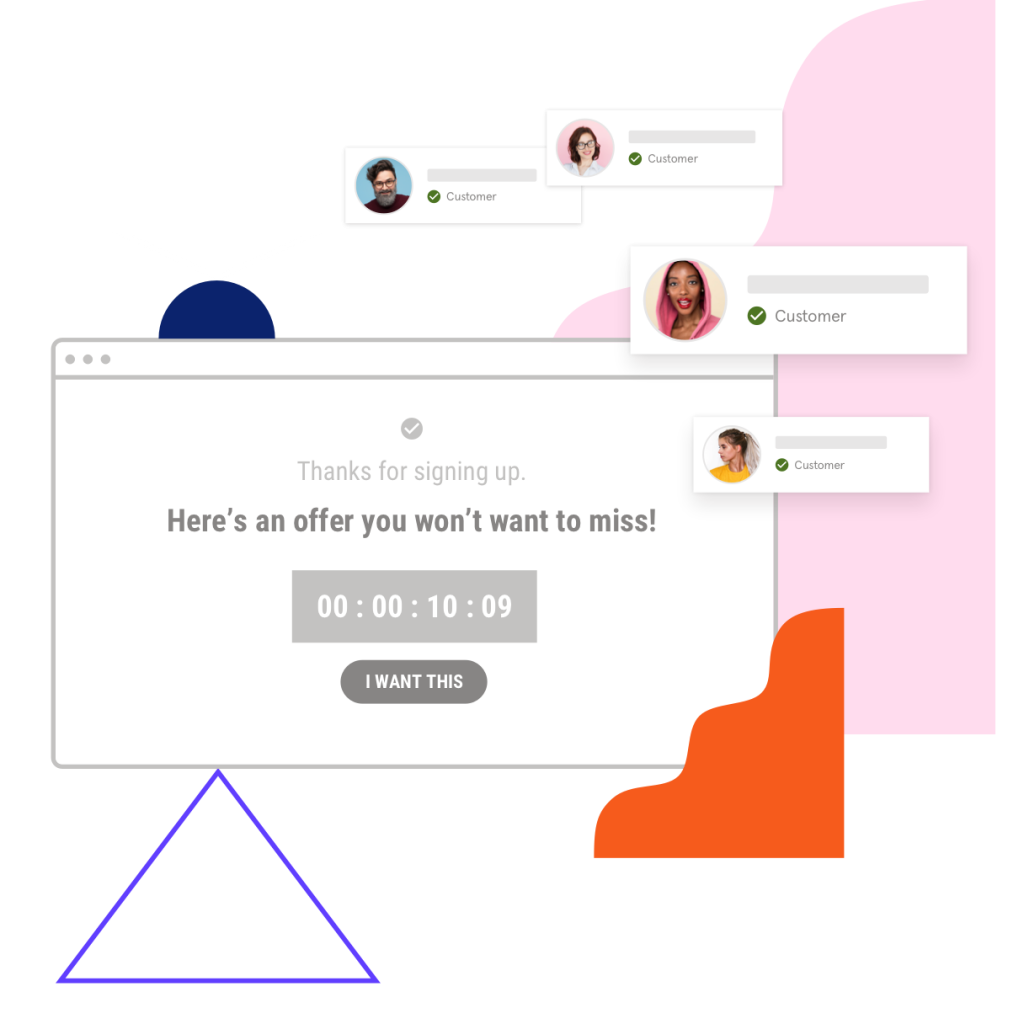 Create a Thank-You-Page Offer That Converts Like Crazy
Free instant access for a limited time

Ruth Soukup and Bob Sparkins teach you simple tweaks you can make to your thank-you-page to immediately increase revenue.