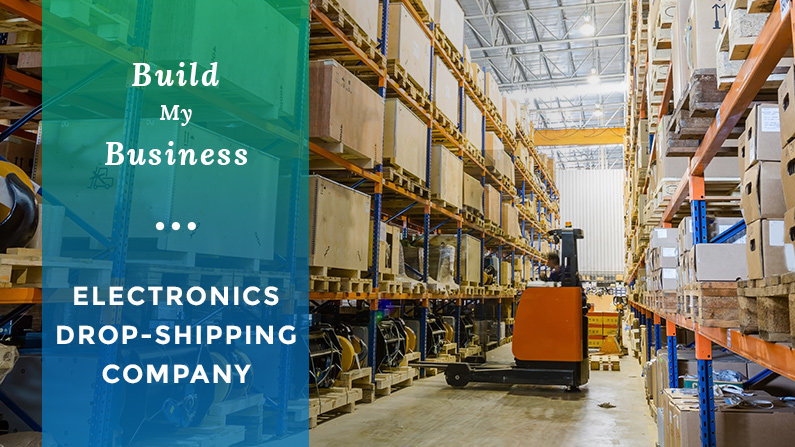 Editor's Note: In this week's post, marketing automation specialist Nate Johnson builds a campaign for a certified public accountant trying to create more year-round business.
I have a friend who owns an accounting firm. While accounting doesn't have a reputation as the most action-packed field in the world, I've learned from my friend that it can actually be a little bit bumpy.
That comes from 2 main factors:
1. Business is seasonal. CPAs get a huge rush of business around tax season, but things can be dry during the rest of the year. That can make staffing difficult.
2. Business is transactional. Most of my friend's clients come see him for tax-return preparation or another one-time service, so it's hard to develop the kind of long-term customer relationships that can create a steadier stream of revenue.
Now, accountants like my friend could shrug, sigh, and say, "That's just the way the business is." But I think there's a way to mitigate some of these challenges—through marketing.
This campaign is designed to drive more year-round business and build stronger relationships with customers who generally only come in at tax time. To build it, I imagined a fairly common accounting scenario for myself: a CPA serving high-revenue local professionals such as doctors, dentists, contractors, and small businesses owners.
The problem for firms like these isn't necessarily a lack of customers. In fact, it's hard to force more customers into a business that's already overstressed at tax time. There is ample extra time throughout the year where more services could be rendered to existing customers, however—and that's the goal of my campaign.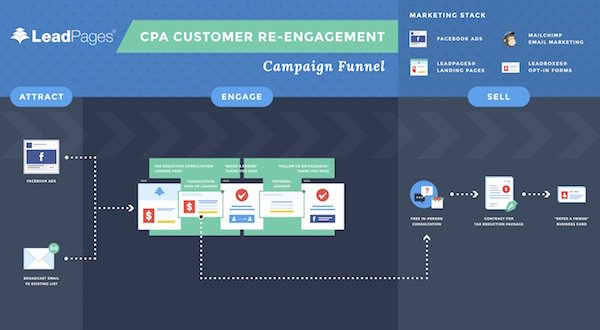 If you're a Leadpages customer, you can find these templates in your account under the template names I mention in the post.
Here's a closer look at my formula for year-round success in a service-based business.
The product: a year-round planning package
Though they work in several different industries, all my existing customers want one thing: to pay less in taxes. By drawing on this motivation, I can overcome their natural tendency to avoid scheduling appointments with me until the last minute.
I decided to create a special service I could book throughout the year: a quarterly tax-reduction planning package. I'd meet with my clients 4 times a year to help them identify steps they could be taking throughout the year to pay less in taxes.
This would be a higher-value package than my typical one-time services, and selling it as an annual product would make sure I'd get a steadier flow of business throughout the year.
Now to promote it.
Step 1: Build a focused landing page
I'd list this new package on the services page of my website, but I wouldn't leave it at that. Because this package is higher-value and more complex than most of my services, I want to spend some time and space making the benefits clear.
To do that, I'll create a landing page using the Limited Time Promotion 2.0 Page from Leadpages, which I can link to from my services page and elsewhere. Check it out here: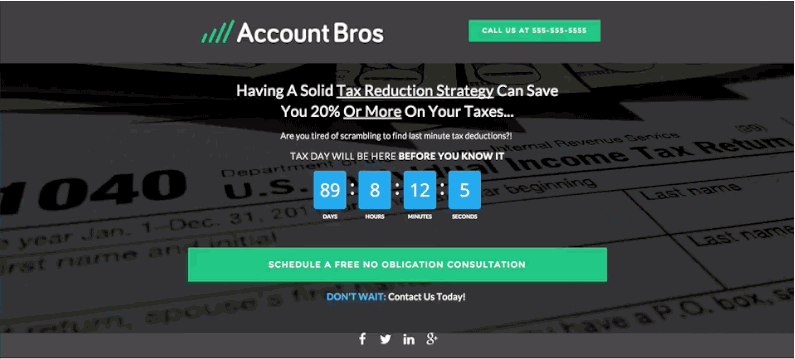 This simple page relies on a few strong elements:
A highly specific, benefit-centered headline (clients can save 20% or more)
A countdown timer to Tax Day (encouraging visitors to act quickly)
Additional urgency-inducing elements, including a tax form looming in the background and the message "Tax Day Will Be Here Before You Know It"
Big call-to-action buttons (one click-to-dial button for mobile visitors and one primary opt-in button)
Since I'm best at selling in person or on the phone, I won't ask visitors to buy directly from this landing page. Instead, I'll use a LeadBox™ opt-in form to offer a free consultation session so we can talk more extensively about what this package can do for my clients' finances.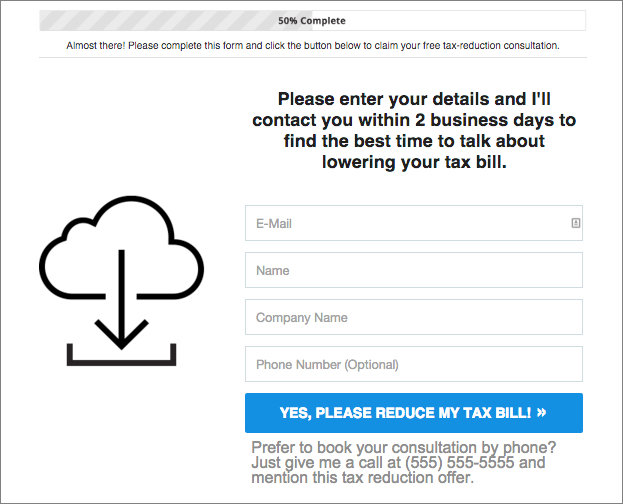 Now, I know that not everyone likes filling out a contact form and waiting for a call. So I'll add something else to my lead magnet: my phone number. This way, I give people plenty of ways to contact me while still being able to track the success of my landing page by counting the number of total lead magnet views and click-to-dial hits, even if people choose to get in touch offline.
Step 2: get my existing clients to the page
While this package will be available to new clients, I'm actually not interested in promoting it to them right now since I don't want a corresponding uptick in tax-season appointments. Instead, I'll try to put it in front of as much of my existing audience as possible.
For that, I'll use 2 simple tactics:
Step 2a: Email
I built this campaign under the assumption that I'd have an existing list of about 1,000 current and past client contacts. My first step would be to email these people during the off season, letting them know about my new service.
I could even time this email for right after tax season has wrapped up. With the memory of making a payment fresh in their minds, my clients will be especially likely to take advantage of ways to reduce next year's tax bill.
Now, I could simply send a broadcast email from my regular business email address—I don't have a totally unmanageable number of contacts yet. But because I'm thinking further ahead, I'm going to try out an email service provider (ESP) to send this email for me.
As an established business that's somewhat new to online marketing, I'd choose MailChimp as my ESP. For $25 a month, I can access basic automation and segmentation features, and make my emails themselves look a little more polished.
Step 2b: Facebook Ads
Because I don't have an ongoing email marketing program, my contacts might not really be expecting to hear from me via that channel. That could work in my favor—the element of surprise—but some contacts might just overlook my email. To get in front of everyone, I'll use a somewhat counterintuitive tactic: Facebook advertising.
Because Facebook has email addresses on file for each of its members, you can actually use it to target the exact people you want to reach if you have their email. I'd upload a CSV file containing all my client contacts' email addresses to Facebook's ad builder and set up a campaign to show my ad only to these people. The ad would look something like this: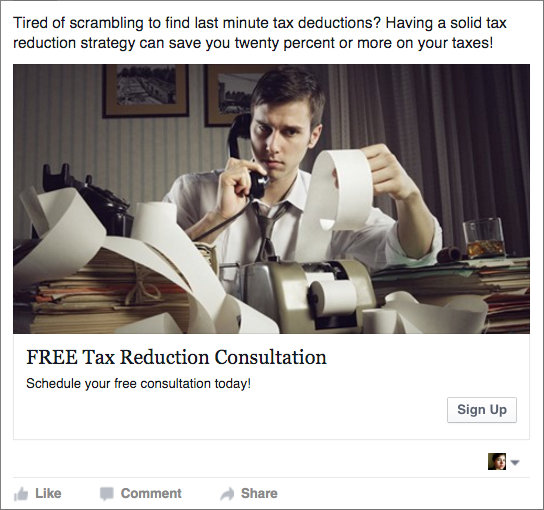 In most cases, I wouldn't recommend that businesses pay to get their message in front of people they can already contact for free. But I'm going to do this here for a couple of additional reasons beyond expanding the number of channels for my message:
1. It's inexpensive. I asked our paid media manager, Andrew Scherr, to estimate how much I could expect to spend with a Facebook Ads campaign for such a small, well-defined audience. His answer: about $0.35 per click.
2. It'll help me calibrate my social media expectations. Since I'm new to digital marketing, I'm really not sure how much effort I should be spending on social media or which platforms my customers use most. By running this test campaign on Facebook (by far the most widely used social platform of its kind), I can get a quick read on whether it makes sense to invest more time and money there.
Step 3: passively widen my network via referrals
Once someone submits my free-consultation lead magnet, they'll see a custom thank-you page like the one below (made with the Elegant Thank You Page template) that suggests another action they can take: referring a friend for the same service.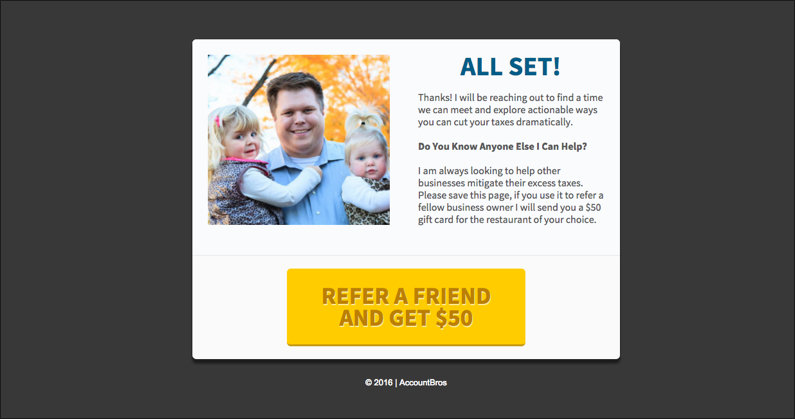 As an incentive, I'll offer a $50 gift card to a local restaurant to customers who refer someone who actually becomes a client.
How will I track that? With another lead magnet, of course.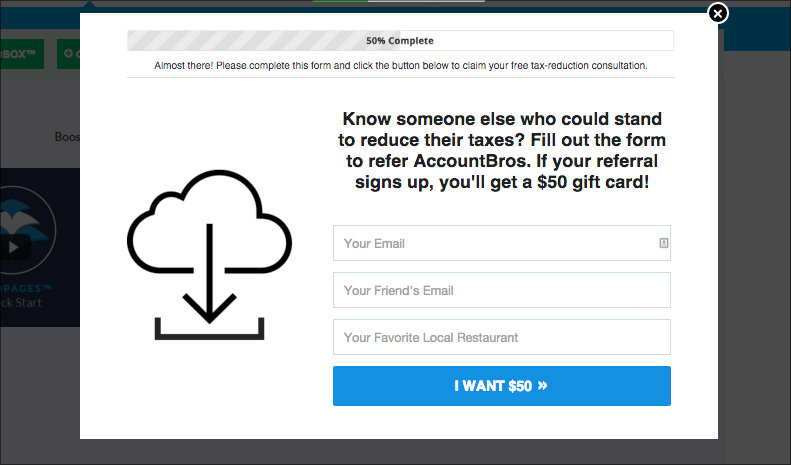 This is where it's helpful to be able segment and automate my emails. When someone enters a referral's email address into the lead magnet, I can set up an automatic email to reach out to that person, introduce myself, and invite them to check out my original landing page.
My referral strategy shouldn't result in a flood of new customers (which isn't what I'm looking for anyway), but it should get me a new client here and there to replace anyone who moves or retires in the course of the year.
What happens once someone submits this second lead magnet? They see one final thank you page, made using the Social Share Thank-You Page Template. In addition to confirming that their referral was successfully submitted, it invites them to follow me on my social media pages to get even more tips on saving money and reducing their taxes.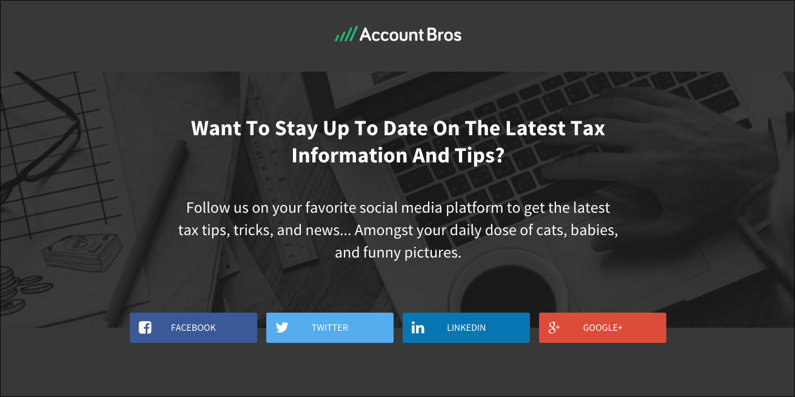 To make sure clients who contact me offline also get the chance to refer a friend, I'll do one other thing. At the end of my consultation sessions, I'll also hand out a business card with a link to a referral landing page. That way, clients will be more likely to remember the offer when they're out networking or talking to other small business owners.
What's next
By this point, I should have a number of people contacting me to look into my new service package. Mission accomplished.
But if I do decide later on that I'd like to expand my operations and take on more new clients, this campaign will have helped me lay the groundwork. I'll know whether Facebook advertising is a good option for my audience, and if it is, I can create a lookalike audience of my existing contacts and run a campaign focused on new-customer acquisition. Through my social-share thank-you page, I can also find out which social channels my audience likes best, and do more marketing there.
And if for some reason my first campaign wasn't as successful as I hoped, I can give it another shot (maybe tweaking the messaging or incentives on my landing pages). Using MailChimp, I can identify people who opened or clicked my first email but didn't sign up for a consultation, and send them another message in a month or two.
Have any questions about this campaign, or ideas for other topics you'd like the Build My Business series to cover? Tell me in the comments!