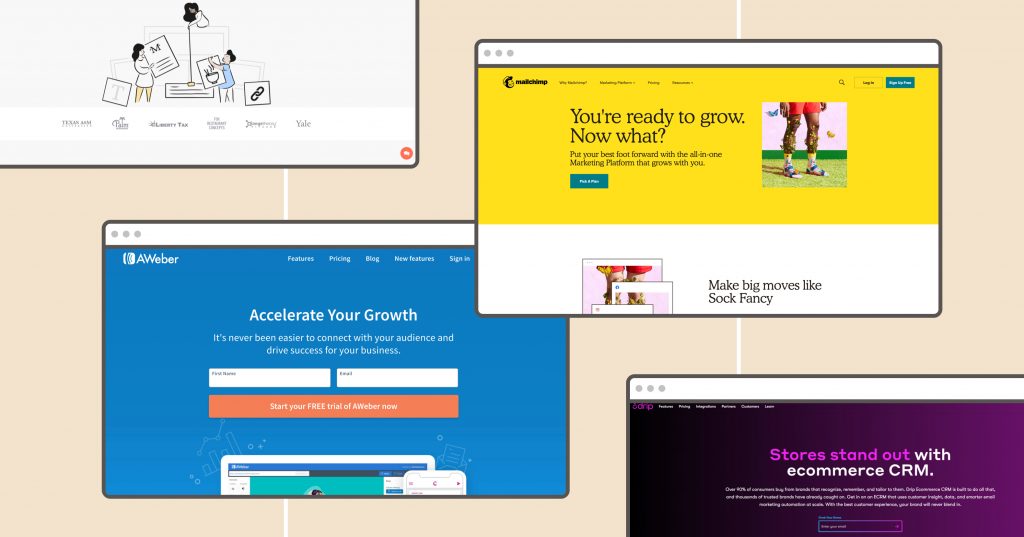 Email marketing is a great way to gather leads, build loyalty, establish relationships, and improve your conversion rates. Having the right email service provider (ESP) is critical to ensure your email campaigns actively nurture your leads, lead to more customers (revenue), and don't zap your bandwidth as a business owner.
But as more and more ESPs emerge and promise to 'do it better' and 'do it all…better,' it can be more than a little overwhelming to sift through the options and choose the right service for your business.
Of course, you can certainly get your business off the ground with just your Leadpages subscription. However, to get the most value out of our service, you'll probably want to integrate your Leadpages account with an email service provider so that you can seamlessly store and follow up with your leads.
Integrating Leadpages with Your Email Service Provider
Your account can seamlessly connect with dozens of email platforms, making it easy to add subscribers, update contact info, assign them to lists/ segments every time your Leadpages form receives a submission.

Learn how to connect Leadpages integrations
Many small businesses get set up with a free (or freemium) email service provider, but quickly realize that, as their business grows and scales, their needs change.
Truthiness: Migrating email service platforms is something that digital marketers don't like to do. It can be complex, time-consuming, and all-too-easy to let precious leads (and data) slip through the cracks.
That's why it's so helpful to get hooked up to the right ESP from day one. But how do you do that, when you're not at all sure what the future holds? Easy: you learn from businesses who have gone before you and do your due diligence in evaluating the options:
What are your email marketing goals?
What do you need from your email service provider?
What are the most popular email providers? How do they stack up?
Which email marketing tools integrate with your Leadpages account?
(hint: almost all of 'em!)
In this article, we'll go through how to choose the best email marketing service for your small business and point you to the first steps to setting up your ESP integration with your Leadpages account.
What is an ESP
An email service provider (ESP) is a software platform stores your email contact's data and allows you to build, send, and (sometimes) automate email marketing messages to your leads and customers.
Some of the functionalities of an ESP include the capacity to:
Import your current contact list
Integrate with lead generator tools
Maintain a subscriber list
Segment subscribers for different email campaigns
Offer pre-made templates
Give you the opportunity to design and construct email templates
Auto respond to customer inquiries or responses
Deliver statistics, analytics, and reports about email campaigns
Basically, an ESP automates your email marketing campaigns to simplify and improve the process. Whether you're looking to market your business to new leads, build relationships with recent customers, or respond to questions and inquiries, an ESP streamlines the correspondence between your business and your audience.
Why do I need an ESP
Email marketing has (& will continue) to survive as the most reliable, cost-effective way to reach your audience.
Some marketers and business owners presume that email marketing is "antiquated" or "outdated," especially considering the merry-go-round of new social media platforms popping up around the globe. Wrong! Email marketing is still the most reliable way to maintain a database of leads and customers and nurture those relationships.
Social network platforms come in and out of fashion at different times—remember MySpace? Remember AOL instant messaging? But email has persisted as a cornerstone of personal and professional communication since the '90s.
#DYK that 59% of marketers claim email offers their highest return on investment amongst their marketing strategies?! @emmaemail
Click To Tweet
Not to mention that, in many cases, your email list is essentially your customer database (CRM). If you've ever heard the phrase 'your network is your net worth'—the same holds true of your email list. In fact, if you were to sell your company, the size, and quality of your email list would be a significant part of your business's valuation. That's because the customer emails you retain is the most direct form of contact you have with your audience. If all social media and marketing channels were to crash, change their policies, or kick you off, you'd still retain a list of customers you could email and keep selling.
It's not just that there are a lot of emails out there, either (although there are about 5.6 billion email accounts around the world with a 99% daily utilization rate). People actually want to receive emails from their favorite businesses. An estimated 73% of millennials prefer communications from businesses to come via email. Consumers are asking for this kind of engagement, so it's time your business delivers.
And email marketing shows results! Approximately 59% of respondents say that marketing emails influence their purchasing decisions, and 59% of marketers claim email offers their highest return on investment amongst their marketing strategies.
You believe in the power of email marketing. Now, why do you need an email service provider to do this?
Avoid legal issues
Let's start with the legality of it. Sending mass emails to your customers, no matter how informal your business may be, is often in violation of the CAN-SPAM Act. With penalties up to $42,530, it's not worth fighting the CAN-SPAM Act by attempting to host company email marketing on your own.
Professional ESPs know and handle these regulations to ensure you're always in compliance. For example, your ESP templates will always include an unsubscribe link, so customers can choose to opt-out if they would like.
Even if you don't get caught in violation, your email hosting company may also kick you off, causing you to lose your contact list and marketing platform altogether. At the very least, your emails are more likely to get blocked or put in the spam folder.
Get the goods
So we've scared you with the need for compliance. Now, what are the advantages of an ESP over manual emailing?
It's automated
Hands-off automation is the best way to grow your business. An email service (should) provider handles the day-to-day email marketing for you. You and your team can't afford to waste hours upon hours crafting, sending, and responding to emails. The ESP will automatically add new subscribers, segment lists, and send event-related emails. It has automated processes and templates that let it run on its own for the most part. You'll save time while improving your campaign.
Check out the 3 marketing automation workflows your business needs for more tips on automation & email marketing.
It's customizable
Although ESPs automate the process, you'll still maintain total control of your email marketing. As opposed to completely outsourcing email marketing to a third-party agency, for example, you can still maintain a hold on how you're running your campaigns. You can customize emails, auto-responses, and campaign activities based on your brand and campaign goals.
It's measurable
ESPs handle the tracking and reporting for you. They automatically measure opens, reads, clicks, blocks, subscribes, and unsubscribes. This means you have enhanced insights into the success of your email marketing campaigns. In-depth analytics means you can constantly improve your marketing to see greater success!
There's quality
In general, ESPs offer a higher quality email than you can create on your own. Most platforms offer pre-made templates that both look and feel professional. Some also offer image, font, and color libraries for even more personalization options. Their templates are often mobile responsive as well, so your emails will look gorgeous on all devices.
But you'll only see these benefits if you work with the right ESP for your business. So how do you choose which email service provider to go with?
Leadpages offers integrations with a number of top-notch email service providers including, AWeber, MailChimp, Constant Contact, Active Campaign, ConvertKit, GetResponse, InfusionSoft by Keap, and Drip. This makes it easy to link your lead generating website and landing pages to whichever ESP you choose.

See a list of Leadpages integrations here, and learn how to connect them here.
How to choose email marketing software
1. Goals
Why do you want an email marketing campaign in the first place? What objectives are you trying to achieve? Are you looking to…
Acquire more customers?
Convert leads?
Improve brand awareness and recognition?
Educate your audience?
Retain customers?
Build a loyal brand following?
Promote sales, deals, or launches?
When selecting an ESP, make sure it can help you reach these goals and measure the associated metrics. For example, if you're looking to convert leads into customers, you'll likely want an ESP that can track how many click-throughs convert to sales. If you're just looking to educate your audience, you may care more about your email open rate.
Your business's email marketing goals might change over time. That means you may need to change ESPs too, and that's okay. Still, you want to select an ESP that meets your current goals as well as projected objectives for the future.
Psst…If you're looking to convert leads as a key goal, learn how to create a high-value lead magnet in just 30 minutes here.
2. Size
How many people are you trying to reach? How many emails are you looking to send out? Different ESPs are made for different bandwidths and sizes. You'll want to look at how many emails you'll send, the type of audience you have, and the actual range the ESP offers. The size may also determine the pricing, and your ESP may charge per number of emails sent. Some email service providers offer an "unlimited emails" plan, which may work well if you're looking to grow your email marketing campaign.
3. Budget
Different ESPs have different costs. You don't want to skimp here, but you also don't want to stretch your budget passed what you can currently afford. Make sure to consider the entire cost including monthly expenses, cost per email, and any additional fees.
Note: Cost doesn't always equal value. Some of the best ESPs are inexpensive because they can afford to reduce cost since their top-notch services attract a larger client base. Balance budget with quality!
4. Templates
One of the key benefits of an ESP is how quickly and beautifully you can create responsive emails. You want to look for an ESP with a wide range of pre-designed templates, so it's easy to find and customize the email for your needs.
For example, you could customize a newsletter template to go out every week, and you could have another template to promote sales and deals. Or you may want a template for a welcome email sequence to pull in more lifelong customers and sales.
You also want your templates to have a responsive design, meaning they're mobile-friendly and accessible.
5. Autoresponders
If customers email you, you want your business to respond efficiently and effectively. You want to answer their questions and concerns thoroughly, but you don't want to expend the resources having to answer all those emails by hand.
The best ESP platforms allow you to customize responses to different sorts of requests, so you can automatically respond to inquiries with comprehensive answers—written in your brand voice. This saves time and resources responding to emails while maintaining a high level of customer service and interaction with your audience.
6. Customer service
Customer service is an important aspect for any business you work with, and it's no different for your ESP. You want a platform that offers technical support when and how you need it. Some offer 24/7 support by phone or live chat, while others require you to take out a "ticket" via email.
Note that "more" support isn't always better. You want to find the right kind of customer service that will jive with your business and current marketing and tech teams. For example, you may prefer online chat to phone, so you'll sacrifice weekend support to get that option.
7. Reputation
You want to choose a service that has a reliable reputation. Don't take a risk when it comes to something as important as email marketing.
Do your research. See what clients are saying about the service. Take it all in, but also take it with a grain of salt. For example, one ESP may get great reviews but some customers complain that it doesn't offer unlimited emails. If unlimited emails aren't important to you, this may not be a concern.
You'll also want to inquire about deliverability and open rates. Most established ESPs have high deliverability rates, meaning the majority of emails make it to the customer's inbox (without disappearing into cyberspace or ending up in spam).
Some ESPs also boast a higher open rate, which means recipients are more likely to open your emails. This tends to do with how the service formats their emails and helps you write intriguing headlines.
8. Segmentation
Does the ESP let you segment your customer lists based on interests, age, gender, geographical area, previous purchases, etc.? Segmentation allows you to interact more personally with customers, which is an effective way to boost conversion and brand engagement.
Learn how to segment your email list with Constant Contact.
Leadpages AWeber Integration
Create & apply tags to segment your subscribers by their opt-in activity

The Leadpages AWeber integration allows you to create & apply tags to segment your subscribers with expert precision. Organize your subscribers based on their preferences, past content downloads, and more—so you can send targeted content, boost your email engagement, and win more customers.

Teach me to tag >
9. Import/export contacts
Most ESPs will integrate with your primary lead generation, like a landing page. But do they also let you import a separate list of contacts? Some ESPs require you to "resubscribe" to your list, which could cause you to lose some of your subscribers. You want an ESP that makes it easy to gather all of your email subscribers in one spot.
You also should be able to easily export your contact list. If you wanted to switch ESPs or show your email list to potential investors, for example, you'd want it to be a breeze to export your contact list from your current ESP.
10. Testing
Some ESPs offer A/B testing capability. This lets you send two versions of the same campaign, so you can evaluate which variables work best. For example, you might send the same email with two different subjects to see which subject generates a better open rate. This gives you insights into the types of subjects your audience wants, so you can plan the design of your campaign accordingly.
11. User interface
How easy is the software to use? Every service provider has its own pros and cons when it comes to the interface itself. You want to work with a provider that will be easy to use and set up different campaigns. You'll also want to choose the one that works best for your team, since members of your marketing and promotion department may also have to use the platform.
Most ESPs offer a free trial, so test a few out to see what feels best for you!
12. Integrations
You want your ESP to integrate with all of your other services. If you have lead generation tools or software, you want it to automatically link to your ESP. Or you may want customers to be able to purchase goods right in their emails, so the service requires e-commerce capacity. Or you want to make sure it can hook up with your analytics software for a more complete picture of your marketing.
Leadpages offers integrations with a number of top-notch email service providers including, AWeber, MailChimp, Constant Contact, Active Campaign, ConvertKit, GetResponse, InfusionSoft by Keap, and Drip. This makes it easy to link your lead generating website and landing pages to whichever ESP you choose.

See a list of Leadpages integrations here, and learn how to connect them here.
Start emailing
Leadpages websites and landing pages integrate seamlessly with your ESP to collect leads, designate segments and campaigns, and grow your customer list effectively. We even offer Lead Notification emails that notify you whenever someone opts into your form, letting you know when your ESP will be engaged to automatically send responses and add new leads to the list.
Don't get stressed about how to choose email marketing software for your business. Any of Leadpages' ESP integrations are top tier with strong reputations and reliability. Try out a few different trials to see which interface will work best for your business!