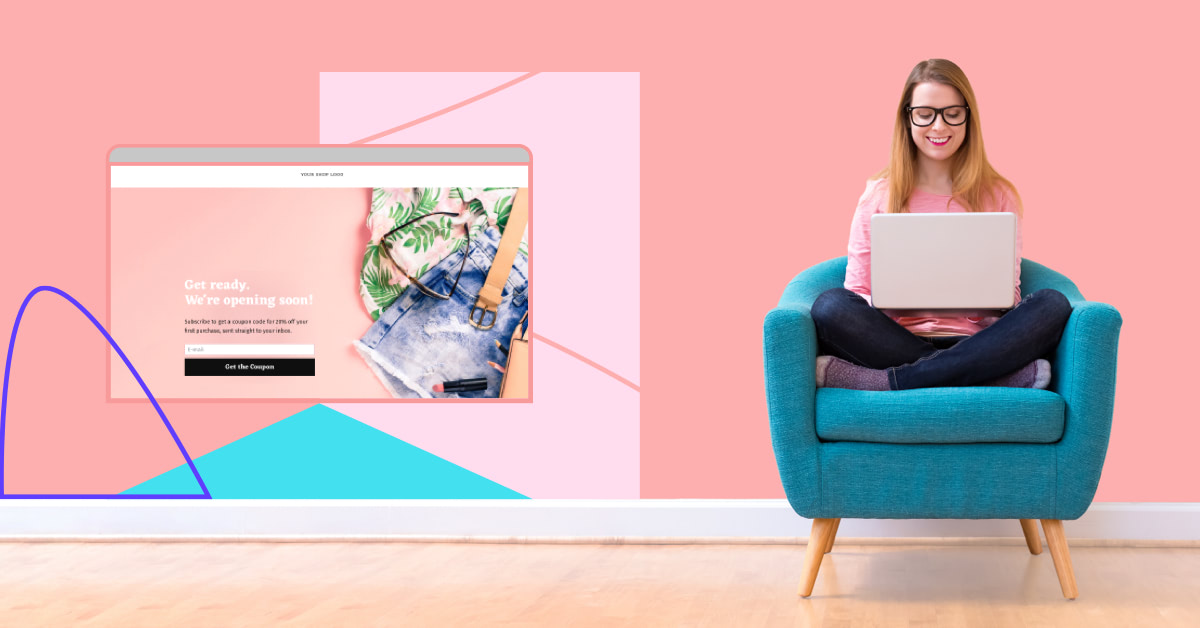 It's never too late to collect leads.
Whether it's five days or three weeks before your product, business, or website launch, you still have time to build (or expand) an audience of people who can't wait to see what you unveil.
A coming soon landing page is a temporary page that announces an upcoming product or service. With this type of page, you can connect with people who have a genuine interest in learning more about your upcoming announcements. These leads are highly qualified because they're signing up for your mailing list before you even have something to offer.
In this post, we will highlight a few ways to use a coming soon landing page, we'll dive into a few coming soon page examples, and we'll share strategies on how to optimize a page for better results. Haven't started your coming soon page? Check out our coming soon page templates and get started.
How to make a coming soon landing page
How do I make a coming soon page on my website? What should a coming soon page say? If your internal dialogue sounds similar to the two questions above, you've stumbled upon the right how-to article.
A coming soon page should offer prospects a sneak peak or a preview of your business's latest and greatest upcoming products or services. And, while the page should generate excitement and grab attention, it should also invite your customer or prospect to act on something.
Rather than simply using the coming soon page to make an announcement, the page should entice a customer to sign up for a particular action. Whether it's to provide an email submission, register for an upcoming webinar, or download an ebook, a coming soon landing page should help to generate a list of "early birds" who are interested in your upcoming reveal.
Here are a few tips for creating a stellar page that will fire up customers and generate the buzz your business needs:
Provide only one field. You're goal isn't to overwhelm customers or scare them away with an overload of information. Rather, your main goal should be to capture a prospect's email address. Steer clear of multiple registration fields and keep the coming soon page clean and simple.
Include core benefits. Again, you're not looking to spill the entire bag of beans about why your product is the greatest invention since the electric toothbrush. Include a sentence or a bulleted list that reveals the core benefits of your new product or service, but refrain from sharing an overabundance of information.
Include a countdown clock. Not only does a countdown clock present a sense of urgency (ahem, the Doomsday Clock), but it also provides the customer with a meaningful timeline on when they can expect to see your product. Even if the release date isn't solidified in stone, simply stating "available by the new year" or "coming in the spring" can be enough to up your conversion rate.
Make it easy to share. If you're looking to spread the word about an upcoming new product or service, social proof and ensuring that your pages are easy to share is a winning strategy. Urge your visitors to share your coming soon page with their friends and, for added convenience, be sure to include share buttons on the page.
Why you need a coming soon landing page
A coming soon page or a website under construction page can rocket a new product announcement past the moon. It can also help your business:
Grow its email list by turning prospects into customers.
Market its website and new offerings before the official launch day.
Improve your SEO rankings by getting a head start on relevant keywords.
Promote across social media accounts.
Build a solid reputation.
1. Build an audience before you build your website
Launching a new business or product is exciting. As the opening day gets closer, you're crossing all of the t's and dotting the i's to ensure everything goes as planned.
So like most business owners, you've bought a domain and updated it with placeholder text: Coming Soon. You're telling your audience that your website is under construction, but will be ready in the near future.
However, a generic site doesn't help your visitors or your upcoming launch. There are so many unanswered questions: When will the site be ready? How will visitors know to come back?
With a basic message, anticipation for your launch dies quickly, interaction with your audience is nonexistent, and there's no opportunity to actually capture leads.
This is why coming soon pages are the perfect solution to help build your audience. An easy-to-use Leadpages template can be personalized to not only inform visitors about your website status, but can also ensure those eager visitors sign up to receive notifications about the launch.
Below is an example of what your page could look like, using the Launching Soon Page template from Leadpages. You can add your own logo and change the text to fit your brand messaging. Another great perk includes a countdown clock that tells visitors exactly when the launch will happen.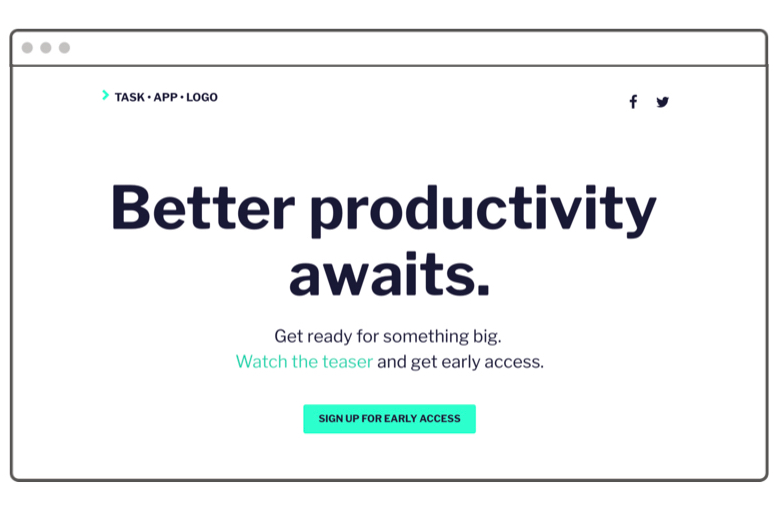 By asking people to sign up for alerts, you create a built-in audience with a strong interest in your products and services. From there on out, you can then send customized email campaigns with special product coupons.
And, just because you don't have a website built yet, it doesn't mean you don't want business now. With a coming soon page, you can still funnel qualified leads to your business.
In the example below, Nickaz Commercial Interiors used their landing page to get leads while they were preparing to launch a new site. With a straightforward call to action button, they asked visitors to call them directly.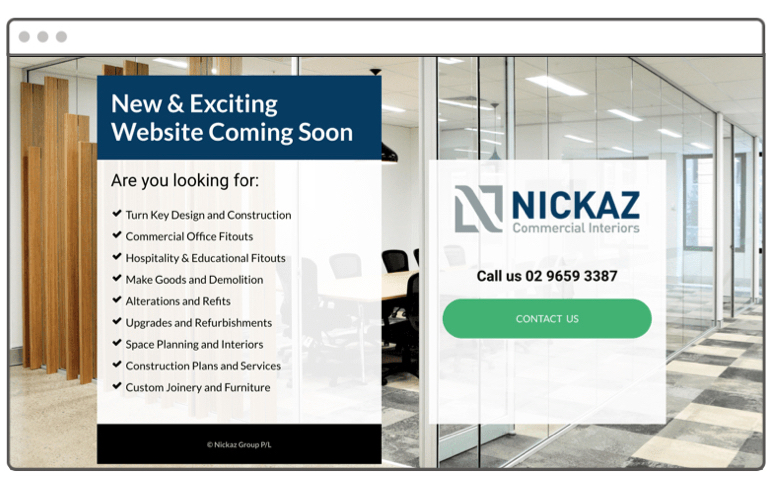 And, even though it's not a full site, the page still includes a bulleted list of Nickaz's services. When building a "website under construction" page, be sure to include basic content (such as a phone number, the services your business offers or provides, the products it sells, etc.) so the page is useful to anyone who stumbles across it.
There's no reason to wait for your website to be built to start generating leads. You can create a landing page in minutes and grow your sales right away.
2. Give early visitors exclusive access
Scarcity is a huge conversion driver—it's why limited editions and "exclusive access" programs often sell out so quickly.
But how do you induce a sense of scarcity when your product or program doesn't yet exist?
You can use your coming soon page to let visitors call dibs on whatever it is you're offering. For example, let's say you're a food blogger who is releasing The Ultimate 100+ Recipe Cookbook. You only have a few design changes left to make, so the ebook will be ready in about four weeks.
After you inform your Facebook fans about the product, you learn that everyone is thrilled about the launch. To harness all of that excitement, you decide to create a landing page with more details about the ebook.
For those who are really interested, you encourage them to sign up for your waiting list to get first dibs on the new cookbook. To sweeten the deal, you'll also randomly select one early visitor to receive a free 30-minute consultation with you.
It's all about building momentum around your product. Leadpages member Sheri Fitts of ShoeFitts Marketing does something similar when she created a landing page to promote her Social Selling for Financial Advisors program.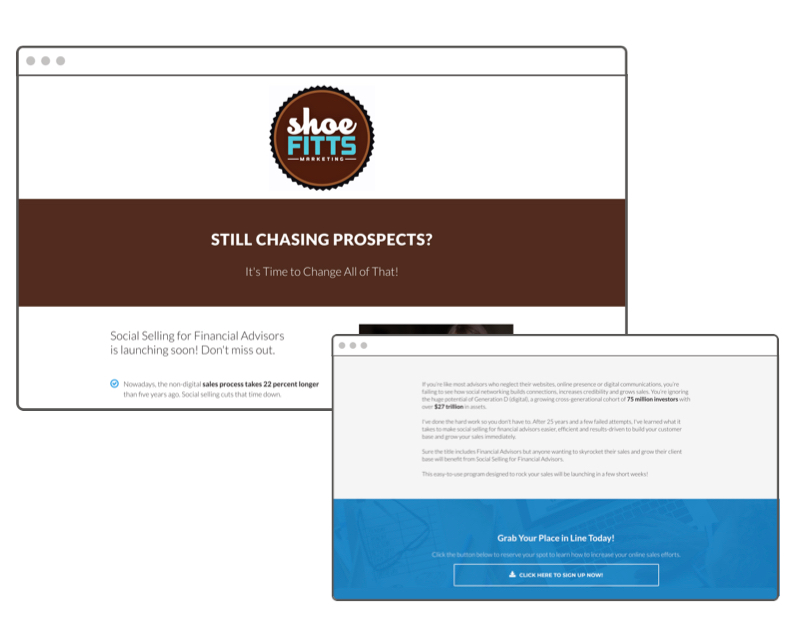 You'll notice that Sheri doesn't just announce her upcoming product. She spotlights her ideal customer's pain point: the non-digital sales process takes 22 percent longer than five years ago.
Then, she includes additional stats to offer relevant proof about why social selling makes sense for potential buyers.
She also adds a friendly picture of herself. A smiling photo invites visitors to learn more about who she is and not just what she's offering.
To ensure visitors reserve their spots, consider adding multiple call-to-action buttons to your page. Visitors may not be expecting to be able to take action on a coming soon page, but making your CTA extra clear will increase your chances of earning more leads.
3. Bring visitors on your journey
You know what's great? Watching the blooper reels of movies. It's always fun to see what happens behind the scenes with a cast, and you get to witness actors in true form—stumbling over their lines and laughing at fellow actors.
Now, more than ever, it's easy to give your visitors an inside look at how your business operates and what you do to create a product. Authors are live-tweeting sections of upcoming novels. Fitness trainers are showing people how they prep weekly meals. And businesses are giving office tours with Snapchat.
While you might be thinking, "I'm not interesting enough," think again. Consumers love hearing about how products are actually made. Your backstory, setbacks, and small wins have the power to connect with your audience by adding a human element to the sales process.
As visitors get to learn more about you, they will be more willing to share their interests and opinions. You'll grow a core group of consumers who will want to be part of your journey.
The first step to bringing visitors on you journey is to decide what type of product updates you will give to those visitors. For example, if you're launching a new pet photography studio, you might give leads some behind-the-scene photos of your first shoot.
Next, you'll need to determine how often to send updates. You don't want to drown your qualified leads with several emails every week, so decide on a reasonable frequency that makes subscribers anticipate each update and keeps your unsubscribe rate low.
The final step in the process is to build your own landing page. You want to inform visitors about your upcoming product and entice them to be part of your product development journey. Be sure to tell them about the kind of updates that will arrive in their inboxes.
Casey Armstrong (@CaseyA), Director of Marketing at BigCommerce, says that his team focuses on providing visitors with value on their coming soon landing pages: "It has to be all about the visitor. What is in it for them, and why should they care?" This principle earned them a 30% conversion rate on the page below.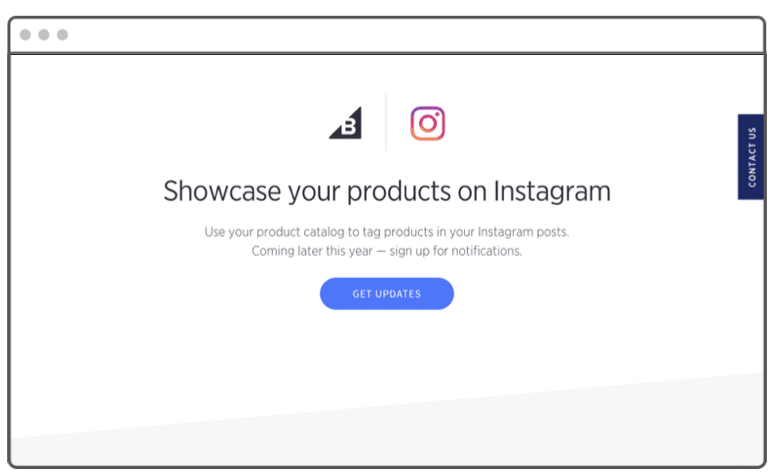 In this example, BigCommerce announces the release of a new integration coming later in the year. The company highlights how the product will help its customers succeed.
More importantly, BigCommerce gives visitors the option to sign up to receive updates. The emails will provide news about the integration as well as beta testing opportunities.
You can get more leads on board by taking them along your product journey. So be sure to share your story and get people enthusiastic about your upcoming launch.
4. Offer promotions and exclusive deals
You get a coupon! You get a coupon! You get a coupon!
It's pure pleasure receiving a discount from your favorite brand.
For some consumers, the slightest thought that they'll get a coupon for something is a good enough reason to offer up their email address. Plus, these discount-hungry subscribers love sharing how they earned an exclusive deal with their family and friends. (Remember the other week when your friend told you that she received a 25% discount on a pair of shoes just for signing up for a newsletter? Did you later find yourself on that brand's promo page to get the same deal? Are you now sporting a new pair of shoes? We thought so.)
You can offer promotions and exclusive deals even before you have something to sell. Tempting your target audience with VIP product deals can create a loyal following that will spread the word about your launch.
Start by selecting what type of promotion you want to give away. It must be a good deal that will grab your audience's attention and convince them to sign up.
You could try a 15% discount on all store inventory. Or even a buy-2-get-1-free deal. But don't limit yourself to lower prices. You also can give away free ebooks or limited access to an online course.
What's more important is that your promotion matches the messaging of the upcoming launch. It should also be simple enough to make sense of before you launch, so don't choose a highly specific deal on something your audience doesn't yet have enough information about.
Once you've picked your promotion, you're ready to build your page. Your copy should talk about your launch and announce what visitors can expect from your new product or website.
Then, be sure to highlight your promotion by telling all the juicy details.
An authorized dealer of Sockwell Socks offers a great example of how to build a coming soon landing page that appeals to a target audience. When visitors sign up for their VIP email list, the business promises to give every lead 500 reward points to shop at their store and exclusive access to grand opening promotions.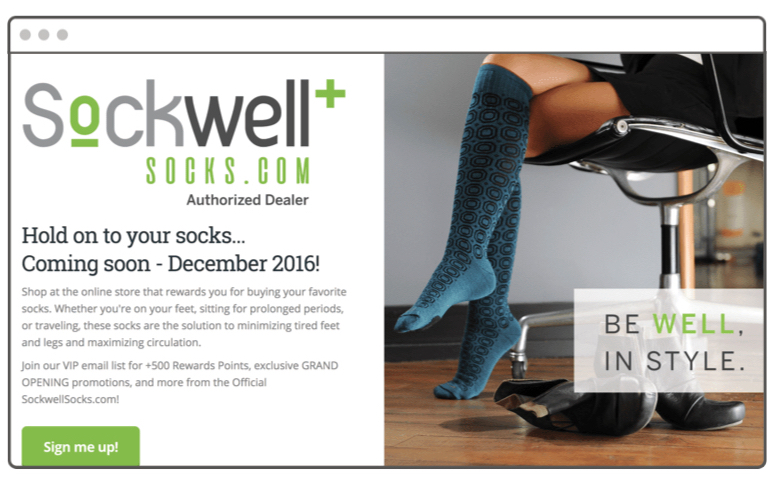 Capture more leads before your next launch
Lead generation isn't necessarily a piece of cake, but it's okay to start small. If you're not yet a Leadpages member, check out our Coming Soon page templates to get started.
It's always the right time to start building an eager audience for your next venture. Try one of these lead generation ideas (or even split test several) and get to know your new audience right away.
Are you launching a new business or product soon? Share in the comments below!