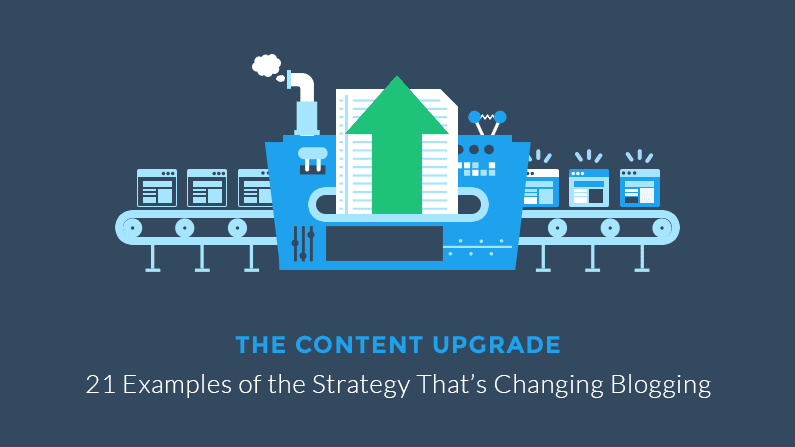 Every once in a while, a new email list-building strategy comes along that blows the existing "best practice" out of the water.
For years, marketers have been placing an offer to download a high-value lead magnet at the bottom of every blog post to get blog readers to sign up for their email list.
These offers usually look something like this: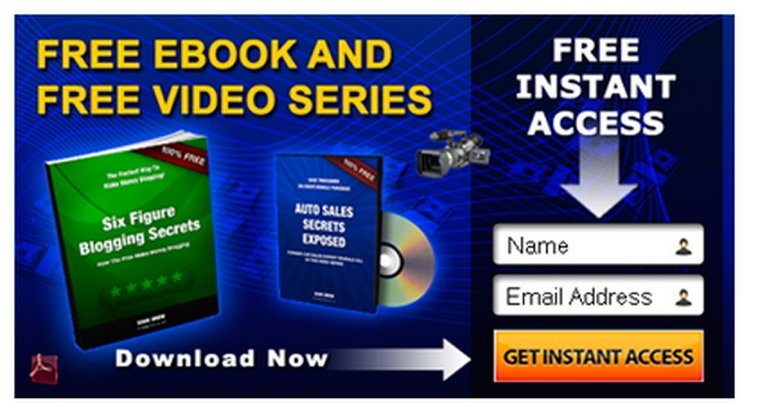 This "lead magnet at the end of every blog post" strategy generally worked well. It brought many marketers higher site-wide conversion rates than only having a sidebar opt-in. It also outperformed opt-in forms that didn't offer a free lead magnet.
But here's the reason why this strategy is being totally reevaluated:
A high-value lead magnet is a good offer. . . but it's not the best offer.
The best blog post offer
If you have a real estate blog, you might give away a free PDF called "The 10 Free Tools I Use to Supercharge My Online Listings," when other realtors opt-in for your email list. This would be a great offer for many real estate agents who find their way to your blog.
But what if those same real estate agents had just finished reading your blog post called: "The Art of the Open House: 20 Ways to Turn "Window Shoppers" into Serious Buyers?"
It's possible they may be interested in your PDF guide about supercharging online listings, but your blog post just primed them to be excited about something completely different — creating a better open house experience.
What if, instead of pointing visitors to a semi-related resource, you offered them something exactly related to the post they just read? For example, something like, "The $15 Dollar Shopping List I Use to Take Every Open House from Good to Great."
Then you would be offering them a content upgrade — a lead magnet (or "opt-in bribe") created specifically for readers of that blog post. And you would be implementing the strategy that's making marketers rethink their blog opt-ins.
Proof that the content upgrade strategy works
I could write an entire blog post about why you should start using content upgrades to boost your overall site-wide opt-in rate, but folks like Bryan Harris of Videofruit.com (he's getting a 20-30% opt-in rate on blog posts) and Brian Dean of Backlinko.com (improved site-wide conversions 185%) have already done that.
Instead, I want to show you real-live examples of this content upgrade strategy at work that you can implement in your marketing right now.
I'm going to give you 21 examples of content upgrades that bloggers are using right now to boost their opt-in rates (including a few of the ones we've created here at Leadpages), to give you ideas for your own content upgrades. I'll also show you how to set up this strategy on any blog post you write in minutes.
The basic formula for a successful content upgrade
Before we get to the examples, I want to make crystal clear exactly what a content upgrade is.
A content upgrade is simply a lead magnet (also known as an "opt-in bribe") that is created specifically to be given away as a free download on an individual blog post in exchange for a visitor's email address.
Content upgrades come in many forms, but the three ingredients that will maximize the number of people who opt-in for your content upgrades are:
1. It Should Upgrade the Existing Content
Sounds pretty obvious, right?
Your content upgrade needs to build upon or enhance the existing content from its corresponding blog post (hence the "upgrade" name).
While this might seem obvious, there are a few important distinctions to note:
This does not mean your content upgrade needs to be MORE valuable as a whole than your blog post. It just needs to ADD value to your blog post.
You don't always have to write new content to create a content upgrade. You can also present the same blog content in a different format (you'll see more on this in the examples).
It shouldn't take any more than an hour of your time (sometimes much less) to create a quality content upgrade.
The ideal content upgrade is something that can be created in a small amount of time yet add substantial value for your readers. Remember, the goal is to get your blog readers to opt-in for your email list, so you should be offering something that adds substantial value for your readers.
2. It Should Utilize the 2-Step Opt-In Process
We've published extensively about the effectiveness of a two-step opt-in versus a one-step opt-in. To summarize:
A two-step opt-in gets visitors to click a button, image, or line of text before they see your opt-in box. Leadpages' two-step opt-in tool, lead magnet, is the best way to implement a two-step opt-in. Here is an example:
In contrast to a one-step opt-in (which features the signup form right on the page), the two-step opt-in gives the appearance of giving rather than taking. It also prevents visitors from simply ignoring your signup form — once they click the button, they're forced to make a decision whether to opt-in or not.

We found that implementing a two-step opt-in versus a one-step opt-in increased conversions by an average of around 30%. However, many Leadpages customers have reported seeing increases much higher than that.
You can create a lead magnet using Leadpages in just a few minutes. After you've customized the lead magnet, Leadpages automatically generates the HTML embed code, which you can paste anywhere you'd like to give readers the opportunity to opt-in in your blog post.
Lead magnets have become the standard for the content upgrade strategy, and it's highly recommended you use them when implementing it.
3. It Should Have Multiple Opt-In Points
Rather than just hope all of your readers make it to the opt-in opportunity at the very bottom of your post, it's important to make them aware that you're offering bonus content with this post near the beginning.
For example, near the beginning of this post, you probably saw the shaded box letting you know that there's a free PDF you can get at the end of this post.
You also may have noticed that, in addition to informing you there's a free download, it also gave you the opportunity to opt-in for the download if you clicked on the linked PDF title text.
Having multiple opt-in points means your visitors don't have to read to the very bottom of your blog post to see your opt-in opportunity. In the upcoming content upgrade examples, you'll see a few more great ways to work your opt-in opportunity in earlier.
21 of our favorite content upgrades
Now, let's take a look at 21 of our favorite content upgrades. Keep your own blog posts in mind as you go through these, and jot down any ideas you get for creating your own.
1. Noah Kagan, OkDork.com
Blog Post: We Analyzed the 3,000 Most Successful LinkedIn Publishing Posts
Content Upgrade: Bonus Tips for Your Next LinkedIn Publishing Post
When you opt-in for the additional LinkedIn tips, you're redirected to an additional blog post page featuring the tips. This is an interesting format because it allows visitors to all comment publicly on the content upgrade.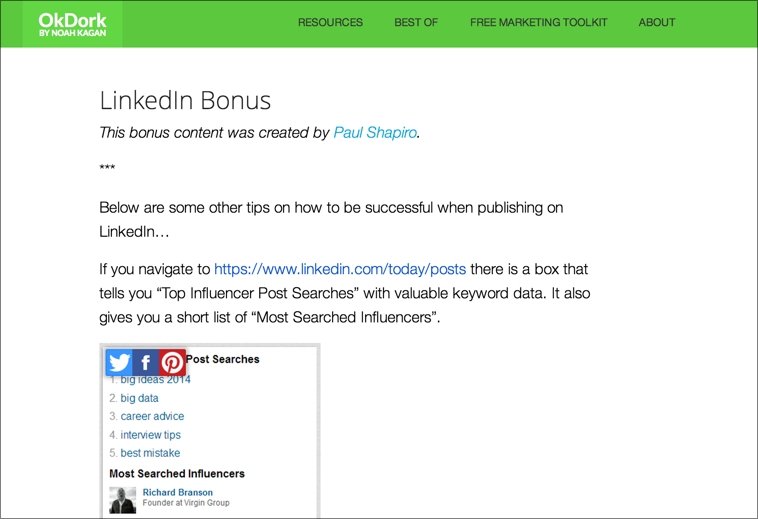 Lead magnet:
Additional Place Visitors Can Opt-In:
A yellow reminder box at the beginning of the post:

2. Kim Roach, BuzzBlogger.com
Blog Post: Top 60 WordPress Plugins of 2014
Content Upgrade: PDF Version of the Entire Post
As you'll see below, there was no additional design work done on this PDF. This is a good example of how simple you can make the content upgrade process. To replicate this, all you would need to do is paste an existing blog post into a word processing program, adjust the formatting as needed, and export it to PDF.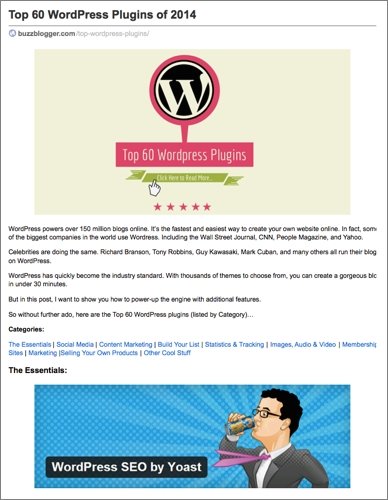 Lead magnet:
3. Brian Dean, Backlinko.com
Blog Post: Google's 200 Ranking Factors: The Complete List
Content Upgrade: Graphically Enhanced PDF Checklist
Brian went the extra mile with this content upgrade. Out of the 200 Google ranking factors he discussed in his post, he narrowed down the 10 most important ones, created a checklist with instructions for each factor, and had a graphic designer make it look awesome.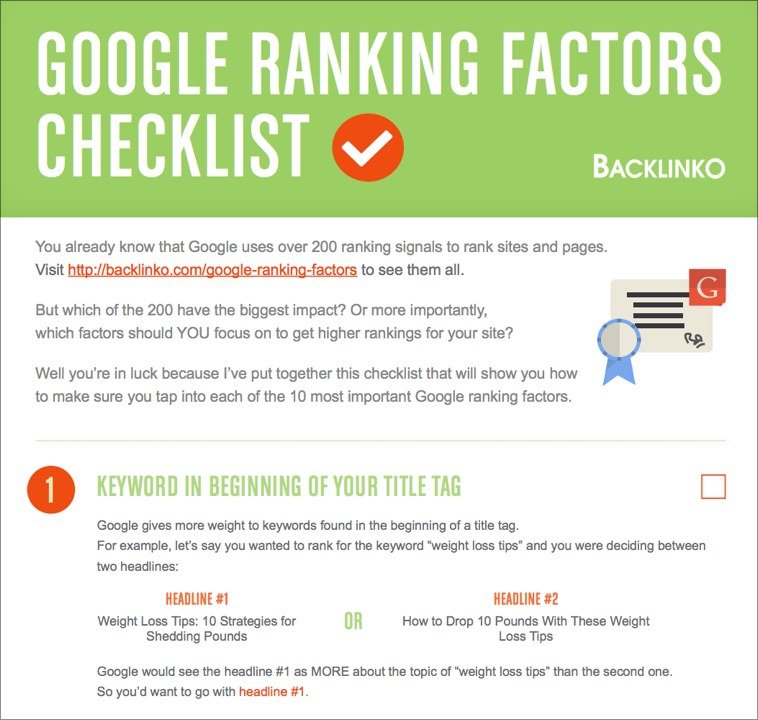 Lead magnet:
Additional Place Visitors Can Opt-In:
Yellow box at the beginning of the post:

4. Omnistar, OSIAffiliate.com
Guide Title: The 6-Month Complete Guide to Marketing Your Store
Content Upgrade: Simple PDF Version
This example shows that you can create a content upgrade for any piece of content, not just blog posts. Omnistar created this for their web-based eCommerce guide.
Omnistar's eCommerce guide is so huge and thorough that simply having it in PDF format is a big added value since the only other way to read it is on their website. Since this is a resource that requires an extended amount of reading, visitors will appreciate the option to have it in a "to-go" format — no fancy design work necessary. Here's a sample screenshot from one of the pages: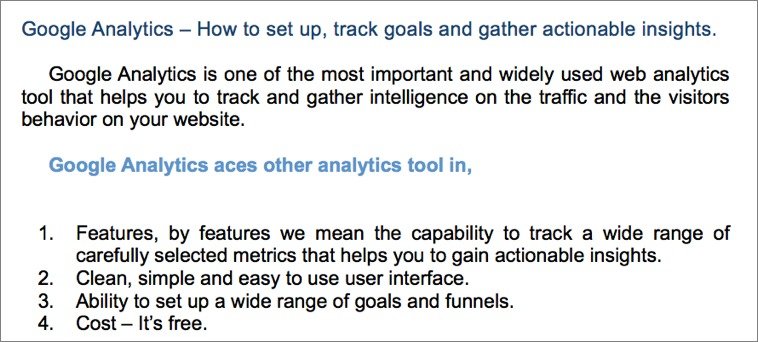 Lead magnet:
Additional Places Visitors Can Opt-In:
There are eight separate web pages of this guide — each contains the button in the above GIF at the beginning and end of the page.
5. Bryan Harris, Videofruit.com
Blog Post: Little Known Ways to Increase the Effectiveness of Your Sidebar
Content Upgrade: Keynote Template of the Videofruit Sidebar Design + Source Code for the Opt-In Box
Bryan designed the graphic for his blog sidebar in Apple's Keynote software and then gave the file away as his content upgrade (after showing why the design/structure of the sidebar work in the blog post).
This is a great example of a tangible tool being given away as a content upgrade. Take a look at your own website or business and see if there are any tools you've created that could easily be given away.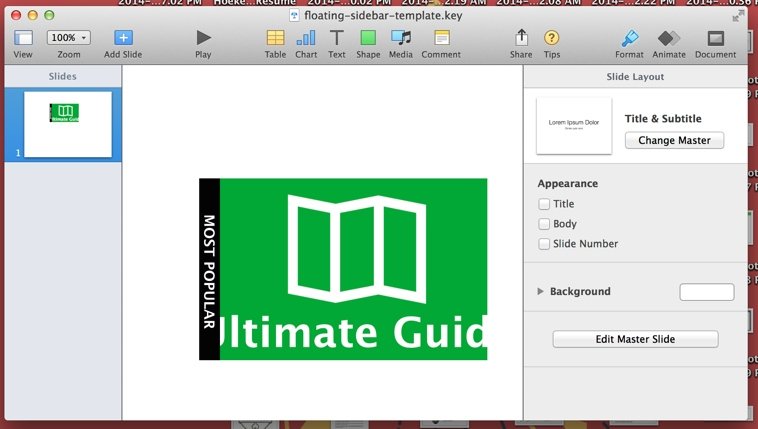 Lead magnet:
6. Bryan Harris, Videofruit.com
Blog Post: Expanded Guest Post: How to 100x the effectiveness of your next guest post
Content Upgrade: Training Video Embedded on a Web Page
For this content upgrade, Bryan simply recorded a quick screencast guiding viewers step-by-step through the strategy covered in his blog post.
A video screencast is a nice alternative to written content because it has a high perceived value and it's easy to find quality free screencast software you can use to record them. (Check out this bonus PDF to see which one I recommend.)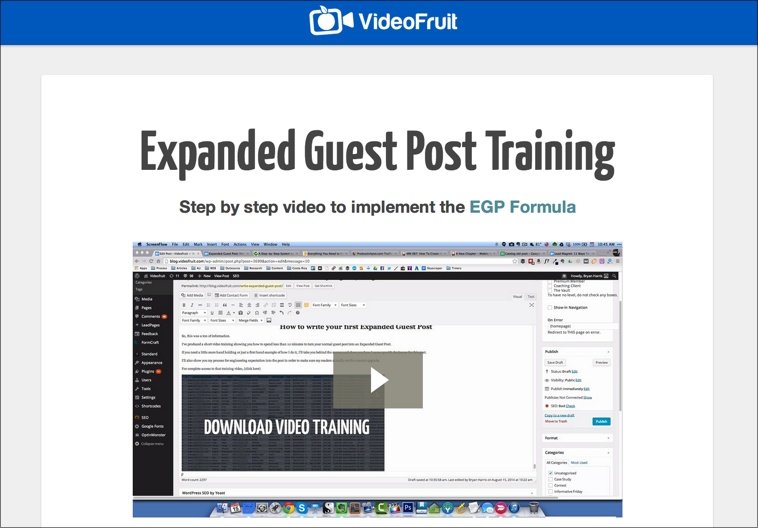 Lead magnet:
7. Adam Connell, BloggingWizard.com
Blog Post: How to Get More Twitter Followers: 24 Effective Tips to Grow Your Following Fast
Content Upgrade: Twitter Checklist PDF
Adam offers a simple, clean PDF checklist based on the 24 Twitter tips he details in the blog post. This type of checklist is a quick way to present any "list" post in an alternate, convenient format.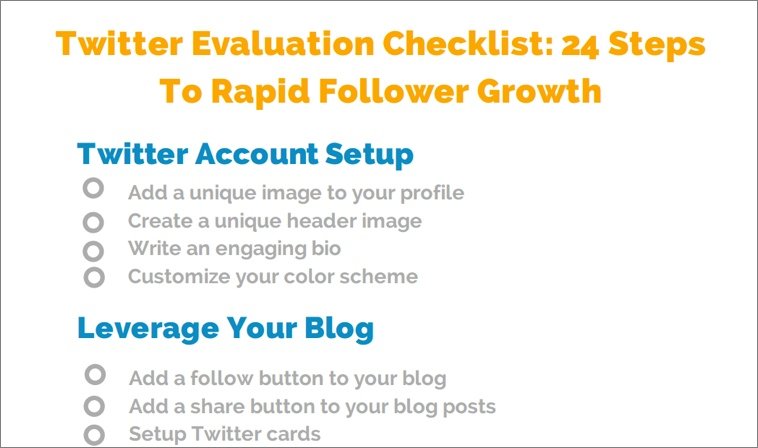 Lead magnet:
Additional Places Visitors Can Opt-In:
Yellow box at the beginning of the post:
8. AuthorityHacker.com
Blog Post: The Practical Step by Step Twitter Growth Guide (And a Hack to "Automate" Relationship Building)
Content Upgrade: 4 Additional Twitter Tactics PDF
Authority Hacker offers additional "bonus" Twitter tactics in the form of a downloadable PDF. If your post lists out specific strategies or tactics, coming up with a few extra ones makes for a great content upgrade. The picture of the content upgrade itself below shows how you can easily spruce up a simple Word document with your logo before exporting it to PDF.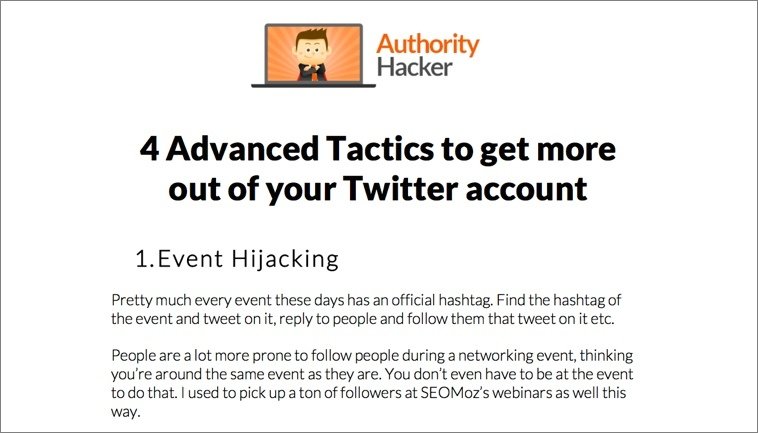 Lead magnet:
 9. Christian Karasiewicz, ChristianKOnline.com
Blog Post: Download: Facebook Group Cover Template
Content Upgrade: Facebook Cover Photo PSD File
Christian's post is the perfect setup for his content upgrade — he teaches readers about the ingredients of a great Facebook group cover photo, and then offers them the exact template he created in Photoshop. Tangible downloads like this always serve as high-value content upgrades.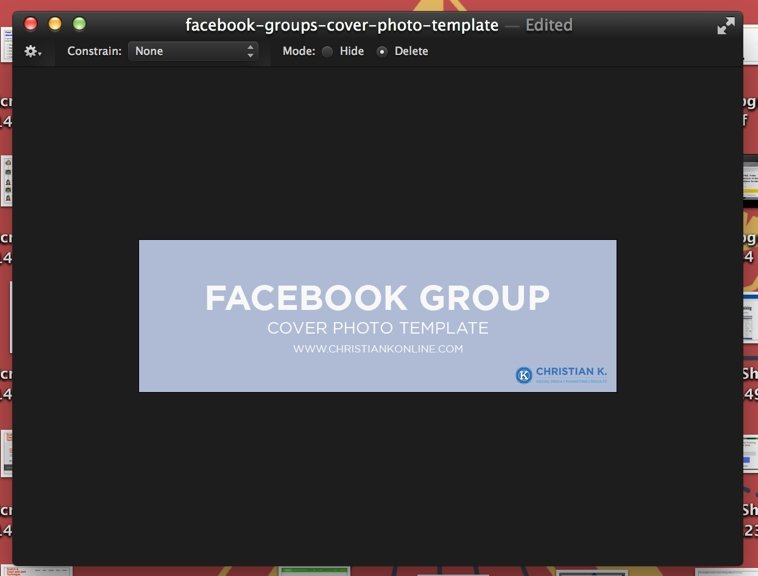 Lead magnet:
10. Buffer
Blog Post: 30+ Ultimate Headline Formulas for Tweets, Posts, Articles, and Emails
Content Upgrade: Graphically Enhanced Headline Formula List PDF
Kevan Lee at Buffer took the 30 awesome headline formulas he presented and explained in his blog post and put them in a beautifully formatted two-page PDF so readers could download the formulas in an easy-to-reference format.
This content upgrade format is a great fit for any blog posts that list handy formulas your readers may want to reference later.
Lead magnet:
11. Brian Dean, Guest Post on Buffer
Blog Post: The 5  Techniques That Increased My Conversion Rate by 134.85% in 60 Days (You Can Do the Exact Same Thing)
Content Upgrade: Access to a "Bonus Area" Containing Techniques, Checklists, and Brian's Swipe File
This is the one content upgrade featured in this post that's a bit different. Putting a lead magnet offering a content upgrade in a guest post is a powerful way to build your email list when guest posting. But what do you do if the blog you're guest posting on will only let you link to an actual page on your website?
You do what Brian did — link from the guest post to a landing page on your site containing a lead magnet that allows visitors to opt-in for the content upgrade you specifically created for them. In this case, Brian built an entire "bonus area" jam-packed with several valuable content upgrades: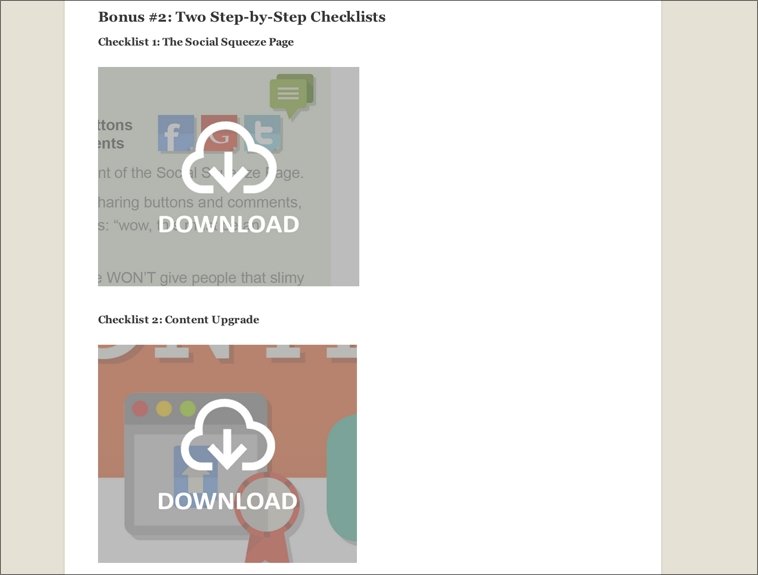 Lead magnet:
12. StockPhotoSecrets.com
Blog Post: 5 Shutterstock Alternatives Compared
Content Upgrade: 7 More Shutterstock Alternatives PDF
StockPhotoSecrets.com does a thorough comparison of five alternatives to popular stock photo website Shutterstock in their blog post. Their content upgrade offers a quick look at seven additional alternatives and the cost associated with each in a simple PDF.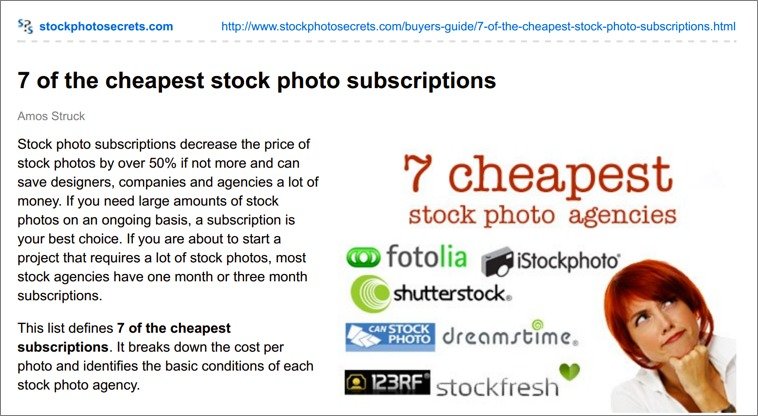 Lead magnet:
13. InformationSecurityBuzz.com
Blog Post: Data Breaches: Why the Costs Matter
Content Upgrade: Five Costly Data Breaches and How You Can Prevent Being Next PDF
In their blog post, InformationSecurityBuzz.com explain why the cost of data breaches matters to your business. They build on that information by offering a content upgrade that explains how to prevent five types of data breaches. This creates a good 1-2 punch of informative + practical information.
Lead magnet: 
14. Gloria Rand, GloriaRand.com
Blog Post: 5 Ways to Repurpose Blog Articles to Get Leads
Content Upgrade: 5 Easy Ways to Repurpose Content Infographic
Ever look at any of your blog posts and think, This would make a perfect infographic? Next time that thought occurs, act on it — you'll end up with a desirable content upgrade. As you can see in the screenshot below, that's exactly what Gloria Rand did.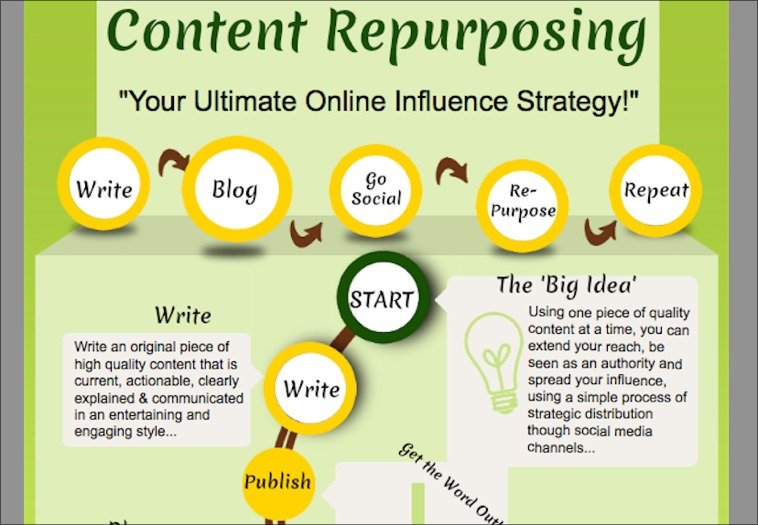 Lead magnet:
Additional Places Visitors Can Opt-In:
Gloria placed this small line of text that links to a lead magnet about halfway through her blog post:

15. Gloria Rand, GloriaRand.com
Blog Post: Top 5 Twitter Management Tools
Content Upgrade: PDF Version of the Post
This is another good example of the quickest type of content upgrade you can create — a simple PDF version of the post. While you may not get as many opt-ins as you would from a content upgrade that offers additional information, this is still a solid way to optimize any blog post's opt-in rate.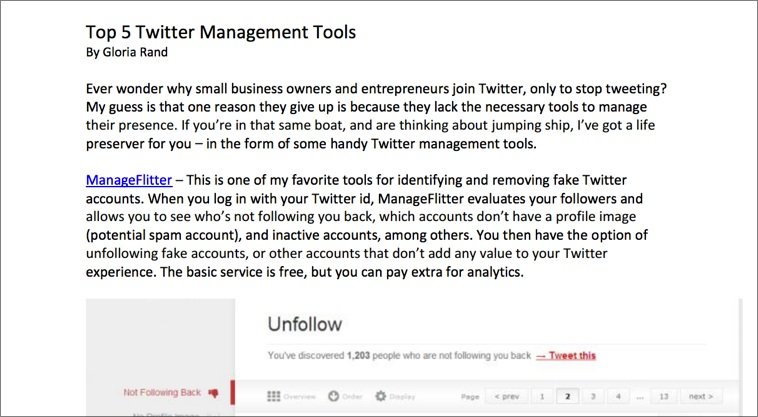 Lead magnet:
16. Joel Widmer, FluxeDigitalMarketing.com
Blog Post: The Only Marketing Channel You Actually Own
Content Upgrade: 7 Ways to Build Your Email Marketing Performance PDF Ebook
Joel offers an entire professionally designed ebook as a content upgrade for his blog post about the importance of email marketing. The post sells you on the importance of email as a marketing channel, and the upgrade gives you specific tips to optimize your email marketing performance.
If you're already featuring an ebook like this on a landing page, it can also be a good idea to write a blog post that sets the ebook up as a content upgrade. In many cases, blog posts with content upgrades are converting at higher rates than landing pages offering the same lead magnets.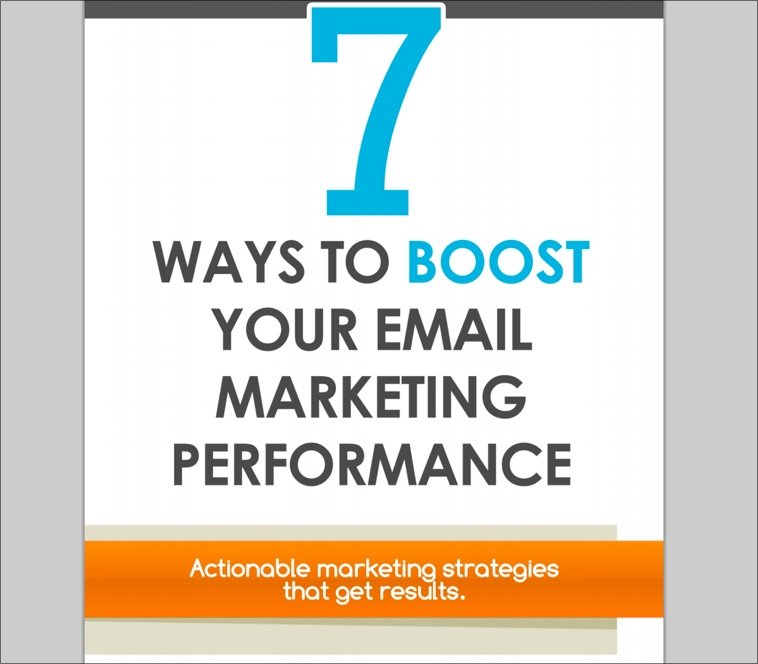 Lead magnet:
Additional Places Visitors Can Opt-In:
Joel also features a green box that links to a lead magnet near the beginning of his post.

17. Robert D. Smith, TheRobertD.com
Blog Post: Unpack Your Hot Air Balloon: How to Sell Anything
Content Upgrade: The PDF media kit of Robert's book, 20,000 Days and Counting
Robert uses this blog post to teach readers the art of the sales presentation. He then offers readers an example of an actual presentation he created for one of his books as a content upgrade.
This is an interesting way to take readers "behind the scenes" of his business while also offering them a chance to learn from his example.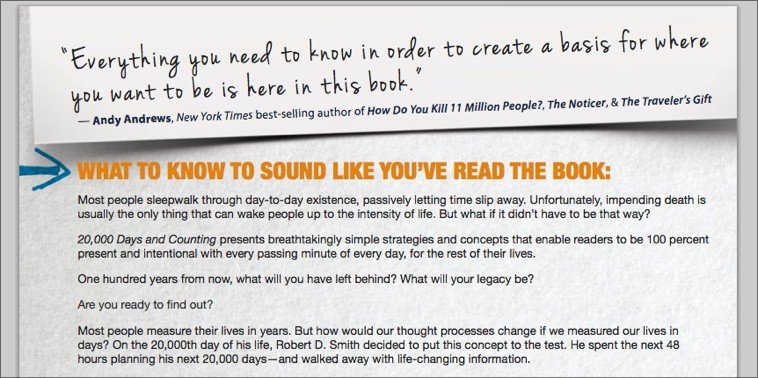 Lead magnet:
18. Will Hoekenga, Copygrad.com
Blog Post: The 17,000-Word Beast Ramit Sethi Used to Launch His New Course
Content Upgrade: The Beastly Email Launch Blueprint PDF
To prove you don't have to have access to a graphic designer or a huge audience to begin benefiting from implementing content upgrades, I wanted to show you an example of one I implemented prior to joining the Leadpages team.
I created this entire PDF in a program there's a decent chance you have on the computer you're using right now (I included it in the content upgrade for this post: The Top 8 Tools for Rapidly Creating Quality Content Upgrades).
Since this post was published, 362 visitors have clicked on the lead magnet, and 180 of them (50%) have opted in. That's an extra 180 subscribers all because I spent an extra hour putting together this content upgrade.

If I (someone with practically zero design skills) can do this, trust me — you can too.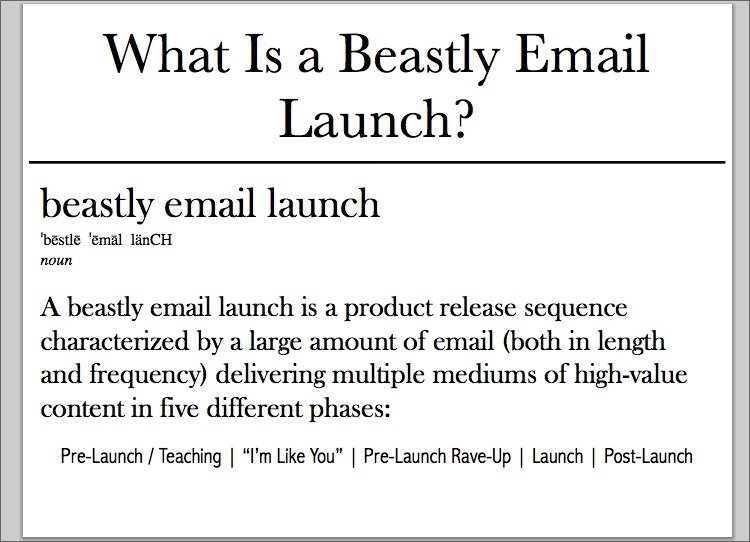 Lead magnet:
Additional Places Visitors Can Opt-In:

19. Leadpages
Blog Post: The Unique Content Process: How to Write What No One Has Ever Written
Content Upgrade: "Create Unique Content" PDF Worksheet
In this epic 5,000+ word post, Sean Bestor explained his exact process for creating unique content.
To help readers properly work their way through the process, he and our designers created a PDF worksheet they can use to easily implement the unique content process without having to sift back through the post later.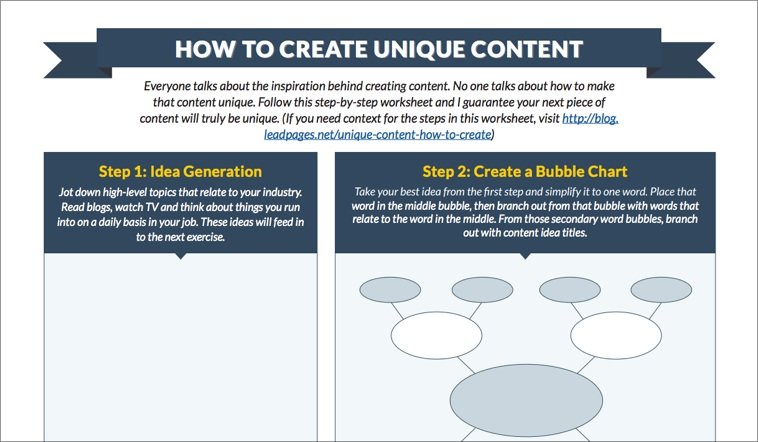 Lead magnet:
Additional Places Visitors Can Opt-In:
20. Leadpages
Blog Post: [Template Download] The "B2B Style" Enterprise Lead-Gen Landing Page
Content Upgrade: The Complete Files for the Template
Every time we release a new landing page template inside Leadpages, we also release all of the HTML, PNG, CSS, JavaScript, and metadata files for that template on our blog. This allows people with a little coding knowledge to download the files and custom-code the template themselves.
Our CEO, Clay Collins, was actually releasing landing page template content upgrades like this prior to the existence of Leadpages.
In fact, Leadpages was created because so many people without coding experience were asking for an easy way to customize and publish pages based off of these landing page templates Clay was releasing.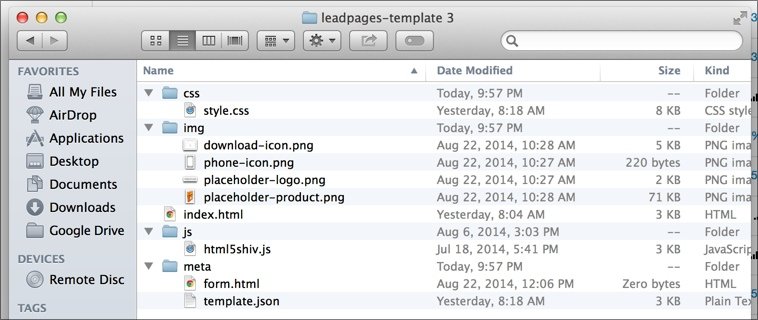 Lead magnet:
Last But Not Least. . .
Here it is — the 21st content upgrade example: The content upgrade created for this post about content upgrades.
Since I've written so much about how you can easily create your own content upgrades, I wanted to share my top eight tools for rapidly creating and implementing them on your blog posts. They're all included in a one-page PDF you can download by clicking the button below:
The One Problem With Creating Content for Every Blog Post. . .
Generally speaking, there's one problem with giving a unique piece of content away with each blog post. Since you're giving away different lead magnets, you have to create a new form in your email service provider for each and every blog post. That's a headache at best.
Unless you're using Leadpages, that is.
If you're a Leadpages customer, you can upload your content upgrade file to your account and then use the Digital Asset Delivery feature to have Leadpages deliver the file for you.
And that's it. Instead of juggling tons of forms inside your email service provider, you can set up everything inside Leadpages.
What Content Will YOU Upgrade?
Now, tell me — what blog posts are you planning on creating content upgrades for? And if you've already created one, leave a comment and let me know what results you've experienced!