Here at Leadpages when we or our customers achieve significant split test results we often take these winning variations and build them back into the default versions of our landing pages, which you can then customize, however, you like. A couple of weeks ago, we released the new Leadpages builder. With this new release, we built two-step opt-in processes right into the landing page builder. So for example this template was once a one-step opt-in but now it defaults to a two-step opt-in out of the box because we found two-step opt-ins work best across the board. In fact, we saw a relative 30% increase in conversions by using a two-step opt-in. We've written extensively about why two-step opt-ins work so well so we built that right into our landing pages.

Apart from using lead magnets on Leadpages' landing page templates, you can also use lead magnets on any website that you can post an HMTL link. A few examples of how our customizers lead magnets to capture email addresses include a sidebar widget like on KraftBeverageJobs.com, a newsletter sign-up like on MacRumors.com, or opt-in buttons at the bottom of a blog post like on BloggingWizard.com. Lead magnet can be installed anywhere that you could post an HTML link. Because we believe in making Leadpages effective for people out of the box, we also upgraded the lead magnets' layout both within lead magnets and inside the Leadpages' landing page templates themselves. The new lead magnet layout is consistent with the web 3.0 design methodologies and is really customizable so you can match them to the look and feel of your business.
As a quick note, Landing pages in lead magnets you've already created will not be affected by this update. You'll only see this update on Leadpages that you create. We're not forcing these changes on preexisting pages or boxes but if you create a new landing page or new lead magnet, you will see this new design. We updated the design of the lead magnets for a few big reasons. Number 1 we wanted to make lead boxes more customizable.

Number 2 we wanted to provide a cleaner web 3.0 design that you can update to closely match the look and feel of your business and number 3 we wanted to do incorporate some well-tested conversion boosting elements into every lead magnet. So, let's look at each of these updates more in-depth. If we take a look at the lead magnet on this page before the redesign, you'll see it looks great and works really well. However, we wanted to update the design to a cleaner and fresher look in order to keep your visitors who are used to seeing your lead magnets engaged with them. From top to bottom, they have a more web 3.0 feel and this way it will also feel, and this way it will also feel fresh to viewers and they'll continue to pay attention.
Next, we gave lead magnets more flexibility in customizing your brand. In this example, look at how this design is completely transformed to match the colors and style of the company. Later on in the video, we'll show you how easy it is to make these customizations. Finally, we added a progress bar to these lead magnets by default, which can be removed or modified. So when someone opens a lead magnet they'll see this 50% progress bar. The reason we added this progress bar is because we found that the human brain dislikes things being incomplete. If the average person is engaged in a process and sees a clear indicator of their progress being incomplete they're much more likely to finish it because their brain wants the satisfaction of the process is complete.

So we built this psychological need right into a lead magnet. However, we went one step further and added the ability to either disable this progress bar or change it out for another picture altogether. So for this example, if you wanted to add branding to your Lead magnet instead of a progress bar, you could do that with a few clicks.

Next, we did extensive testing as did many of our customers and we found that generally, lead magnets with images converted better than a lead magnet with no images. That being said not all images are created equal. Once we found that lead magnets with images converted better than lead magnets with no images, we tested different kinds of images against each other and found that having an image of an arrow pointing to the opt-in fields further drove up conversions over any other type of image we tested. So then of course we built that into the new lead magnets redesign.
We encourage you to split test your own images against the default lead magnet image to see what achieves the best result for your specific business. If you're a pro or enterprise customer and you'd like to set up a split test using your own image on this lead magnet, you can do that with just a few clicks. Simply go into the Leadpages' member's area and find the lead magnet that you'd like to test. Click on edit then select AB test and then click add new variation from the dropdown. Select from original and once the lead magnet is copied, click the image, select the image that you'd like to test, and then click "save". Now when I go to my blog and click on this button that triggers this lead magnet, we'll see the two images that we've just set up in the split test. Now here's a default red arrow and here's the image that we're testing against it.

Now note here that most people will only see one variation or the other. I'm only seeing both because I disabled cookies in my browser to show you each variation. To try out the new lead magnets for yourself, just head over to Leadpages.com and click on the lead magnets tab. From there, select "create new lead magnet". Select your industry from the dropdown and once inside the builder, select which email service provider you'd like to integrate the box with and which list you'd like to add people to. If you'd like to collect multiple form fields like name, zip code, phone number, etc. you can do that.

Next, you can click on the headline and update the copy and finally, you can click on either of the images and either replace with a custom image or hide them altogether. Once you're done customizing your lead magnet, just name it and save it. Once you hit publish you're given the embed code to paste on your page. Now before I do that, I'll click on the customize your lead magnet link text and select the image that I'll use as the button to trigger my lead magnet. After clicking, use this custom image as my lead magnet button. I'll now copy the HTML code. Inside my WordPress post, I can now paste in this code and when I view the publish page, you can see my button is now on the page, and clicking it triggers my lead magnet. Remember, you can use lead magnets anywhere that you can post an HMTL link not just in WordPress. You can also use these new and improved lead magnets in any Leadpages template that you'd like. Let's say you saw this web 3.0 sales page and you loved its design and wanted to use it, but you wanted to use it for an opt-in page you were making.

Previously you would have to download the HMTL of this template and custom code this feature into the page, but now I can easily make this button the lead magnet and make this web 3.0 sales page an opt-in page. To do this, all we need to do is hover over the button click the gear then click edit. In this window, select show opt-in form then select click here to edit the opt-in form. Now you'll see the lead magnet that will be triggered. You're now able to customize this lead magnet just like you would on the standalone lead magnet builder.

When you view the final published page, you'll see that the sales page is not turned into a beautiful opt-in page that we can use to build our list. If you'd like to start customizing Leadpages and lead magnets for your business, head to Leadpages.com and click the button under the video. If you're unsure which plan to go with, we recommend the pro annual plan as it comes with the majority of the features we have, includes one free sub-account, and is 40% cheaper than paying monthly. So join us like the pro level.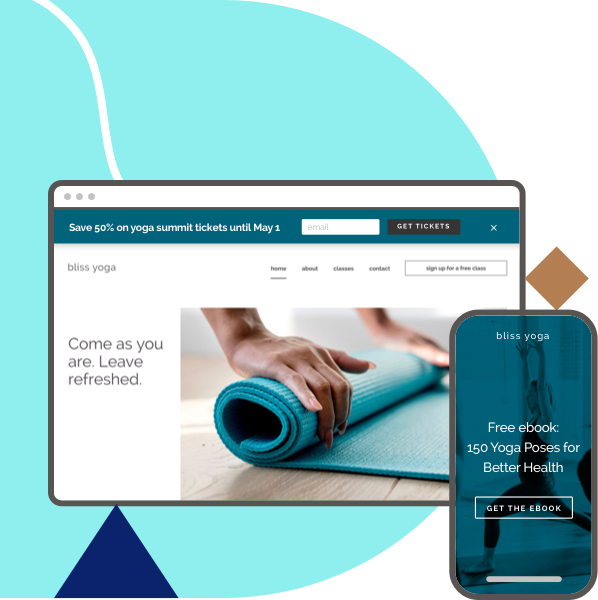 Turn clicks into customers
Leadpages helps small businesses connect with an audience, collect leads, and close sales. Easily build websites, landing pages, pop-ups, alert bars, and beyond.