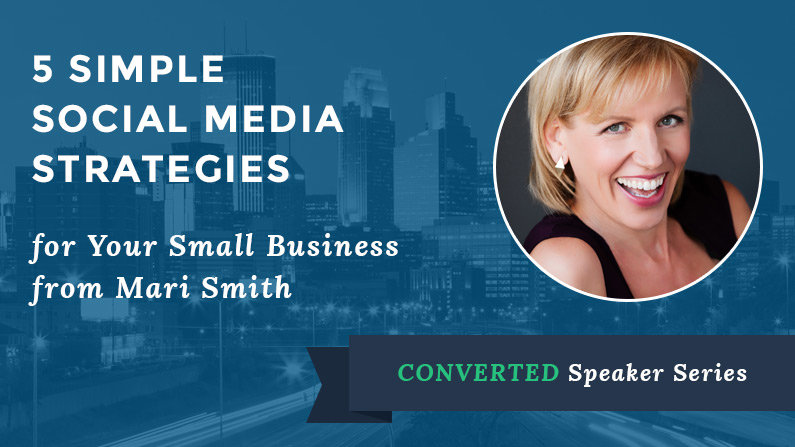 Mari Smith is so well known as a Facebook marketing and social media expert, she is partnering with the social media company to teach at a series of events called Facebook 2015 Boost Your Business.
During these events, Mari meets with small business owners all over the country to discuss their social media needs. One of the most common questions she is asked during these sessions is, "What do I post?"
I got a chance to talk to Mari about this very question. She came up with five very simple, very effective social media strategies that small businesses can use to boost, or even start, their social media presences.
1. Types of Content You Should Post
That blank box at the top of your social media feed can be intimidating. Should you always talk about your product? Can you talk about your company instead? Can you talk about social or charity efforts and projects your company is involved in?
Yes, you can. And, Mari says, you should.
Mari recommended two very easy types of posts you can start with.
Behind the Scenes Posts: Your audience loves getting a sneak peek behind the curtain of your business. These posts can be employee profiles, so your audience can feel like they know the person who may be responding to their Facebook post or answering their support call. They can also show off your work environment and some of the hard work that goes into running your company.
"Making of" Posts: Go ahead, show off your product! You can show how a specific feature can be used to enhance the use of your product, or even how you developed and created that feature.
Mari gave me a couple of examples of "making of" posts from her Facebook Boost Your Business meetings with small business owners in San Diego and Minneapolis.
Jelly Skateboards:
These folks, based in San Diego, make skateboards from bullet-proof glass. They post amazing pictures of these skateboards, both on display and in action, on their Facebook page. These pictures also let them show off features, like the ability to attach a GoPro camera to the board.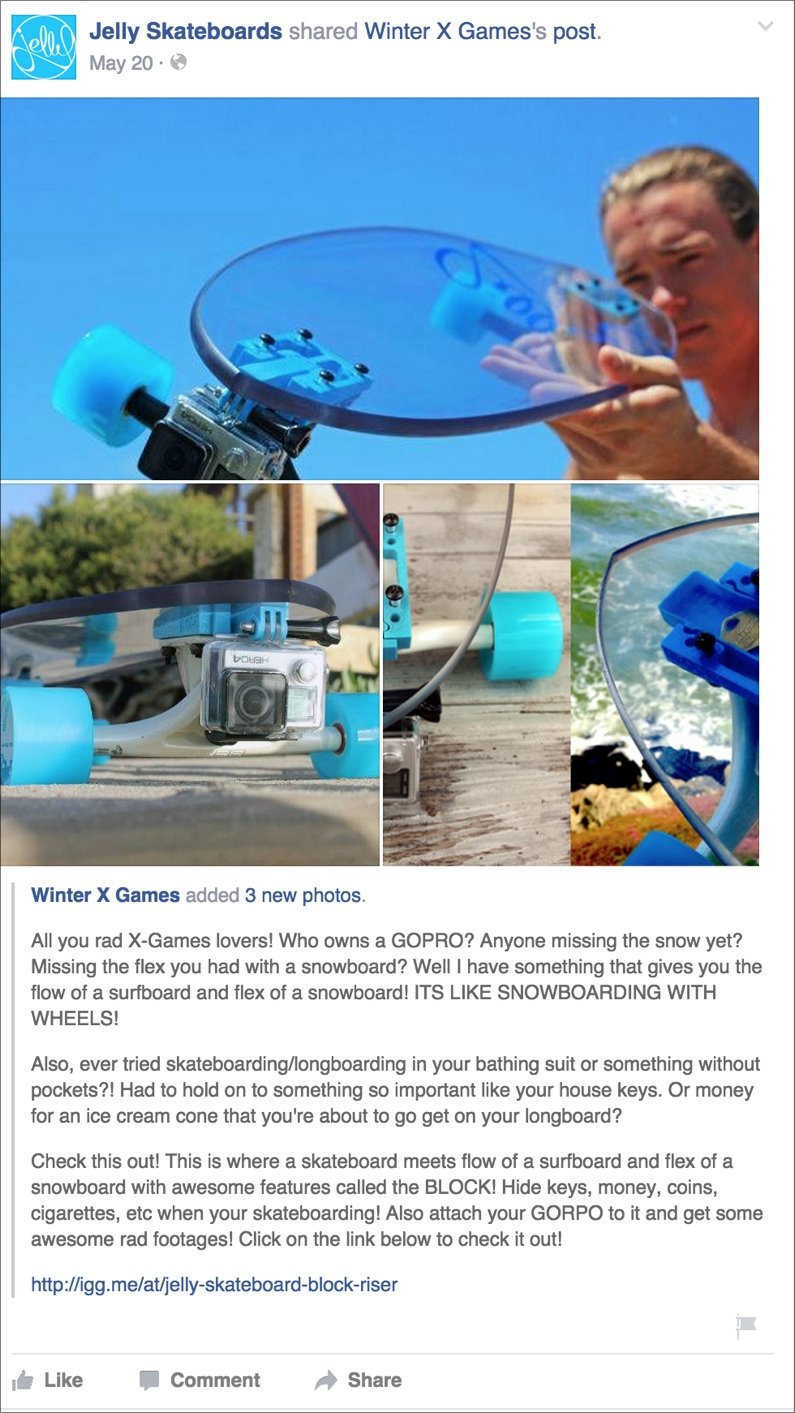 See more posts from Jelly Skateboards here.
The Herbivorous Butcher:
This brother-sister duo, from our own hometown of Minneapolis, make meat-free meat (yes, that is what it says on their sign). Their Facebook page is covered in pictures of their products, including the raw ingredients, the process they use to make their products and different ways to prepare them (many of which look quite tasty).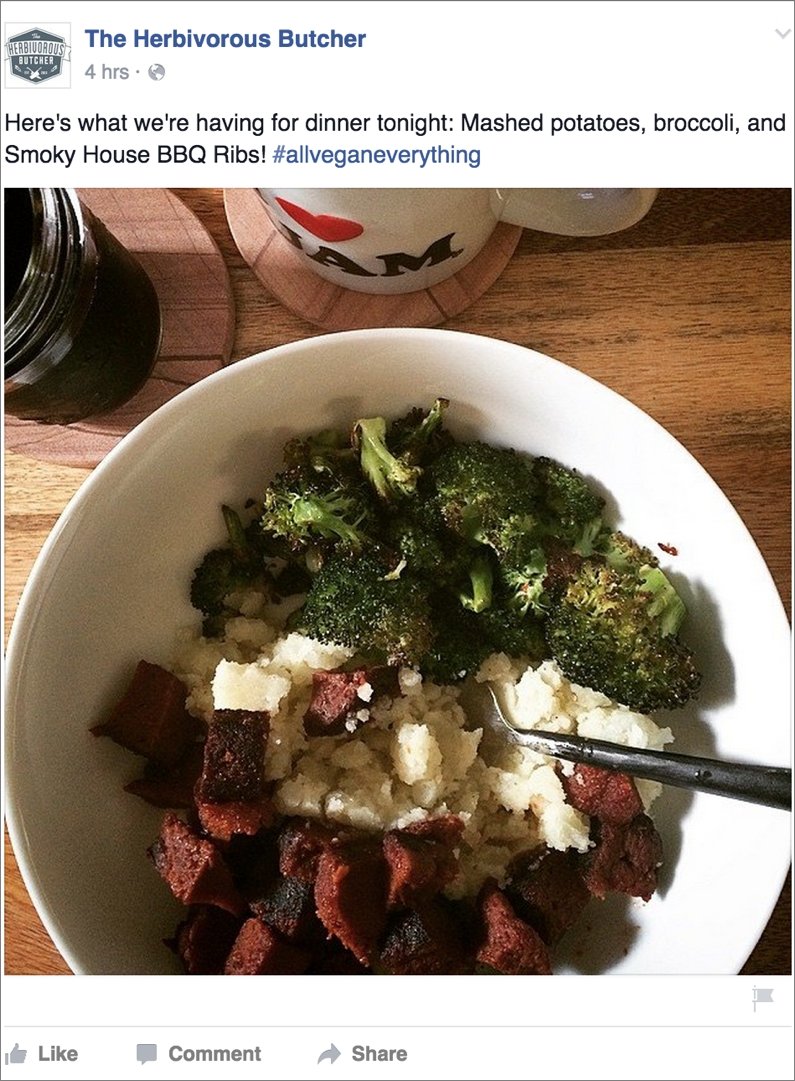 See more posts from The Herbivorous Butcher here.
2. Use Visuals
The old cliche "a picture tells a thousand words" is still true. We are visual creatures by nature and we want to see a product as much as we want to read about it. You can build familiarity with your audience by showing off your product, your company, and yourself (especially if you are the core product).
Mari gave two very easy to create types of visuals you can use in your posts. The best part is, you can create both of these with something you have with you all the time–your smartphone:
Pictures: Most phones will let you post directly to Facebook via their photo app, or via Facebook's own app. Be sure to add a bit of text to tell your audience what they're looking at and why it's important.
Video: Mari says that Facebook is overtaking YouTube as a source for video content—and Facebook's organic and paid-advertising algorithms now prioritize video posts. This means a short video can get a lot of attention for you and your company. You can sit down in front of a video camera (or again, just use your smartphone) and record yourself talking. You can also shoot a short clip of action behind-the-scenes.The advantage of video is that you can use it just about everywhere. Post it to Facebook, put 15 seconds of it up on Instagram, post it to YouTube, Twitter and anywhere else that accepts video posts. For more on quick and easy videos, check out this post.
Mari also pointed out that you can repurpose this video content very easily by making it into a blog post. You can simply post the video with a transcript of the audio, or write a short blog post that complements, or expands on, something mentioned in the video.
3. Tell your story
A lot of business owners feel like they should keep their personal lives out of their business. But telling your story builds a relationship with your current and potential customers. It makes them feel like they know you, even if you've never met. This helps you and your company because people are more likely to buy from someone they know, and they're more likely to recommend a product from someone they know.
Mari referenced The Herbivorous Butcher again as we talked about examples of tell your story. She pointed out that these folks post pictures of their everyday adventures in their Facebook feed, as well as of their product. Photos show the brother-sister owners beaming in front of their new storefront, selling their wares at pop-up booths all over the Twin Cities, and having fun in the kitchen.
Another picture shows Kale, the brother, having his hand bandaged by Aubry, his sister, after a run-in with a very tough cucumber. Mari said they told her this picture didn't get a lot of shares, but "they were stunned at how many people came up to them at their next pop-up stand and were like, 'how is your thumb?' Because everybody had seen it on Facebook."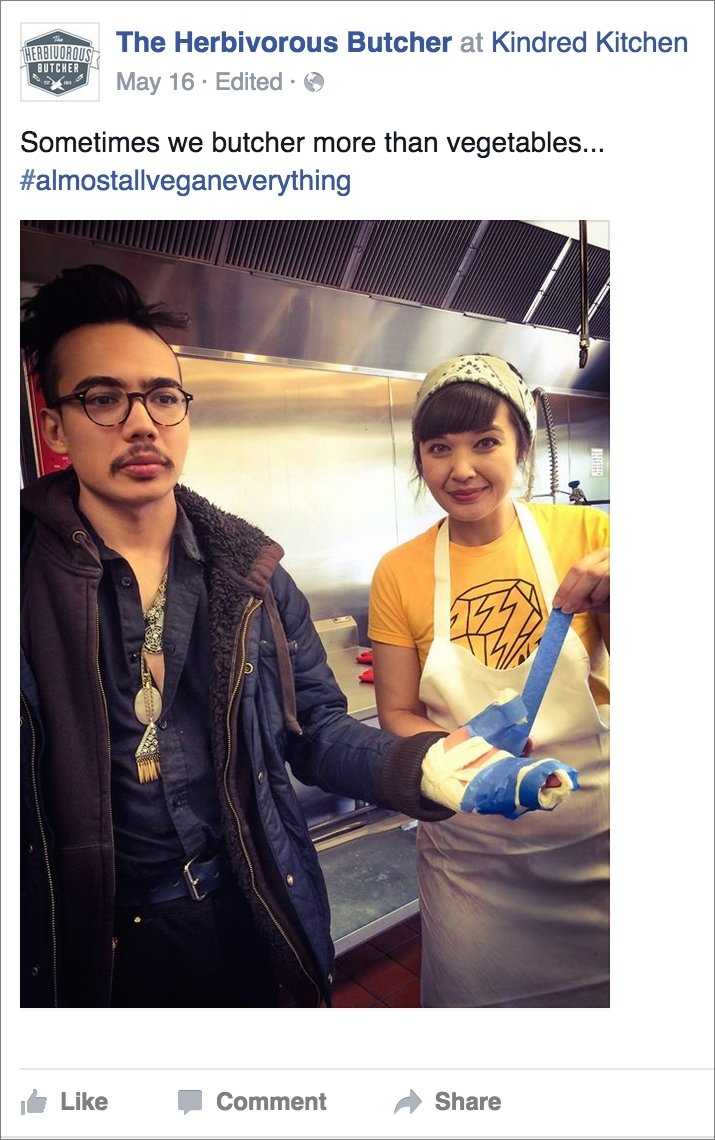 This type of interaction is priceless to a business, because it makes people feel invested in the company owners, as well as the company.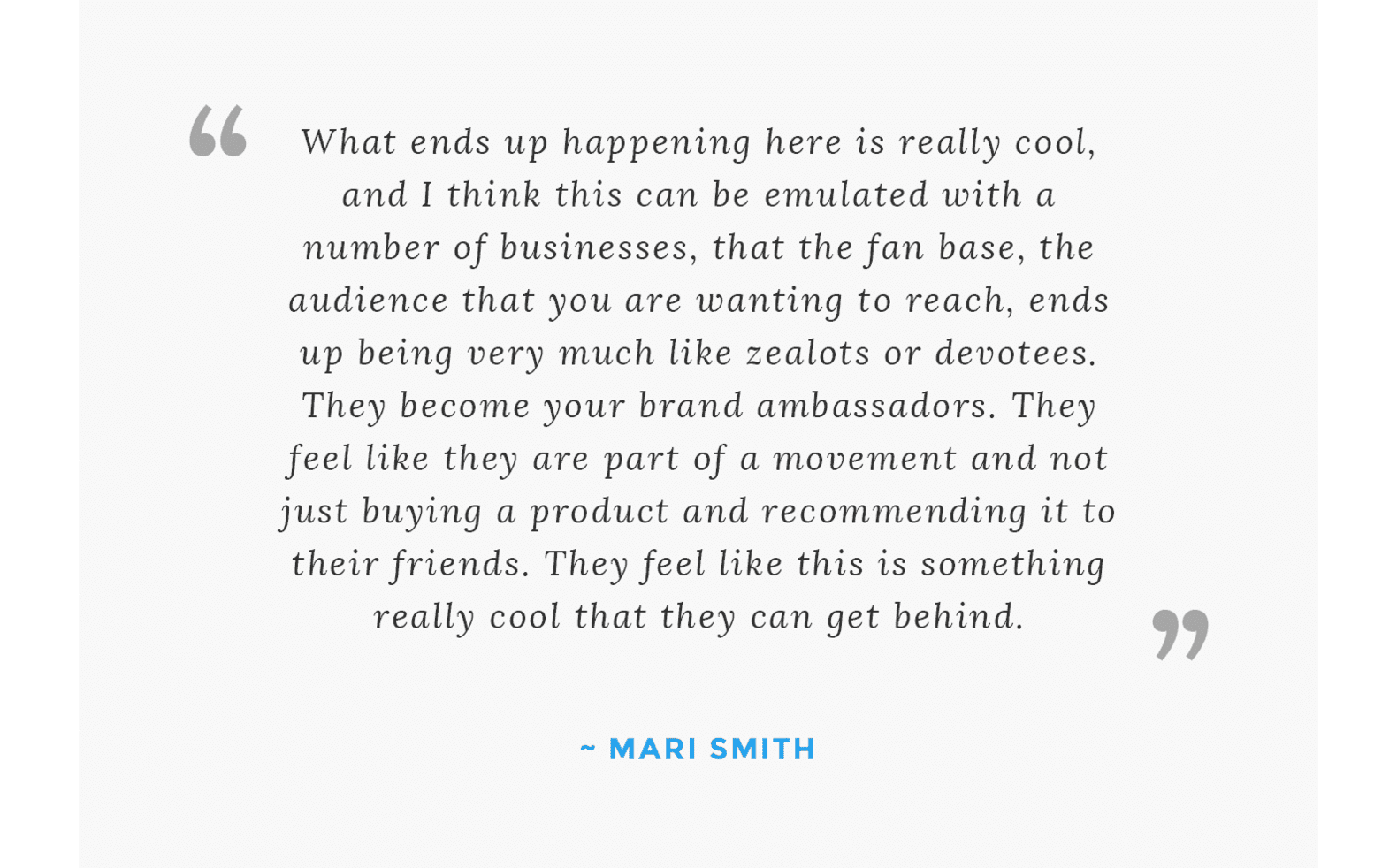 Mari uses this technique in her own online interactions. She says that she is very deliberate and mindful of what she posts online and how she interacts with people:
"I'm just the kind of person that's nice to everybody, I won't be controversial, I love to support the underdog if you will, I like to shine the light on up-and-coming stars, I love to mentor people, I just love to have a kind word for everybody.
"I know that people can feel that and see that and especially, when they meet me but also through my social profiles, they get the impression that I really genuinely care."
Mari's Facebook and Instagram feeds are full of everything from pictures of her presenting at events to shots of figs from her fig tree and her Bengal cat, Baby. Her feed also includes pictures of herself with attendees at her events, such as this picture of her with our own Bob The Teacher from her event here in Minneapolis.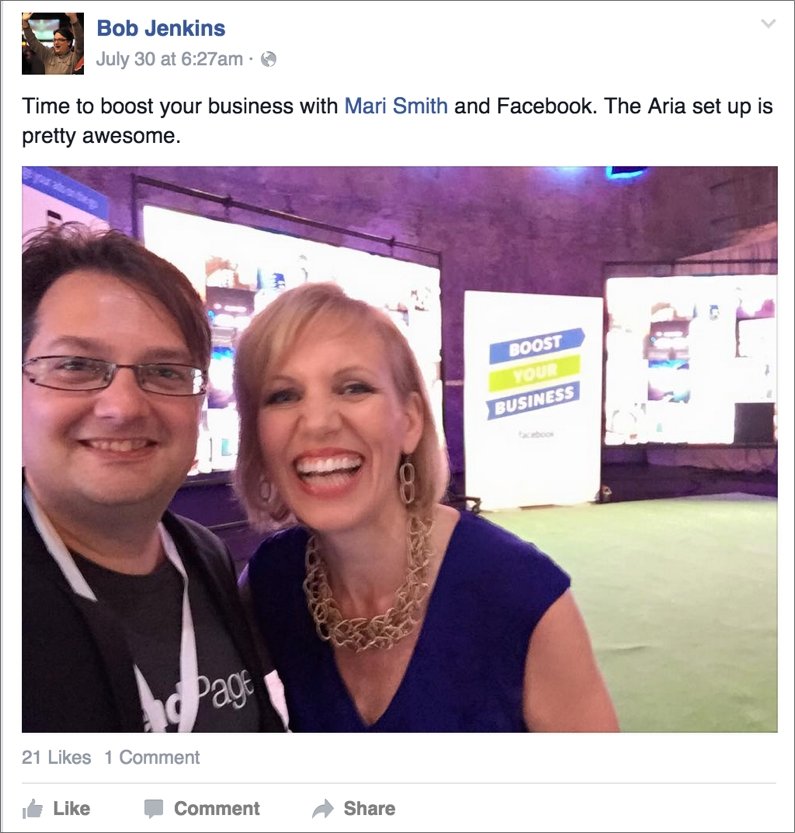 Mari visited LeadPages HQ while she was in town, so she posted a picture of herself with Kevin Raheja, who heads up Business Development & Partnerships here at LeadPages.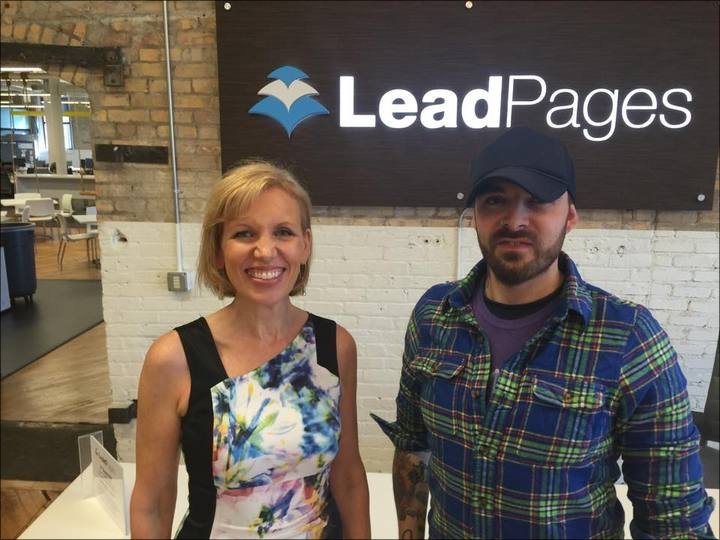 "Whenever I put anything I put online, I'm thinking it through strategically," Mari said. "Who might be looking at this? A potential event host, a potential TV show that wants to interview me, a potential customer. I highly recommend that to other people as well."
This willingness to share who she is has landed Mari several speaking gigs.
Mari mentioned that she was recently hired by David Ramsey, a financial expert whose audience tends to be Christian, for a speaking engagement because she is known for having a "spiritual propensity."
Her work with the Facebook 2015 Boost Your Business event series came about in a similar way:
"I care about Facebook, as a company. I've always been passionate about Facebook since 2007. I have a foot in the Facebook evangelist camp but I also have a foot in the small business camp. I'm really a spokesperson, if you will, a champion for these small businesses and I know that's a big part of why I got this role with Facebook."
4. Where to Post
Obviously, you want to use the social media platforms that your audience uses. How do you figure that out? Research! Find out who your audience is and which social media platforms they use. For more information on how to do this, check out this blog post on using social media to promote your landing pages. (And check out this post where our own social-media expert, Sarah Tessien, will look at each of six popular platforms in greater detail.)
I asked Mari which social media platforms she uses the most. Here is her list, in order of which she uses the most frequently:
Facebook (of course)
Twitter
Instagram
LinkedIn
These are the four major social media platforms in terms of use, age and number of users. However, depending on your business, your audience may be on other platforms, so you may want to focus your efforts there instead.
Mari divides her social media efforts into two areas:
Content: This refers to her regular posts on each platform. These range from personal photos and comments to what she terms "other people's content" or OPC. These are posts about other articles, blogs, videos, etc., that Mari and her content manager collect and share with her audience.(Because she now travels regularly for speaking and teaching engagements, Mari works with a content manager to help her with her posts, especially her Tweets, every day.)
Engagement: While Mari does respond directly to comments on many of her posts, she also has a special Facebook page labeled "Team Mari." Her team of moderators can respond to posts as "Team Mari," which ensures that her audience stays engaged and frees her up to work on other projects.
Mari does recommend hiring or contracting with a social media manager, even if it's just a couple of hours a week, to make sure your company is posting regularly and your audience is getting the attention they deserve.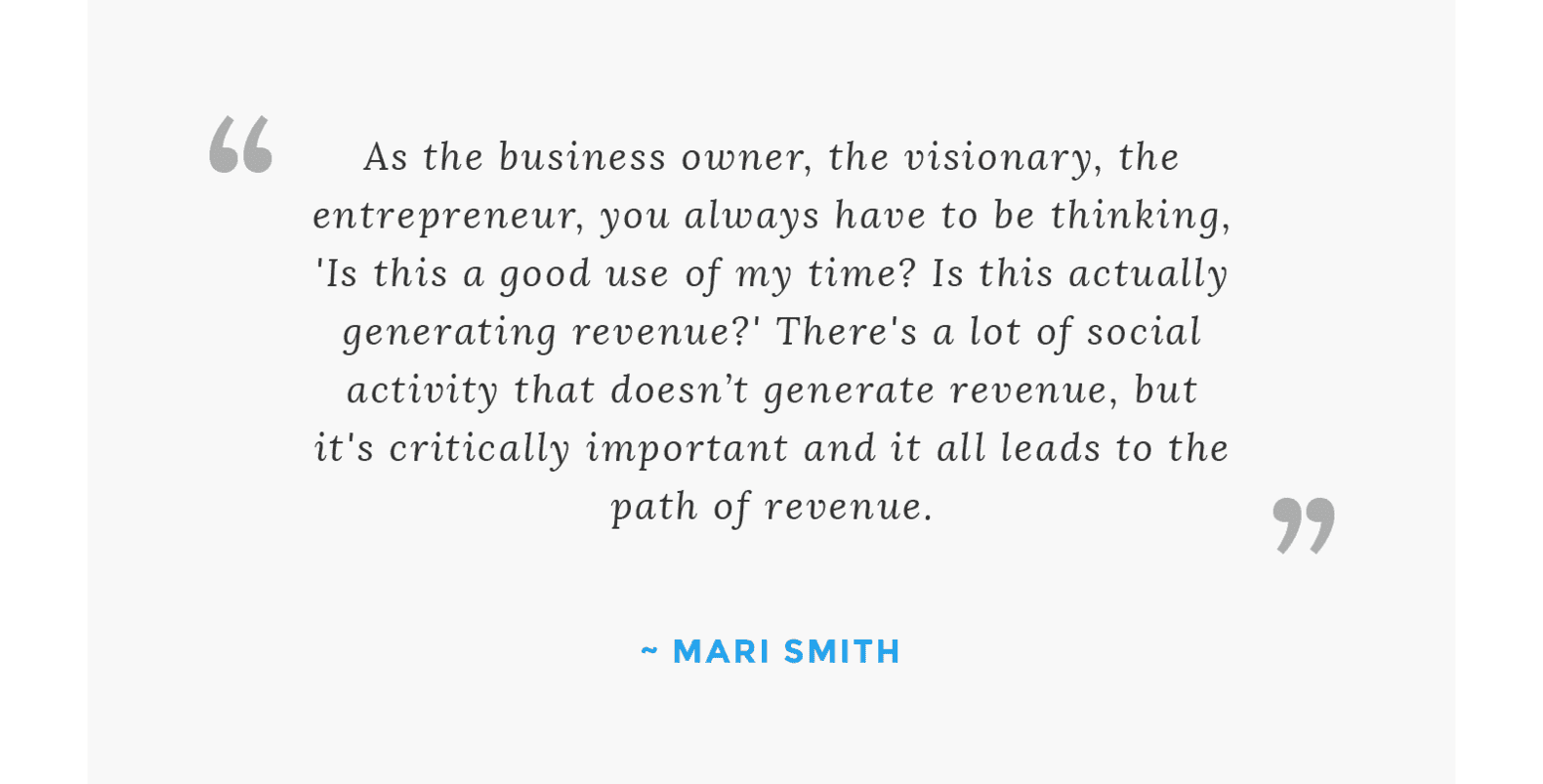 5. How Often to Post
If you're just starting out, don't feel you can afford a social media manager, or really do want to handle all of your social media yourself (which Mari used to do), here is what Mari recommends in terms of frequency:
Facebook: Once a day, minimum. Many people will say you need to post more than that to be seen, but in terms of having a presence on Facebook and making sure your feed is updated regularly, once a day works well. (Mari even confessed to me that she occasionally skips a day.)
Twitter: Three times a day, minimum. Mari says she usually posts six to seven times a day (thus her use of a content manager) but recommends at least one post promoting your product or service and another two posts promoting other people's content (OPC).Mari recommends including a call to action on your OPC posts. For instance, if you're sending out a post on conversion rates, and you have a good lead magnet for conversion rates, include "get my free conversion rate report" as your call to action. Mari says by doing this, "you've fed two birds with one grain."
LinkedIn: Once a day. Mari says she frequently reuses her Tweets on LinkedIn. She also recommends using LinkedIn to publish posts: "It's really like having your own little WordPress blog right inside of LinkedIn."
Instagram: Since Instagram doesn't let you post links, Mari hasn't yet found a regular posting routine there. Her posts—between one and three a week—tend to follow the rhythm of her life and travels.
Another important tidbit Mari added to all of this had to do with paid advertising. She recommends that you use paid advertising to drive traffic to a blog post or article about your company every once in a while, in addition to promoting your product. This benefits your company in two ways:
You're getting your company's name out there beyond your current audience and building brand awareness
You increase engagement with your audience by giving them an opportunity to see more than just offers for your product in their feeds. (LeadPages does this regularly, and we notice a lot more engagement on the blog posts we promote through social media.)
What Will You Do to Improve Your Social Media Presence?
Now that you have these five strategies from Mari, what are you planning for your next social media move? Tell us about it in the comments below.