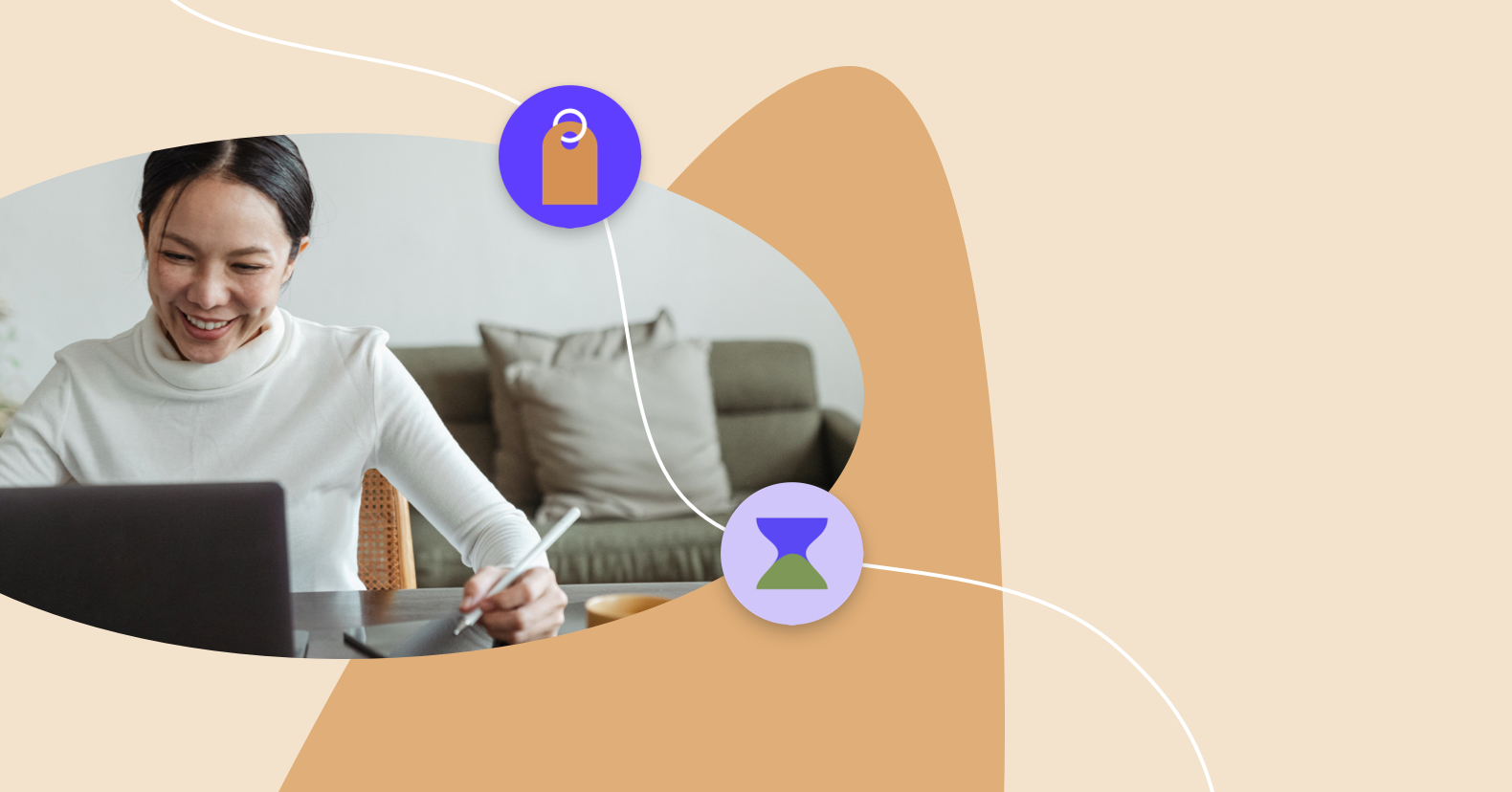 Cyber Monday has become one of the most important days on the business calendar. Every year, tens of millions of shoppers flock to online stores to take advantage of huge discounts and exclusive bargains during this annual sales event.
And the popularity of Cyber Monday grows every holiday season: in 2020, ecommerce revenues hit a massive $10.8 billion, up 15.1% compared to 2019.
But even though more and more businesses are learning to capitalize on the popularity of Cyber Monday, some have started reaping the rewards of extending this one-day event into a week-long affair. This latest evolution of the holiday sales season is known as "Cyber Week".
In this post, we'll explain why you should stop planning for just Cyber Monday, and instead look to reorient your seasonal promotions and marketing around Cyber Week. Then we'll walk you through seven high-impact strategies to help you design and execute a successful Cyber Week marketing plan.
What is Cyber Week and why is it so important for small businesses?
In 2009, Walmart became the first major retailer to expand Cyber Monday to Cyber Week, offering deals from Cyber Monday through Friday. Many other retailers followed suit the following year, including Toys "R" Us, Sears/Kmart, and Target. By 2016, Cyber Week had become a widespread event for all the major players in US online retail, with Amazon dubbing its week-long promotion "Cyber Monday Deals Week".
The date and duration of Cyber Week varies from store to store. For some, Cyber Week starts on Black Friday or at some point during Thanksgiving weekend. Others wait until Cyber Monday to officially launch their Cyber Week promotions.
In any case, the basic idea is the same: instead of restricting special deals to one day, Cyber Week lets businesses capitalize on the seasonal increase in consumer demand by spreading their promotions throughout an entire week.
And there's no doubt that the consumer demand at this time translates into some serious spending. In 2020, an estimated 183 million shoppers purchased goods during Cyber Week, with total purchases averaging $12 million per minute during peak hours.
Crucially, however, this trend isn't just reserved for large retailers. Cyber Monday 2020 was a huge success for small businesses too, with sales up 501% compared to average daily sales figures in October of the same year.
Of course, this is partly due to restrictions imposed by the COVID-19 pandemic, which has pushed more and more consumers to shop for goods and services online. But it's worth noting that in response to the pandemic, many shoppers have become extremely eager to help out small businesses. In fact, one survey found that seven in ten shoppers prioritized supporting small businesses over getting the best deal during the 2020 holiday season.
It's clear that Cyber Week presents a huge opportunity for you to boost your brand exposure, attract new customers, and increase your holiday turnover. But the question is: how should you approach it?
7 strategies for building a killer Cyber Week marketing plan
In order to truly capitalize on Cyber Week you'll need a well-thought-out marketing plan. After all, you're not the only game in town and the competition for consumer attention over the holidays is fierce.
Fortunately, the following seven strategies will help stand out from the crowd and provide a seamless customer experience to maximize your sales:
1. Prep your online store for the shopping frenzy
To pull off a successful Cyber Week campaign, make sure your website is optimized to assist visitors with their shopping journey and convert them into customers. Here's what you should do to enhance your site's performance:
Review your hosting plan
If all goes to plan, Cyber Week will result in an upsurge in your website traffic. Check to see if your hosting plan is capped to a limited number of monthly visits. If it is, and your traffic ends up exceeding that limit during Cyber Week, your site is liable to crash or slow down.
You can avoid this problem by simply contacting your hosting service provider and asking them to switch you to a plan with real-time scalability. This will ensure your website can accommodate traffic surges and still run smoothly.
Review your site load speed
One of the biggest pet peeves for shoppers is long load times. As your page load speed increases from one to five seconds, the chances of a user simply giving up on your website goes up by 90%. This isn't just bad news for your bottom line, it can also negatively affect your SEO rankings.
So what can you do to improve your site speed? Start by upgrading to a better hosting plan, as mentioned above. A few other steps you can take are:
Compress any images, videos, or files that sit on your website.
If your site is hosted on WordPress, try to limit the number of plugins you use.
Minify your HTML, CSS, and JavaScript code wherever possible.
To see how fast your website currently loads, and for suggestions on how to improve its speed, check out Google's free Page Speed Insights tool.
If you're looking to fast-track page speeds, Leadpages offers some of the fastest page loading speeds available on any website or landing page building platform.
Optimize for mobile
In 2020, mobile spending via smartphones accounted for 37% of Cyber Monday sales, up from 25% in 2019. Smartphone spending now accounts for 54% of total ecommerce sales.
Therefore, it's essential that your website performs just as well on mobile devices as it does on desktops. This means ensuring that you use clear and intuitive navigation, high-quality visuals, and well-formatted text.
Most importantly, make sure your website or landing template is mobile responsive. For example, all of Leadpages' professionally designed templates are responsive and automatically adapt to whichever browsing device is used.
Get a better understanding of how your site performs on mobile by checking out Google's mobile-friendly test tool. And for tips on how to make your site more mobile-friendly, read our mobile optimization guide.
Upgrade your website security
Unfortunately, Cyber Week is also a time of increased cyber threats. No business is immune to cyberattacks, which is why it's so important to do everything you can to shore up your website security.
Here are few ways to protect yourself:
Update your systems regularly.
Remove any apps you aren't using.
Protect your customers' privacy by only holding onto data that is essential for your business.
Use a secure shopping cart and SSL to encrypt data.
Replenish your inventory
After investing so much time into your Cyber Week marketing, the last thing you want is for your stock to run dry and leave customers disappointed.
Avoid this scenario by taking the following actions:
Categorize your products according to whether they're fast-moving, constantly moving, or slow-moving. Estimate the demand for each item and stock up accordingly.
Use inventory management software to keep close tabs on your inventory.
Consider displaying the number of products left in stock on your product pages. This lets visitors know how many items are remaining, which often persuades them to buy right away.
Invest in online customer support
Shoppers expect a quick response time during Cyber Week, as many deals are limited-time offers. So, you'll need to beef up your customer support to account for the increased demand.
Create an FAQ page specifically for Cyber Week inquiries and make sure it's easy to find.
Consider adopting a live chat system like Drift so customers can resolve their issues on your website in real-time.
Don't leave social media mentions or emails unanswered for too long. Use tools like IFTT to manage all your mentions in one place.
2. Offer some irresistible deals
Now onto the centerpiece of your Cyber Week campaign: the deals!
Whether you choose to run a single promotion throughout the week, or offer different deals each day, you'll have to create offers that both tempt customers and make sense for your business. After all, most small businesses can't compete with big retailers on price.
That said, there's plenty of scope to offer unique deals that are both profitable for you and attractive to shoppers. Here are some suggestions:
A good old-fashioned sale.
Exclusive coupon codes for your existing customers.
Site-wide sales with universal coupon codes.
Gift bundles.
Free or reduced-price trials.
Buy one get one free, or buy two get a third free.
Personalized gift wrapping.
Gift cards with a minimum purchase (e.g. a free $20 gift card for all orders above $100).
For more promotion ideas, check out our 15 holiday marketing tips for small businesses.
3. Promote your deals on social media
Once you've settled on a compelling offer, the next step is to think of ways to generate buzz on social media.
Here are two proven strategies:
Run a contest or giveaway
Few tactics offer as much bang for your buck as a contest or giveaway. People love free prizes and will gladly engage with brands and share their content if it gives them a chance to win some high-value freebies. The trick is to design a contest that requires participants to publicly interact with your brand in some way.
For example, you could run a caption competition for one of your posts, where you either select a winner at random or hand the top prize to whoever responds with the most liked comment. Alternatively, you could ask participants to create a piece of content and share your promotion with a friend (tagging you) in order to enter the giveaway.
Whatever the case, just be sure the rules are clear and obvious to maximize participation.
Here's a great example of a social media contest by Leadpages user and yoga teacher Gloria Latham.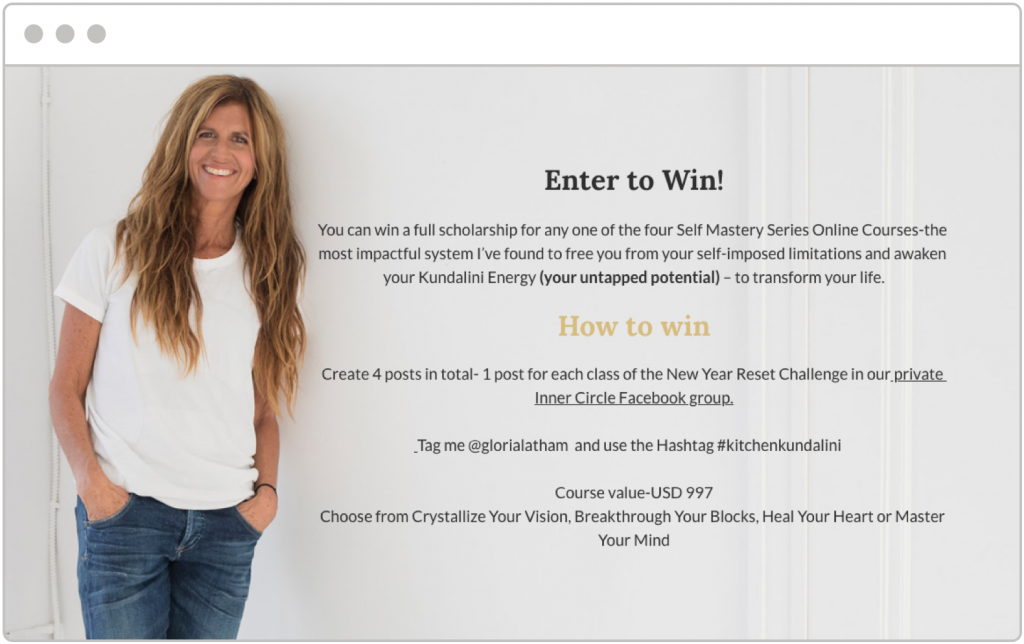 Partner with an influencer in your niche
Influencer marketing is an excellent way to build positive word-of-mouth around your brand and attract new customers. The idea is simple: reach out to a social media personality whose followers overlap with your target audience and encourage them to promote your product or service to their followers by offering an incentive.
For example, leading up to the holiday season Tubby Todd Bath Co delivered gift boxes to their influencer partners that included various items they wanted to promote. In exchange, each influencer received a 50% discount on Tubby Todd's products, as well as the gift box they'd received.
4. Dazzle your customers with beautiful Cyber Week landing pages
When promoting Cyber Week deals to your customers you'll need somewhere to direct them. Brands often provide a link to their homepage or a product page, but both options present problems.
First, your homepage is usually too busy for customers to find the offer you're promoting, while a product page may be a little premature for those who aren't familiar with your brand.
A better alternative is to build dedicated sales landing pages for your Cyber Week offers. This helps you create a user experience tailored specifically to the needs of bargain hunters, doing away with anything that might distract them from making a purchase.
You can easily build beautiful landing pages using the Leadpages Drag & Drop Builder. When building out your page, consider using a countdown timer to heighten the sense of urgency, and be sure to make use of testimonials, reviews, and other social proof to reassure customers that you're the real deal and show them how much your other customers trust you.
For more tips on how to optimize your landing pages for conversion, check out our detailed landing page guide.
5. Cross-sell and upsell
Cyber Week is a great time to focus on upselling and cross-selling, since shoppers are already primed to spend. This should boost conversions and increase your average order value.
Here's an example of cross-selling (see "complementary items") from camping retailer REI: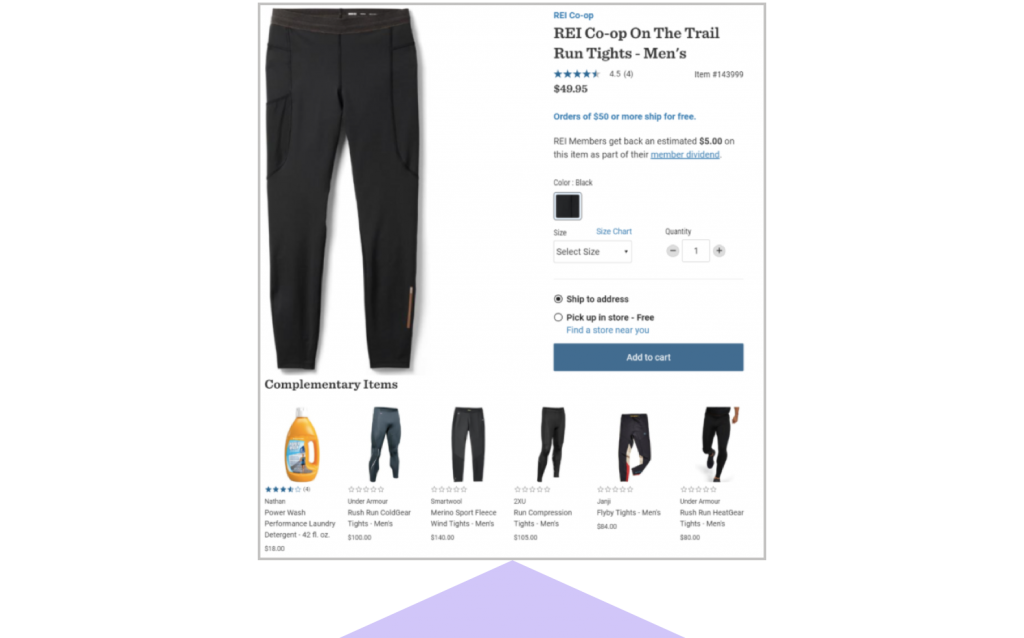 You can offer cross-sells and upsells via:
Product pages: List related or complementary products next to the main listing.
The cart page just before checkout: Give customers the chance to add other related products to their cart right before checkout with a simple click-to-add button.
Thank you pages: A post-purchase upsell lets customers buy another item immediately after checkout without entering their payment information again.
Post-purchase emails: Send customers an email suggesting other items they can add to their recent order. Let them know any additional items will be delivered at the same time as their original order.
6. Put customers at ease with a hassle-free return policy
Compared to brick-and-mortar stores, online retailers deal with a lot more returns. In fact, it's estimated that around 30% of all products bought online are returned. And given the surge in orders over Cyber Week, you can expect your returns to increase.
Customers appreciate it when businesses have a clear and reasonable return policy. Make sure your policy is easy to find and includes everything shoppers need to know, like what they have to do to get a return and how long the process takes.
Ask customers for feedback when they make a return to ensure they're happy. In most cases, shoppers are satisfied with a simple exchange of the product they bought for one in a different size, color, or model.
7. Minimize cart abandonment
Besides returns, another challenge for online businesses is abandoned carts. With the average cart abandonment rate sitting around 70%, this problem represents a huge waste of potential sales.
Here are some tips to encourage more customers to follow through with their purchase:
Use exit-intent offers
An exit-intent pop-up appears on a user's screen when they're about to leave your store and usually includes an offer, coupon code, or discount to encourage them to keep shopping.
Here's an example from baby apparel company Zutano: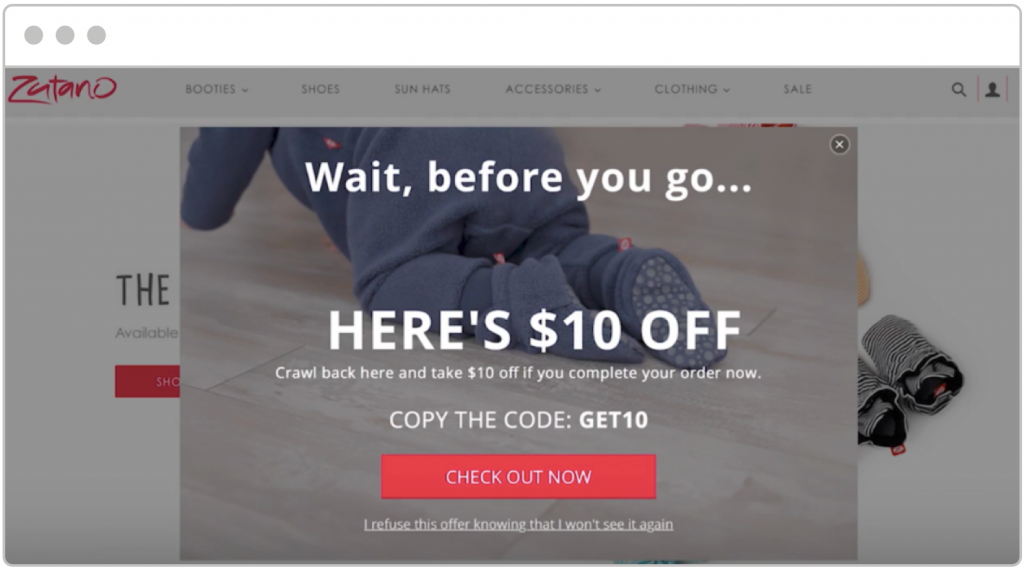 You can easily create an exit-intent pop-up using the Leadpages Pop-Up Builder.
Make use of scarcity on your checkout page
One way to encourage shoppers to enter their payment details and complete their purchase is to heighten the sense of urgency and scarcity on your checkout page.
You can do this by adding a countdown timer and showing low stock warnings. You can even offer a discount for shoppers who "Checkout Now".
Send abandoned cart emails
A tried-and-tested approach for bringing shoppers back to complete their purchase is to send out reminder emails to those who don't complete their orders.
For the best results, send a reminder email within 24 hours of the customer abandoning their cart. Make sure the email shows the product they left behind and a link to the corresponding product page. Consider letting them know that there's a time limit on how long an item can be left in a cart. And you can also sweeten the prospect of returning by offering them an exclusive discount!
Time to hit the ground running
Cyber Week provides small businesses with an excellent opportunity to generate even more sales during the holiday season. By offering compelling deals throughout the week you stand to earn plenty of new customers and give your end-of-year revenue a healthy boost.
To get the most out of this year's Cyber Week you need to begin your preparations now. So, use the tactics above as inspiration and start building your marketing plan today.
And if you're looking for the right tools to promote your deals, try Leadpages free for 14 days. Get access to our landing page builder, pop-up tools, analytics, and everything else you need to make your Cyber Week a success.