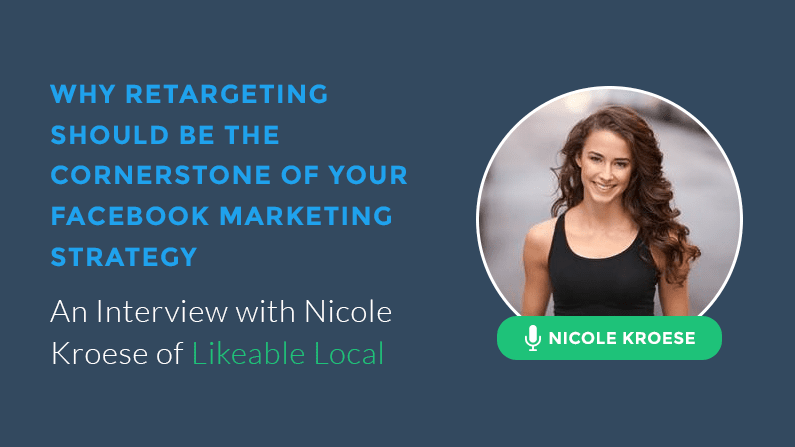 Time and time again I've found that, while there are many experts in the area of online marketing, each one brings a unique set of tips and tricks. These range from special tools they've discovered to ingenious growth hacks that have allowed them to rapidly grow their business.
Today our own conversion expert, Tim Paige, interviews Nicole Kroese, Director of Marketing and Partnerships at Likeable Local. Nicole has a wealth of marketing experience, a solid Facebook marketing strategy, and a unique perspective on internet marketing as a whole.
Here are a few of the questions Tim and Nicole covered during their interview and some additional thoughts on these topics.
Tim: What simple conversion increasing tactic do most entrepreneurs overlook?
Nicole: "I think that one of the biggest pieces [of increasing conversion] is retargeting people to get them to convert further, instead of going all of the time after the brand new leads, the brand new people, and sending them to a demo form or a contact form . . . or something that requires them to really give a lot of interest. [That's] only driving the people you already know to those forms and giving a different piece of content for the top of the funnel. It is really about figuring out the right piece of content to drive [different] parts of your audience to."
To do this in LeadPages, you need to figure out the right pieces of content (lead magnets) to get people to further engage and provide you with more information about their business. Then, as Nicole stated, you'll want to match those lead magnets to different steps in your marketing funnel.
As an example, if you are looking to get someone to schedule a demo, book a chat, or schedule a consultation, you'll have the best luck with people who already know your brand. The job of getting them to your party is complete—the next step is to ask them to dance. That might mean retargeting your visitors via Facebook advertising or a Google AdWords campaign.
Bonus: View our Facebook Advertising 101 Course now.
Tim: Why do you think entrepreneurs overlook retargeting?
Nicole: "You know, I think it's really sexy to think of a new contact in your system… And I think that sometimes people think, okay, I have someone new on my email list and I'm just going to send them a bunch of emails and get them to try and convert further."
I couldn't agree more with Nicole on this. Entrepreneurs get excited about conversions and then continually obsess about different ways to get people into the top of their funnel. Then they hit their list with an unexciting barrage of emails hoping for sales. Experience has shown that you'll profit more by focusing on moving prospects through your funnel and turning them into customers.
Retargeting is such an effective way to move prospects down your funnel because they already know who you are—it's much easier to convert someone who is already very familiar with you than a cold contact.
Listen to Nicole's thoughts on where to find prospects, and how to set an effective retargeting budget.
Tim: What are the main things that hold entrepreneurs back from achieving their goals?
Nicole: "You know, I think this is a classic answer, but really: fear of spending too much, and not being able to achieve the results they want. I think that's one thing. And then just not knowing how to do it. I'm the first to admit that Facebook ads can be a bit confusing."
Fear of spending too much and not achieving adequate results stops stops many entrepreneurs from achieving the success they're looking for. Spending money on advertising is a leap of faith, and the fear of failure may always loom over your head.
As Nicole touches on in the interview, the ability to learn these new tools and platforms can have huge returns for your business. By using these tools to send low-cost visitors to your targeted LeadPage (or publishing a LeadPage directly to a Facebook page) we have seen nothing but success in our business and many others.
Learn more about Facebook advertising with our free training.
Tim: What is the biggest business challenge you are personally facing at Likeable Local?
Nicole: "With our social ads in particular we have seen a lot of success, but we are getting to the point of plateau. Right now we're looking for that next thing that will really help us refresh our audiences, help us see this massive, huge spike in conversions, and help us to scale. It's balancing doing more of what you know works with having the bandwidth to experiment and find the next thing that will work better."
What comes next? It's a question every entrepreneur has had to struggle with. How do you balance doing more of what you know works with finding the bandwidth to experiment and discover the next thing that will work better? A platform like LeadPages can give you more time to experiment by making it incredibly easy and low-cost to create and test new landing pages.
Learn more about Nicole's "selling psychology" at 6:50 in our interview.
Tim: Do you have an example of something cool you have done with LeadPages?
Nicole: "We use HubSpot as our marketing automation software and we use LeadPages to beautify our HubSpot landing pages and make them more conversion friendly. . . A really great example of something that LeadPages allowed us to do was with our blog: making it super easy for someone to subscribe. We've really increased our number of subscribers to our blog with LeadPages. We have also seen a really positive increase in conversion using our landing pages."
As I touched on before, being able to quickly execute on new marketing ideas is incredibly valuable to a growing business. Spinning up a new high-converting landing page in LeadPages can take as little as 10 minutes. With hundreds of templates to choose from and professionally written copy you can simply personalize for your business, it couldn't be easier. When creating new marketing assets is so easy, you have time to follow through and try new ideas, resulting in much faster growth.
Find Out More
Download the Interview and Resource Guide PDF
Visit Likeable Local
Connect with Nicole Kroese
Take Our Free Facebook Advertising 101 Course