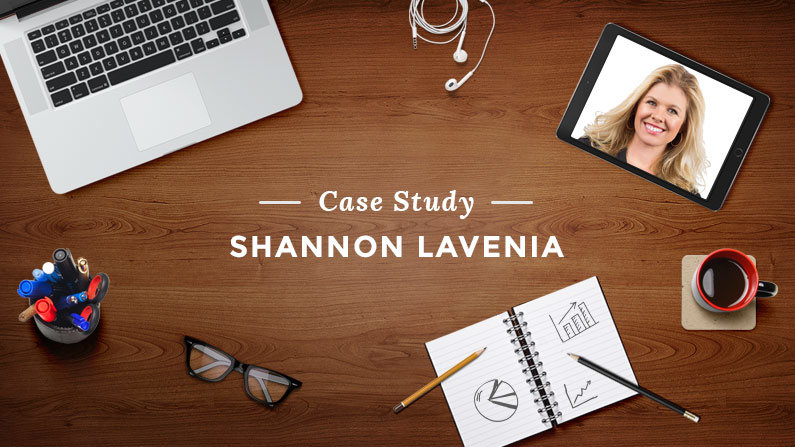 "For me, the bottom line in lead generation is always the highest quality of lead for the lowest CPL. Leadpages is helping me achieve that without getting bogged down in technology." – Shannon Lavenia
Shannon Lavenia has spent more than a decade helping businesses of all kinds build passionate online followings. She's been on the forefront of digital marketing developments ranging from Google AdWords to Periscope's live video-streaming platform, making cutting-edge technology accessible to those she coaches.
But even a trendsetting strategist and serial entrepreneur can't build a solid business on intuition alone. And for a while, Shannon wasn't getting the data she needed to feel confident in all her marketing decisions. She was using OptimizePress to create landing pages in WordPress, which was simple to use but didn't give her much insight into which pages converted best.
To make up for that lack of insight, she first turned to Google Analytics. But that gave her a little too much of a good thing. To find relevant data about her pages inside its thicket of graphs and stats seemed like a gargantuan task.
Without easily accessible data at hand, Shannon wasn't able to fine-tune her campaigns to meet one of her biggest business goals: reducing her cost per lead. At the outset, she was spending an average of $3 to acquire each new lead through Facebook advertising—not bad considering her business model, but she suspected she could be operating more efficiently.
With the help of Leadpages and a few other techniques, Shannon found she was right. If you'd like to borrow one of her strategies to reduce your own cost per lead, click below to download our free, screen-by-screen tutorial:
Enter Leadpages
Fortunately, Leadpages is custom-made for people who want great data that doesn't require a data science degree to decipher. Once Shannon decided to start building her landing pages with Leadpageshttps://www.leadpages.com/landing-pages, she started split testing right away. She says:
"The BIGGEST WIN I've had with Leadpages is how easy it is to really dial in and reduce my cost per lead. Because I can easily split-test, I'm able to build, analyze, and delete pages very quickly. And I can do this with every type of marketing I'm doing." – Shannon Lavenia
Nearly everywhere she marketed online, Shannon was now able to test her headlines and calls to action to see exactly how her messaging impacted her conversion rate—all through Leadpages super-simple analytics dashboard. She wound up with several different kinds of high-converting assets that continually funnel people onto her email list, including:
Custom Facebook Tabs
Shannon collects leads from Facebook via a Leadpages landing page published directly to her business page. Right now, she invites visitors to opt in for a free e-book via the Social Proof Giveaway Template::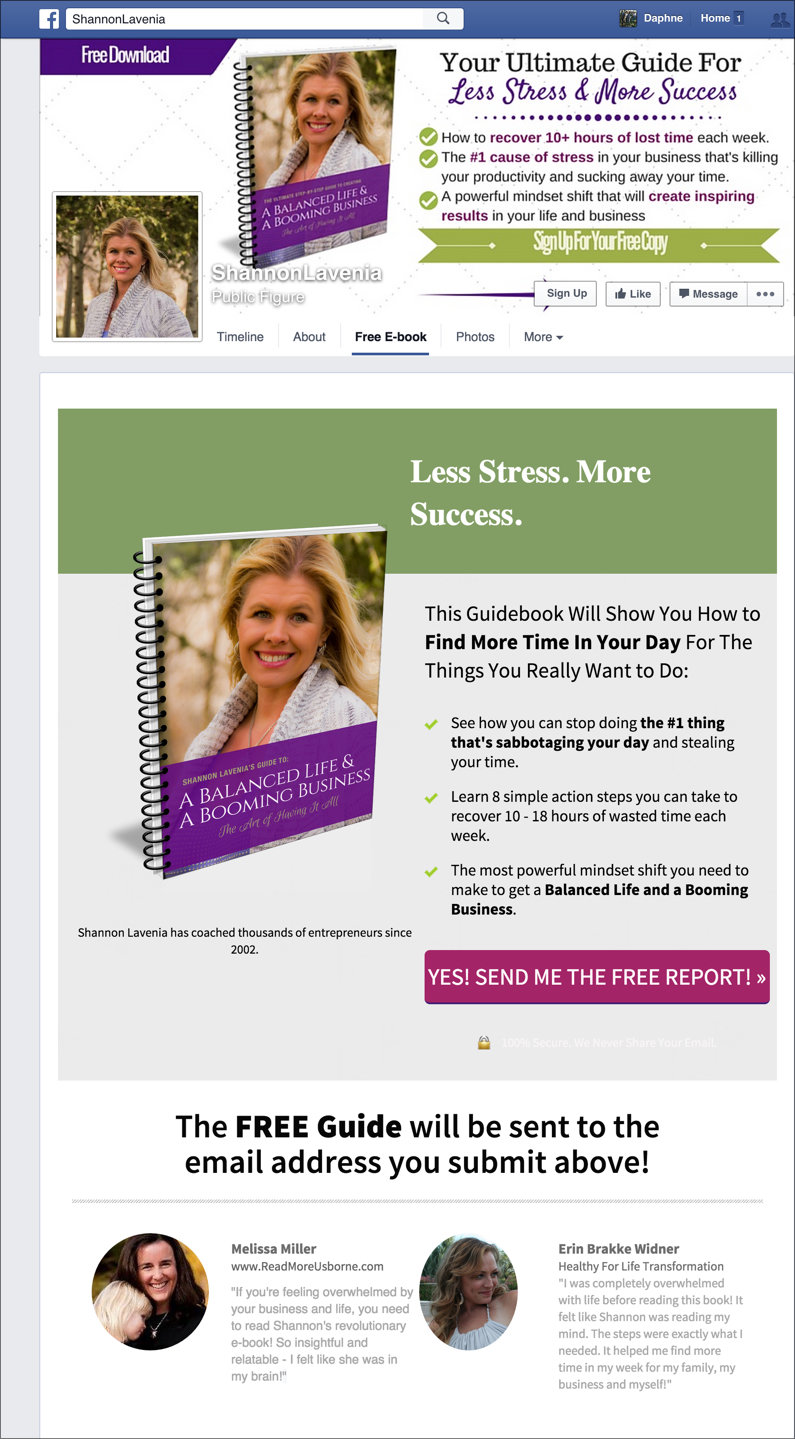 Leadboxes
If someone's reading and enjoying your content on your blog, they're a natural candidate for your mailing list. Shannon takes advantage of her blog traffic by offering content upgrades via Leadboxes on different posts. Here's one in action: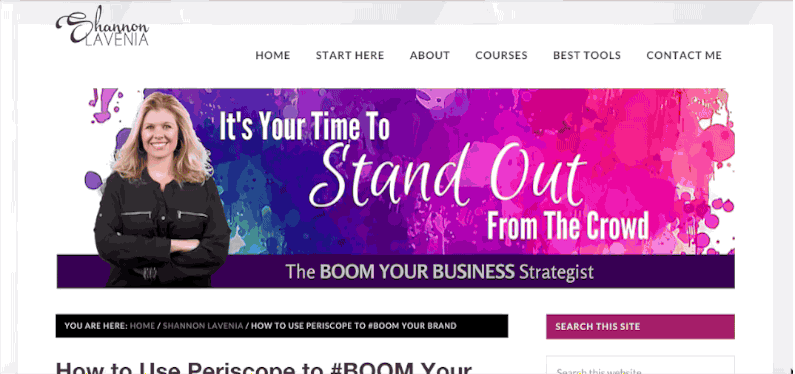 The Leadpages lead-magnet delivery system makes this effective list-building tactic easier than ever to deploy. Shannon says:
"Before, I had 50 different lists because every time I created a lead magnet, or a new route into my funnel, I had to create a new list. Then, I would have to set up all of the rules and it was so crazy. With the lead magnet delivery system, everybody funnels into the same list, they just get the lead magnet first . . . and that has been freaking phenomenal." – Shannon Lavenia
Webinar Pages
Using Leadpages webinar templates, Shannon's leads can sign up for her webinars and join her email list with the same click. Here's a past webinar page she created: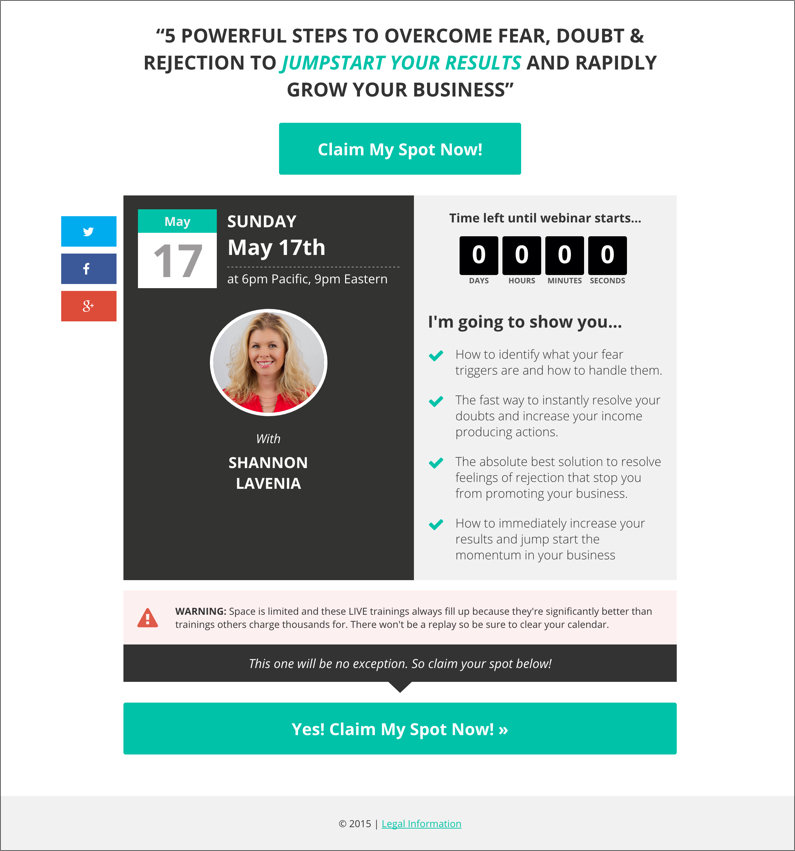 Optimizing all these assets is a continual process for Shannon, but she's currently getting an overall conversion rate of 30–40% across her various web presences. Once she finds messaging that works, she can apply it everywhere and keep getting more and more effective.
She can even use the pages that have been proven to convert to test the waters of new marketing platforms: "If I run the same exact ads somewhere else and I get really low opt-ins or really low open rates, I know it's bum traffic, so I steer clear," she says.
When you're as good a marketer as Shannon, you can run into a new problem, though. Email marketing can get pricey as your number of contacts rise, so you want to make sure all those contacts are actually good prospects. Likewise, if you're advertising with Facebook, you want to define your audience to include only those people who are likely to become customers—or else you end up paying to acquire visitors who will never help your bottom line.
So after Shannon had optimized her messaging and started advertising to an initial audience of like-minded prospects she created through Facebook's Custom Audience function, she decided to get very economical with her retargeting strategy.
First, she placed her Facebook tracking pixel on every landing page and every other page of her site. (Leadpages and WordPress both make this very easy—it's as simple as pasting a string of code into a box.) This would tell Facebook exactly who was visiting her pages so she'd be able to remarket to them later.
But Shannon figured some portion of that landing page traffic consisted of perpetual window shoppers, who liked her content . . . but not enough to sign up for a course or purchase a product. She didn't want to waste ad spend on that part of her audience.
How to identify those people, though? Shannon got creative. She downloaded a list of people who hadn't opened one of her emails in the past four months from her email service provider and uploaded that list to Facebook. Then, she told Facebook to exclude those people from seeing her ads.
Presto: she'd created an audience of only her hottest leads, which she could then send to her Facebook page, her blog, or a webinar page depending on the campaign.
She was also able to weed out the same non-clickers from her email list, a move that brought her open rate from 22% to 48%.
For a free screen-by-screen tutorial on this CPL-reducing retargeting strategy, click below:
Shannon's Success
Through marketing to only her best prospects, using only the pages that split testing had proven to convert best, Shannon reached her goal:
"Before Leadpages, my cost per lead was close to $3. Now my cost per lead fluctuates between $0.90 and $1.20 depending on the marketing, so you can see why I love Leadpages." – Shannon Lavenia
For her e-book download campaign in particular, Shannon got 1,384 new leads from $1,255 in Facebook advertising—an excellent return on investment for her business.
What's Next
If you run your own online business, or even just run your company's online lead generation, optimizing your cost per lead is one important step toward becoming a well-oiled digital marketing machine.
It also frees up resources for future marketing endeavors, and Shannon has plenty of those in the works. She's starting to do more advertising on Twitter to see if the tactics she honed on Facebook will work just as well there.
As an enthusiastic Periscope evangelist, Shannon is also getting more excited by the possibilities of connecting live with her audience. In the months ahead, "I'm going to be doing a ton of webinars, and Leadpages is going to help me scale it up," she says.
Plus, she's got a new course in the works that will be an ideal place to send those webinar attendees. The Booming Business Funnel course, a step-by-step program for creating marketing funnels, will launch in October.
"I think every new business owner has to keep their eye on maximizing growth and reducing expenditures. Leadpages is the best tool to do that when it comes to lead generation because you can optimize your pages for the traffic source and get real-time data on the results very quickly." – Shannon Lavenia
Shannon's Advice
After her experience with Leadpages, Shannon has become a firm believer in the power of A/B testing. She feels that many online marketers today are spending way too much time making extravagant opt-in pages that may not even work.
Instead, Shannon's method is to build first and ask the data later. She recommends spending only about 10 minutes to create your initial page (very possible with Leadpages!) and then running A/B tests on your headlines, calls-to-action, images, and just about anything else that can impact conversion. With these A/B tests, you will be able to truly find out what best resonates with your audience.
Aside from A/B testing, Shannon feels that with all tools and resources available, Leadpages customers are truly set up for success. From the lead magnet delivery system to the regular webinars, Leadpages is a valuable educational resource for helping you grow your own list as Shannon has grown hers.
If you want to follow Shannon's strategy to see if you can lower your cost per lead too, don't forget to download our free Audience-Cleanup Retargeting Tutorial before you go:
What do you consider a healthy cost per lead for your business? Tell us in the comments.