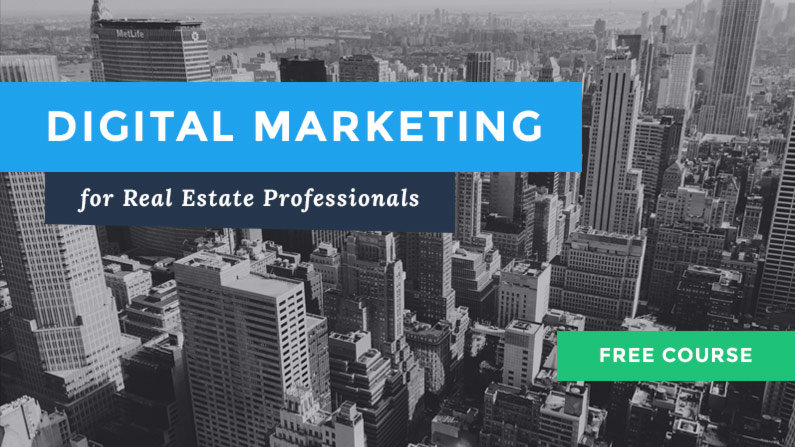 This is something we've never done before.
Over the past couple of years at Leadpages, we've created half a dozen marketing courses designed to make everything from webinars to Facebook ads accessible to business owners in just about any industry.
Our newest course is different. It still covers fundamental digital marketing skills and a look at which techniques are really working today—but it's all within the context of a deep dive into one particular industry: real estate.
Real estate marketing is in an interesting place these days. With the proliferation of online listing sites, in some ways it's easier than ever to market yourself and your properties digitally. On the other hand, plenty of real estate pros are still using old-school advertising techniques, getting their faces onto bus benches and into newspaper ads.
What kinds of marketing tactics are truly, measurably working in real estate right now? That's exactly what we'll cover in our newest course, Digital Marketing for Real Estate Professionals—all based on careful research and the real-life experience of dozens of real estate agents.
Click below to go check out this course now. (It's totally free inside our Resource Library, which you can join right now if you're not already a member.)
We know that, as a real estate pro, you're always on the go. So we've kept this course short and sweet. When you download, you'll find 5 video modules to watch now and a bunch of bonus content to look through whenever you want some fresh marketing ideas or simply a course refresher.
Curious about what's inside? Here's a look at what you'll be learning, module by module.
Module 1: introduction
In this module, you'll meet course designer Raylee Melton, a former ad agency head who's trained, consulted with, and designed campaigns for hundreds of real estate agents during her career. Raylee will present a quick overview of the way real estate marketing has changed in the past few decades, and explain how it's changing again now.
You'll also get an introduction to 4 Leadpages tools that are working for real estate pros today. If you use Leadpages or are thinking about giving it a try, make sure you're getting the most out of your membership by watching this.
Module 2: your digital marketing roadmap
This module is all about
your
business. The roadmap you put together with the help of this module will lay a foundation for everything that follows (and help you improve your marketing far beyond the boundaries of this course). Raylee will help you determine:
How to zero in on your ideal target audience (hint: it's not just about demographics
How to define your own brand, and why it's not enough to sound like everyone else
The missing piece you need to truly make social media worthwhile
You'll come away with general principles you can use everywhere. In the next module, we turn to a very close look at one specific marketing tactic.
Module 3: Facebook advertising
When you're starting to try to widen your reach and generate traffic, it's hard to beat Facebook advertising. Economical, precise, and powerful, the platform has been getting impressive results for real estate pros. In this module, you'll learn:
Exactly what it takes to get started with Facebook Ads
How to choose images for your ads
Why "likes" aren't the end goal in Facebook advertising
Module 4: conversion tools for new leads
In Module 4, we'll start by covering one big marketing technique that most real estate pros miss: landing pages. You'll see why adding the right landing pages to your marketing plan can:
Take your listings beyond the cookie-cutter MLS-scraping sites
Keep prospects from getting distracted and wandering away from your online presence
Drive more people to your open houses and showings
You'll also see how to build a high-converting landing page for your own business, step by step.
Module 5: email marketing
Now that you have all those new buyer and seller leads coming your way, you need to figure out the best way to reach out to the hottest ones and stay in touch with the ones who are taking their time. And although it's hardly a cutting-edge technique, email is still your best bet for following up with leads. In the final module, you'll find out:
How to write the kind of emails that actually get opened
One ridiculously simple way to figure out who's already on your email list, what they want, and how to reach them better
How to save on your email service provider (if you don't have one yet)
When to consider holding webinars, and how to get people to sign up
You can get up to speed on everything this course covers just by watching the videos, but we've also dropped a few other resources into the mix. When you download, you'll also get:
Complete transcripts of the course
Audio versions of each module so you can listen while you driving to showings
Handouts for each module so you can take notes and brainstorm as you watch
Audio versions of each module so you can listen while you driving to showings
Two PDF guides that complement the course materials: "6 Ways Real Estate Pros Are Using Leadpages to Send Sales Skyrocketing" and "How 5 Real Estate Pros Solved Their Stickiest Marketing Problems."
We're excited to hear what you think of this new real estate resource.
Are you using any digital marketing tactics in your real estate business? What's the biggest thing that's working for you right now? Tell us in the comments!