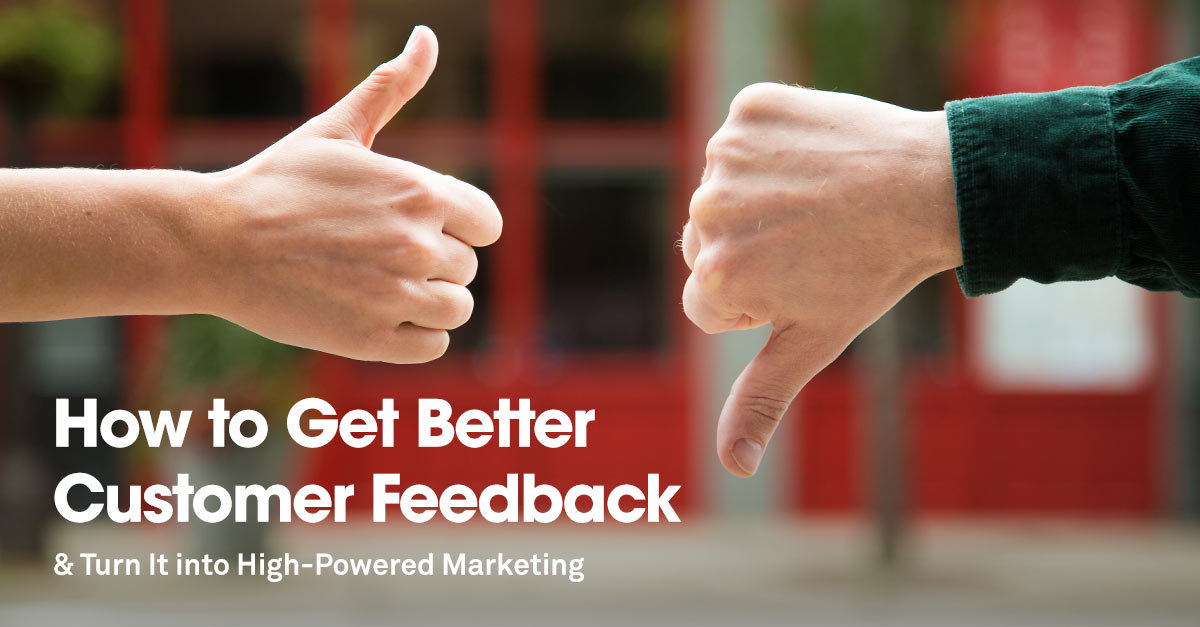 Successful marketing pretty much boils down to predicting the way people will behave.
When we create an ad that's designed to target a certain audience on Facebook, we're predicting that a percentage of the people that see it will click through and learn more about our product … and that the percentage of people who purchase will be higher than the cost of running that ad.
When we hold a webinar, we're expecting that people will see how the product we're demonstrating can fit into their own work and will invest in it. We make assumptions about the problems we can help them solve.
So wouldn't it be nice if there were a way to actually know how your customer is finding your product and know what problems they're looking to solve? Wouldn't you create stronger offers, build better landing pages, and get more conversions?
Of course, there is a way to get all of this information.
Ask for it.
At Leadpages, just about everyone in the company seeks out conversations with customers every single week.
Because customer feedback isn't just part of the job for the support team or the product team. It doesn't just come up when you're trying to fix existing products or develop new ones.
It's also an invaluable resource when you're trying to figure out exactly how to talk to your market and win their business.
But there are two issues that tend to come up when companies consider moving from passively collecting feedback to actively seeking it out:
How do you actually get good, non-obvious customer feedback? Sure, you can send surveys, but even the most generous estimates of average customer-satisfaction-survey response rates tend to top out around 20–30%. And the more in-depth your survey is, the lower that rate is likely to be.
How do you make use of that customer feedback? Especially if you can't singlehandedly adjust your company's direction—or you're just strapped for the time and resources to make rapid changes—it may feel pointless to ask for feedback you're not certain you can act on.
Based on our experience at Leadpages—and what we've heard from other marketers who are ultra-engaged with their customers—I've got a few ideas. In this post, I'll be focusing on feedback channels you might be missing, how to start using them, and what to do with the feedback you find there.
Once you're ready to implement these ideas, you'll want to sit down and script some questions you can ask your audience to get the information you want. Channel by channel, here's how you can get (and use) more premium-quality customer feedback.
Find feedback on … social media
For too many brands, social media is a one-way street. It's all about sharing updates and boosting traffic to their website and landing pages.
They're missing out on an important part of these platforms. You know … that whole "social" thing.
If your business has a Facebook presence, start thinking about the following built-in options as avenues for customer feedback. Many of them will also work on Twitter and LinkedIn, with a few modifications—but most businesses will want to start on the most popular platform.
Post polls. Ask an open-ended question on Facebook, and all too often you'll get only one or two responses (if that). Unless they're extremely passionate about the topic, people scrolling through their feeds aren't necessarily going to take the time to think up and type out a substantial response.
To make it easier for followers to answer, set up your question as a poll. Here's one example, created using the Polls Facebook app:
I'd recommend always including a write-in option among your other choices—write-ins can reveal some aspect of the topic you'd missed or an out-of-the-box idea you'd never have considered.
Spark direct conversations for in-depth feedback. Not every conversation that starts on your public feed has to stay public. When you're intrigued (or even frustrated) by a public comment and want to learn what's behind it, try reaching out to the commenter via direct message to talk further. (Bonus points if you can get them on the phone.) Let them know you're doing this in a public response so they're on the lookout for their message.
If the original comment was negative, this strategy helps contain the damage and lets the customer know you're truly responsive to their feedback. If it was neutral or positive, you get the opportunity to connect on a deeper level, building your relationship with that customer and your knowledge of how they're interacting with your products.
Set up a user group. Every Leadpages, Drip, and Center customer gets access to our private Facebook group, and if you haven't been in there, let me tell you: it's a very lively place. Every day, you'll find people asking and answering questions about Leadpages and marketing in general, from the technical to the practical. People share their successes, their struggles, and the latest landing pages and automation rules they've created.
If it makes sense for your business type, a Facebook (or LinkedIn) user group can be an incredible resource for you and your customers. To decide whether a user group would work for you, ask yourself: are your customers all working toward a similar goal? Would they benefit from connecting with other people like them?
If so, consider starting a group and seeing if it takes off. You can get the conversation going by asking questions about the hurdles your customers are facing, putting out an offer to assist people with your knowledge, or simply asking people to share a little about themselves so they can connect with fellow customers.
How to Turn Social Media Feedback into Powerful Marketing
As inspiration for blog posts and other content: Personally, I have a special Google Doc to keep track of ideas that come in from social media, like questions that customers ask on Facebook or points that people bring up in our weekly Twitter chats. When I use one of these ideas, I know I'm writing about a topic that real people in our audience truly care about.
For direct input on upcoming promotions: What should your next offer or special event be? Try asking questions on your public profiles to guide you. A poll can be an excellent way to get quick input.
As testimonials for your landing pages: Social media testimonials can be extra powerful because they seem (and often are) spontaneous—real people with real profiles took the time to post their praise for you. Sprinkle these throughout your marketing materials, including your sales pages and other landing pages.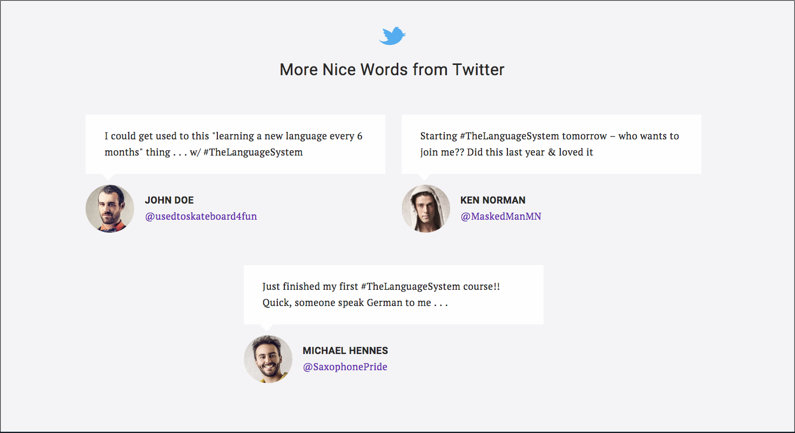 A section from our Testimonial Sales Page template, built just for showing off tweets from happy customers
Find feedback on … live chat
If you're reading our blog during the middle of the workday (Central time) you probably see a little blue chat bubble in the bottom right corner of the screen. That's our
Drift chat
box, and we've implemented it on our pages in order to keep in touch with anyone who stops by. (Feel free to say hi!) It's staffed by our marketing team and other people throughout the company who want more insight into what our audience wants to do and know.
Every question offers a potential insight into the messaging we're delivering visitors through our website.
A live chat window can be especially useful if you place it on …
Your promo pages: How well do people understand your special offer, and how compelling is it? Drop your chat window onto your special-offer landing pages to find out. In Leadpages, you can add a snippet of JavaScript from your chat program into the page's header or footer code field to have it pop up onscreen.
Your "decision" pages: Checkout pages, product pages, pricing pages, feature pages—these are all common "last stops" before someone decides to buy (or not). Add your chat window here to make sure no one's slipping through the cracks, and to get immediate insight into what's motivating your customers.
Your blog: When we first started using Drift, I was a little surprised by how many live chats came in through our blog. Often, something in a blog post will inspire readers to remember something they've been meaning to ask about your company—even if it's not really on-topic enough to post in the comments section. A chat box gives them an opportunity.
How to Turn Live Chat Feedback into Powerful Marketing
Spot which content needs more promotion: If you get a lot of the same questions repeatedly, it's a safe bet to assume that you haven't covered that ground thoroughly enough. Consider creating a blog post around the topic, emphasizing it on your landing pages, or just dropping it into your FAQ section.
See which content's getting real engagement: Comments, shares, and analytics tell you a lot about how your blog posts are doing quantitatively. Live chat on your blog can give you valuable qualitative information. If people are asking thoughtful questions about how to apply the insights in your post, you know you've got a hit on your hands, and you should either give that post more exposure or write more content with the same qualities that made it great.
Spot areas that need to be improved on your website: When it seems like everyone chatting into your website is totally missing the point … the problem probably isn't them. Live chat can highlight so-obvious-it-never-occurred-to-you points you forgot to spell out on your homepage or other core pages of your site.
Borrow the language customers are using: In every chat, make note of the ways that people ask questions and define their problems. Are people using the terms that you would use to describe whatever it is that you sell? What vocabulary are they using? This insight lets you understand how you might alter your messaging to both connect better with your customers and maximize your search engine optimization, so that prospects with questions related to what you do can easily find you when they search online.
Take special offers or new messaging on a trial run: Finally, one-on-one conversations can be great practice for one-to-many conversations. You could consider empowering your team to offer chat contacts special offers you're thinking of launching on a large sale, or trying out certain ways of defining your products when chatters ask basic questions. If it connects one on one, it has a good chance of connecting across the board.
Get feedback from … user testing
One of the hardest things about being on a marketing team for a product like Leadpages is that everyone on our team has a wealth of knowledge about the product.
It's hard because for us, understanding it is easy. We work with it every day, we read our website copy repeatedly, and everything on there makes perfect sense to us.
That's a problem because it means we can't really look at it with fresh eyes. So we often run online user testing to be sure that our site is clear and our message is getting across. We especially like UserTesting.com because participants narrate their experience in their own words, which gets you insights that might not come out when someone's in the higher-pressure situation of talking to a knowledgeable stranger.
In one user test at Leadpages, for instance, we realized that a certain line on our pricing page was causing some visitors to think only higher-tier plans had access to our drag-and-drop landing page builder. (Not true!)
"We weren't even testing for that, and we would have never thought of that on our own," recalled Director of Customer Acquisition Josh Braaten. "A user gave us that gift."
How to Turn User Testing Feedback into Powerful Marketing
See where you need to educate your market: If you offer a complex product, even your ideal customers might need to understand the problem it solves more deeply before they see the product's value. Online user tests are wonderful at showing you where site visitors are at a loss for words, fumbling for the right concepts, or simply missing part of the bigger picture—and where you can provide that clarity (or change your language).
Fine-tune headlines and positioning as a promotion runs: If you're running a big promotion for a week or more, you might want to consider running some user tests on Day 1. This can help you check whether you've overlooked something, and also give you ideas for adjusting your messaging if you're not seeing the initial results you'd like.
Find feedback when … customers join or leave
When new users sign up for Leadpages, we ask them one quick survey question, and it isn't one of the most obvious ones. We ask:
"What's your most immediate barrier to rapid growth?"
Although we're a software company, software isn't our true reason for being. We're here to help businesses grow, so understanding what's standing in their way deeply informs both our products and the way we talk about them.
When someone cancels a Leadpages subscription, we're a little more obvious: they're asked why they're leaving. A selection of these responses are shared with our whole company to give us a sense of how we can help our customers better.
Even if your business doesn't work on a subscription or recurring-contract model, you can still use this feedback channel. Consider asking your new-customer question in a welcome email, and reaching out to subscribers who haven't purchased in a long time with a modified "exit" question.
How to Turn Entrance/Exit Feedback into Powerful Marketing
Keep it quick: The most successful entrance or exit surveys require little time or energy from your customers. Sticking to one or two well-chosen questions improves completion rates—plus, you don't want to add friction to the new-customer experience or aggravate an unhappy departing customer. Asking for simple responses also makes it easy for you to identify trends in your feedback, so you can to develop a marketing action plan to address them.
Make it part of something larger: Try to get these questions to customers when they're already answering questions for you (like putting in their credit card information to make a purchase) so that it doesn't require much extra effort from them. This may also put less pressure on them to fill in a perfectly thought-out answer—which is good because what you really want is to get as close to their underlying motivations as possible. Once you've done that, you can develop entire acquisition campaigns based on what you learn from intake surveys, and entire retention campaigns based on exit surveys
Happy listening!
What's the most interesting piece of customer feedback you've ever received? Tell us in the comments.