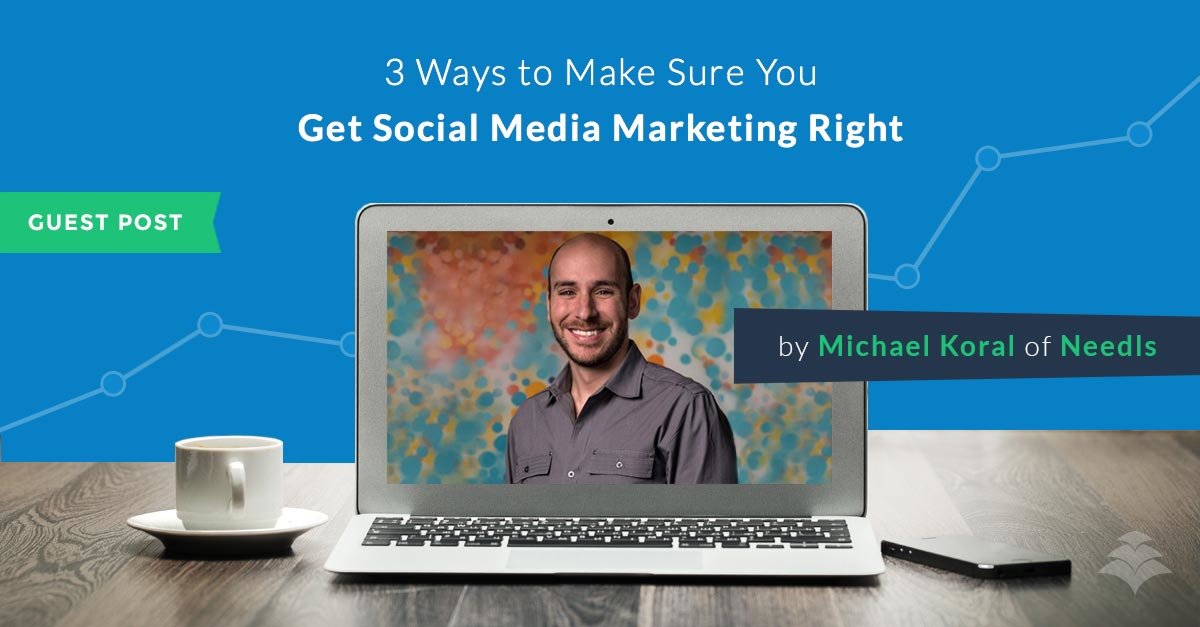 Editor's Note: We're pleased to introduce this guest post from digital-advertising expert Michael Koral. Michael is the co-founder and COO of needls., a service that helps businesses automate and optimize their online advertising. Today, he's sharing his best tips for making the most of your social media marketing time and budget.
A couple of months ago I had a friend ask me for advice on the best way to promote his business online.
"Where can I get the best bang for my buck and really just get new customers?" he asked.
Instead of an immediate answer, I came back with a whole slew of questions:
Are you active on social media?
How do you handle new customer requests? By phone? Email? Live chat?
What is your marketing budget?
Do you have stellar ad images and/or ad copy?
Who and where is your target market?
What do you know about your customers and potential customers?
Have you ever advertised online before?
If he'd asked me even a year or two ago, my "answer" wouldn't have been nearly as complex. The advertising landscape has changed. Some things remain the same—Google ads, for instance, are still awesome though potentially expensive.
But outside of the big elephant, there are now many other great ways to promote your product or service online. Think Bing Ads, Facebook ads, Twitter ads, Tumblr ads, Reddit ads, YouTube ads, Pinterest ads, Instagram ads, Vine ads … the list goes on.
I'm not going to bore you with an explanation of each of these platforms. I'd rather share with you what I discussed with my friend and explain to you exactly which online marketing tactics I feel give a business owner their best bang for their buck.
As one of the cofounders of needls., my job is to help small business owners grow their businesses—specifically using social media. I have helped many business owners gain new customers by driving targeted, intent-based traffic to their websites and landing pages—something that is no easy feat, especially with all of the unique businesses that use our platform.
To put it a little more technically, my company has created a proprietary algorithm that identifies purchase intent within social posts and targets our clients' advertisements to the people who need and want our clients' products or services.
An easy example: someone on Twitter in Toronto tweets:
"Hey, anyone knows a good realtor in the downtown Toronto Area?"
We know this person is looking for a real estate agent in Toronto, and our client, the Toronto real estate agent, has his advertisement delivered automatically to that person on Twitter and any other social network our platform works on (including Facebook and Instagram).
A harder example: someone on Twitter in New York tweets:
"I'm moving to Toronto – See ya Big apple! #moving"
There is no explicit intent in this tweet, but our system knows this person may very well need a real estate agent in Toronto and will show them an advertisement from our Toronto real estate agent automatically.
So why am I telling you this? Not because I want to tout what my company does (it does a lot more than just targeted ad delivery, for one thing), but to give you a look at how drastically things have changed in social media advertising. Here are my 3 key tips for social media marketing that reflect this new reality.
Tip #1: Direct selling is less effective on social. Building trust is more important.
There is a big difference between advertising on social media versus advertising on, say, a Google search results page.
On Google, someone is there for one reason and one reason only: to find something. They search for a keyword or phrase to find what they are looking for. They are not there to see what their friends are up to, read interesting tidbits of the day or laugh at some #TBT pictures. On Google, being direct is much more effective: searchers want to get to the point and so should you.
On social media, however, things are a bit different, and it is somewhat counterintuitive. In fact, people are constantly asking for things on social media (as with my real-estate example above). But one of the most interesting things I've discovered in my work is that an ad with copy that is directly selling people what they are looking for is typically less effective than an ad that makes a softer sale.
Here's an example from when I was looking to promote my own business.
I wanted to find more small businesses to advertise on my platform, so I first thought: Hey, if someone says on social media that they are looking to grow their business, I should deliver an advertisement that speaks directly to that. I decided to share with them an ad with the headline "We can help you grow your business" or "Advertise with us—the best decision you will ever make." I wanted to get in their face right away.
But once I tried it, I realized that this approach was wrong. Social media users didn't want to be sold directly. They much preferred when I shared an advertisement about a free e-book we created that helps small businesses grow.
The e-book ad did not mention anything about advertising. It was not being pushy. It was giving leads away to see if they could trust what I had to offer. They would download the free e-book, they would learn some valuable takeaways, and only then would I come in to directly sell them my service.
Now, this was a small test, but I wanted to share the stats with you:
We had 9 times more clicks to our website when we promoted our free e-book vs. selling direct.
We had a 45% lower cost per click when we tried soft selling vs. hard selling.
We brought on 5 times more clients through promoting our ebook vs. selling directly.
These figures really did surprise me.
If you've been trying hard-sell messaging on social media with little success, I strongly suggest taking some time to rethink what you are promoting. Consider giving away something for free (ideally while collecting an opt-in you can use to contact leads later). Come back and let me know your results!
Tip #2: Don't worry about seeming like an advertising pro. Just keep it natural.
Needls. has clients of all shapes and sizes.
There are real estate agents, affiliate marketers, bakers, bankers, graphic designers … our client list is pretty diverse.
But one common thread among them is this: before coming to us, they really did not know what made a great ad.
And who could blame them? Advertising wasn't their area of expertise, and they usually looked to the professionals for what to do.
They thought their big problem was that they could not afford a big-time agency to produce awesome ad creative for them. They thought they needed a beautifully designed ad in order to be effective.
If you'd asked me a couple of years ago, I probably would have thought the same thing.
But the dirty little secret no ad agency wants you to know is this: you don't need high-end advertising creatives' help to be an effective advertiser.
Sure, big brands want to show off how polished and professional they are, and agencies definitely help with that.
But for the rest of us, keeping it real is where it is at.
Let's look at a couple of examples…
Here are 2 images that appeared in ads on my Facebook newsfeed today:

These are simple pictures of computers. One is real and natural-looking: the background is a little cluttered, and the lighting isn't especially beautiful. The other is clearly the product of quite a bit of work and graphic design expertise.
But does that extra work and expertise actually do anything to draw you into the image and envision yourself using that company's services?
I doubt it.
That's not to say that there's never a time and place for illustrations or animation. Sometimes, it can help you make a point that no photo ever could. But in general, we find that using real and natural images in your ads wins out.
So if you're a real estate agent, use a picture of you in front of a "Sold" sign. Done.
If you're a wedding planner, use a picture of you in conversation with a bride-to-be.
Keep your images real and natural and see the difference it will make to your conversion rate.
Tip #3: Use a landing page. Seriously.
I have to plead guilty here. Initially, my company was against using landing pages.
You read that right. I'm admitting it here on the LeadPages blog: we did not want to use landing pages to promote our business.
We'd spent thousands of dollars building an awesome website. We'd built that site with conversion in mind. So why would we want to drive social media traffic away from that home page and to a landing page? It seemed counterintuitive to us.
Several months ago I spoke with a trusted friend in the industry about this whole website-vs.-landing-page issue. His advice? Give a landing page a shot.
"At least A/B test it," he said.
So, I finally gave in. We created a landing page internally and compared the results. It was a simple page, and far less professional than what Leadpages allows you to create, but it was a landing page nonetheless.
We advertised it on Facebook and Twitter to drive more users onto our platform.
What I am about to show you below are real results comparing our old website to our landing page.
We tracked clicks via a heatmap using VWO—and here's what we found. Our home page is on the left, and our landing page is on the right.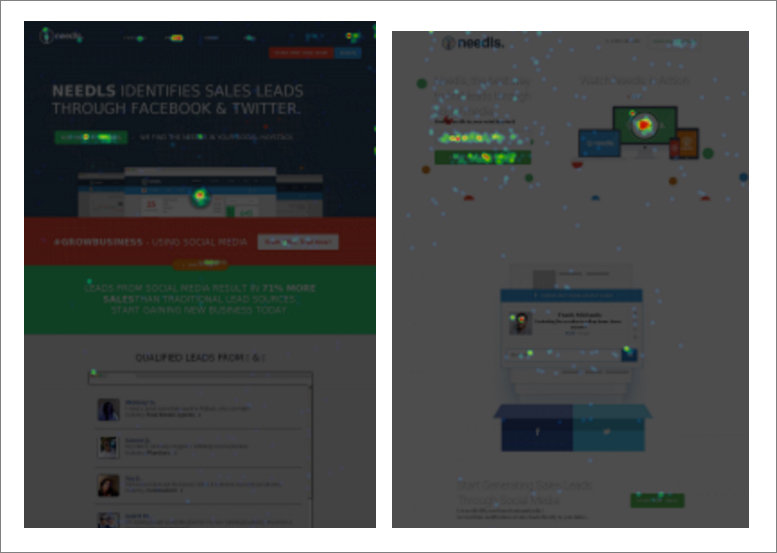 All those red, green, yellow, and blue dots represent clicks on the page. You can clearly see the significant number of additional clicks our landing page received over our home page.
The landing page outperformed our homepage by over 300%. I've been converted ever since.
This is not to say you should not have a website—you should. It is your company's online headquarters. It tells visitors everything they want to know about your company.
But the traffic you get from your social media ads probably doesn't want to know everything about your company. Not right now.
Remember, if you're using social media marketing correctly, you're trying to position yourself as the natural solution to a specific problem social-media users have. You need to come to them, rather than inviting them to come to wander around your headquarters.
So if you're looking to acquire customers furiously and get a high conversion rate from social media marketing, using a landing page is 110% the way to go.
There you have it: my 3 key insights on how to improve your paid social media marketing. If you want to pick my brain, feel free to reach out at michael@needls.com or ask me a question in the comments. I'm happy to chat!
Inspired to get serious about social media advertising? Download Leadpages' free "Social Media Platforms at a Glance" infographic to help you decide where to start: